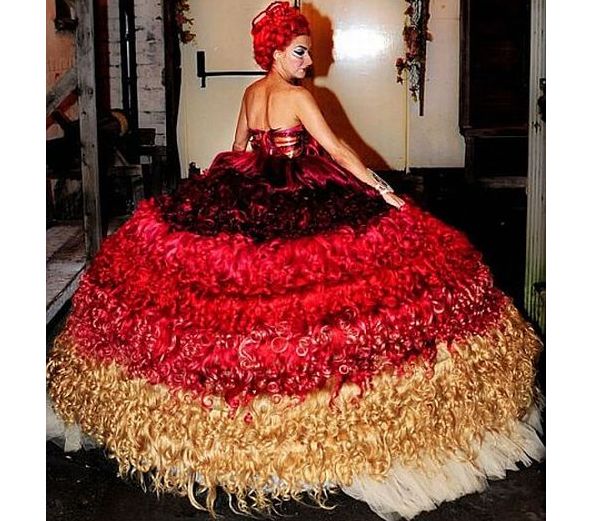 Wedding dresses are the most extravagant purchases made by a woman and it must be perfect and the most flattering attire that she has ever worn. Modern wedding dresses are normally quite sleek and stylish, however, most girls still prefer to dress up like Cinderella on her wedding day. The luxury of a big and flowy wedding dress is entirely dream-like, making the bride look like a princess. A lot of wedding dresses take inspiration from big wedding dress creations worn by celebrities, however, the lavish dresses worn at 'The Big Fat Gypsy Wedding' are perhaps the biggest by far! Here are ten such outrageously big dresses that have made their mark as the biggest wedding dresses ever!
Red wedding gown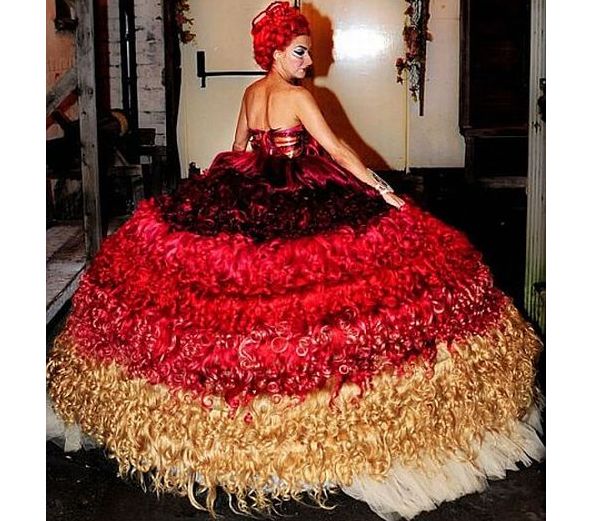 Wedding dresses are probably the most confusing purchases ever for brides-to-be. Everything has to be perfect and the best about a wedding outfit. However, if you have your eyes set on a gypsy-themed wedding, then you can perhaps buy an outrageous red-colored outfit created by Thelma Madine which is made out of human hair! This wedding dress is a creation by the popular Nico bridal store and this dress is made out of 250 meters of red-hued hair extensions! This dress would cost you a whopping £50,000 ($78,800) and it features hair extensions, 12 underskirts and 1500 crystals. Weighing a good 15 stones, it would definitely not suit a frail body type.
Big Fat Gypsy Wedding gown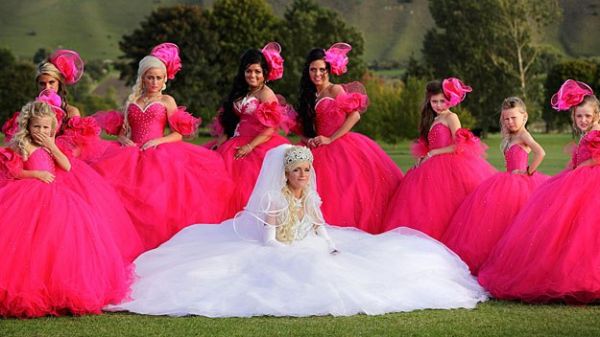 Another superb wedding gown from the 'Big Fat Gypsy' wedding, this one is a battery-powered, 20 layered pink tart that probably weighs much more than the groom! If you want to look extremely different and out-of-this world, then this one will be a winner. This massive extravaganza is too big and heavy for the bride to move around in. Accessorized with butterflies, flowers, feathers, glitter and sequins – this one has it all! The bride sports a fake tan to give her the bronzed look. The bride with her bridesmaids in neon pink frock dresses and over the top accessories looks like a volcanic eruption of satin and tulle – this really does make a pretty picture!
Big satin wedding dress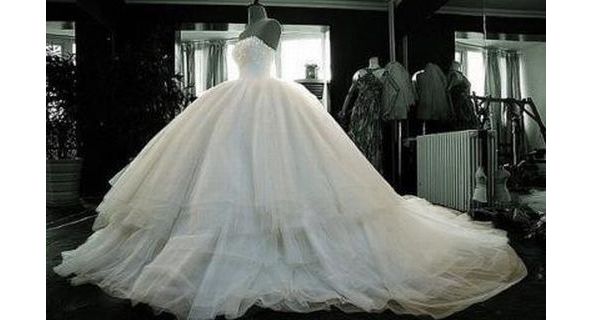 This definitely has got to be the world's biggest and perhaps most heaviest wedding gown. The dress looks like a huge cascade of satin, tulle and net that flows down from the waist in wave-like patterns. This outfit has multiple layers which make it extremely heavy to wear. The gown also has a dream-like quality with its flowing layered gown and fitted sleeveless corset that is adorned with gems and stones. This gown is one that would make the bride look like a royal princess. If worn with appropriate delicate diamond jewelery and a tiara, then this wedding dress will look like the one seen in fairy tales!
Biggest gypsy wedding gown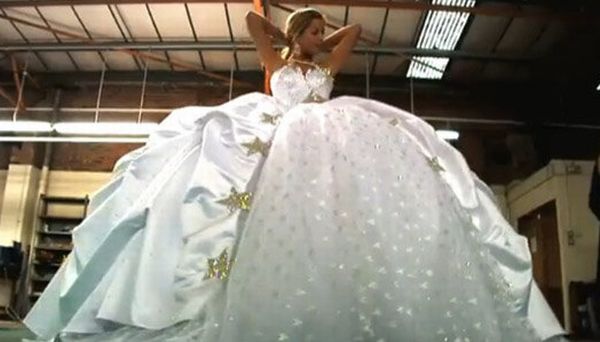 This huge white ivory satin ball gown is perhaps the most pantomime-like and biggest wedding gown creations ever. The gown is a sleeveless creation that has a well-fitted corset with the gown flowing down in a rounded cascade which has ruffled satin skirt with a peek-a-boo lacy skirt from the inside. It reminds us of Cinderella's gown and it certainly has a fairytale like element to it. The gown is embellished with stars along its side. The skirt of the gown is ruffled in some portions made out of white pure satin, whereas the other portions have glittering print on it. This most certainly is an extravagant wedding creation, however, it is slightly tacky though.
Pretty pink biggest wedding gown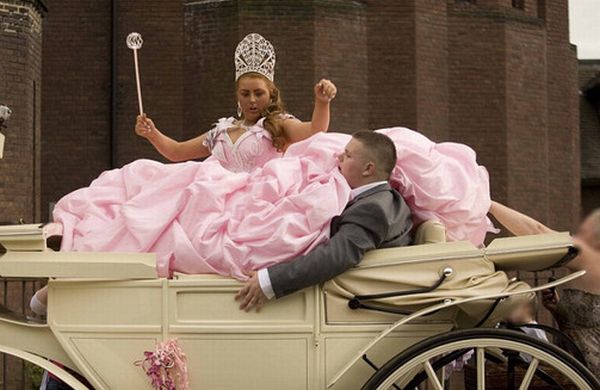 This pink princess prom wedding dress has probably got to be outrageous in terms of size. However, it does look extremely lavish and gorgeous for a big fat wedding! You can look like you've never looked before in this bubblegum pink ruffled extravaganza with layers of tulle that makes the bride look like a bouncy castle of sorts! The entire size of the gown is so huge that it would probably require an entire carriage or maybe something even bigger just to transport you to the church! You could complete the look with a tiara and look like the princess you've always wanted to be! This dress resembles the one that Katie Price wore when she married Peter Andre.
Cat print big wedding gown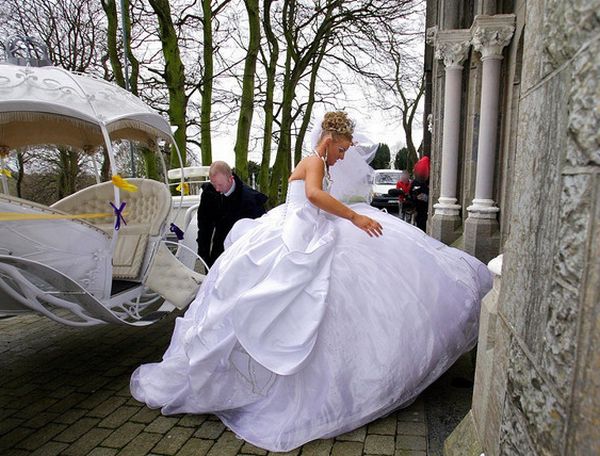 Add a bit of feline touch to your wedding outfit with this big cat-print wedding gown! This sleeveless white gown has a flowing skirt with many layers that give it a royal touch. However, what makes this gown different is the cat printed on the skirt makes the entire ensemble more interesting and modern too! Most wedding dresses have stars or flowers as embellishments, however, having a cat embellished on to the skirt is a bold fashion statement. Team this wedding gown with catty makeup, and you'll definitely have heads turning when you don this creation!
Bridget Rooney's wedding dress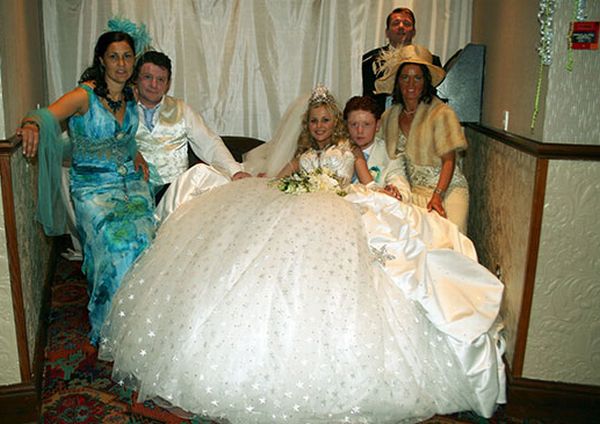 The flamboyant wedding dress worn by Bridget Rooney on her wedding day, is a multi-tiered wonder in net and satin. This amazing ball gown has star printed net. The well-fitted corset is nicely embellished and the bride completed the princess look with the elegant tiara and net veil. The peek-a-boo ruffled skirt of the wedding gown is what gives the dress a beautiful look amongst the ruffled layers of satin along the sides. This gown is very heavy to wear, and restricts the mobility of the bride. However, if you want to dress up like Cinderella for one day, then this is just the one for you!
Catrina Nolan's biggest wedding dress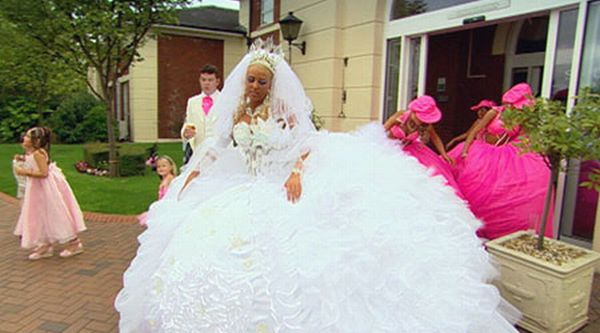 This 40 feet wide wedding dress weighs over 19 stones and is a satin wonder that has over 50 thousand swarovski stones adorning the bodice of this dress. The bodice is part star and part heart, and this is probably the highlight of this dress.This dress has hundreds of ruffles and over twenty layers, which just makes us imagine how tough it would be to get moving around in this dress. It actually took Catrina Nolan, the bride, a very long time to get inside the car on her wedding day and it took an equally long time to get the bride out of the car. The bride was not overweight, however, her dress piled on pounds as it weighed an unbelievable 19 stone! It took an hour and half for the bride to get into this extravagant dress.
Carly O'Brian's 30,000 Swarovski crystals studded wedding dress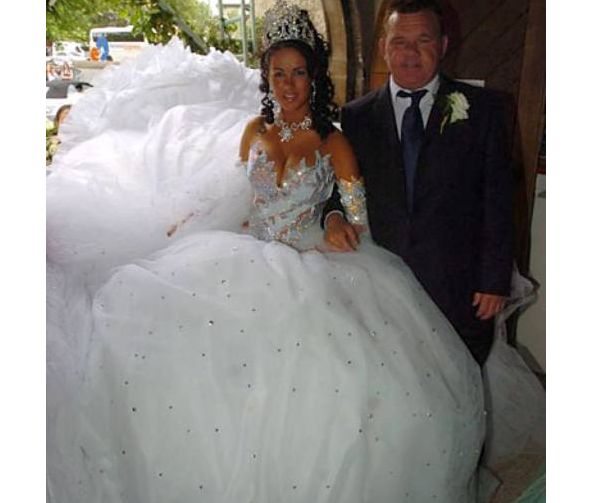 Carly O'Brian weighed a mere 7 1/2 stone, however her wedding dress weighed more than three times her own body weight. Still, desperate to fulfill her dream of wearing a luxurious wedding gown, the bride did not have any concerns regarding the weight of the dress. This outrageous wedding dress comprises of 30 layers of material that made up the underskirts and 30 thousand Swarovski crystals that adorned the corset and gown to give it the most expensive and heaviest look. This gown was more than 8 feet in width and could not be fitted through the church doors. It took more than 8 hours for the bride to get dressed in this humongous outfit that had a trail that was more than 60 feet in length and it took ten guests to actually tug the bride up the aisle! This dress cost the bride's father a whopping £15,000 and more. The gown was accessorized with a platinum tiara that had hundred of crystals encrusted.
Britney Spears biggest wedding gown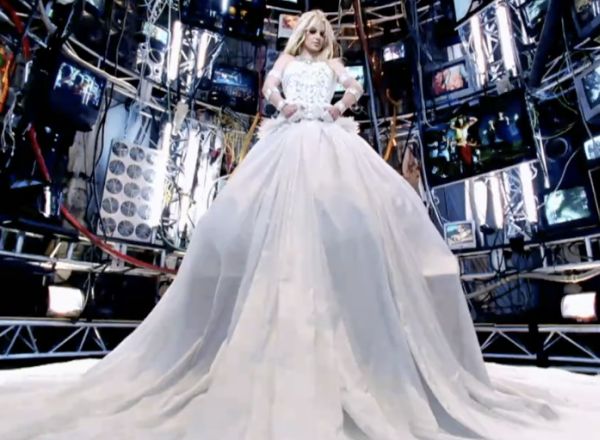 Britney might have dressed in the most skimpiest mini dress during her Vegas wedding with Kevin Federline, however, the over-the-top wedding gown that she sports in her music video is surely a luxurious creation! Britney is shown wearing a flowing strapless wedding gown that has a well-fitted corset and a huge monstrous puffball skirt. This white wedding gown, then changes into a techno-colored gown when Britney releases colorful paints from her fingers and splashes it around. These kind of lavish wedding dresses have caught the fascination of many brides, who want their wedding dresses to be the talking points and the center-of-attraction, no matter how outrageous they may be!