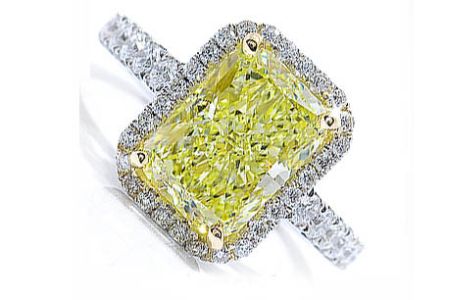 If you are looking for an engagement ring with quality diamond and uniqueness then a yellow diamond ring could be a great choice. Fancy yellow diamonds are becoming a trendy alternative to their colorless counterparts because of their vibrant hues. Engagement rings carrying yellow diamonds are more valuable and sought than regular diamond rings. Listed below are some gorgeous yellow diamond rings for your bride-to-be.
Yellow Diamond Princess Trilogy Ring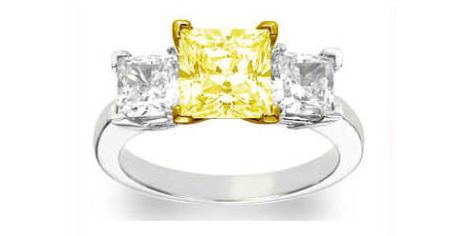 Impress your beloved with this wonderful yellow diamond ring and have an affair to remember. As the name suggests this striking piece of jewelry contains three diamonds, one white sparkling diamond on each side, and a beautiful yellow diamond at the center. Produced in 18 carat gold, this princess ring can be made in various sizes, and the quality of the diamond can also be customized to suit your budget. This diamond ring is professionally certified and comes in a beautiful wooden jewelry gift box.
14k Gold 1/3ct TDW Yellow and White Diamond Engagement Ring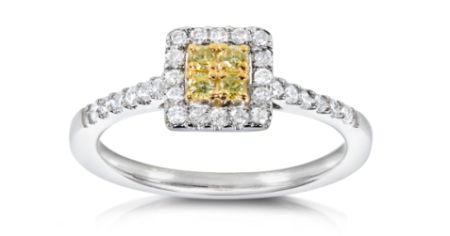 Featuring traditional round cut diamonds; this is an excellent 14K two-toned engagement ring. It has 4 yellow diamonds in the center and 28 white diamonds on the sides and on the band. Weighing approximately 1/3 carat, this yellow and white diamond ring can a make lovely engagement ring. It measures 6.7*6.7*5 mm and the band size is 1.6mm wide.
VS 1.68 ct Yellow Diamond Engagement Ring 14K Gold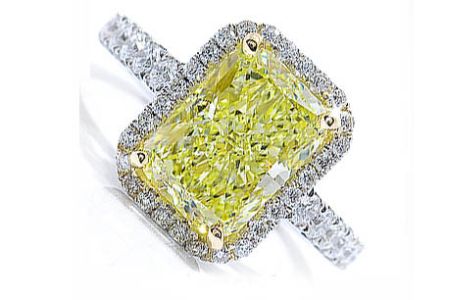 Exceptionally elegant, this diamond engagement ring shimmers with 68 round cut side stones and a stunning emerald cut VS yellow diamond at the center. The ring band is made of hallmarked gold ensuring durability. Even the diamonds used for the ring are very clear and are of premium quality. Weighing 6.50gr, this yellow diamond ring is packed in a beautiful gift box and is sure to astound her.
1.48 Yellow Diamond Engagement Ring 14K Gold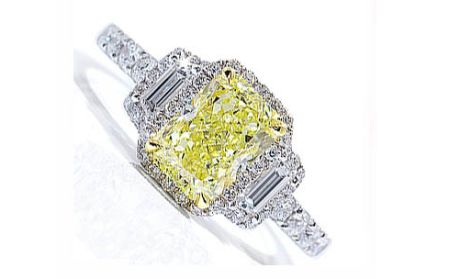 Crafted in shining 14 karat yellow gold, it features round cut diamonds set into the band, and a natural bright yellow diamond at the center. Graceful curves, detailed with matching baguettes, embrace and highlight the yellow diamond. The diamonds featured here are of high quality and have clarity of SI2. The total weight of this lovely engagement ring is 6.50gr.
18k Gold 2/5ct TDW Yellow and White Diamond Engagement Ring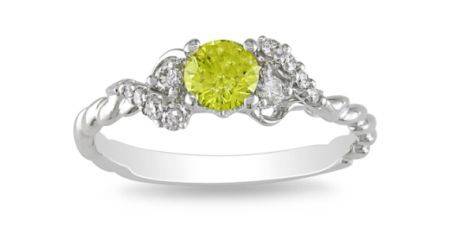 This dazzling engagement ring carries a total diamond weight of 2/5 carats. This extravagant beauty is set in solid 18K white gold, 1 round cut yellow diamond and 10 round cut side diamonds. The softness of 18k gold makes it easier for your beloved to wear this gorgeous ring daily without damaging it. All the diamonds in the ring are carefully crafted, giving a touch of brilliancy at every movement.
.25CT ROUND YELLOW DIAMOND SOLITAIRE ENGAGEMENT RING 14K GOLD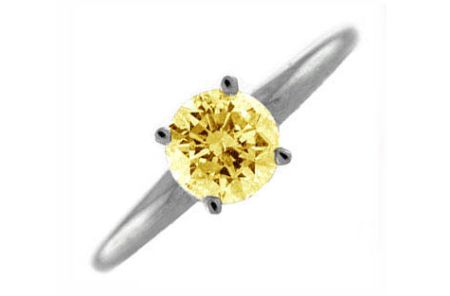 Express your love and commitment with this wonderful engagement ring. This gleaming yellow diamond solitaire ring is crafted in lustrous 14k yellow gold and carries brilliant round cut 0.25ct natural diamond. Weighing 2.50gr, this ring ships with an elegant gift box and a certificate of authenticity. The diamond included in the ring is of superior quality and features enhanced clarity of SI2. Overall, this ring can be regarded as an amazing piece of jewelry she would love to possess.
3.00CT CANARY YELLOW ROUND DIAMOND ACCENT ENGAGEMENT RING 14k GO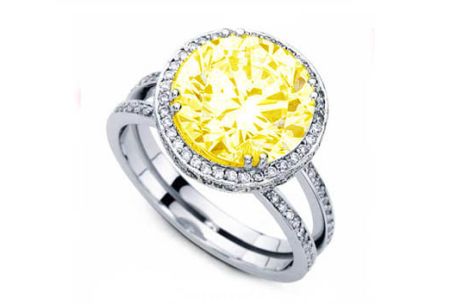 This exquisite engagement ring features 1.0ct canary yellow diamond in prong setting and more than two hundred 2.0ct round cut stones in pave setting. The ring weighs 8gr and is built in 14k white gold. The striking split shank design of this diamond ring will surely offer that uniqueness she always desired. The ring is packed in a beautiful gift box to add a surprise element and comes with an evaluation certificate for your peace of mind.
Three Stone Ring 1.00 Carat Diamond Ring 14K Gold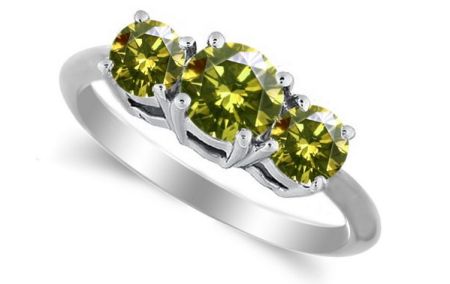 Three lovely canary yellow diamonds set on white gold makes it an elegant engagement ring. Promise her everlasting love with this 14k trio stone ring weighing 2gr. Available in ring size 6-8, this ring with three diamonds symbolizes past, present, and future. The diamonds of this ring are brilliantly cut and will surely make the best engagement ring for your loved one.
.35CT YELLOW DIAMOND SOLITAIRE ENGAGEMENT RING 14k GOLD

Meticulously crafted in 14k gold, this stunning gleaming timeless ring is classic and is most suitable as an engagement ring. Represent your eternal love with this super special single natural diamond ring featuring prong setting. The total weight of the ring is 3.50gr and the diamond used in the ring has enhanced VS2 clarity. Free gift box and authenticity certificate included.
Natural Fancy Intense Yellow Radiant Cut 2.38ct GIA By Graff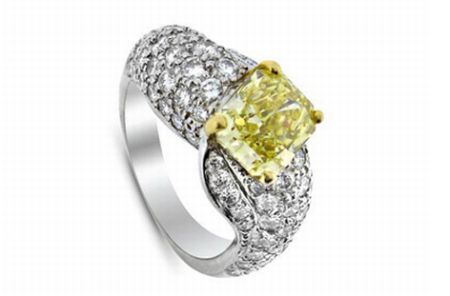 This beautiful engagement ring is finely crafted in platinum, and features an elegant 2.38ct canary yellow radiant cut diamond. Designed and signed by Graff, the diamond is placed in a handcrafted quality mount. Other than a stylish gift box, the ring comes with a one year manufacturer guarantee and certification by GIA to ensure peace of mind. Stun her with this stylish and unique piece of jewelry that will surely spread its shine all around.