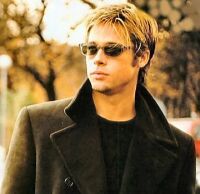 According to reports from the National Ledger, Brad Pitt has called his ex-wife Jennifer Anniston to inform her that he is going to get married in the coming days. If the reports of American magazine Life & Style are to be taken to be true, the call was made on the 14th of March.
As told by a close friend of Ms. Anniston: 'Jen had asked Brad to let her know so she could prepare personally and publicly for the media attention.'
'But she asked that he spare her the details, and the call lasted less than three minutes.'
It seems that Jennifer has not yet recovered from her messy divorce.