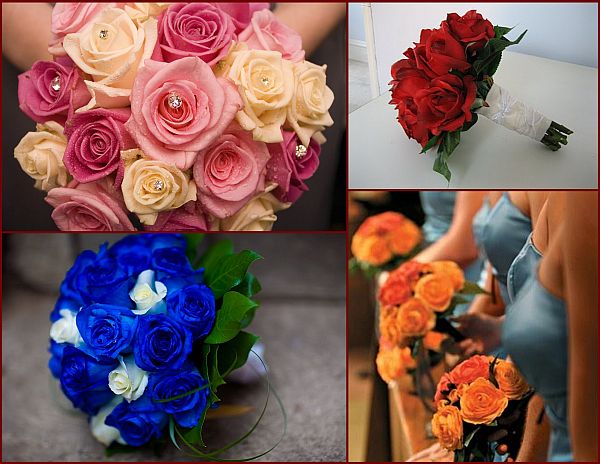 Traditionally, bride and bridesmaids carry floral bouquets at a wedding. Although bridesmaids' bouquet is generally smaller in size but flowers, color and style should be complementary to that of the bridal bouquet or wedding theme. Rose is the most preferred flower for wedding bouquet because of various reasons. Roses are available in different colors and shades. Bridesmaids can select the color of flower that matches their dress. Also, a stem of rose is neither too hard nor too soft making it easier to arrange in a bouquet. It can also withstand long hours of wedding ceremony without wilting.You can ask a florist to create a bouquet of your choice but it is really very exciting to make a rose bouquet by yourself. Lets see how can you make an elegant bridesmaid rose bouquet.
Complexity level
Moderate
Time taken
10- 20 minutes
Resources required
1. Roses (4 white and 8 colored)
2. Pair of scissors
3. Stem stripper
4. Florist tapes
5. 2-3 inch wide silk or satin ribbon,
6. Glitters (optional)
Instructions
1. Strip the rose stems
Strip the rose stems and pull off all the thorns and leaves. Use stem stripper or knife to avoid injuries from thorns while striping. You can strip by hands if you don't have the striper.
2. Floral arrangement
The most important step is the floral arrangement. Hold the white roses and arrange it in two rows of two roses each. It should appear like a box. Now place two colored roses in between the white roses. The colored roses should encircle the white roses giving it a shape of bouquet.
3. Taping
Taping should be done very carefully. Hold the stems firmly and start placing the florist tape. Start taping 3-4 inches from the top. The endpoint of the tape should be coincided with the beginning of next tape. By using scissors cut down the extra tape. Repeat the process 4 inches from the bottom.
4. Cutting the stem
Cut down the stem smoothly from the bottom. You can keep the length as much as you desire.
5. Making a bow with a ribbon
Use the satin or silk ribbon and make a bow. Tie it at middle of the bouquet. Again you can keep the ribbon hanging as long as you wish. You can give diagonal or triangle shape at the ends.
6. Sprinkle glitter
You can sprinkle some glitters and spray some water to keep it fresh for a long time and your bouquet is ready.
Frequently asked questions
Question. Should the color of bridal and bridesmaids' bouquet be same?
Answer. No, it is not necessary. Bride can chose the same color and flowers for her bridesmaids' bouquet. However, she can even select same or different flowers shade.
Question. Should the style of all the bouquets be same?
Answer. Depending on wedding theme bride can select bouquets of same style keeping her bouquet a bit larger than others. It looks nice when you select bouquets made up of same color or flower as it leaves a cordial impression.
Question. What else bridesmaids can carry in place of bouquets?
Answer. You can carry a parasol or a fan elegantly decorated with the flowers.
Quick tips
1. Don't cut the stems while you arrange the bouquet. Trim it only when you have finished the creation.
2. Keep the stems of bouquet in water to keep it fresh.
3. Complementary or contrasting colored flowers look amazing even in the photographs. If you are having trouble in finding correct shade then go for white. White always look pure and can match with any color.
Things to watch for
1. Consider the size and proportion of the bouquet with respect to the personality of the person who is carrying it.
2. Never use only white roses because some people consider it as bad luck. Use colored roses that should provide enough contrast to your dress.