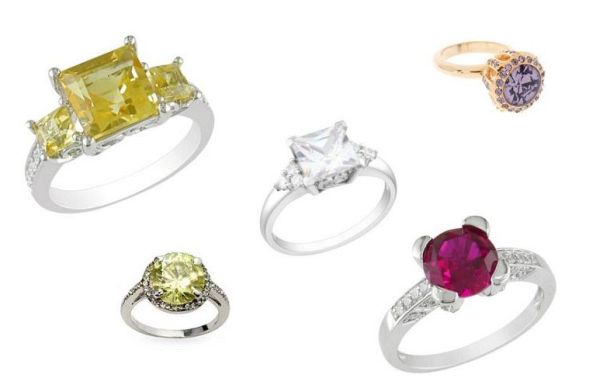 Every guy wants to make his girl feel incredibly special. Proposing to a girl is a huge step towards making her happy and no one want to make it anything less than extraordinary. Regrettably, like everything else, this too involves a great amount of money. Thinking of how to make the proposal ideal without shelling out too much money? Have much love but not much cash? Not to worry ; because here is the perfect solution to your crisis. Read on to know about the cheap engagement rings that do not compromise on style .
Disaya Faux Engagement Ring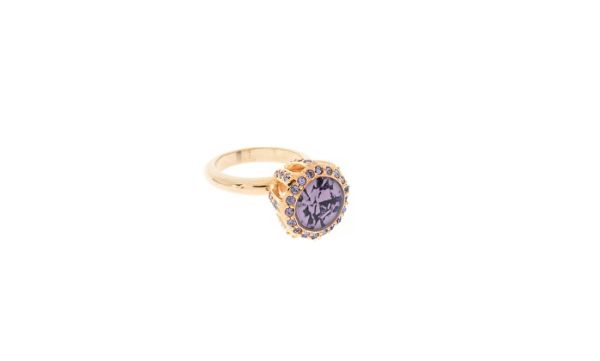 This ring has a beautiful combination of gold tone metal finish and a large diamond central piece. It has a crown like structure beneath the central diamond inlay giving it a regal look. The whole structure of the crown is diamond studded, while the ring itself is sleek. It has a very sophisticated design making it an absolute beauty. The ring is a very stylish choice and has the correct blend of grace and chic in it. It is perfect for your girl if she is fond of the intermingling of class and trend. The ring has a fair amount of royalty attached to it.
White Cubic Zirconia Silver Engagement Ring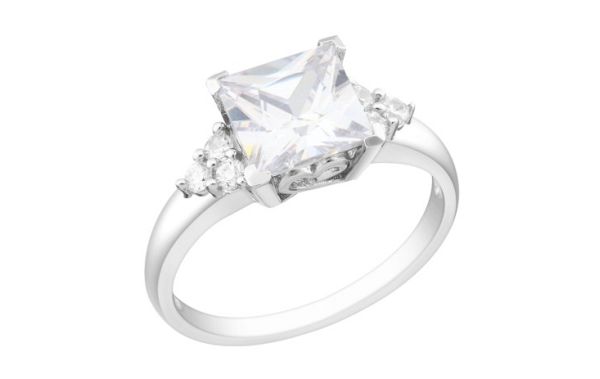 If your girl is fond of silver metal tones with a sparkling diamond, this is the perfect choice. The finish of the ring is polished and it is set in genuine silver. The ring has a sparkling cubic zirconia set right in the centre. This stone being about 5.42 carats. The centre zirconia is surrounded on both sides by three intricately placed smaller zirconias, respectively. The ring looks a dream woven to make any girl's fantasy turn into a reality. The arrangement of the ring is completely stunning.
Charm engagement ring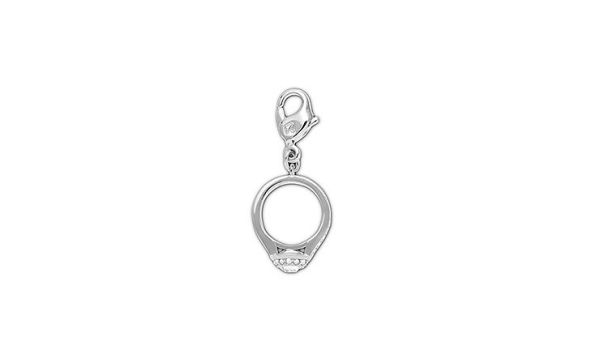 If you want to profess your love in a angelic way and wound the charm of your affection around your beloved, this is just the ring for you. Beautifully thought and splendidly executed, this ring is one of its kind and is sure to make your loved one feel special. This ring celebrates the exceptional moments spent together. It is a celebration of you as a couple. This ring has a rhodium finish with crystals set into the design.It has a central round shaped crystal bordered by smaller ones. It is an extremely innovative way to acknowledge one's love
Silver Round Solitaire Engagement Ring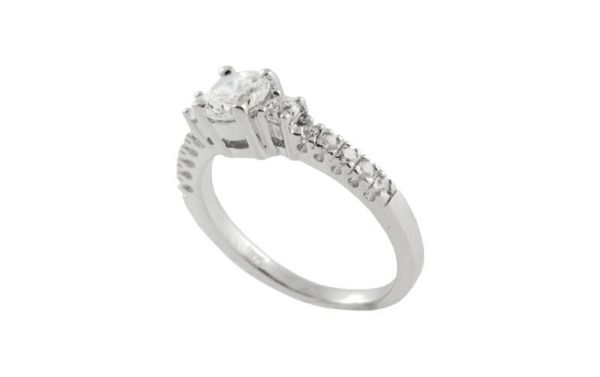 This is another great option for an engagement ring. The ring has a polished texture and has a central zirconia stone. The ring is of the silver metal finish. The centre stone is intricately placed in crown setting. It has two smaller zirconia stones on either side of the centre piece and smaller ones follow on both sides. The ring is completely delightful and is the perfect one to go down on your knee with. The ring is sheer beauty and elegance.
Celebrity Inspired Engagement Rings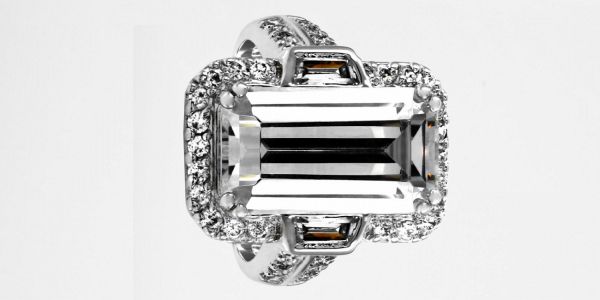 This ring is breathtaking. It is capable of making just about any girl gasp in astonishment. This is a celebrity inspired ring and rightly so for its magnificence is inexplicable and can barely be put into mere words. It has a large rectangular shaped centre cut CZ stone enclosed by smaller CZ stones and pave stones. The pave stones continue mid way down the ring band. The ring is strikingly well structured.
Sterling Silver CZ Engagement Ring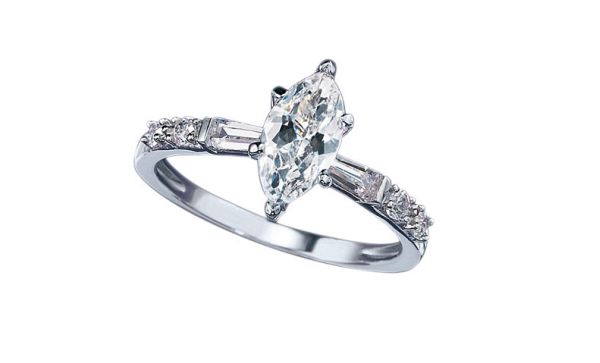 This ring is of a very unique kind. The shape of the centre stone is exclusive and attractive. The ring is in sterling silver which is the yardstick for quality silver ornaments all around the world. This ring has a marquise shaped centre stone which is very sleek and stylish. The central diamond is of 1.25 carats corresponding CZ stone and it surrounded by CZ baguettes. The ring has a sense of romance emotionally involved with it which makes it all the more desirable and the ideal choice for your girl.
Created Ruby Cubic Zirconia Silver Bridal Ring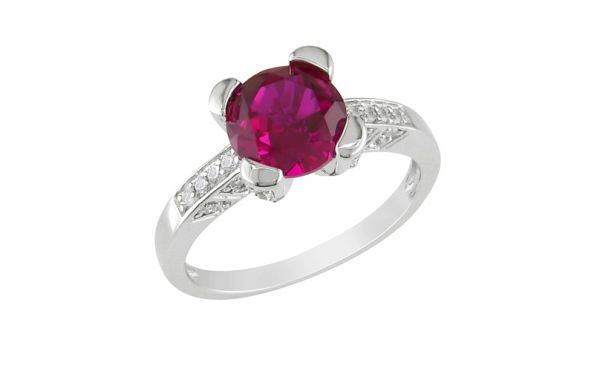 This ring exudes a sense of love and passion. It is a brilliant combination of ruby and silver. The finish of the ring is polished and it is set in sterling silver. The carat worth is 2.8 carats. The ring has a central stone which is the striking ruby in a rounded shape. The ruby is surrounded by white, rounded stones making the ring looks grand. The colour of the ruby symbolizes excitement and adulation. The ring has beautiful persona to it which makes it to die for. It is an excellent choice to profess your love.
Scrolling Around the Mansion Ring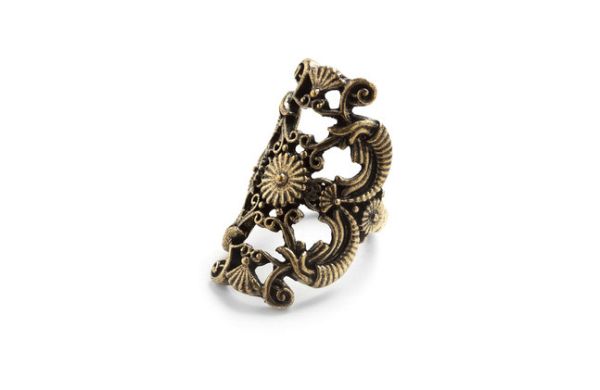 If your girlfriend is has a liking for highly wrought and complex designs, then this could be the ring for her. It is a break from the usual stone and metal finish ring. It has a sense of mystery to it which makes it an interesting choice and might just make your girl feel imperial. This ring has the perfect mix of ethnicity and modern written all over it. The ring has an old school charm to it. It is made of an oxidised gold metal finish and has some really minutiae and niceties to it. It has a poetic feeling to it which it makes it look almost magical.
Tivoli CZ Engagement Ring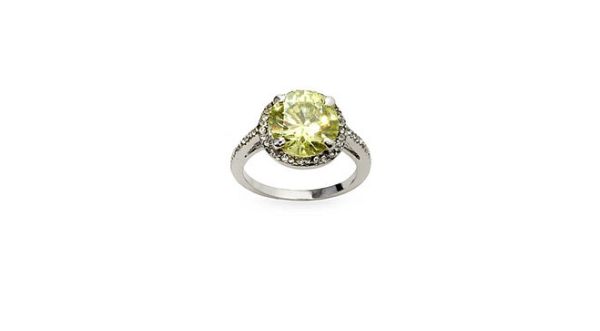 This ring signifies loyalty, love and devotion. This ring is a gorgeous choice for an engagement ring. This ring has the silver finish and an attractive yellow cubic zirconia placed at the centre and it is bordered by CZ lucid pave stones. The yellow is symbolic of happiness, warmth, joy and wisdom. Hence it is a commemoration the couple is going to lead in the near future while they walk together towards the horizon of life.
Citrine & Cubic Zirconia Silver Engagement Ring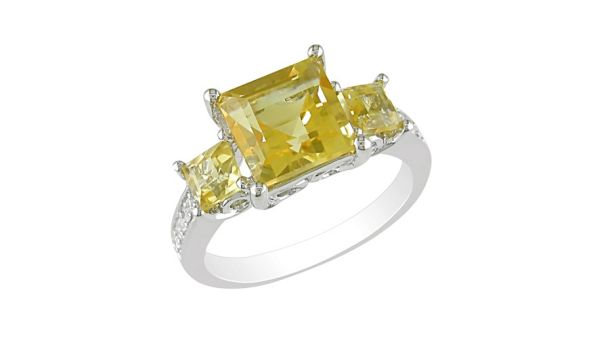 The ring is sheer brilliance in itself and is absolutely spell bounding. The finish of the ring is polished and it is set in worldwide accepted sterling silver. The ring has a centre stone which is a yellow citrine worth 3.1 carats. It has two smaller yellow citrines on either side of the centre stone. Following the yellow stones are white, rounded stones. The design of the ring is beautiful and so is the setting, making it a great buy.