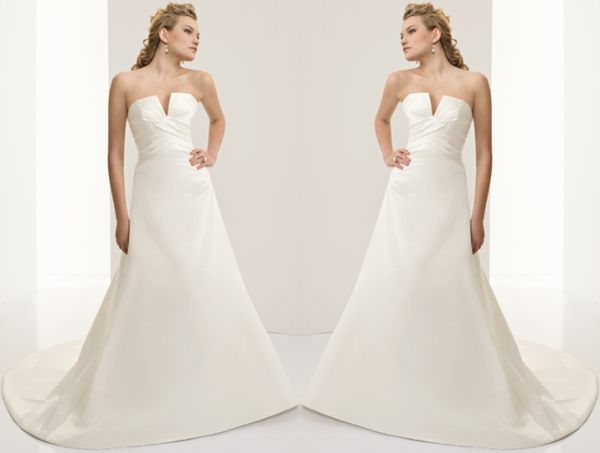 It is probably the dream of every woman to adorn a perfect and designer made wedding dress on their special day. But sometimes your pocket doesn't allow you to buy those expensive wedding gowns. But nowadays various designer quality wedding gowns are available over the internet at affordable prices. Various e-stores today present their collections at affordable prices to serve the purpose.We have handpicked some amazing bridal dresses for you. Take a look!
Full length Wedding Gown

Made from a combination of two superior quality fabrics, this full length wedding gown is perfect for a budget wedding. It is made out of a thick elegant fabric that is draped at the waistline and bust and also flows down to the entire length. The short sleeves are made of lacy fabric, which is also used in a V-shape on the neckline at the center. There are options of zip back and corset fittings on the back. The dress is available in an array of sizes and colors. Ranging from UK size 4 to 30, this beautiful yet affordable dress is priced at 168 GB and is available in different colors like ivory, red, white, champagne, and black.
Strapless A-line Satin Cheap Simple Wedding Dress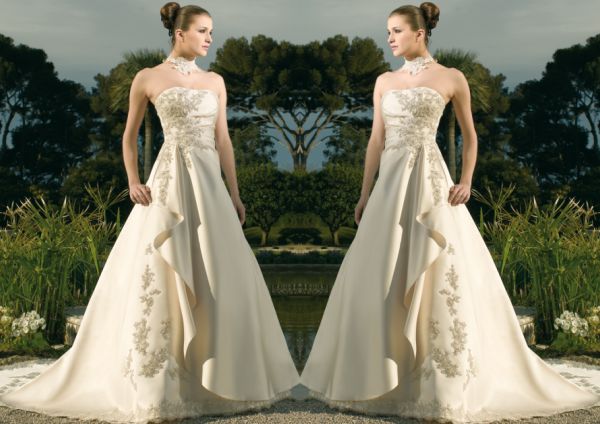 This elegant A-line wedding dress is perfect for a budgeted wedding. Priced at just £126.42, this wedding attire is available in a free shipping option to UK. The gown is made out of one of the most luxurious materials, satin. The gown is characterized by a strapless neck and back. The neckline is beautifully carved out to enhance the shoulder and bust line details of the bride. The A-line silhouette and feet length drapes of the gown are beautifully embellished with flowery designs, which flow down in an angle from the bust region to the knees and even towards the back of the dress. Apart from the sober and elegant textured design, a swirling extension from the waistline to the feet adds to the glam of the dress.
Simple new strapless lace wedding gowns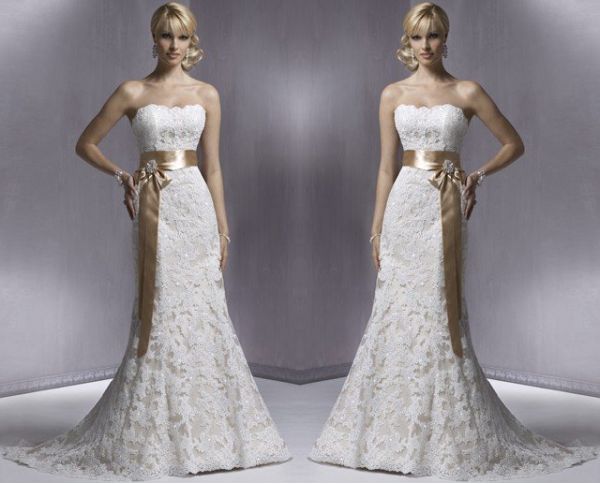 What can be better than a super sexy yet an elegant wedding dress? This curvy strapless wedding gown will surely take out the wild side of any bride. The sweetheart bust line fitted with hem fittings is neatly stitched to enhance the bodice portion of the gown. Just below the waistline is a jeweled golden bow hanging down to the knee region. The bow is the real attraction of this dress which enhances the subtle yet stylish appearance of this gown. Covered with a lacy fabric, this bewitching wedding gown is available for just $268 in a wide range of colors and American standard sizes. The available color options are white, ivory and light ivory, while the sizes may range from American standard sizes of 0 to 26W.
Strapless flowing Wedding Gown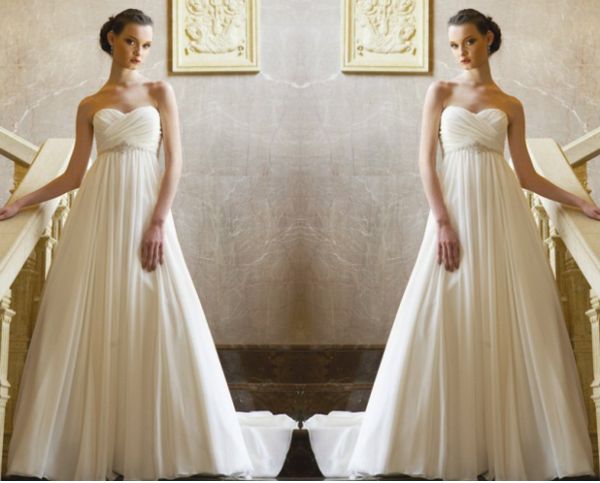 This curvaceous and free flowing divine gown can be the dream wedding gown of any bride. It is exquisitely made of superior quality fabric. The design is quite simple but its elegance and subtleness is simply unmatchable. The back and front portion of this gown is strapless and fitted with zip or corset back. Characterized by a heart shaped bust line and free flowing multi draped length, this wedding gown is an icon for the soft and versatile nature of a woman. This sexy dress is available in color options of white, champagne, ivory and red and in sizes of UK-size 4 to 30. This wedding gown can be yours for just 168 GBP.
One Shoulder Wedding Dress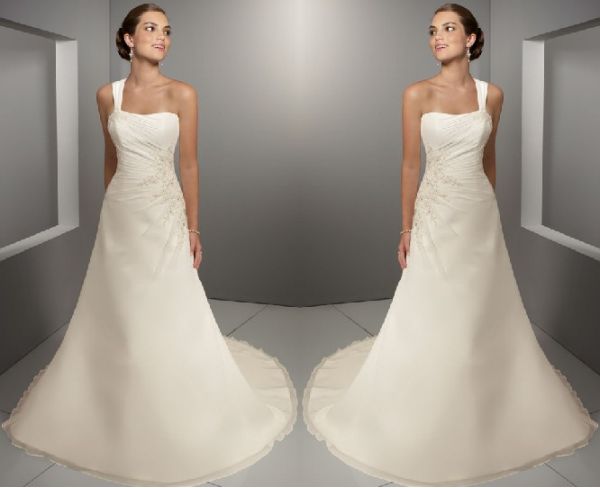 A yet another iconic wedding dress, this gown is featured with an A-line silhouette and a one shouldered strap. The youthful and feminine appearance of this wedding gown is perfect for a young bride-to-be. Designed with a draped and beautifully carved out bust line, the attraction of the dress lies at the seamless and smooth finishing of this gown. The back and the front portion of the wedding gown are decorated with beautiful flowery designs that attract the attention towards the waist line of the dress. This blissful gown is available in a size range of UK-size 4 to 30 and in an amazing price tag of 168 GBP.
Strapless seductive Wedding Gown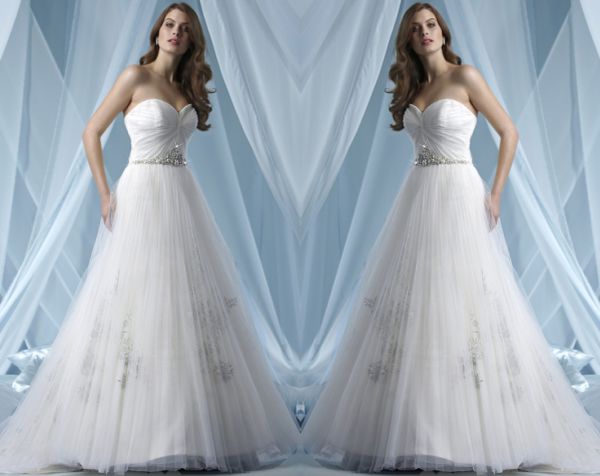 Are you looking out for a wedding gown that will set the floor on fire? Then this definitely has to be your stuff. The long free flowing net and lacy drape of this gown makes it a killer attire. Embellished with jeweled decorations at the waistline and knee region and the free falling drapes, this wedding gown is perfect for a tall and confidant bride. Priced at just 168 GBP, this seductive wedding gown is available in an array of sizes ranging from UK-size 4 to 30.
Vintage Tea Length Satin Organza wedding Gown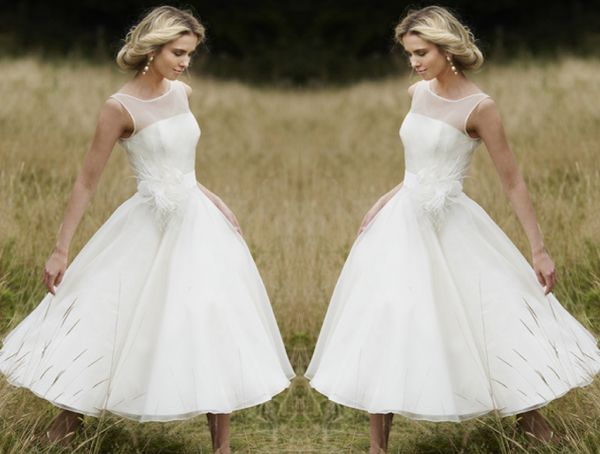 Short and sweet is the latest trend of this season. This short and playful wedding dress is a must have for those who want to enjoy their weddings without carrying the burdens of long and heavy wedding gowns. A simple round neckline has been made of net and satin. A small flowery bow completes the look of the gown. Short length of this gown makes it easy to manage and maintain. You will have to pay just £119.59 to make this gown absolutely yours.
One Shoulder Layered Wedding Gown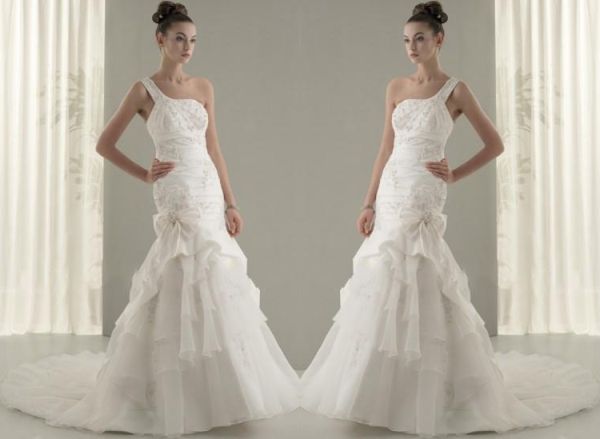 If you want to go for a chick and modern look on your wedding day, then this gown should be the ideal choice for you. Characterized by a fitted bodice and a bouncy bottom, the dress can be easily carried off without handling much hassle. The dress comes in a sultry one shoulder strap and corset back. This enigmatic dress is available at just 98GBP.
Luxuriant Graceful Cheap A-line Wedding Dress with Chapel Train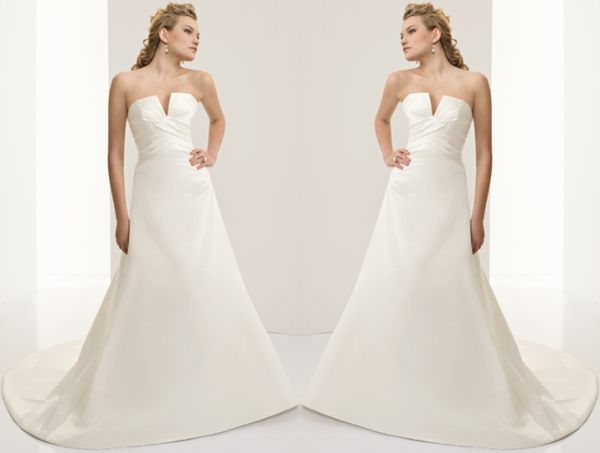 This exquisite wedding dress is designed on modern trends. A V-shaped vertical cut at the bust line makes it very sensual and feminine. Created with a neat and smooth finish, this $260.99 wedding gown is truly a fashion statement for the present generation.
Strapless Satin Wedding Gown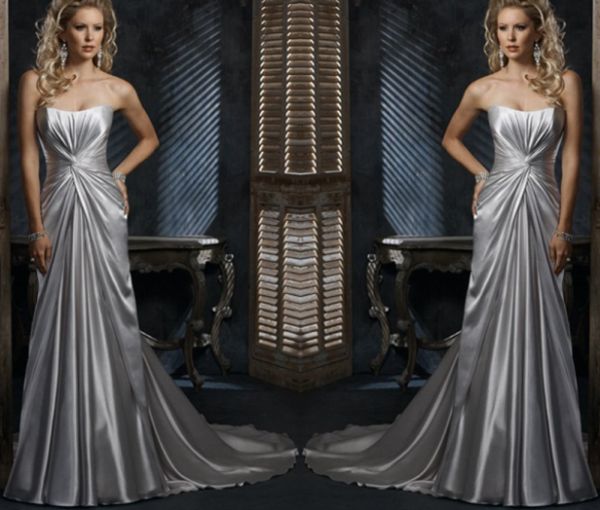 Finally, if you want to make a fashion statement out of wedding dress then this wedding dress is made just for you. Tinted with an unusual steel color, this lustrous and seductive wedding dress is enough to attract your groom's attention towards you. This floor length ruffled wedding dress is featured with a strapless back and front and is just simple enough to lower down the heat. This exclusive custom made wedding dress comes just for £130.20.