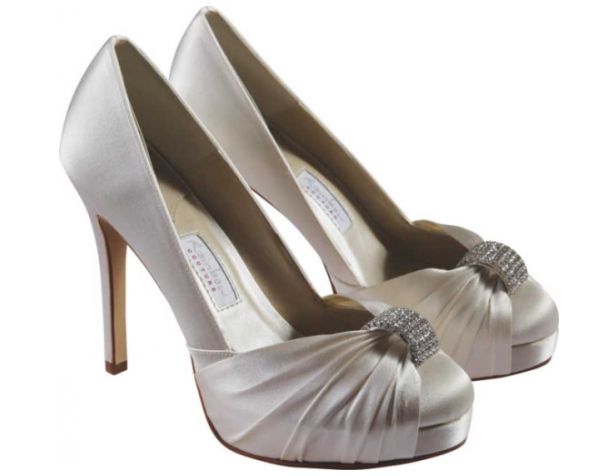 Along with a stylish designer gown for your 'D-Day', well coordinated and matching accessories are a must-have to impart a complete look to your desires of dressing up like a princess, on the most special and much-awaited occasion of your wedding. In the list of inevitable accessories comes a pair of strikingly gorgeous wedding shoes. Imagine if you can get a pair of magical wedding shoes, which gives you the freedom to dye them in the most appropriate color, perfectly adhering to your wedding attire. Providing an icing on the cake, there is a whole range of specialized outlets selling dye-able wedding shoes, which do all the needful in designing the most suited hues of footwear for your wedding gown. Let's take a look at some of the best dye-able wedding shoes available both online as well in stores.
Dyeable T-Strap High Heel Sandal with Jewel Detail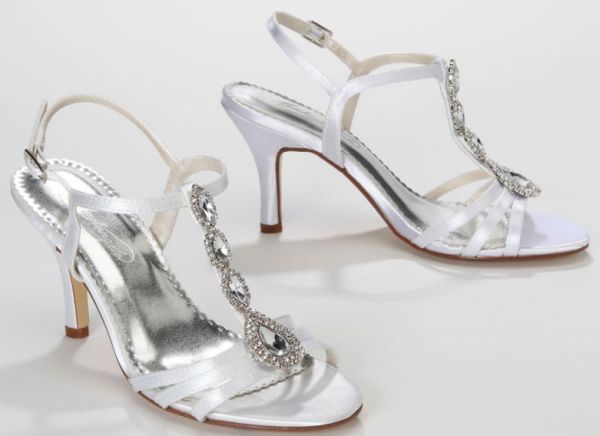 This awesome pair of wedding shoes is T-shaped and is made of satin, which can be dyed in any color as per the requirement of the bride. The central T-strap is embedded with crystals of marquis and pear shape. The heel size is 3 inches, and has been cut out of imported leather sole. A product from the David's bridal store, you can get this white wedding shoe dyed in an exclusive color of your choice from any of their retail outlets. The price of these adorable shoes is $59.
Astoria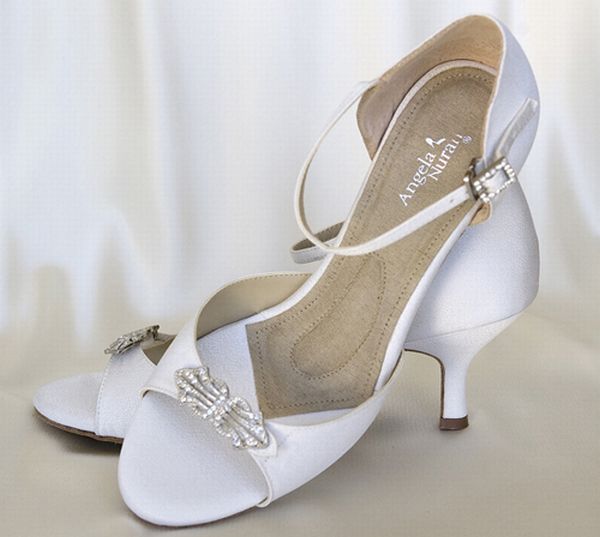 The Astoria footwear by Angela Nuran is a product from his dyeable wedding shoes collection. It has been designed with a peek-a-boo toes and adjustable straps around the ankle. The front portion has been embellished with Swarovski rhinestone, which too can be fitted as per the width of the wearer's foot. It comes with two heel choices of 2 1/2″ and 3 1/2″, while the sizes range from 6-10 medium. The color palette for the shoes is white crepe and pearl silk, in which the former is dye-able, as per the color choice of the buyer, while the latter is non-dyeable. This extremely eye-catching pair of shoes has been priced at $249.95.
MARISSA STYLE Wedding Shoes Dyeable Satin Platform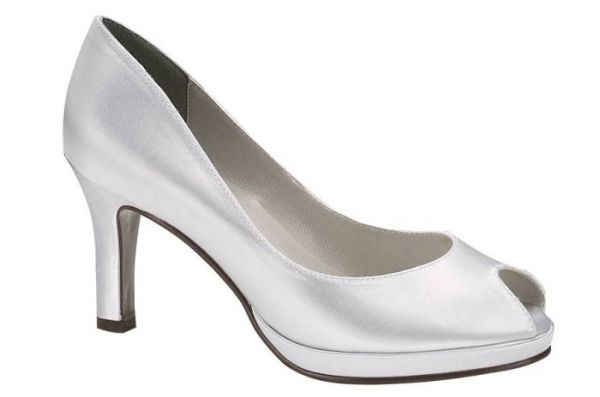 The Wedding Bridal Prom Dyeable shoes by Marissa is a very elegant pair of platform shoes with an open toe and a closed back. The fabric used is dyeable satin which can be custom dyed, on order. The heel height measures 2 3/4″ and the sizes available range from 5-11, medium width. These customary and highly comfortable shoes have been tagged at $ 64.80, which can easily set with any formal gown to add poise and elegance to both your outfit as well as your personality.
Dyeable peep toe mid heel with scalloped edge Style Shellie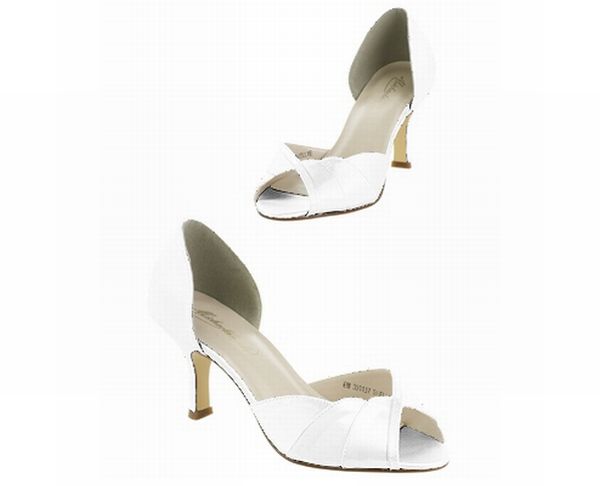 The Style Shellie wedding shoes is superbly comfortable with heels measuring 2 3/4″, and is capable of carrying you all through the wedding ceremony, without leaving behind blisters or painful sores. The style features open toes, mid heel and scallop edging, all of which make it highly comfortable and adorable. Although sold in white, you can get them dyed at the local David's Bridal Store, in any of their exclusive colors. To make them yours, you have to spend an amount of $49.
Wedding Bridal Prom Dyeable Shoes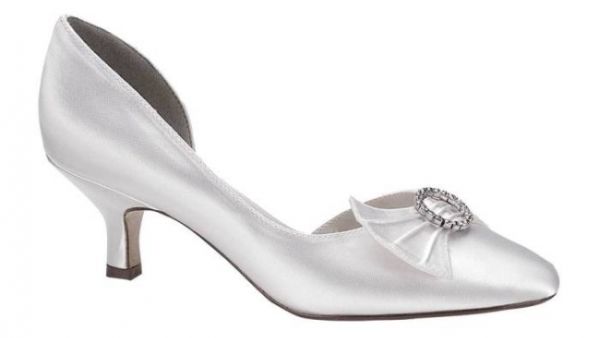 The TIA style white dyeable shoe, priced at $60.89, is a highly beautiful pair of footwear in satin finish, which can make you feel like a princess on your wedding day. With a 2″ heel height, which is just apt to impart extreme comfort and confidence on your special occasion, the shoes feature a circular ornament on the closed toe region, encrusted over a half bow which goes through the jeweled circle. Since it falls in the dyeable category of shoes, you can match the footwear hues in accordance with the color of your gown.
Wedding Bridal Prom Dyeable Shoes SHARMIN STYLE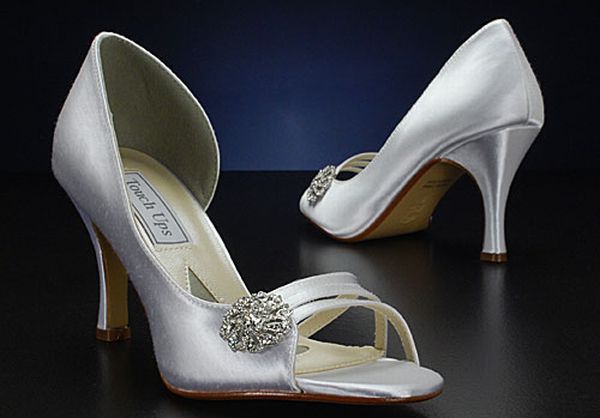 The Sharmin style is the latest edition to the company's line of dressy bridal and evening footwear ensemble. The shoe design stylizes a fancy rhinestone broach, embellished on the right side with three straps parallel drawn across the open toe against a heel height of 2-5/8″. The left side has been kept open which enables you to slip in your feet easily, without causing any discomfort, even if worn for incessant number of hours. Although, stocked in white and brown satin, the former can be easily dyed to perfection to match the color of your gown. This exclusive pair of bridal shoes has been priced at $62.89.
Rainbow Couture Allora Dyeable Wedding Shoes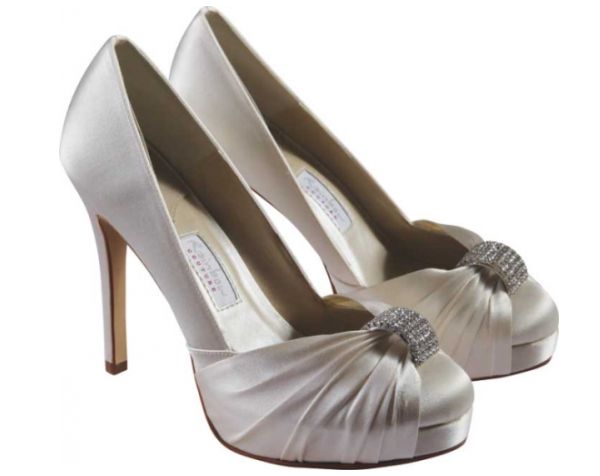 Conceited and designed by the Rainbow Club, exclusively for their Rainbow couture collection, these Allora dyeable wedding shoes are a treat for your feet. Inspired by the latest catwalk design, the shoe symbolizes a wild concealed platform, wavy soft petals, sizzling high heels of 4 1/2 " and vintage styling. Glamorously trimmed, along with silhouettes and latest Swarovski stones, these shoes are elegant, beautiful and sophisticated, which enhance and impart beauty and class to the wearer thereby making her a style icon of the occasion. Moreover, the footwear has been given a padded-in-sole, concentrating on the ball of the foot, to ensure comfort and ease all day long. These classy pair of shoes can be yours for an amount of $140. Available in ivory silk, although it can be dyed in a range of colors, the biggest drawback of this product is that it is not available in white, and it cannot be dyed in white either.
White Dyeable Slingback Wedding Shoes 'Fiore' by Nina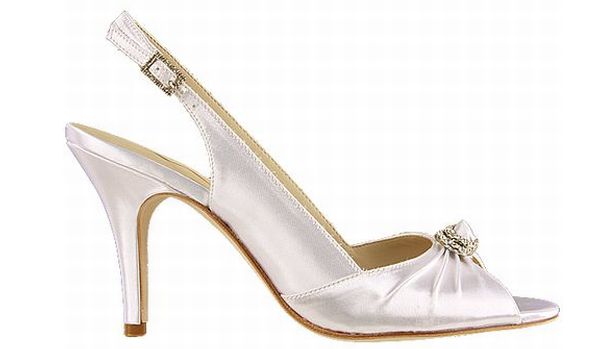 Another addition to the list of dyeable wedding shoes is the 'Fiore' from Sole Struck, designed by Nina. The product features an open toe space and adjustable straps with slingback options. On the top front region knot detailing along with half-moon rhinestone has been done. The foot-bed has been padded to ensure comfort to the bride and keep her feet pain-free throughout the day. Available in white color, it can be dyed in any shade, and can be bought at a price of $99.95
Dyeables Women's Gianna Platform Pump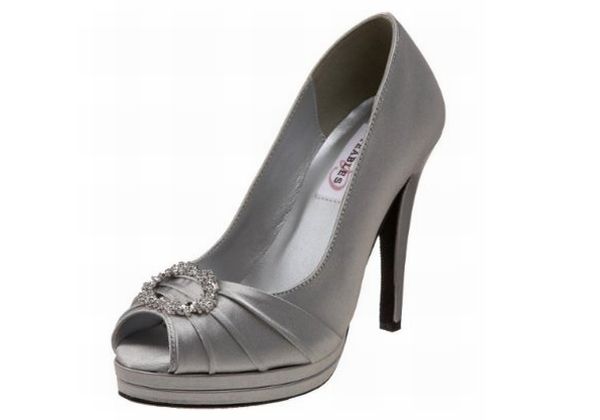 This pair of dyeable platform pump shoe from Women's Gianna features pleating and sinuous lines on the peep-toe, and a glittering brooch over it to make bride's every step full of glitz and glimmer on the biggest event of her life. The footwear consists of man-made soles, 41/2″ heel height and 1″ high platform, all beautifully balanced and coordinated in three different shades; white, silver and black. However, the white version can be dyed as per the bride's color requirement for her footwear. The price of this highly glamorous pair of shoes is $59.99
Dyeables Women's Anette Low-Heel Wedge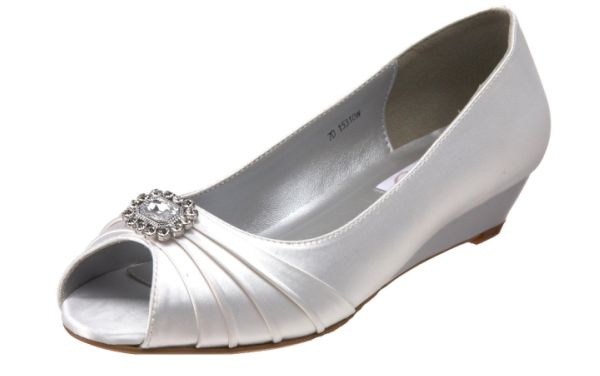 A rare beauty in the low-heel range of bridal footwear, the Women's Anette seems simply eye-catching with its exclusive design and comfortable interiors. The shoe features satin pleating on its open toe area, low wedge heels and a dazzling crystal gem which personifies beauty par excellence. Available in black and white shades, the latter can be easily dyed as per the customer's specifications. The price of these simple and elegant wedding shoes is $64.90 only. Considering the comfort and class that it offers, the footwear is simply a steal at such a low price range.