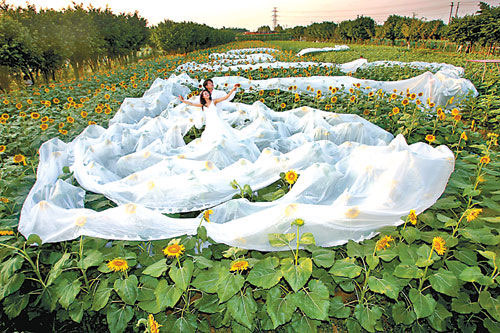 Couples plan various record setter events to make their wedding memorable. I assume that same inspired Ken, a Chinese groom from Guangzhou City to have her bride dressed up in the country's longest wedding dress for their wedding that is scheduled for October 30,2007.
The wedding gown weighing around 100 kilograms come a gift to the bride from groom's side. It took many local tailors some three months to finish the 200.8 meters (219 yards) huge gown. The gown's tail measures three meters in width and has 208 bow-knots.
And when the bride walks down the aisle she would be helped by over 100 people who would be there just for helping her carry the unusual ensemble.
The couple has set a new domestic record by beating earlier record of a wedding dress train that had measured 99 meters.
After the wedding the couple plans to put the dress for charity auction.
As a matter of fact despite this bright idea the couple failed to beat the Guinness World Records of longest wedding dress train which is held by Andreas Evstratiou of Cyprus. She set the record on the February 18, 2007 with a train of 1,362 m (4,468 ft 5.94 in) long gown.
Source:Shoeblog