Choosing an engagement ring can be a little tricky especially because our fingers are not the same size. So in order to choose an engagement ring for your fiancé, it is very important that the two of you go together to see a jeweler. If you are a man and you want to surprise your fiancé, then make sure you at least know their finger size before getting the ring.
For personalization, many people tend to get custom designs made by the jeweler. Since engagement rings hold a lot more meaning than typical jewelry, it is of utmost importance that you should know your partner's taste. Maybe she likes gold or platinum or likes it light and easy. Whatever the case, it is a very good idea to ask her or her friend to know what exactly she likes.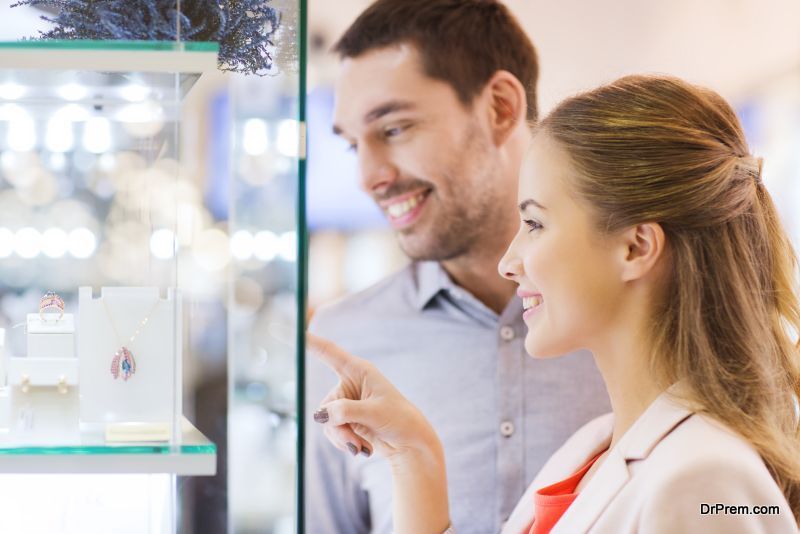 For selecting an engagement ring for a man, a woman should also do the same things mentioned above. The finger size comes first then the design, but if you are still unsure, then remember this one thing, most men appreciate rings that are light in nature or are birthstones. It is still a better idea to arrange a meeting with the jeweler beforehand if you don't want to run into disappointment later.
As far as the budget is considered, most couples like to talk to each other about the budget of the ring before getting the ring. If you still don't want to talk about the budget with your partner, you can set up an appointment with your jeweler to show only the rings that fall in your budget when you come with your partner to select a ring.
A wonderful site of reference as you go through this process is TheDiamondAdvisors.com.
There are several kinds of rings and each of them has a different meaning attached to it. The toughest part of selecting a ring is when you are selecting a stone for it. Many women by default prefer diamonds on their rings but the same cannot be said for everyone. If you are confused about which stone to put on your engagement ring, simply ask a professional jeweler and he/she will guide you through the different stones and their attributes. Remember to give your fiancé a ring that has a meaning which reflects on both of your lives. A ring may show signs of love or may say many promises. The choice is yours but keep in mind to research well before getting a ring.
Article Submitted By Community Writer