When it comes to choosing a diamond for an engagement ring, not only do you have to consider the personality of the recipient, but you should also consider the personality of each cut.
1. Cushion Cut Engagement Ring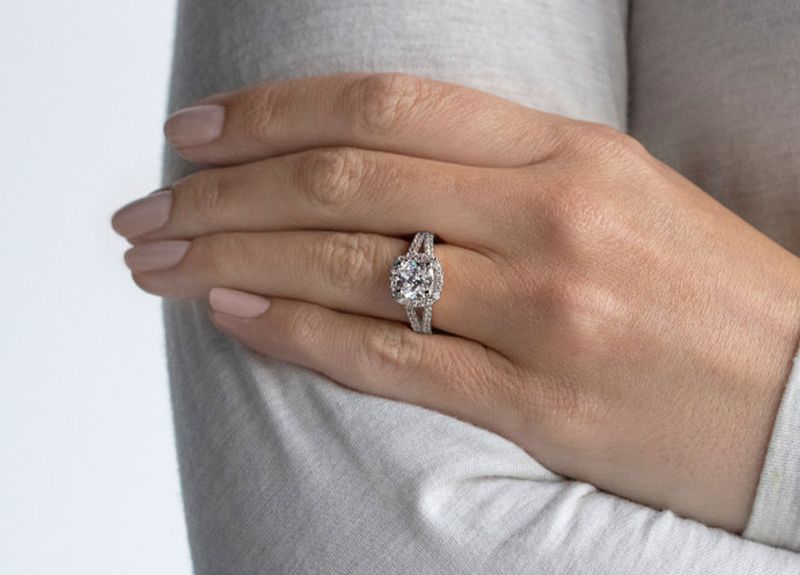 The timeless look of cushion cut engagement rings makes them a consistently popular choice. Elegant and regal with a vintage feel, this cut makes many a bride blush. From a square with rounded corners to a more elongated rectangle shape, the cushion cut's length-to-width ratios vary, but not its brilliance. Arguably the cut with the most fire – those multicolored rainbow flashes of light – this diamond cut is an outstanding choice for a woman who favours classic over trendy, royalty over celebrity, and substance over infatuation. It's a cut that seriously wows.
2. Princess Cut Diamond
The princess cut diamond has waxed and waned in popularity, with a high point in the early-2000s. But everything old is new again, and we see resurgence in this square stunner. If you choose a princess cut diamond for your modern, edgy bride, make sure the sharp edges are encased in prongs as they can chip. Perfect for a three-stone ring or solitaire.
3. Oval Cut Centre Stone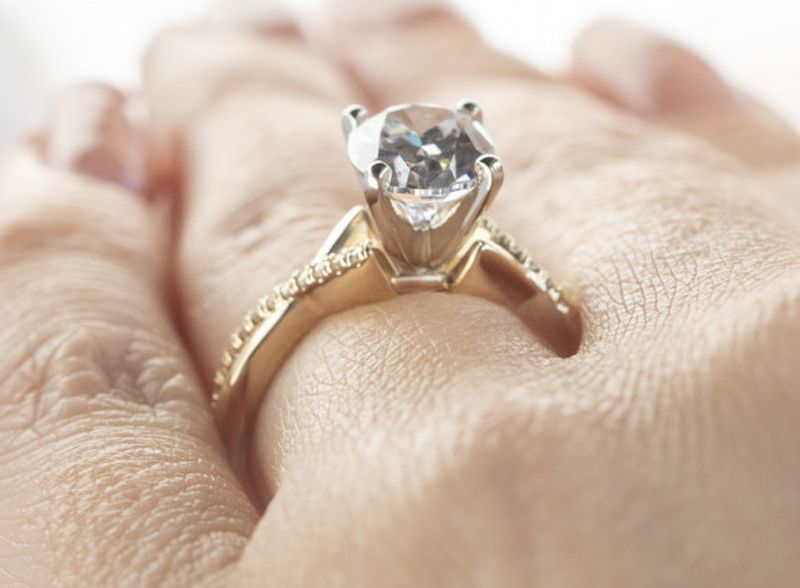 If your beloved is more Grace Kelly than Kelly Clarkson, an oval-cut centre stone is the best choice. Oval diamonds hide inclusions better than many other cuts, and they have the added benefit of making a finger appear slimmer in the traditional north-south presentation. They can, however, look outstanding in chunkier bezel set east-west presentations and make your modern princess swoon. An oval cut gemstone is also a wonderful choice for sapphire or topaz as it highlights all the best qualities of coloured stones, too. We live for a traditional white diamond centre stone flanked by oval sapphires set in yellow gold.
4. Round Diamond
A round diamond is a traditional choice for an engagement ring for a reason. Simple, no-nonsense, cemented in American history with Tiffany & Co pioneering the 6-prong setting in the late 1800s, it's a cut that positively screams bridal. With modern cutting techniques, the round cut diamond can achieve an unparalleled radiance. A yellow gold setting is a classic, but when paired with platinum, the round diamond is a thriller. If you're looking for an engagement ring that isn't hopelessly traditional, round cuts can be used in bezel settings, gypsy settings, and channel set-in bands. And because many modern brides wish for rings with a smaller footprint, you can make a lovely, dainty ring out of a thin band with a small round solitaire. Or make a statement with stackable rings. There's nothing better than a round brilliant of any carat weight.
How to Select an Engagement Ring
Selecting an engagement ring is a momentous occasion. Instead of shopping for costume or statement jewelry, you're looking for the perfect material symbol of love. However, choosing the perfect stone isn't as intimidating as it seems. There are so many resources available online to learn about gemstones and your local jeweler. Check-in with their friends — chances are, they'll know exactly what she wants or doesn't want in terms of metal, cut, and style. Go with your heart — it led you to your intended in the first place.
And there's always an option to reset it later. If Meghan Markle can do it, so can you.
Article Submitted By Community Writer