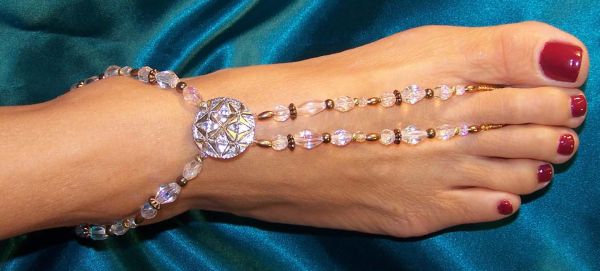 Most brides focus on wedding dresses more than they do shoes as footwear is usually hidden beneath flowing gowns. Moreover, comfort is the key as brides are required to stand and greet guests, dance and generally be on their feet for most of the day. But a beach wedding (if you're not going barefoot) means that you'll need special shoes. The sandy venue doesn't bode well for shoes with very high heels so simplicity and breathability are key. Take a look at some cool beach wedding shoes that are super comfy and very stunning.
Barefoot bridal sandals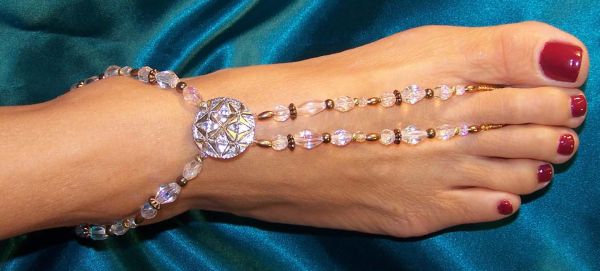 Sandy beaches don't really allow for conventional footwear as they can be uncomfortable. But these barefeet sandals are perfect since they don't have any soles and are adorned with crystal beads on the top instead. A champagne toast medallion at the center is the meeting point for all the crystal beads that have been threaded together keeping comfort in mind. For the toe portion, tiny beads have been incorporated so you don't face any discomfort when walking. The pretty beaded sandals sell for about $50 a pair.
Black barefoot sandals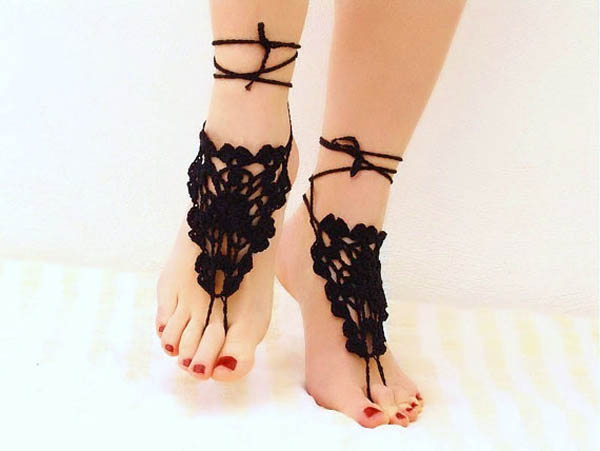 These black barefoot sandals are extremely comfortable and look oh-so-good. Crafted in a crocheted pattern using viscose blend yarn and soft cotton, they come in a sexy black that will perfectly contrast your white or ivory wedding dress. They're made to order so you probably won't find them in a local store. But they can be shipped and cost around $14 for a pair, excluding shipping costs. You can even order them in different colors though we feel the black ones are the best.
TWINKLE TOES lace & crystal flat wedding bridal shoe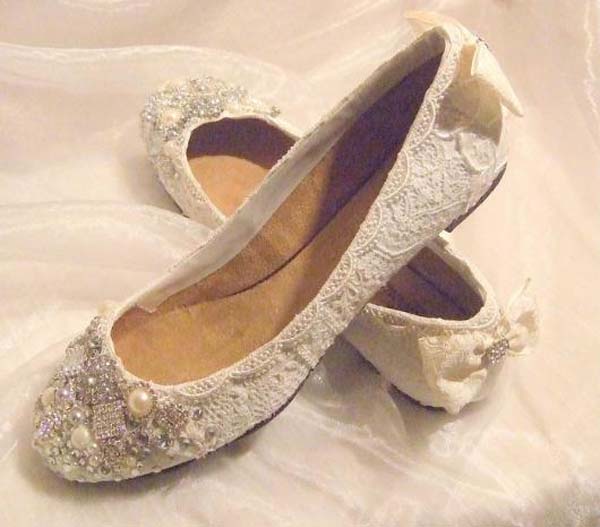 If you feel you need to wear shoes, then TLC has the perfect pair for you. These flat ivory bridal shoes are covered with antique lace, and crystals and pearls on the front. Similar to ballerinas, the flat soles ensure that you don't get bogged down in the sand while still guaranteeing you a pair of stunning footwear. A pretty bow at the back held together with crystals completes the look which is one of antiquity and style. They cost about $195, a little on the pricey side as they're handmade. If you have your own lace that you'd like used, you can specify the same at no extra cost.
Maloles 'Beatriz' flat shoes in metallic lace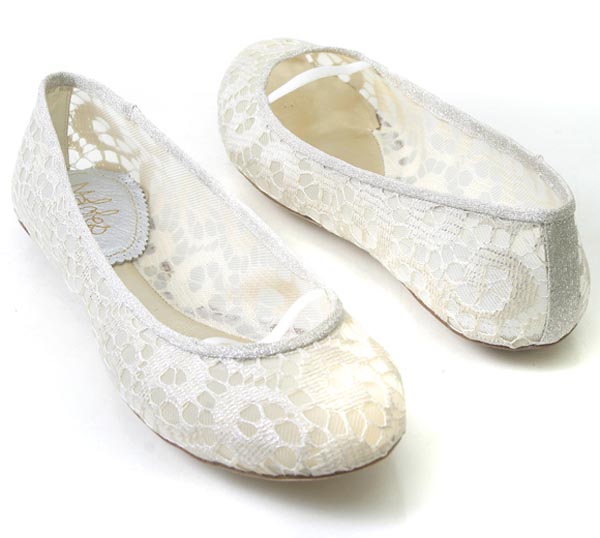 Another pretty pair of shoes makes the list, this time in metallic lace. Dainty and feminine, the metallic lace makes them extremely light to wear which is perfect in keeping with the airy surroundings of a beach. It has an elastic strap at the front for extra grip while the soft lace ensures breathability and comfort. Team them up with a whimsical wedding dress and watch heads turn as you make your way down the aisle. A pair costs $349 and is available for sale at Barefoot Tess.
Giuseppe Zanotti flower flat sandals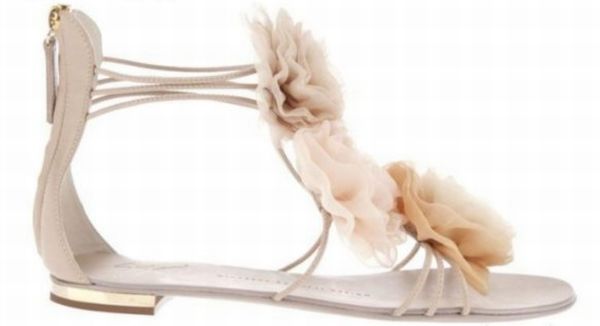 This is another whimsical pair of shoes that's ideal for a beach wedding. Made by Giuseppe Zanotti, they're flat sandals with three large flowers motifs in the front that run up to the ankles. Designed in a pale pink/cream hue, they feature a zip at the back and straps at the ankles over the front part of the feet. More formal than the rest, they also feature a very small heel. The flat flower sandals sell for a price of about $138 a pair and are also available in black.
Women's t-strap flat thong flower sandals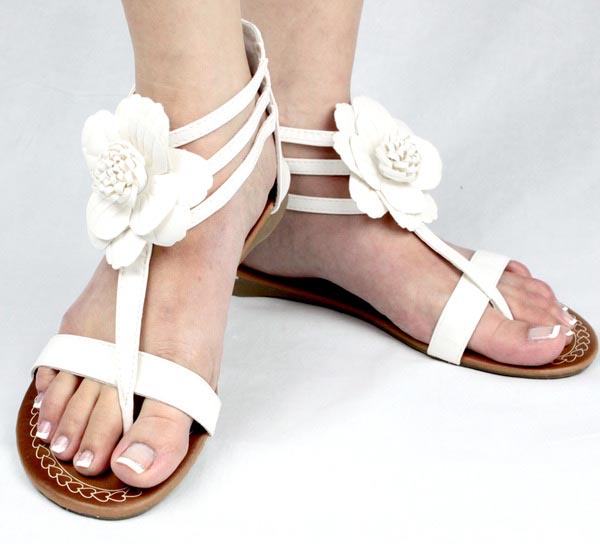 Flowers and summery beaches do go well together and this is matched by a pair of comfy sandals in white. Available in a t-strap, with a large flower motif on the front, the feet are held in place with multiple straps on the ankles and front. A back zipper closure ensures grip and easy wearability. The sandals sell for $60 a pair and can be ordered in different colors other than white like brown, black and purple, all manufactured by AS By KSC.
Pearl thong sandals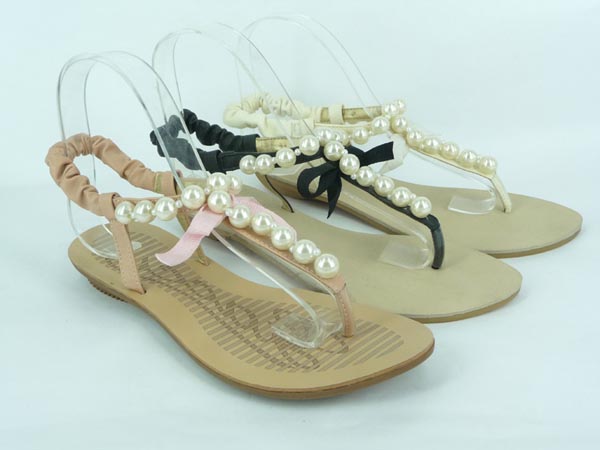 Most young brides wouldn't really think of wearing pearls, considering them to be a tad old-fashioned. But when pearls are used to detail shoes, they take on a whole new appearance. These pearl thong sandals are proof enough that this so-called dated jewelry item still commands a pretty strong influence. The sandals are made using polyurethane for the lining and thermo plastic rubber for the soles. The simple yet pretty sandals are manufactured by Chinese company Guangzhou Weilong Shoes Co. Ltd., though we don't have details on the pricing.
Burberry Prorsum beaded leather flat sandals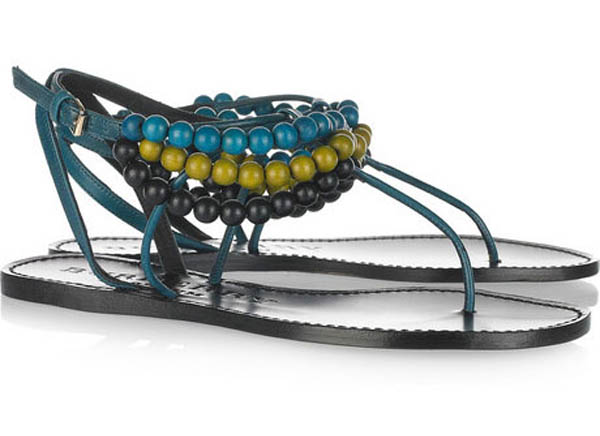 This next pair of sandals isn't as dressy as the rest but they make for cool beach footwear. The leather sandals by Burberry Prorsum are beaded and feature a single blue strap through the toes and multiple straps on the back. The beads adorn the ankle part of the sandals in three layers of black, olive and teal beads. If you're into the Bohemian look, then this Burberry Prorsum-designed pair is perfect for your style. They retail for about $475.
White sandal with crystal woven strap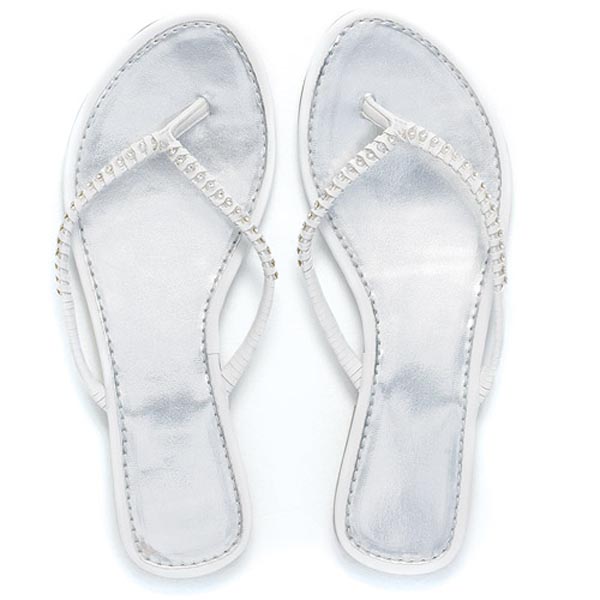 Taking on more of a silver hue, this white sandal embellished with a crystal woven strap is perfect to dress up a simple wedding outfit. Elegant and understated, all it features is a man-made flat leather sole and the crystal strap that wears like a flip flop. They're cheap too and sell for just $34 a pair.
Just Married women's flip flops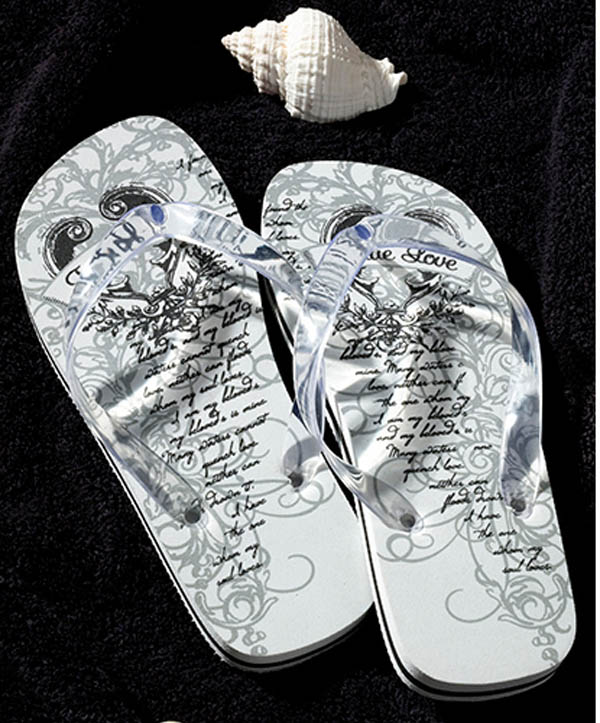 Okay, so this next pair isn't exactly elegant or chic. But you have to admit they make for fun wearing especially if that's the theme of your wedding. In keeping with the casual nature of most beach weddings, the Just Married pair of women's flip flops will let the world know you've just gotten hitched. They have the phrase 'Just Married' imprinted on them so you can be sure no one will miss them. They sell for just $13 a pair.