You can personalize your wedding by using brown paper bags innovatively. You can style them into different forms and shapes to get the perfect decoration. The whole trick lies in your imagination, and how well you can execute it to place the brown paper bags into place. This is also a money saving method. Here are some ways of using them creatively.
Wrapping papers
You spend a lot of time in wrapping gifts at the wedding. By using simple brown paper bags and colored markers you can make decorative gift paper. This will add a personal touch to the gifts and make them memorable.
Wedding favors
Brown paper bags can be used as wedding favors. Fill them with sweets, confetti, chocolates or whatever you wish to give. Cherries and strawberries can also be filled to give a fruity look. The paper bags can be made creative by writing your names on it or by using initials.
Menu cards
The menuof the wedding can be printed on brown paper cards and tied with a colorful satin ribbon. It will make the menu look beautiful and pleasing to the guests.
Table arrangements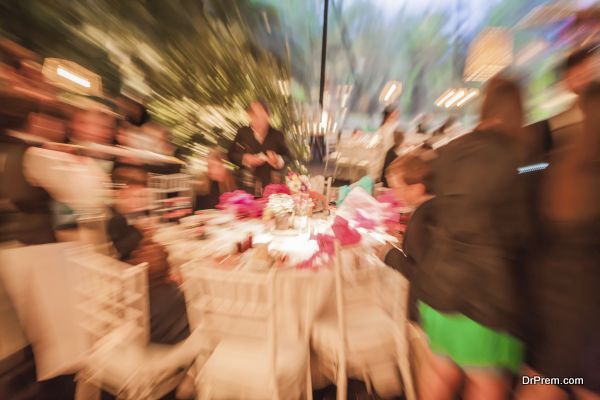 Brown paper bags can be used for wedding table arrangements. There can be a complete floral decoration tied with brown paper. Flowers are naturally pretty and do not require any glassware to hold them. Wrapping flowers in brown paper will give it a rustic look and can also serve as a part of the wedding theme.
Tiaras
At the wedding everyone wish to look like princesses. A royal touch can be added by making beautiful tiaras with brown paper. The paper can be used as the base and beautiful flowers can be decorated over it.
Wedding decorations
Brown paper bags can be used for wedding decorations. Beautiful garlands can be made and hanged on the windows and doorways. Special notes can be written on brown paper and pasted on different corners making it look like a gallery of messages.
There are many activities that can be done with the help of brown paper bags. You can accessorize the brown paper bags by using paper flowers, buttons and paper hearts on it. These paper bags can also be used for decoration purpose and many other arrangements. It will be a versatile addition to the wedding by introducing creative brown paper bags differently.