Food is the most important and joyous part of the wedding celebration and in the reception area, your guests would be expecting some delicious food regardless of how your wedding ceremony is and brunch buffet to the evening's heartier meal, everything should be perfect. Here are some of the best food trends that you must not miss for your wedding. I am sure, by incorporating these food trends to the wedding food menu, you will surprise many people around you.
Various types of menu cards ideas for Weddings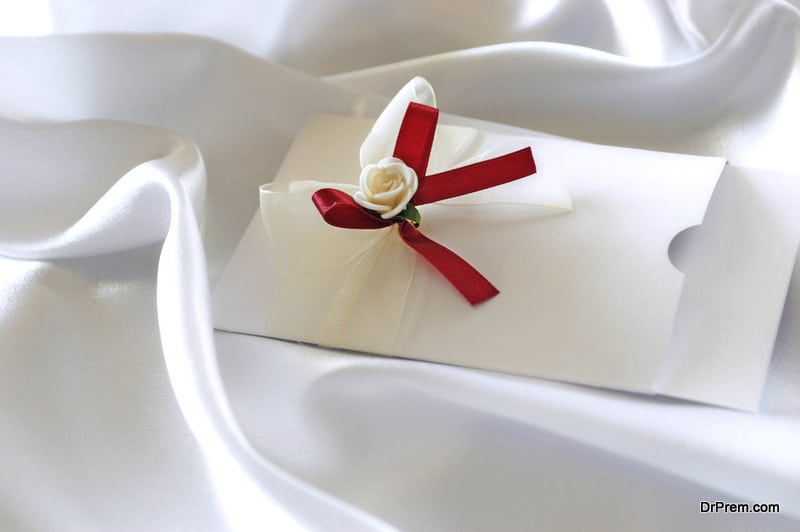 Presenting the menu can be an elegant gesture before a party. Whether this entails respect for the guests attending the lot or even if you wish to organize the details that are charted in place, the wedding receptions menu can properly fit into any theme and it also takes less time for a person to manage all the details including the cards and other background elements.
If an organizing company is hired for its services then the things become simpler and there is an advantage linked to the menu design and the invitations that are tuned well with the table cards along with the other elements of decor and room features. Following are some menu design ideas based on the wedding theme.
1. Go minimal
Use a high quality, simply accessorized bow that has predominant colors that make for a worthy option. The portion should should be basic and medium in size, it shouldn't be too decorative with any color combination contrasts but don't forget to make it as simple as possible. Simple things always look beautiful and makes a greater impact than all those sofisticated ones.
2. Marine
This wedding menu can be particularly used for a wedding reception with a cardboard that is sandy beige in color and is heavily accessorized with organza ribbons that highlight oceanic appeal. To add to this design one can add a few clams, sand and snails to the menu card. If you want to stay classic then stick to the graphic version that has a sunrise landscape and a sunset landscape with beach umbrella, seagulls, boats and lighthouses. There should be a vividness amongst the colors that are used for the beige background. You can choose blue or red contrasts over the white scale.
3. Rustic
Floral motifs are a must in weddings and cannot be missed. Geranium or lavender flowers when stuck to the cardboard create contrasts that are lined with the remaining decor. Also using moss, wheat or bark can be a great way of accessorizing that menu card. The palette of colors primarily include backgrounds in beige with a slight dash of green, yellow, brown and red.
4. Glamor Patterns
Events following glamorous theme should have an extravagant spark about them. Elegance and glitz are the primary combination that follow glamorously designed cards. Colors that suit such a mood in a wedding event include violet, red, lilac, burgundy, purple and black. For the background colors you can pick gray.
The perfect word that defines this style is brightness, so using lustrous crystals and stones can be the best bet when accessorizing. Most people are fond of glamorous themes however these require well planned preparations for the stylized wedding setup.
5. Vintage elements
The fashion of 20's brings to mind elements of velvet, pearls, brown and beige shades. Adding to this are the floral motifs crafted out of velvet which can give a special touch to the menu if chosen to convey the theme. A bit of bead work for accessorizing can be highly expensive but this definitely adds a touch of refinement.Pearls can also be be gifted as a favor to the ladies who come attending the event.
Here are the trends.
Informal wedding food trends
Informal food is trending on the top of people's choice this year and buffets, rustic platters and bowls are shaping up to be hot. Include some meat or fish or both and some vegetarian options and give your guests an opportunity to walk around and enjoy the wedding proceeding. For bowl food, you can include honey roasted pumpkin and toasted seeds,slow cooked rump of lamb with red onion and coriander and lemongrass with sticky rice. Add a little whimsy to the food court by experience them with a chopping board at each table with meat.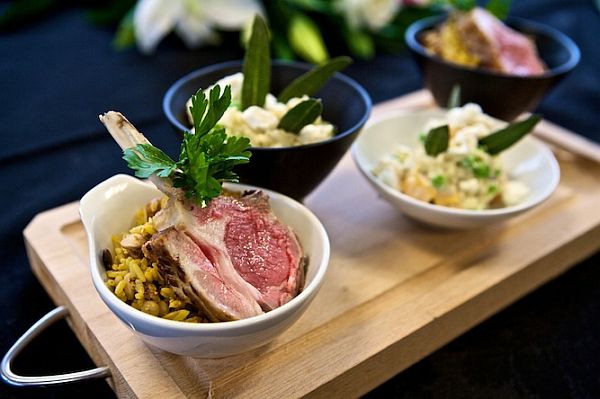 A walk down memory lane
You can include all you childhood memories by including foods like pie and mash, bangers and mash, chips and fishes, mini sirloin hamburgers. I am sure this section of food is going to be likes by many kids as well adult parties.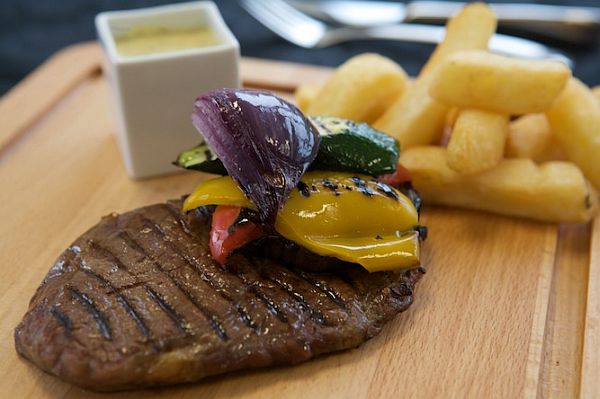 Satisfy the sugar urge
A glint of that little cute sweetness is necessary and is also in trend that will surely make your guests tuck in. Include various cupcakes, dainty trifles and mini cheesecakes in your food menu. Wedding food style has started shifting from being too formal to be little casual, when it comes to the selection of the food. Take your guest out of that lethargic disposition to an energetic level by including chocolate brownies or crumble.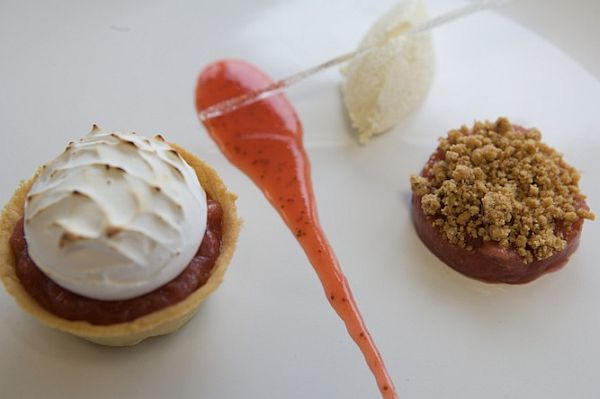 Go for miniature versions
Giving something that is new and refreshing like canapés is a great way to start the wedding; as it will surely become the talk of the town for a couple of moments. You can also include fish and chips filled newspaper cones, miniature ice cream cones or tiramisu chocolate cups to make it classy but trendy.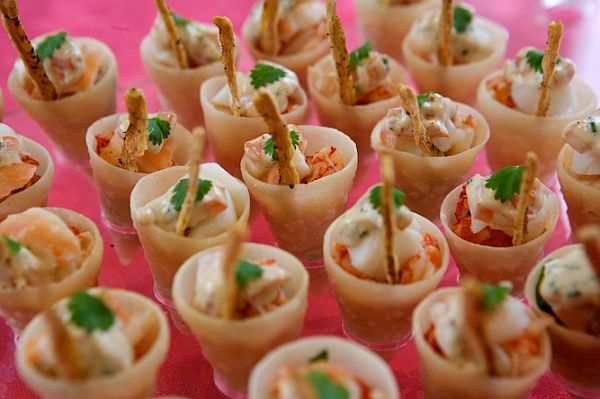 For the early morning wedding
If you think a decent meal is all what you want to your guests; include an actual breakfast things like English wine with locally sourced produce and pancakes for the dessert. Give your guests a unique experience by introducing egg shell filled with crème Brule and other such wedding food trends.
Foods to avoid on your wedding day and why
Some health foods can even turn out to be menaces! So, if it is the day of your nuptial you must be very calculative about your platter. If you are unlucky a simple beverage can make you sick on your D-day. Thus, it is nothing but utter dumbness to consume the wrong food and suffer from health complications such as bloated stomach, loose motion and indigestion, thereby aggravating your tension. We have come up with a list of food that can increase your problems on the day of your matrimony. Take a look and be careful! Since we are looking at wedding food trends; you can always find healthier alternatives to the foods that are mentioned below.
Broccoli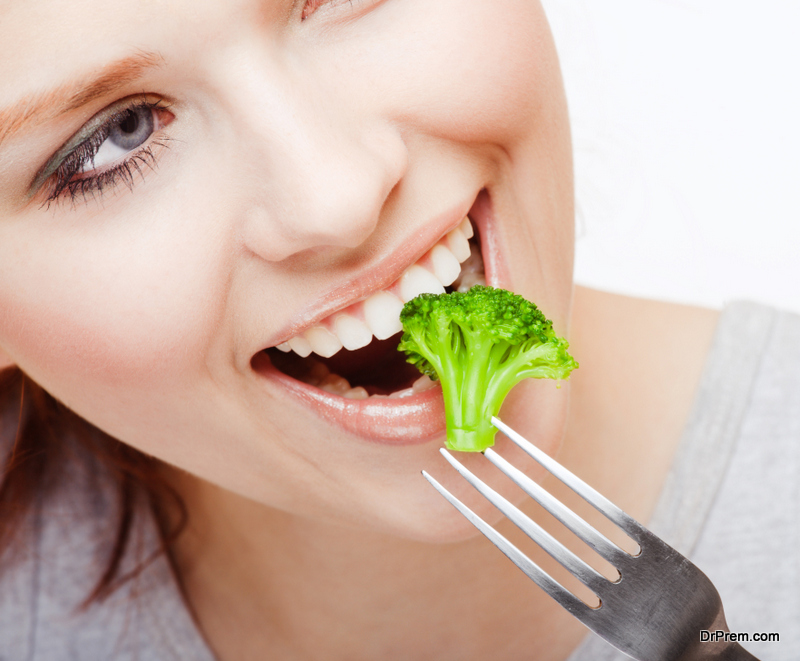 This is considered as one of the most effective veggies that aid your system. Unfortunately, broccoli can be menace if you consume the same in large quantities.
Why avoid?
This vegetable is a bit difficult to digest. Basically, the small intestine is incapable of assimilating broccoli. Thus, the good bacteria present in the large intestine have to intervene in the process to digest it completely. Gas is created in the process, which leads to bloating of the belly. Unfortunately, you will struggle to get rid of gas created by broccoli, but in vain.
Soy based foods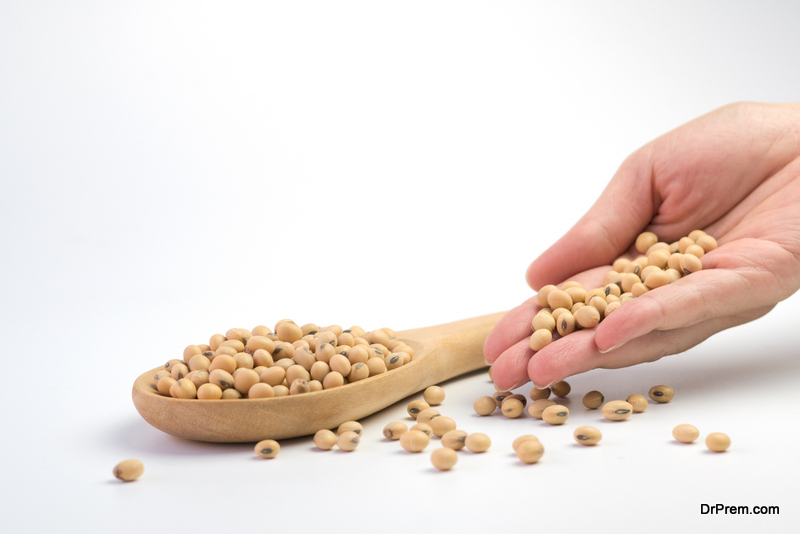 Soy is another food identified as a booster for good health. But it can become a bane for you if you have soy intolerance. However, in some of the unfortunate circumstances soy based food can be detrimental for those who do not have problem with it otherwise.
Why avoid?
Soy based food sometimes lead to gas and indigestion. They contain constituents like oligosaccharides and complex carbohydrates. These are difficult to break down and get fermented within the body by bacteria, expelling gas in the process. The resultant is none other than bloating.
Food or drinks containing caffeine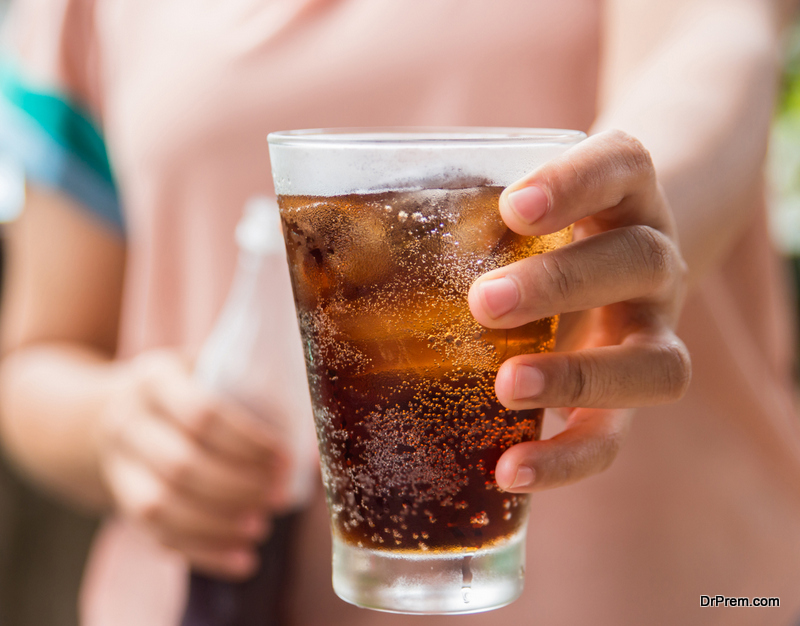 Drink as much as you can on your D-day and stay away from caffeinated drinks, such as tea, coffee, sodas, and energy bars.
Why avoid?
Excessive intake of caffeine is associated with dehydration. So, you have fair chances of fainting in the altar on your nuptial if you are heavy on caffeinated drinks. Further, caffeine spurs the intensity of panic and anxiety common during the day of wedding and lead to mood swings. Actually, it hits the arousal mechanism in your body and raises the level of a hormone within the brain, known as nir-epinephrine, causing all these havoc.
Milk and other dairy products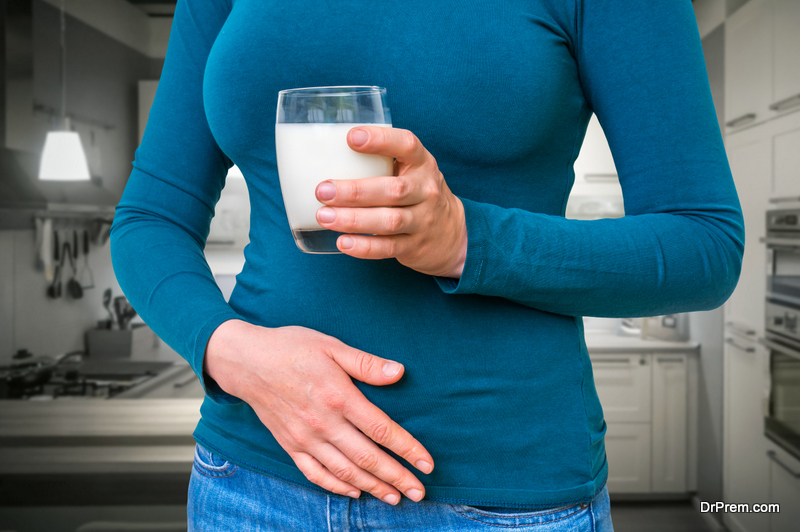 Milk is good for skin. But, to be honest, milk and milk based stuffs are not the ideal picks on your wedding day.
Why avoid?
Dairy based products cause gas and bloating at times as they are a bit difficult to digest. This gets coupled up with severe acidity too and at stern situations, vomiting is the last fatal thing you might experience!
Spicy food wedding food trends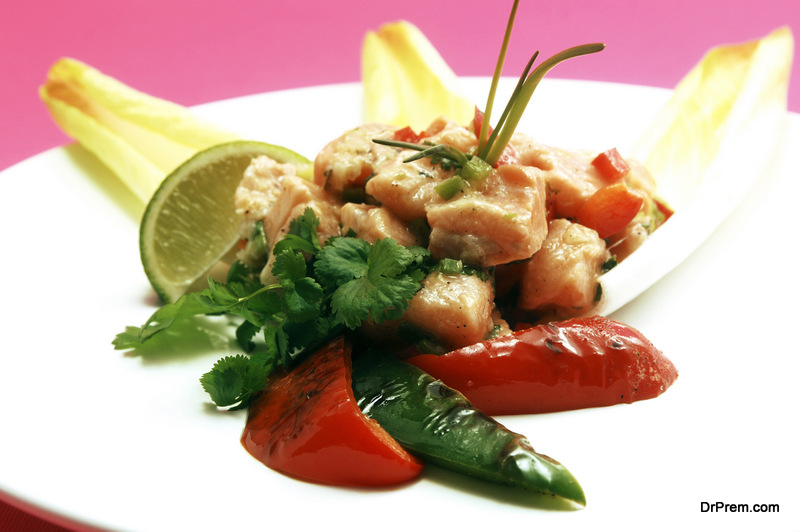 Spicy food is always a menace for the health. There is no reason you should add up to your woes by consuming spicy food on your wedding day. They come with hoards of ill effects as they are difficult to digest.
Why avoid?
You may have indigestion and suffer from acute acidity, gas and bloating. You may also be down with stomach upsets and loose motion. Spicy food also heat up the body and stimulate the internal hormones. Consequently, you may experience excessive sweating and body odor as a result. Sometimes, fine food particle of spicy stuffs get stuck in between your teeth and lead to bad breath. So, stay away from spicy food on the day of your nuptial.
Wheat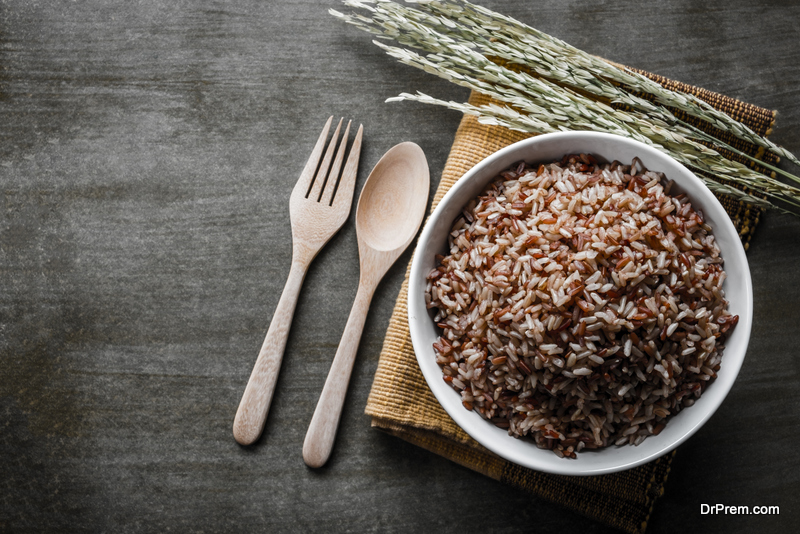 Although wheat is always associated with easy bowel movement, sometimes the starch present in wheat may be difficult for your digestive system to assimilate.
Why avoid?
Wheat can cause acute gas and acidity. Actually, in the unluckiest of situations, your small intestine may find it difficult to digest the starch contained in wheat. This is when the bacteria present in the large intestine takes care of it. This process is associated with the formation of gas. Moreover, fructose, the natural sugar present in wheat, may also stay behind in the stomach and ferment with time to release gas. So, the wise thing to do is to condemn wheat and wheat based food on your D-day.
Potatoes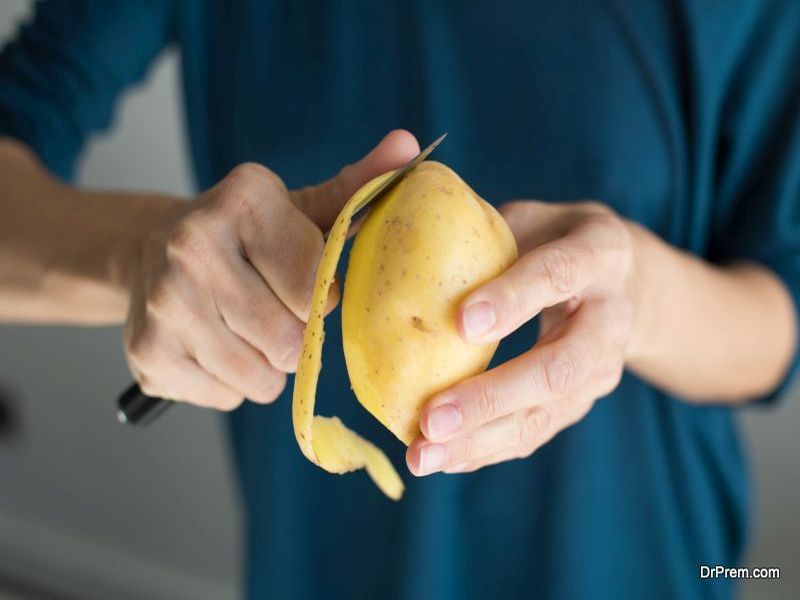 Potatoes are one of the most common staple diets. While it does not cause any problem for many, you might be the unlucky person on the day of your wedding to suffer from complications due to consumption of the same.
Why avoid?
Gas and indigestion are accompanied with potatoes. The starch present in potatoes is sometimes critical to digest. This leads to the release of gas when the bacteria present in the large intestine assimilates it in situations where the small intestine fails to do so. It is also associated a heavy feeling.
Nuts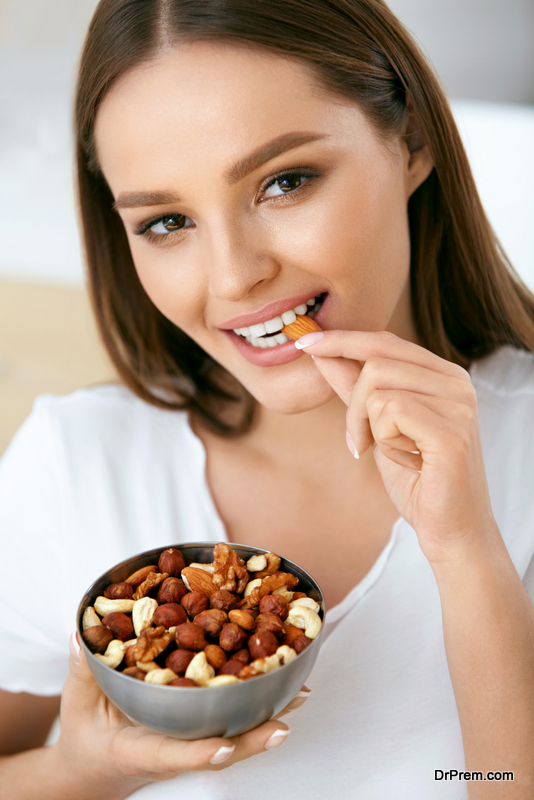 Nuts are often overlooked as agents that lead to indigestion. But, if you take our suggestion, then stay away from nuts on the day of your matrimony.
Why avoid?
Nuts can be very challenging for your digestive system to get assimilated. The reason behind the same is that they are rich in fibers and fat content. Consequently, their movement down the digestive tract is very slow, which leads to the formation of gas and bloating. Tannin, a compound present in nuts also prevents easy digestion.
Foods rich in onions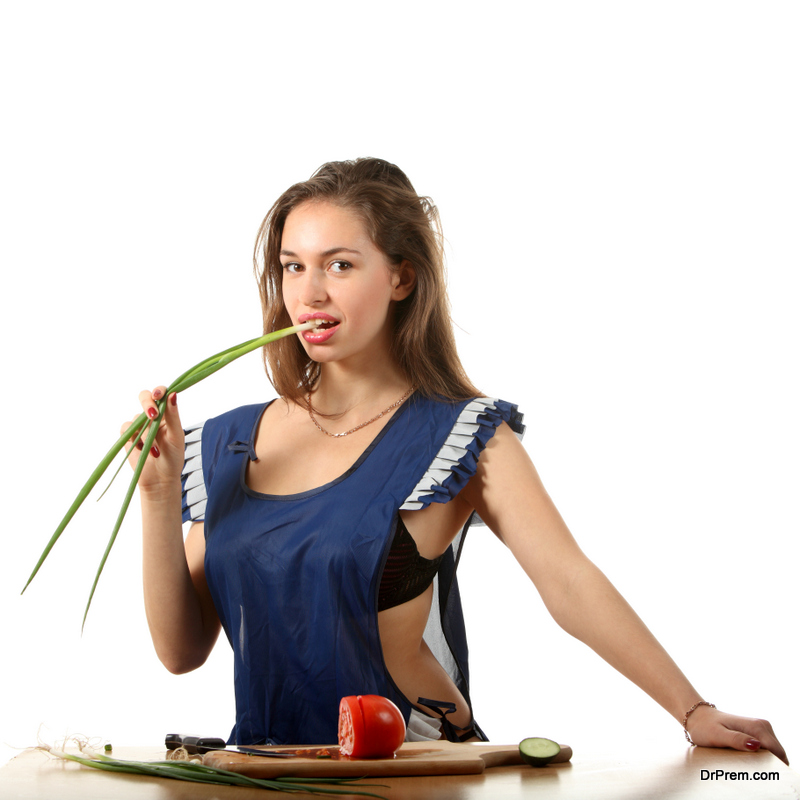 If you do not wish to be too smelly on your D-day, then stay away from consuming raw onion or food rich in onions.
Why avoid?
Onions, as you must know, are quite infamous for being smelly stuffs.The sulfur present in onions is the major agent that causes stinky breath. However, this unwanted odor survives till the onion based food has passed through your stomach.
Fruits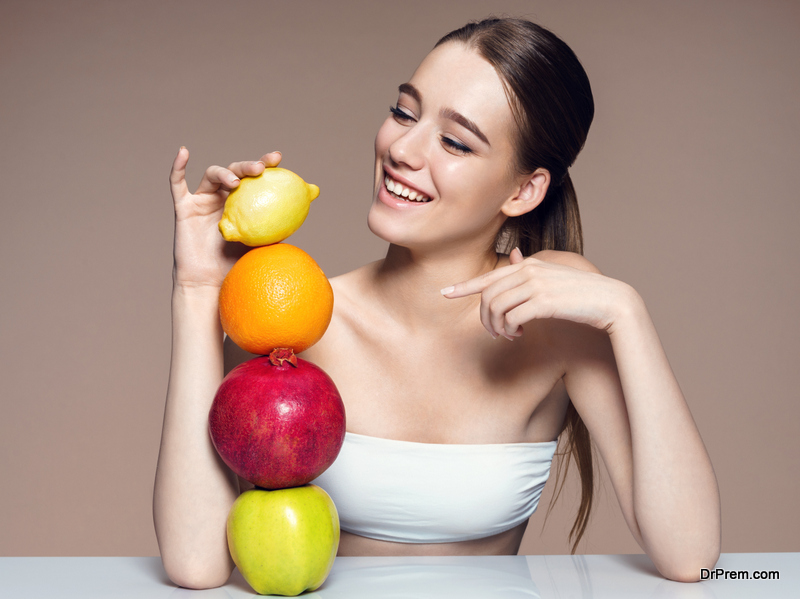 Fruits are considered as super foods. But they serve just the other way on the day of your wedding. So, stay away from over consumption of fruits on that day.
Why avoid?
Eating excessive fruits lead to frequent urination. Actually, this nutrient rich natural food has generous quantities of natural liquid, which curbs dehydration. But, this becomes bane on your D-day and you need to rush to the toilet more often.