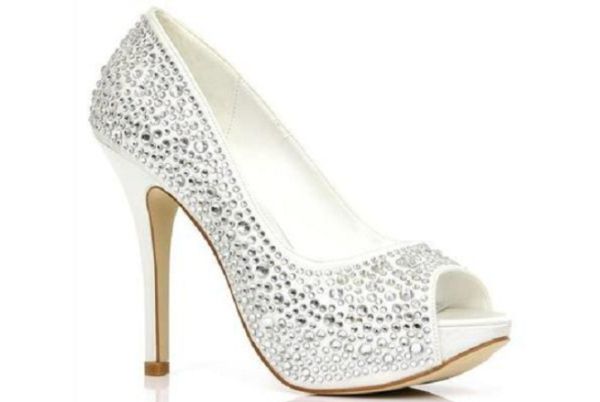 Many brides love the idea of adding glitzy details to their bridal silhouette, however, most of the brides don't think beyond blings and embellished gown. Like wedding gown and jewelry, another dandy way to induce some glitz and glamor is by slipping into an exquisite crystal wedding footwear. Either you want to add some glitzy drama with more crystals or just a hint of sophistication with less sparkles, an elegant pair of crystal wedding shoe is all that you need to pair with your wedding ensemble. These shoes look eccentric, lend edge to your modest silhouette and naturally define your swanky yet refined sartorial taste. Here, we have exclusively handpicked some of the best crystal wedding shoes for the brides who have a thing for glitters and sparkles. Have a look.
Ivory Crystal Wedding Shoes by Sarah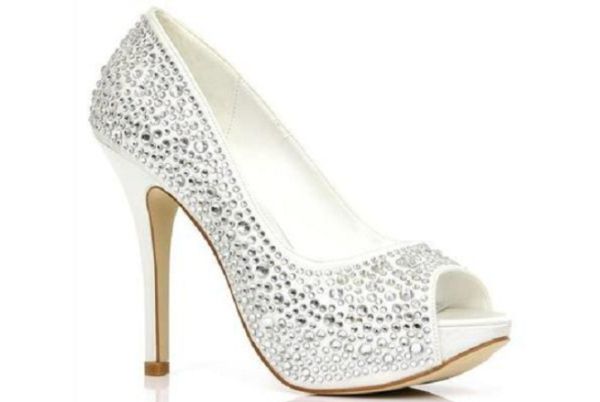 Elegant, mesmerizing and affordable. Encrusted with crystal all over its upper, this oh-so charming peep toe crystal wedding shoe by Perfect features an absolutely astounding four inch platform heel and an ivory satin base to deliver extreme comfort. The shoes are like wearing slippers as they are embedded with padded insoles that ensure flexibility and comfort for long hours. Make sure to pick the hem of your chiffon bridal gown to show off your unique style statement!
Price: $143.44
Buy here: euphoriashop
Yona Swarovski Wedding Shoes by Crystal Couture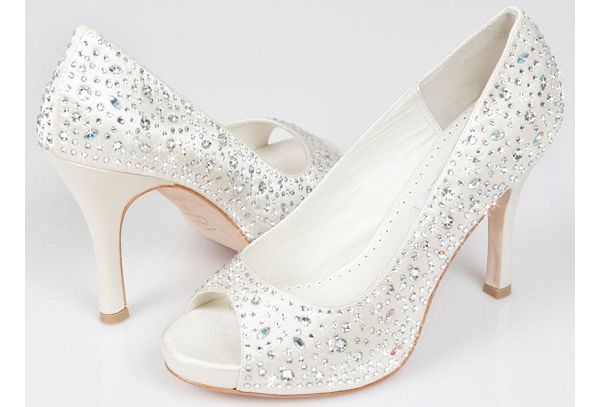 Known for designing fashionable wedding accoutrements, the Crystal Couture brings another brilliant wedding shoe piece that will help exude femininity and sophistication on your big day. This gorgeous peep toe wedding shoe features a beautiful three inches high heel and is encrusted with high quality Swarovski element crystals. Italian leather shoes and luxurious satin fabric guarantee long hour protection from sweat and nicks. The brand also offers 14 day refund scheme and exchange policy.
Price: $637.67
Buy here: 1stforweddingshoes
Benjamin Adams 'Gaga' Crystal Wedding Shoes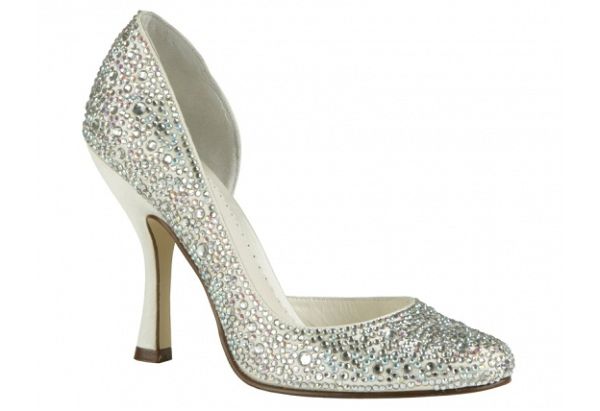 For brides who love fully embellished swarovski element in their wedding shoes, this killer crystal wedding shoe by Benjamin Adams is the ultimate dazzling footwear. This shoe is perfect epitome of traditional meets contemporary style. Featuring a three and half inch whooping heel size with celebrity styled design, this wedding shoe will perfect your bridal look and make you look like your favorite movie star.
Price: $476.55
Buy here: euphoriashopAnna Flat Ivory Satin Swarovski Crystal Bridal Shoes


For adding instant appeal to your bridal ensemble, make sure to slip into this eccentric crystal wedding shoe by ANNA. This beauty has been already featured in the coveted 2012 bridal collection, meaning you can wear something that is internationally acknowledged. An exquisite glittery ivory bridal pump that comes with pure flat insolesand fully covered with Swarovski crystals.
Price: $231.21
Buy here: glitzy-n-glamorous
Rhiana Crystal Embellished Wedding Shoes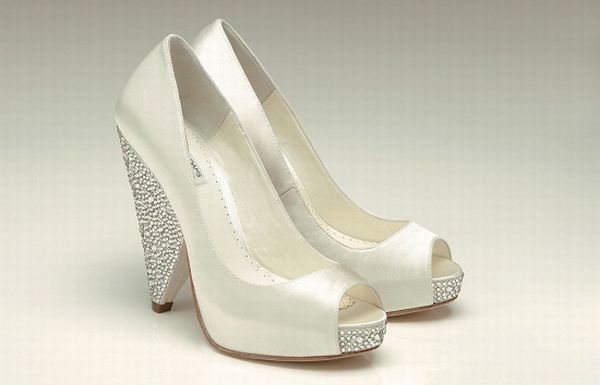 Looking for something that can seamlessly induce Wow factor to your wedding silhouette? Then, look no further than this breathtaking peep toed wedding shoe. It features a cone wedged heel and the entire platform is encrusted with Swarovski crystals. The shoe is made from duchess silk and high quality leather insoles. The soft leather lining will make sure that your feet stay comfortable for hours.
Price: $397.27
Buy here: weddingshoes
Swarovski crystals and rhinestone shiny wedding shoes S003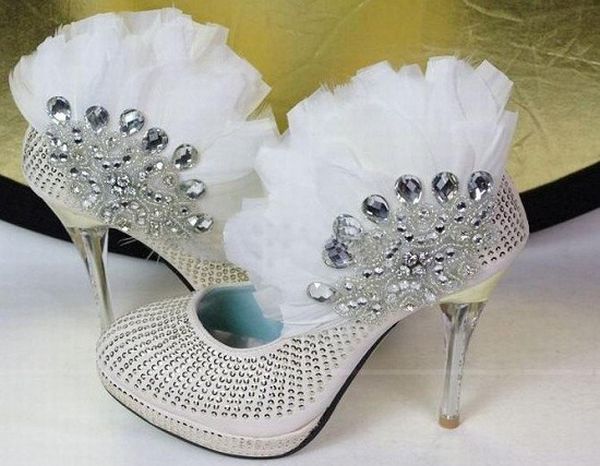 Meet and fall in love with the trendiest shoe of all: the shiny wedding shoe by ecarter that features swarovski crystals at its upper and rhinestones detailing at its rear. Made of satin fabric and genuine leather, this preppy bridal shoe is absolutely handmade and has all the crystals sewed on the shoes, which means you don't have to fret about loosing the expensive crystals amidst the wedding chaos.
Price: $140.41
Buy here: ecraterPerdy Crystal Wedge Wedding Shoes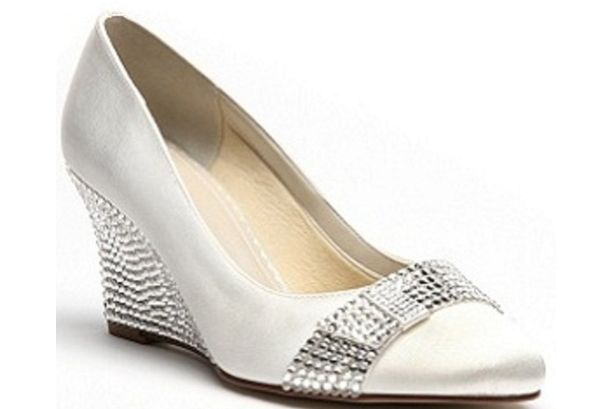 Exude some drama and radiance through your poised bridal silhouette by donning this uber glamorous crystal wedge wedding shoe by Perdy. These shoes boast an amazing inside padding for maximum comfort, two and half inch heel size for looking seductively high and sparkly wedge with round toe for showing off your bright side on your wedding day. Moreover, the trendy ivory hue adds enough elegance to your feet.
Price: $239.06
Buy here: perditaweddingshoes
Twinkle Toes Lace & Crystal Flat Wedding Bridal Shoes by TLC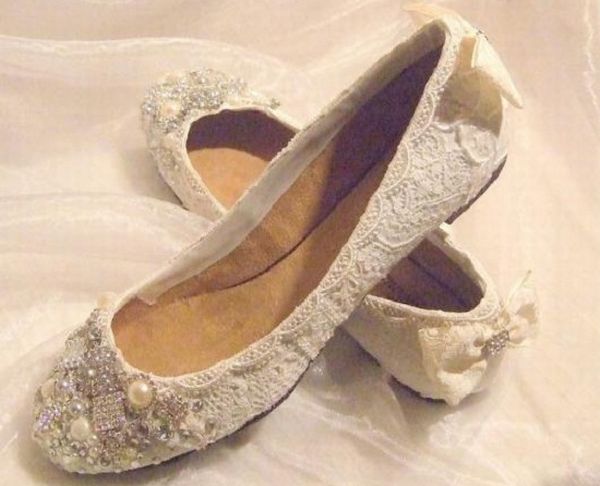 Already made a classy fashion statement at your wedding day? Give your invitees more reasons to adore you by wearing this fabulously flat bridal shoes at your reception ceremony. Covered with pearls and crystals with layers of vintage and antique lace, this alluring wedding shoe is custom made and can be adjusted as per your specifications. The company also allows adding particular item like piece of lace from your mother's wedding gown or such, if asked for. Unfortunately, this product is non-refundable, so be sure before ordering this item.
Price: $310.84
Buy here: glitzy-n-glamorous
Fun Destination Wedding Sandal Astor Paradox Formal Shoe by Benjamin Adams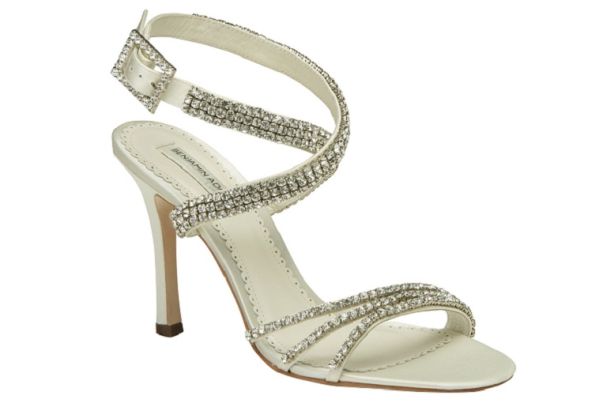 Let your fashion sense shine throughout the crowd in this adorable wedding sandal by Benjamin Adams. Cloaked in stunning swarovski crystal, this wedding sandal features a soft kid lining leather, finest duchess silk and three and half inch bridal heel.These shoes are specifically designed for beach wedding and will lend more panache when worn with elegant lace dress or feminine vintage gown.
Price: $476.46
Buy here: dimitradesigns
Maggie Vintage Inspired Lace & Crystal Wedding Shoes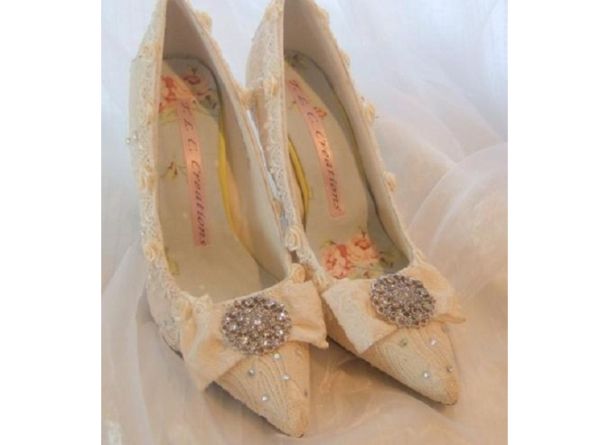 Whether you are looking for an exquisite wedding shoe to glam up your evening or just looking for a reason to turn some envious eyes on you, this voguish court bridal shoe by Maggie can do you a big favor. This custom made wedding shoe is covered with elaborated layers of antique lace, pearl adornment, a stylish vintage brooch and swarovski crystals. These perfect wedding shoes are available online for immediate delivery, and will cost you $ $255.01only.
Price: $255.01
Buy here: glitzy-n-glamorous