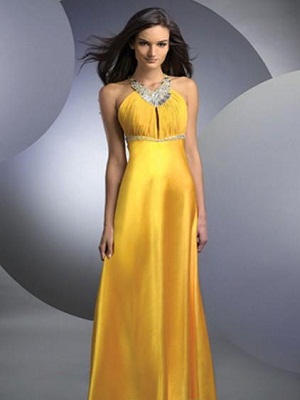 Owning a designer dress is a woman's fantasy and why should you not get that chance too? Owning a bridesmaid dress is part of a best-friend's dream too. Give your bridesmaids that joy and satisfaction by giving them designer bridesmaid dresses. You can get plenty for the price of your choice. Bridesmaid dresses come in different styles and modern designs to best suit your wedding dress and your wedding theme. Listed below are some bridesmaid dresses for those women who shall stand behind you at the wedding at all cost.
Yellow strap neckline column bridesmaid dress (59241)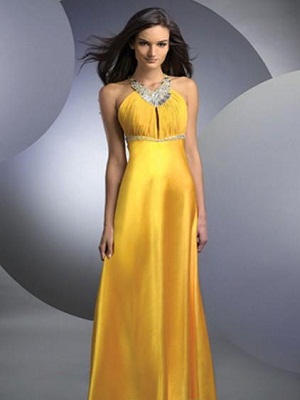 This is a stunning yellow dress with a with a beaded strap neckline similar to a halter neck. The beaded straps extend all the way to the back in an X shape. The sleeveless floor length dress with a train will allow you to show of your stunning petite body. It is an empire waist satin column dress with the look to show off your gorgeous back.
Wow Factor: Your sexy slim body can be emphasized it with this dress. The design is modern and you could wear the gown again. It is formal attire to best suit the occasion.
Price: $178
Designer: Bari Jay
Buy Here: Prom Dresses
Stylish lavender chiffon broad shoulder bridesmaid dress (D1)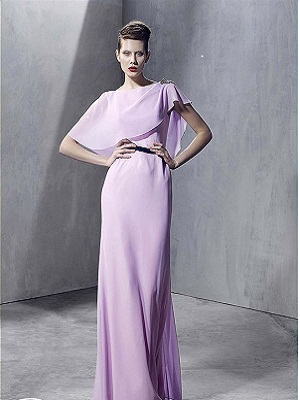 This dress by Enzoani is known as love and is a beautiful lavender hued floor length gown with a black slim belt around the waist. This dress is made of mesh chiffon and has a detachable beaded net on the shoulder.
Wow Factor: This dress can be obtained in the color of your choice. And has an elegant a modish look to it.
Price: $445
Designer: Enzoani
Buy Here: Dal prices
Brown strapless satin bridesmaid gown (8822)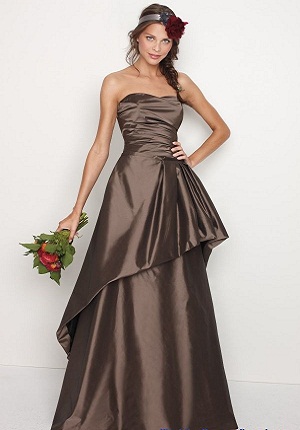 A taffeta material dress with a strapless sweetheart neckline and a draped blouse with a pleated asymmetric over skirt upon the floor length skirt made to make you look great. This gown complements the weather as well as the brides wedding dress.
Wow Factor: this dress is designed in an elegant fashion and has a sweetheart and empire waistline which keeps it up to the mark.
Price: $213.80
Designer: Watters
Buy Here: Wedding dress brand
Allure A-line one shoulder bridesmaid dress (1220)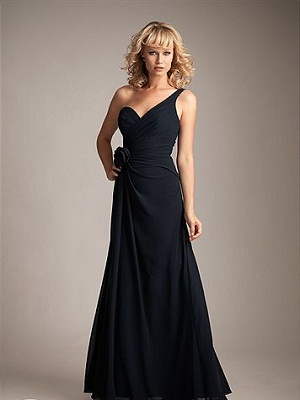 Black always goes with everything and if you get the chance to wear black, do not hesitate to try the allure A-line one shoulder bridesmaid dress made with chiffon. It has a sweetheart décolletage and a ruched midriff band to which fabric flower is attached onto one side and an entirely pleated floor length skirt.
Wow Factor: It is in black and it is elegant in its own way and would suite your mood anytime. It has a sweetheart bodice and is one shoulder and floor length to make you look tall and slim.
Price: $180
Designer: Allure
Buy Here: Wedding shoppeinc
Pink empire waistline and straight tube neckline bridesmaid dress (381)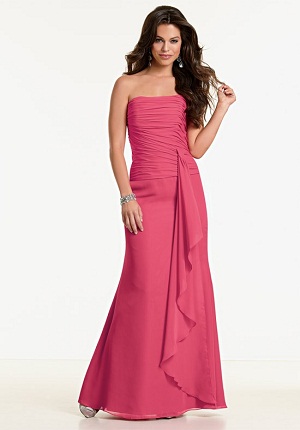 This strawberry pink bridesmaid dress is sure to allure the bridesmaid and make. It is for all those who link pink. The price varies with the size of the dress and it is available for anyone of any size. It has an empire waistline and a straight strapless neckline. It is gathered from the neckline to the waist line. The fluted skirt is floor length. From the waist line is a pleated drape attached. The dress is made if chiffon.
Wow Factor: Available in all sizes and in colors of your choice. It is contemporary designer dress and would be much to your appreciation. Body fitting and elegance is what gives it away. You can obtain this dress in knee length, short or floor length.
Price: $150
Designer: Jordon
Buy Here: Jordon fashions
White knee length bridesmaid dress with black ribbon belt (AV9838)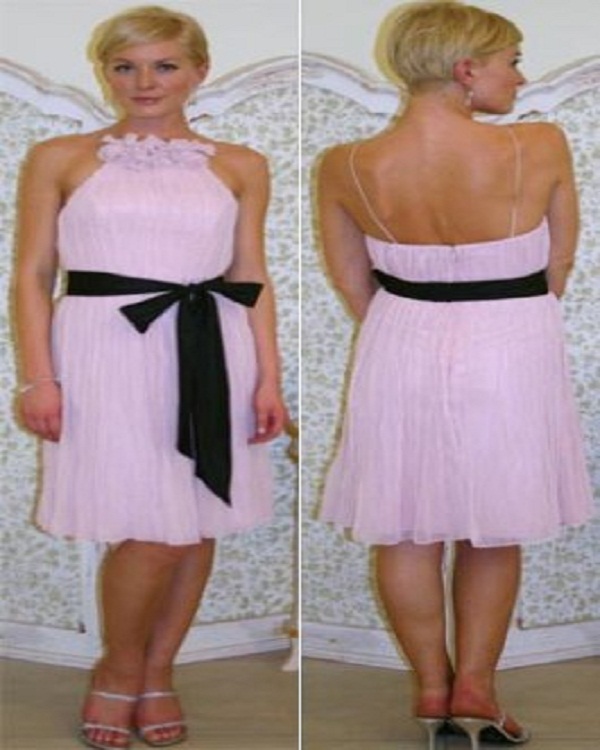 This dress is meant for the adorable you. It is white and shall blend in with the wedding theme and has a touch of black in the ribbon. It includes spaghetti straps and a drop waistline. It is made of chiffon fabric and has a sheath silhouette.
Wow Factor: Its knee length scoop neckline is what is intriguing. You can get this dress with a tie up back or a zip up style.
Price: $119
Designer: Alvina Valenta
Buy Here: Buy wedding dresses
Light blue strapless bodice and floor length bridesmaid gown (LZ3640)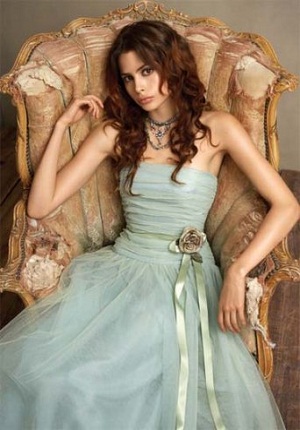 A lovely pleasant light blue color on a floor length gown for your bridesmaids. Good to go with any weather and season. It is made of tulle material and has a gathered empire waistline with a straight without sleeves neckline. A ribbon with a fabric floor is attached to the waist line. It has a zipper back and is an A-line princess dress.
Wow Factor: The colors and the style of getting this dress in your choice with either lace or a zip up back.
Price: $129.99
Designer: Lazaro
Buy Here: Wedding dress
Amethyst hued floor length bridesmaid dress with V- neckline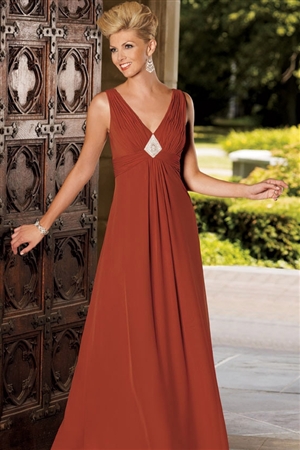 This dress is a softly draped Chiffon gown with a deep V-neckline. It contains a beaded accent at the bust line in a diamond shape. A stole is included too along with the dress. The amethyst red color of the dress is unique and would complement the brides dress anyhow. It has a natural waistline.
Wow Factor: Available in tea and floor lengths and the V shaped neckline brings this dress up to the mark.
Price: $250
Designer: Caterina
Buy Here: Perfect bridal
Silky taffeta straight body fitting knew length bridesmaid dress (20304)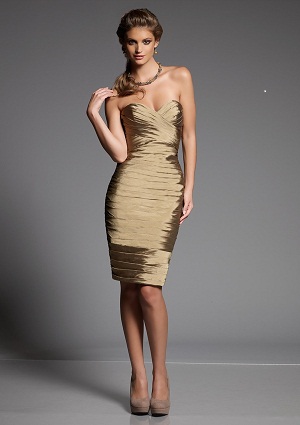 Angelina Faccenda designed this silky Taffeta Bridesmaid Dress.It is a sexy strapless knee length sweetheart neckline dress with a pleated bodice and pencil skirt. It is stunning deep gold color and the very modish and elegant. It comes with the empire waist line.
Wow Factor: Pencil skirt sweetheart neckline, unique and elegant is the difference it makes.
Price: $169
Designer: Angelina Faccenda
Buy Here: Amandalinasbridal
Satin trumpet skirt with sweetheart neckline bridesmaid dress (9177)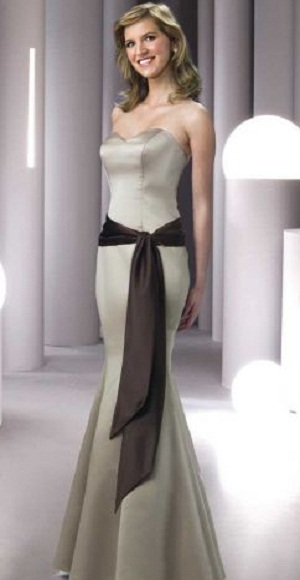 Satin trumpet skirt with sweetheart neckline and detachable spaghetti straps, bodice accented with contrast color sash tie at the hip. The sash and the various colors this dress is available makes it all the more desirable. This particular is in a smoke grey with a cinnamon colored sash.
Wow Factor: It is available in 2 tone or solid color and its vibrant colors and sweetheart neckline.
Price: $120
Designer: Da Vinci
Buy Here: Magic moment