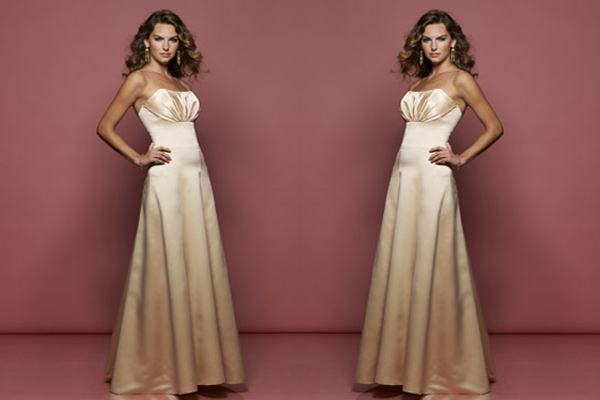 The bridesmaids are like the heart of the ceremony as much as the bride is. Without them the bride cannot get through the planning of the event, exclusive of panic attacks at least a million times. The bride has to express her gratitude towards them by providing the best bridesmaids dresses. Gold is a color that has poise and elegance running through every stitch of the cloth. A color so gorgeous that carry's the grace your bridesmaids call for, when standing beside you. According to your themed wedding if selecting gold bridesmaid's dresses is part of your plan, then look no further than the dresses listed below.
Gold A-line strapless floor length satin bridesmaid dress (BD1424)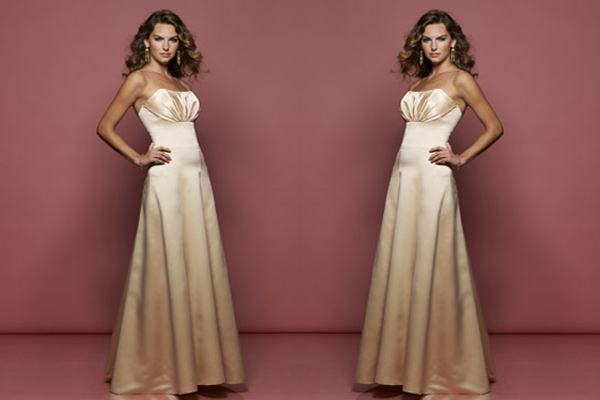 This stunning yellow gold bridesmaid dress just looks simple. It is the simplicity which makes it stand out. It is the unique of the color gold in this shade which just makes it intriguing to buy. This amazing dress has a ruched A- line strapless bust. It is a floor length gown which is body fitting and tapers outwards at the bottom. It could be bought with a sweep train or a brush train. You could chose to have either a corset back or a lace-up back design. It is quite contemporary and modish.
Wow Factor: The fact that it is in satin gives out the aura of lushness and opulence which can instigate you to buy the dress.
Price: $99.99
Buy here: Helen Bridal
Pleated taffeta gold bridesmaid dress ( BD0115)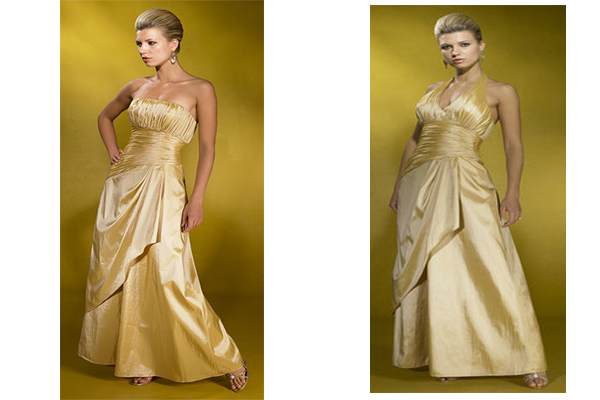 A beautiful sheath halter neckline dress for the perfect bridesmaid. This gold color speaks a lot about the person. It is the perfect color to go with every season. It is also the dress you require to accentuate your curves. It is a long taffeta golden-champagne hued dress. It brings out a certain glow and it has an empire waistline which is pleated. You could look your amazing best in this dress. You could opt for the corset or tie up back. You can also have a strapless neckline.
Wow Factor: The dress is well fitted at the waist and that is what makes it prominent and fantastic to wear. The overlapping of the dress after the waist line also gives it its own exclusive look.
Price: $125
Buy here: Wedding Gowns
Column sweetheart neckline taffeta dress (BD2444)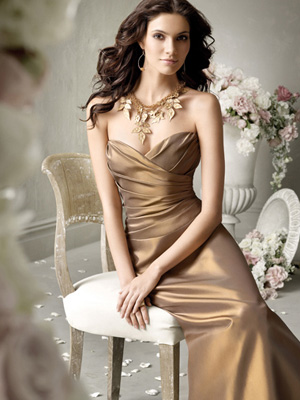 This dress is a darker gold which is a color rarely used. It is almost a blend of brown and gold. Such a stunning color on your skin would look amazing. This dress can really compliment the brides dress as well. It is an attractive a line sheath column gown. It is made of taffeta and an elastic silk-like satin material. It has a very gentle pleats and ruches. This dress gives out a very comfortable and appealing look. The back has a zipper, and this dress is best suited for the petite and the slender tall bridesmaids. This dress comes with either the brush train or the sweep train.
Wow Factor: This dress has stylish and striking written all over it. the sweetheart neckline is the awe factor which accentuates the décolletage.
Price: $99.99
Buy Here: Helene Prom
Satin flower floor length bridesmaid gown (A197400AZA)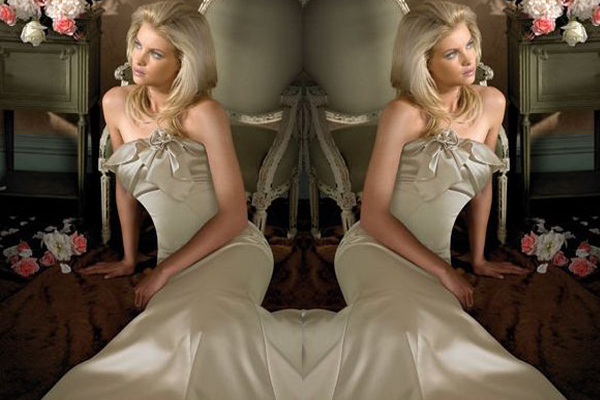 This dress is made from the finest satin cloth available. It has a ruffle at the starting of the strapless gown. It has a malleable touch and a contented appearance. Let loose your inner charisma through this striking bridesmaid dress. A zipper back and floor length dress which should definitely hit your closet and be on you the day you are to be crowned bridesmaid. It fits perfectly till your lover waist and the falls gradually outwards. The modernistic facade of the dress is what makes it dazzling.
Wow Factor: The dress has an altogether different look to it and it quite the dress every bridesmaid would look great in. The color and design of the dress is what makes it so magnificent.
Price: $128
Buy Here: Devoting Bridal
Bridesmaid gold gown spaghetti strap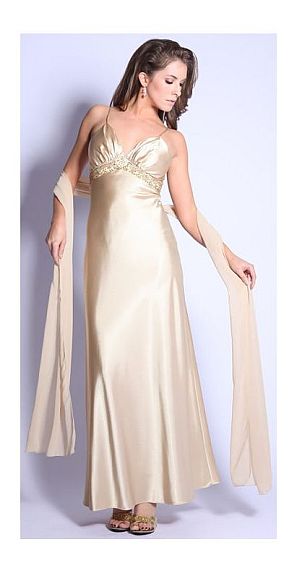 So simple and elegant, you would not be taking away the brides thunder and yet you would look amazing without doubt. The light gold color gives it a shimmering exterior. It is made of the beautiful satin material and is an ankle length dress. It has a spaghetti strap and it has beaded embroidery just below the bust which runs around the dress. The empire waist dress comes with a train attached to the back starting from the embellishment till ground.
Wow Factor: It has a split train which can also be used as a stole. The dress also shows off your upper curves and your sexy back till some extent.
Price: $69.95
Buy Here: Ebay
Lace sheath column scoop neckline bridesmaid dress (01794316)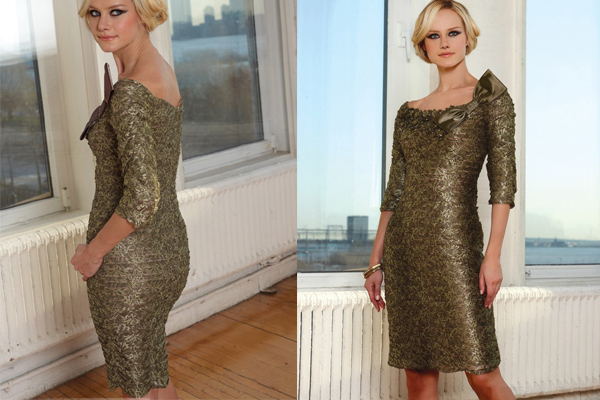 If the bride's dress has a lot of work and embellishment on the dress you would not want to not be left in yours. You would be expected to wear a dress which can keep up that level and design. You can have this stunning short body hugging gold dress which cannot be described in mere words. It has a stunning lace work all over the dress from top to bottom. It has a column scoop neckline and is knee-length. It has a bowknot in the neckline. This quarter sleeved dress is just stunning to look at.
Wow Factor: The dress adjusts easily to your body shape and the bow on the dress looks splendid and gives it an exceptional look.
Price: $147.09
Buy Here: Tide Buy
Satin gold one shoulder bridesmaid dress with ruffle (140XX )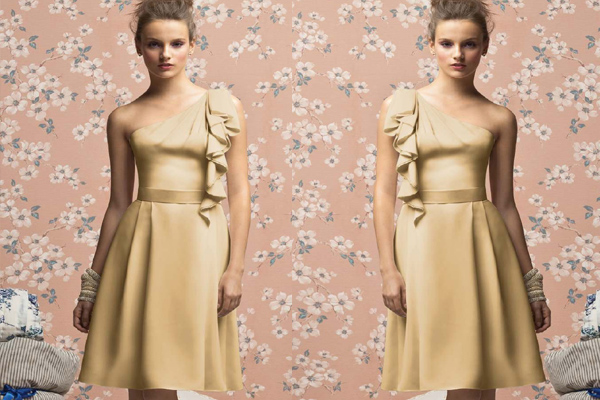 This is a one shoulder cocktail length renaissance inspired knee length dress with a cascade ruffle and pockets on the side seams of the skirt area. It is distinguished from other dress and can be found in the color of your choice. It gives out the look of peaceful with great amount of mode and a well-dressed attitude. A must have in the closet dress with an A-line skirt and natural waist. It is made of satin and has delicate pleats on the skirt.
Wow Factor: The one shoulder with the ruffle falling downward and the darker shade of the belt running across the waist line is the incredible part.
Price: $240
Buy Here: Weddingtonway
Gold taffeta strapless bridesmaid dress (BD000323)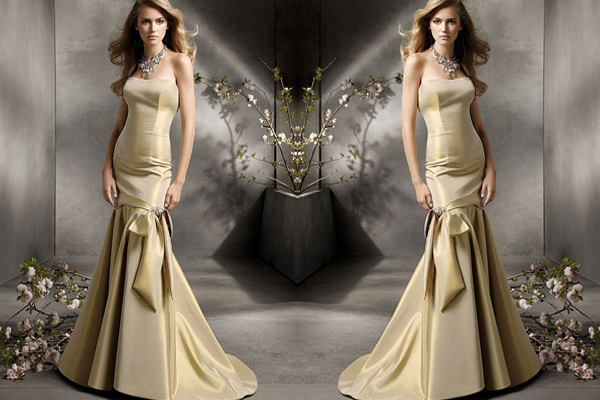 This gold colored dress has a binary faced taffeta with an extended bodice. The skirt is in a circular trumpet shape with an attached sash and bow tied with a broche. It is a beautiful body fitting strapless dress and heightens your assets in every way possible. It is probably the most elegant bridesmaid dresses ever and having one of those would definitely bring out the bride too.
Wow Factor: the circular trumpet shaped skirt and the bow on it is distinguishing on this floor length bridesmaid dress.
Price: $148
Buy Here: Wedding dress
Gold Accent Bodice Bridesmaid Dress (nx2145)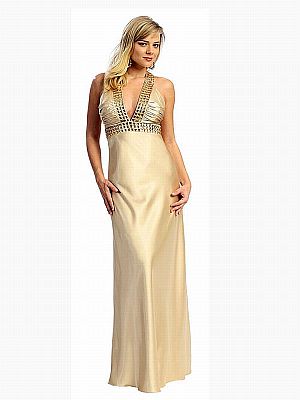 This deep V-neckline is its awe about it. It also has cross straps which are embellished with metallic gold studs and it runs throughout the border of the neckline and as a belt just below the bust line. It is radiant and classic. It has a center back zipper and is fully lined. It is a straight fit floor length dress.
Wow Factor: The best part is the way the dress has been designed. It has an aristocratic and tasteful look about it.
Price: $ 84.99
Buy Here: My girl Dress
Strapless knee length bridesmaid dress in Gold (6600)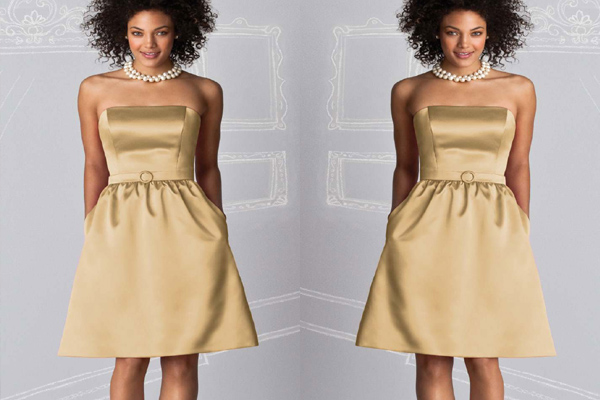 This is the most comfortable dress and the skirt has pockets on either side of it. It is an empire waist line dress with a straight tube neckline. It is made of matte satin and is knee length. The dress has a matching belt and buckle too. You can find this dress in color of your choice. The stunning dress has a certain look which is casted with up to date design.
Wow Factor: The contemporary look and the simple design with pockets on the dress skirt. The blended in skinny belt with the buckle too.
Price: $192
Buy Here: Weddingtonway