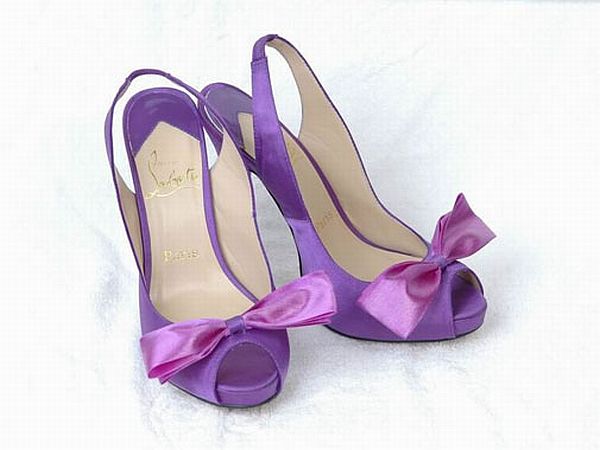 You know you want them and you can't resist heels when you see them. If you have the money to buy the best then why not buy the top-notch designer wedding shoes. Designer bridal shoes are a favorite among the women and they are bound to own at least one pair in their life and you should know the designers who make some of the most elegant and stylish bridal shoes for your pretty feet. Presenting you with a list of purple designer wedding shoes to suit your themed wedding and compliment your dress in the best way possible.
Purple open toe sling back pumps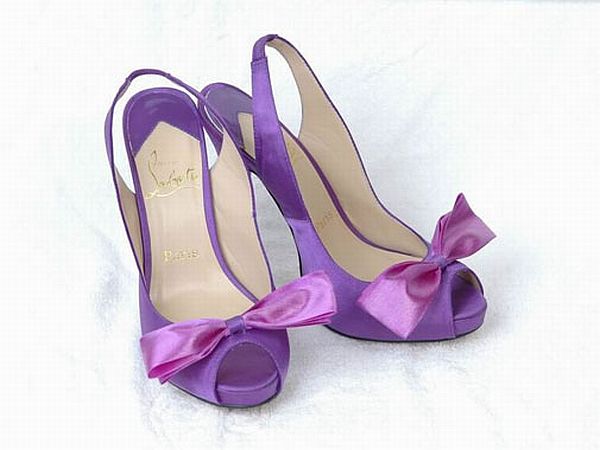 Christian Louboutin has always been known for his best in everything he makes. His items always have a certain panache about them and they are must have. His stunning purple bridal shoes made in satin, that have a sling back with a hidden 1 inch platform are just gorgeous and adorable to look at. These shoes are truly feminine and are open-toe 4 ½ inch heels. The toe area has a mauve hued bow, which gives it that girly touch.
Designer: Christian Louboutin
Delicately looking royal purple heels with crystal embellishment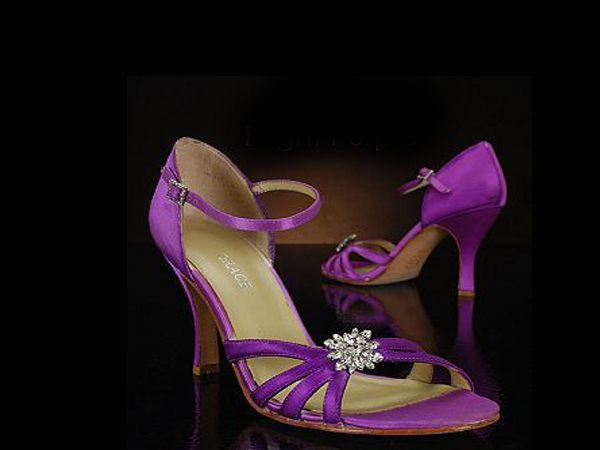 Grace's wedding shoes are so gorgeous that any color shoes would be intriguing to have. This pair of heels speaks for itself, it actually says a lot and they hold a lot of class. The shade of bright purple is quiet stunning to look at. It is a highly hot color and the bride would have all eyes on her feet as well, when walking into the room with these 3 1/2 inch heels. It is a strappy satin pair of heels which also come in silk. It has a crystal ornamented flower on ¼ of the toe straps. Covered back helps the bride feel comfortable. It has a buckle so your foot stays in place.
Designer: Grace
Indigo colored 6 inch stilettos for your sexy feet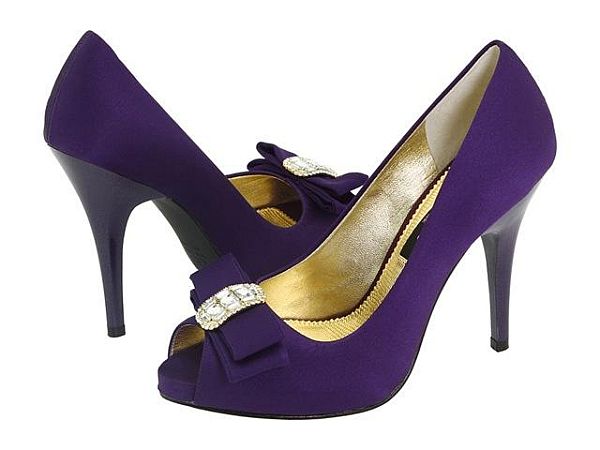 Stuart is quiet well known fopr his gorgeopus pair of wedding heels. Your desires to want to have a pair of his heels would never stop once you have seen them. Go for the 6 inch rhinestone embedded brooch heels. These shoes are designed in satin and are peep toe pumps which are extremely comfortable. This eye catching indigo color would have your guests and yourself flattered.
Designer: Stuart Weitzman
Violet colored chic design with a brooch in white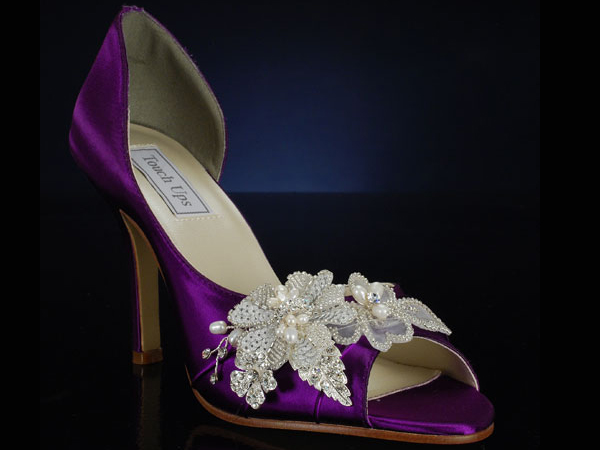 The class and the chic designs that this designer's has on his pair of heels are worth looking at and owning. Pamper yourself a bit with his stunning heels that have such intricate work on them and are highly fascinating to visualize. They are a startling violet colored pair of heels and will definitely make you want them. This pair of heels has a brooch of beads and some rhinestones. The brooch is in white on the center of the toe. That is what gives it the unique look. It is peep-toe pair heels.
Designer: Benjamin Adams
Striking indigo shoes for the stunning you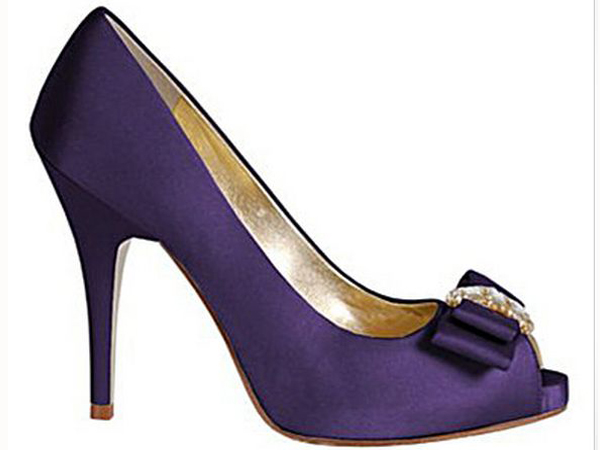 Grace you feet with this Nina Elke peep toe pumps that will make you wedding dress look prettier than thou. The guests are sure to be swayed as the shoe pop out of the regal gown while you walk. It's covered in satin that gives eye pleasing shimmer. And the icing on the cake is the rhinestone embellished bow which makes it look majestic. The towering 4 inch heels are sure to make you the tall bride while you exchange vows.
Designer: Nina Elke
Royal purple heels with a silver lining and silver brooch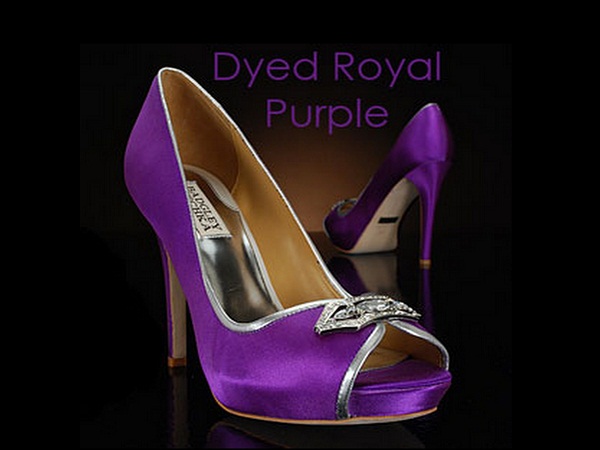 Embrace yourself in this beautiful Badgley Mischka royal purple heels on your big day. Who says you have to wear white completely on your wedding day. Try out these purple dyed silk satin and silver lining heels. They have a brooch on the peep toe which is made in silver and is a one of kind piece. You have these magnificent 4 1/4 inch heels to give you a tall and sexy look. This is for the brides who enjoy wearing high heels and most comfortable in them. These pair of shoes have 1/2 inch hidden platform.
Designer: Badgley Mischka
Lavender hued peep toe heels with pleated toe and white bow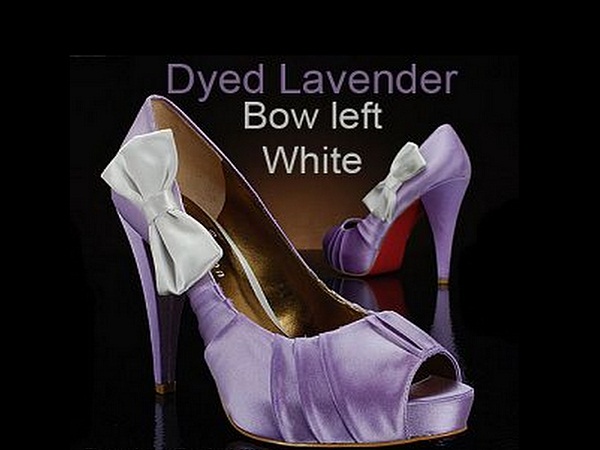 Owning a pair of shoes designed by the well renowned Paris Hilton is surely a dream come true for a woman with money in her pockets. You wedding day should definitely have the best of the best, why not go for the Paris Hilton lavender dyed peep toe heels with a pleated toe and a white bow on the left side of each shoe. These heels are made in silk satin and are extremely elegant and are bound to match up to the lavender used on your wedding.
Designer: Paris Hilton
Almond toe gilt-edged t-strap heels for comfort and class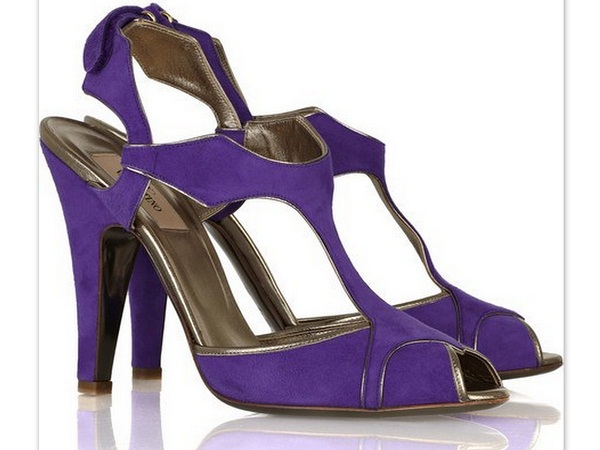 Valentino has always prepared shoes to suit the women's feet. The suede purple peep-toe sandals are so fashionable for the modern bride. If you are planning a winter wedding these suede heels are there to keep you warm. Valentino's suede sandals come with a white gold trim and a heel of 5 inches. Step up at the alter and show off your almond toe, gilt edged, t-strap heels. To suit the size of your feet the sandals come with a Velcro-fastening ankle strap.
Designer: Valentino
Lavender open toes heels for a feminine touch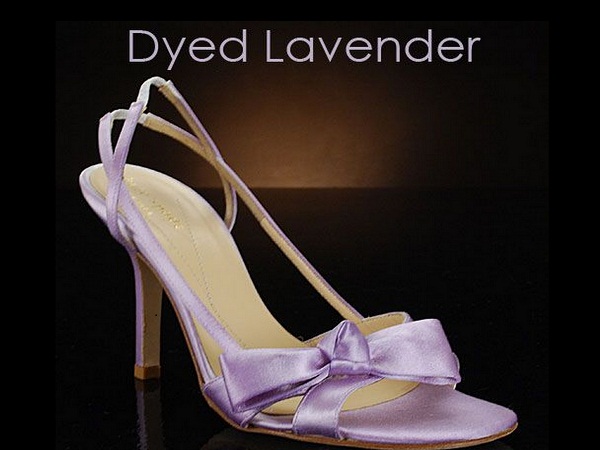 These sandals are an open toe wedding shoe with bow decoration on the side of the toe. This dainty shoe will make any bride feel feminine and pretty. This slingback style heel has a double elastic sling which offers safety for your walk down the aisle and dancing all night long at your reception. These lavender hued sandals come with a 3 1/2 inch heel. They are made in satin and are extremely comfortable. Pain free heels are just what women constantly on their feet need.
Designer: Kate Spade
Shimmering purple closed round toe platform pumps for the alluring you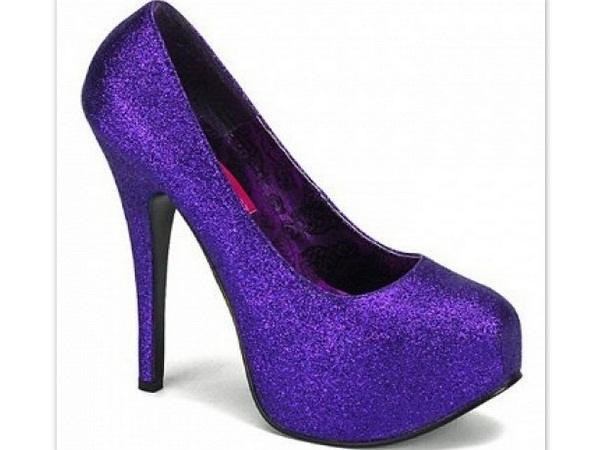 If you are the girl who loves all the glitter and glam and are about to get married, definitely go for Bordello's heels. They have all the shininess you desire. These high heels are too sexy and desirable to not have. The rhinestone cover closed toe platform pumps are killer. They come with 5 3/4 inch heel to bring out your panache. The glitter goes all the way to the heel tip. The platform is about and inch. This pair comes with a leather lining and round toe. To suit your safety, it also comes with a similar colored detachable lace up and a rubber bottom.
Designer: Bordello Women's Teeze