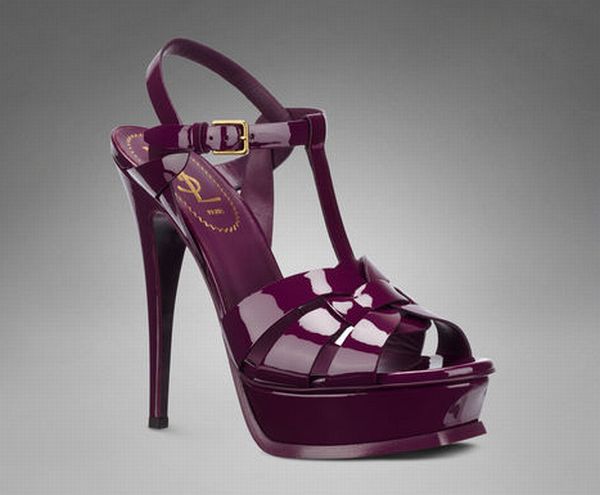 There are few accessories that brides wear on their wedding day and shoes are one of the most important. The shoes are the only thing that will ensure whether the bride walks down the aisle in pain or in joy. Brides nowadays are really choosy when it comes to wedding shoes. Every bride wants to don a nice designer pair. The market is flooded with stunning designer shoes, giving the brides variety of choices. They can choose anything from jewel-encrusted flip flops, chunky heels or even wedding flats. Whatever the design or material it may be made of, the shoes must provide both style and comfort and complement the wedding gown on the special day. Here are some designer wedding shoes for luxury and comfort.
Crown Glittered Peep-Toe Platform Pump

When you are unsure about the design of the shoe that you want to go for, Jimmy Choo should be your pick. This dazzling platform pump will ensure that you stand in style on your special day. The glittered fabric on the shoe has been meticulously textured in a subtle manner. It ensures that your feet dazzle onlookers, day or night. You also have a halter slingback with an adjustable buckle for that perfect fit. The heel is covered and 4 3/4″.
Fab Factor: The "Crown" is made in Italy. The pretty peep toe rests on a platform of a contrasting color imparting a colorblock look.
Price: $695.00

Buy here: Bergdorf Goodman
Fontanne Stingray-Print Leather Platform Pumps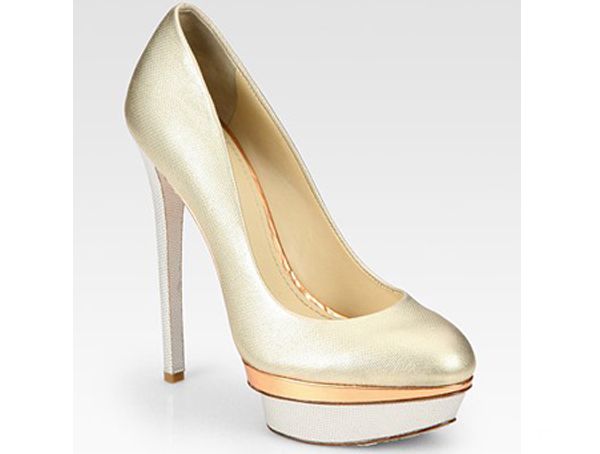 The B Brian Atwood Fontanne Stingray-Print Leather Platform Pumps have gone for a modernized version of a timeless look. The metallic leather style has always been popular. That style has now been updated with a sculpted island platform design and an edgy stingray paint. The paint is on the upper leather. The self covered heel is 5 ½", the island platform is 1 ½" and it compares to a 4" heel.
Fab Factor: The shoes have genuine leather lining and sole. The insole is padded for comfort. The most fabulous part of this shoe is that it is hand made in Italy.
Price: $350.00
Buy Here: Saks Fifth Avenue
Badgley Mischka Women's Salsa Pump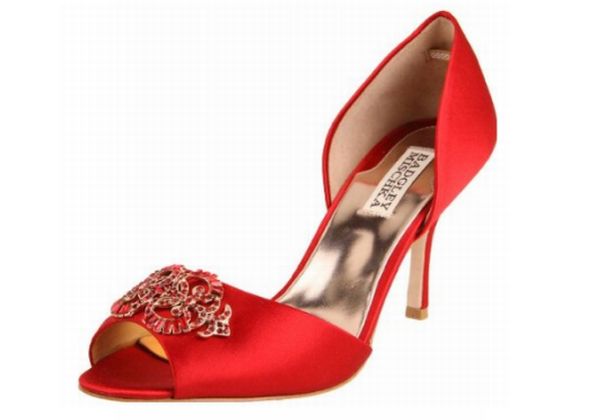 Now this is a shoe that will really complement your dress. You will actually feel your dress rub against the smooth texture of this shoe. It also has 'salsa' in its name so if you are the spirited kind, then these are just for you. The heels are 3". These are made in China but they offer free shipping and return to the U.S.
Fab Factor: The sole, lining and insole are pure leather for that glossy look. Comes with a jewel design near the upper that looks fabulous.
Price: $215.00
Buy Here: Endless
Miu Miu Glitter T-Strap Platform Sandal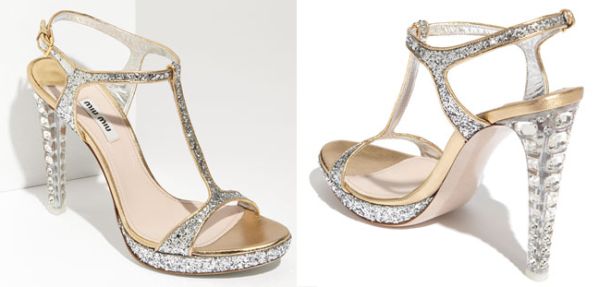 The Miu Miu Glitter T-Strap Platform Sandal looks more like a shoe meant for parties in James Bond movies than for weddings. It has a bejeweled look that completely dazzles the onlookers. The approx heel height is 4 ½" with a platform of ¾" as compared to a heel of 3 ¾".
Fab Factor: Dazzling bejeweled look. Sole, insole and inner lining made of genuine leather. Can be used as salon shoes as well.
Price: $990.00
Buy Here: Nordstrom
Valentino Couture Bow Pump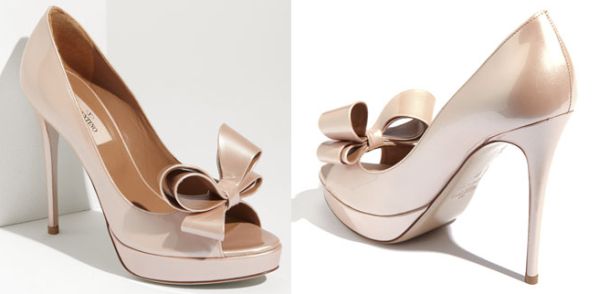 This shoe looks as if it were made for princesses. The bow adds a beautiful new dimension and aura to a pearlescent peep-toe pump. The shoe is steadied by a wrapped heel and platform. The approx heel height is 4 ½" with a platform of ¾".
Fab Factor: The upper and inner lining, sole and insole are of pearlescent patent leather. The shoes are handmade in Italy.
Price: $775.00
Buy Here: Nordstorm
Giuseppe Zanotti Crystal Embellished Shoes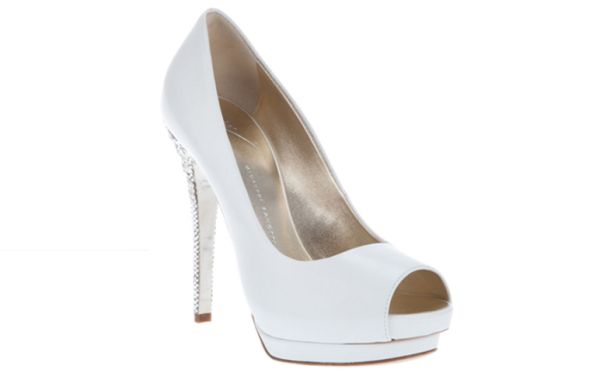 This shoe will simply blow onlookers away. The shoe is pure charm and beauty to behold. It is a peep toe, platform sole shoe made of pure white patent leather. Adding to that is the Giuseppe Zanmotti brand name.
Fab Factor: The high heel is crystal embellished and imparts the radiance and dazzle that really sets apart the bride on her special day of delight.
Price: $1031.00
Buy Here: Far Fetch
Sergio Rossi PeepToe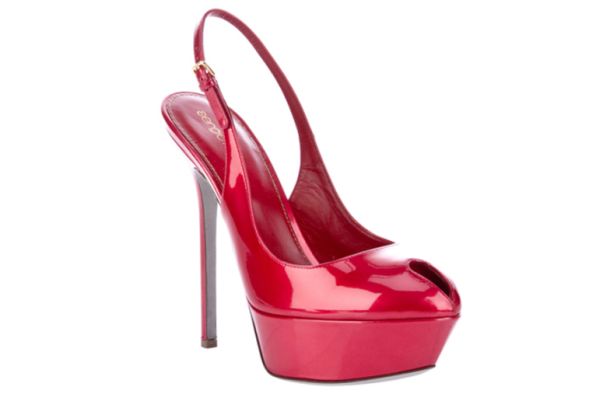 Your feet will look like the purest cherries when you wear these shoes. The shoe features a tear drop shape peephole, an exposed platform, a slingback buckled ankle strap, a leather sole and insole, a stiletto heel of considerable height and an overall gold tone embellishment.
Fab Factor: The shoe is made up of red patent leather and there's also the Sergio Rossi brand name. The stiletto heels add substance and presence to the shoes and the wearer.
Price: $ 557.35
Buy Here: Far Fetch
YSL Tribute High Heel Sandal in Magenta Patent Leather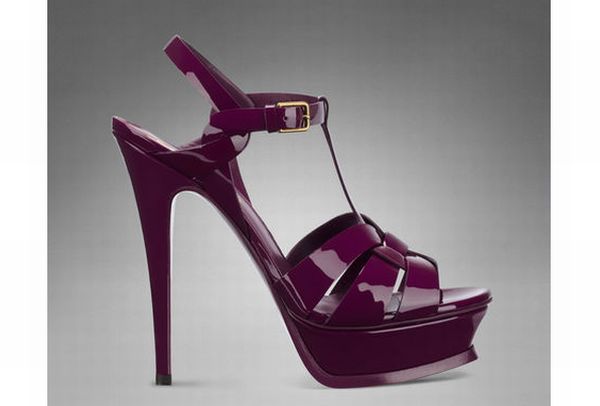 The house of Saint Laurent has always been famous with their trademark platform heel designs. This YSL Tribute sandal has been created with inspirations from Saint Laurent. It has a refined stiletto heel (4") with an adjustable ankle strap. It is available in four sexy patent leather colors—Black, Red, Magenta and Metal Pink.
Fab Factor: The shoe is beveled and paired with intertwining straps. The leather has been given an ultra glossy look for that sexy appeal.
Price: $795.00
Buy Here: YSL
Manolo Blahnik Manoloblahnik-Hangisi-11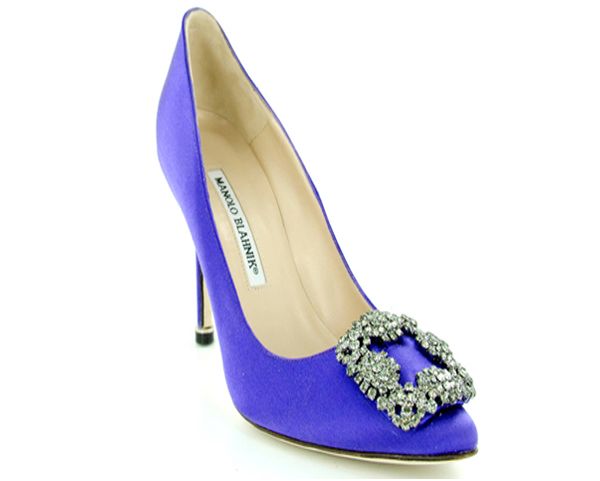 This shoe is an absolute classic beauty. The design is old yet, somehow, its appeal still remains. The design of this shoe is by Manolo Blahnik. The inner lining and the heels have been designed in a way so as to provide maximum comfort. They are perfect for a wedding, a formal evening or casual parties. The heel height is 3 ½".
Fab Factor: The shoe is made of blue or red patent leather. A square rhinestone ornament adorns the pointed-toe satin pump.
Price: $945.00
Buy Here: Foot Candy Shoes
Jimmy Choo 'Luna' Peep Toe Platform Pump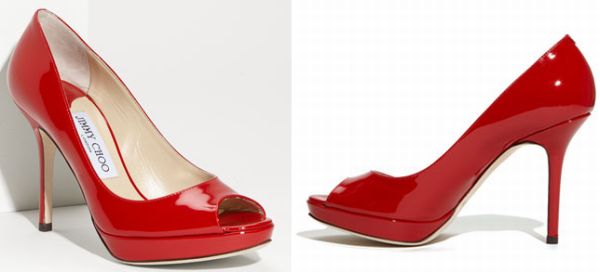 If red is your color then this is the shoe for you. Crafted in blood red patent leather, this shoe from Jimmy Choo has an alluring peep-toe and a small platform. The heel height is 3 ¾" and a platform of ¾".
Fab Factor: It's a Jimmy Choo! The lining (both upper and inner) and sole are made of patent leather. Handmade in Italy.
Price: $665.00
Buy Here: Nordstorm