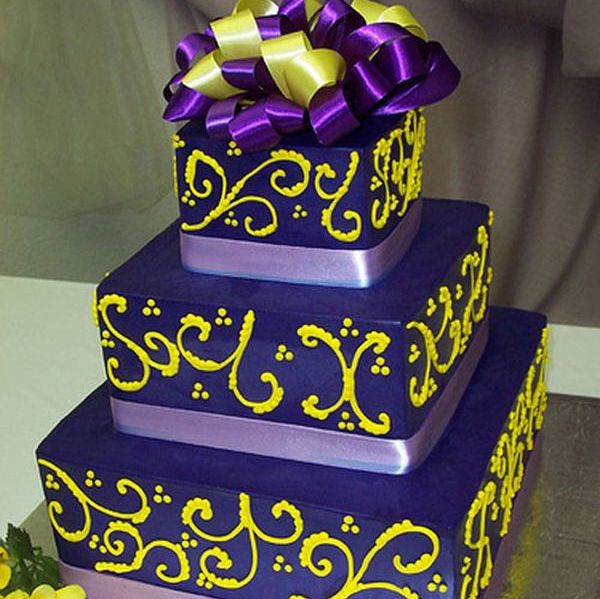 Known to represent royalty, magic and mystery, the purple color has nowadays become a very popular choice for the wedding themes. From wedding invitations to flowers to cakes, there is a range of shades in purple to choose from for your wedding celebrations. When it comes to wedding cakes, you can easily find a variety of designs for a purple wedding cake to suit your liking. The purple color in your wedding also symbolizes love, passion, tolerance and happiness. Check out some of the most amazing purple wedding cakes after the jump, which are sure to please guests at the wedding.
Purple square wedding cake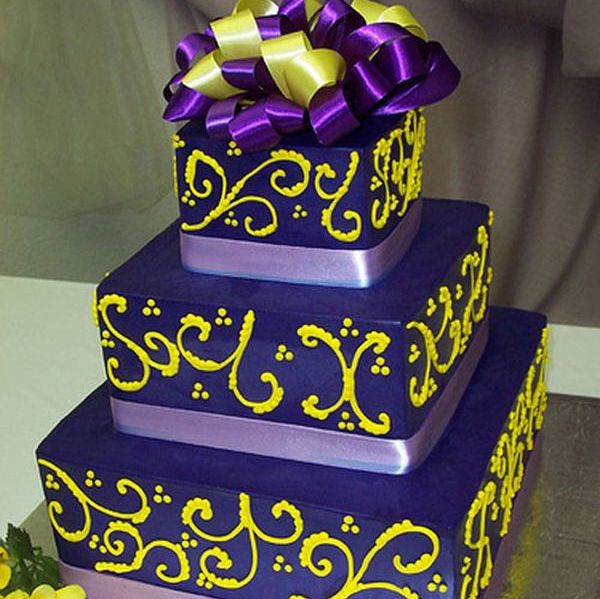 Feast you eyes on this stunning purple wedding cake, which will be surely liked by all the guests at your grand wedding. This three-tier wedding cake has strong shades of purple and the beautiful yellow colored design on all sides adds to the overall looks. The purple and yellow ribbon combination on the top of the square purple wedding cake gives an impression that it has been specially gift wrapped for the special occasion.
Three tier Wedding Cake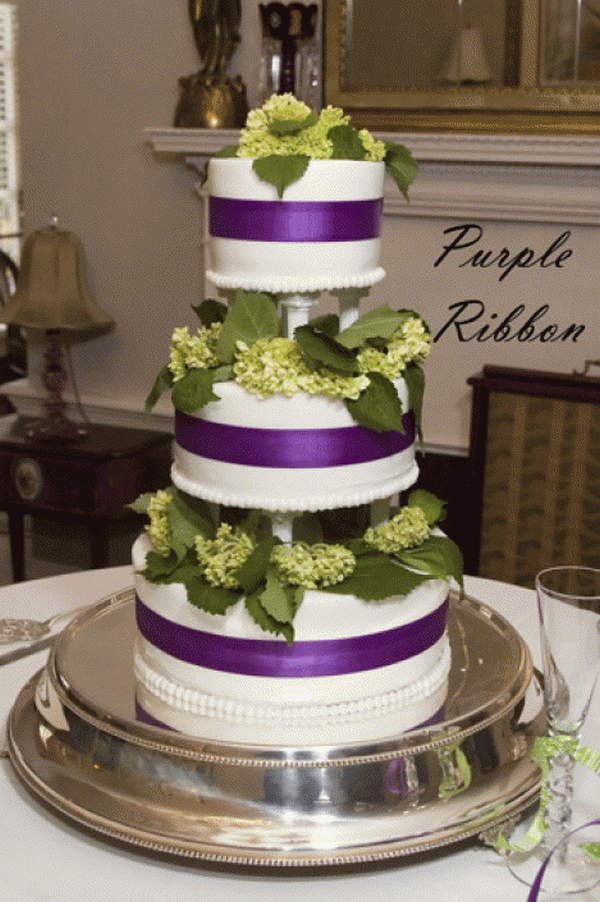 This three-tier purple and white wedding cake in round shape looks to be a perfect choice for a purple themed wedding. The white cake is decorated with a thick purple ribbon band, which offers the tinge of a royal wedding. Fresh cream hydrangeas with soft green foliage balance the lavishing cake, which will surely leave the guests with satisfied taste buds. If you are planning to have a purple themed wedding, this wedding cake could be a great choice for the big day.
Three-Tier Wedding Cake – Roses & Drapes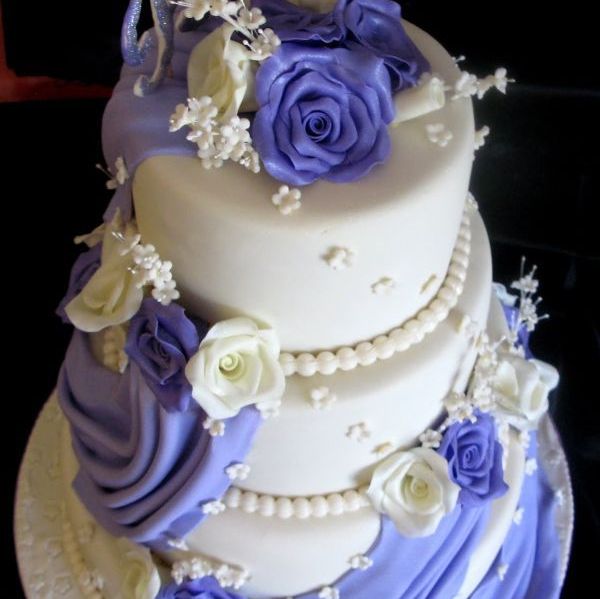 Anamika Soni prepared this three-tier cake for a purple themed wedding. The bride requested for a three-tier wedding cake with multiple drapes with white and purple roses. Therefore, Anamika made purple drapes on the three tier cake and then placed white and purple roses at the beginning and the end of the drapes. The cake looks gorgeous and is perfect match for a grand wedding celebration.
Royal Purple Square Cake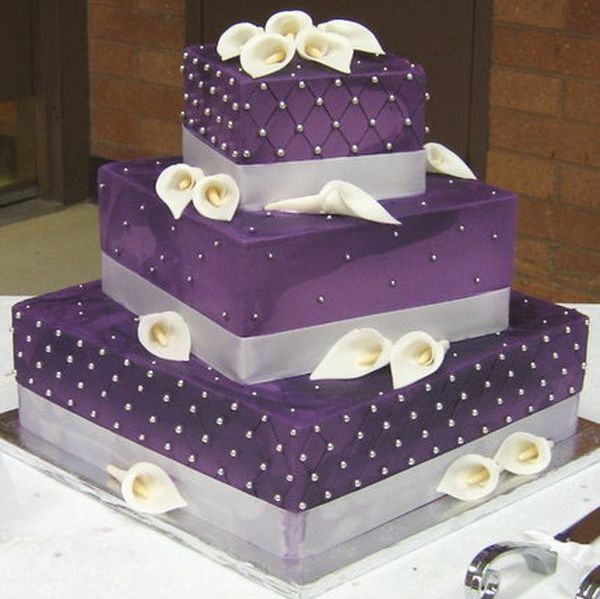 Pictured above is a beautiful three-tiered square wedding cake done by Graceful Cake Creations of Arizona. The mouth-watering cake has been iced in purple hued butter cream and has been decorated with fondant Calla Lilies. To add to the decor of the cake, silver beadlike pieces of candy have been layered on the top and bottom in a diamond pattern. The cake has been wrapped pleasingly in white satin ribbon. This stunning cake will gel perfectly with your purple wedding theme and will reflect your theme idea to the fullest.
4-Tier Fondant Wedding Cake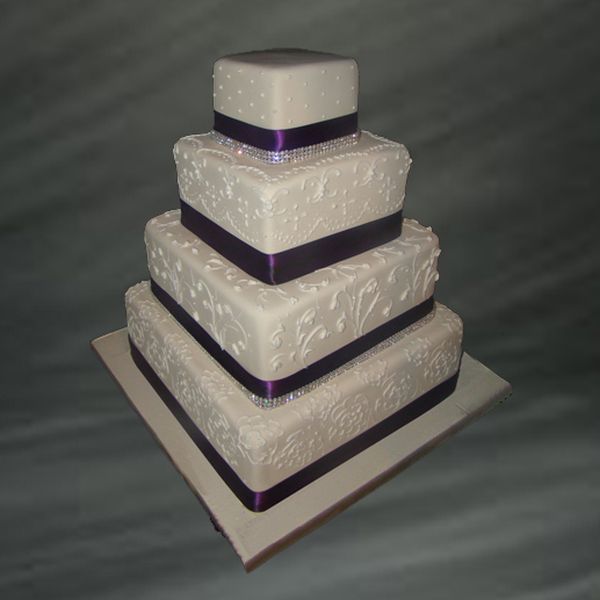 Minimalist and royal, the ivory white four-tiered cake seems to an extraordinary and elegant centerpiece for your grand day. This custom cake is neatly trimmed and orderly pruned with thick white fondant in a deep purple ribbon of the same color as that of the bridesmaid's gown. As per the bride request, the white royal icing was accentuated with a very rare and intricate pattern on each of the four tiers. The splendid cake looks more special with a three-row rhinestone trim.
Square three tier white, purple wedding cake with lilac ribbon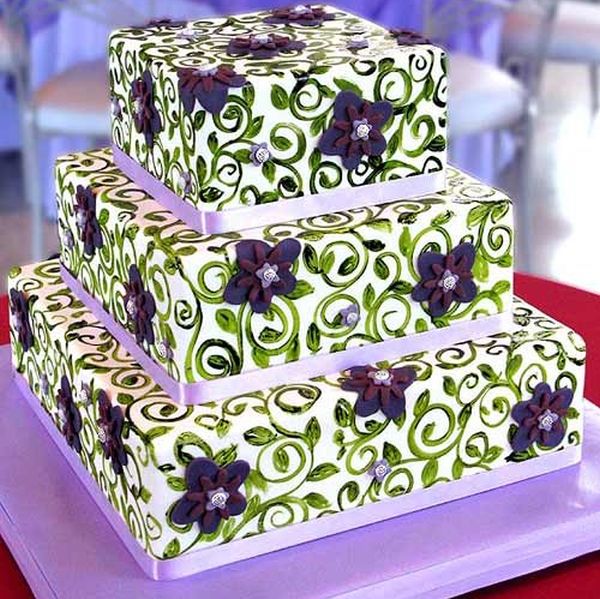 Purple is considered the color of wisdom and royalty and these two words are deeply connected with the wedding ceremonies. This beautiful three-tier square shaped purple, white and green wedding cake has been handcrafted with purple fondant flowers. The green scrolls and patterns with an addition of lilac ribbons add to the overall beauty of this cake. Although, the design of this wedding cake is minimalist when it comes to the shape, but the whole beauty comes with the flowery decoration all around it.
Black And White Zebra Print and Purple Wedding Cake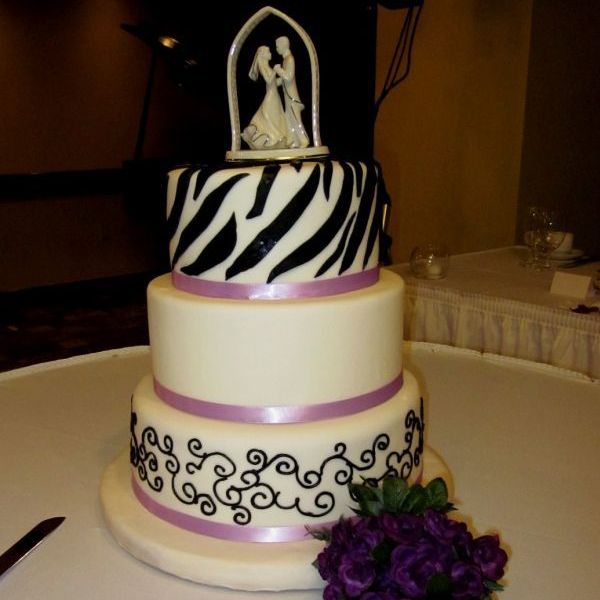 Here is yet another interesting cake done in a mix of purple, white and black color. The cake comes piped in black royal icing and its top tier flaunts the beautiful black and white zebra print. On the top of this purple wedding cake is a beautiful dancing couple, which makes it apt for the big day. The combination of the colors makes this wedding cake truly eye catching. This particular wedding cake looks to be a great option for a purple themed wedding. All you need to do is to select the flavor of your choice and order it in time for your wedding.
Purple Daisies Wedding Cake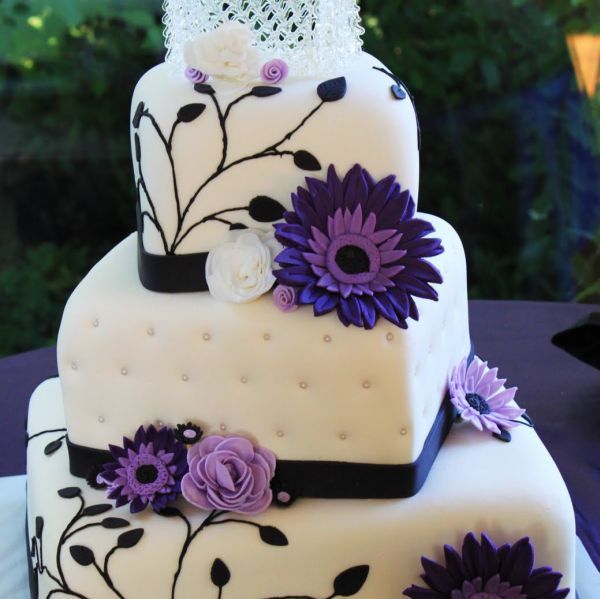 Professional cake decorator, Jen Vesper of Utah, made this sumptuous Purple Daisies cake for a grand wedding occasion. This wedding cake took about 90 minutes to complete. She decorated the three tiered square cake with handmade fondant purple colored daisies and few white roses. The royal white cake becomes more impressive and special with the dark hued purple ribbon wrapping and a crystal castle on the top. The Purple Daisies wedding cake is sure to turn heads at the grand occasion and you might hesitate to use the cake knife on it.
Roses, Asters, and Peruvian Lilies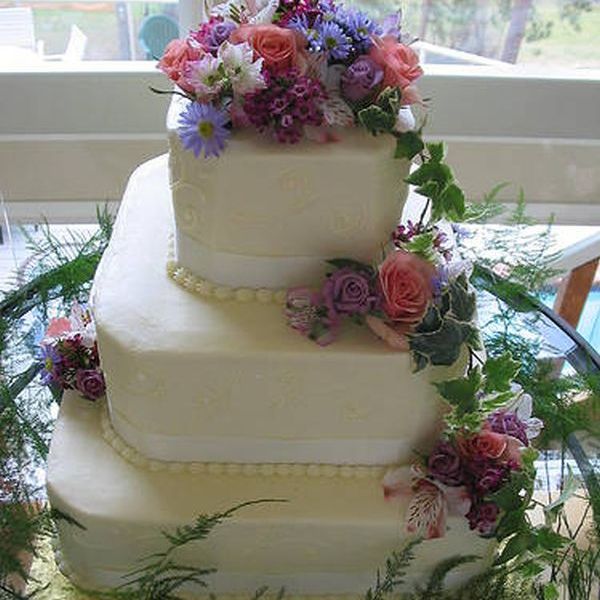 This floral wedding cake will definitely please those brides who missed the fresh blooms of beautiful flowers on their grand day. The handmade fondant flowers, which include pink and purple roses, Peruvian Lilies and Asters, give the splendid cake an undoubtedly feminine appearance. The marvelous cake has various kinds of fondant flowers and abundant greenery, which makes it a perfect choice for the garden wedding. This modern, classy and contemporary floral cake will definitely add to the charm of the grand day celebrations.
Lavendar and deep purple cherry blossom cake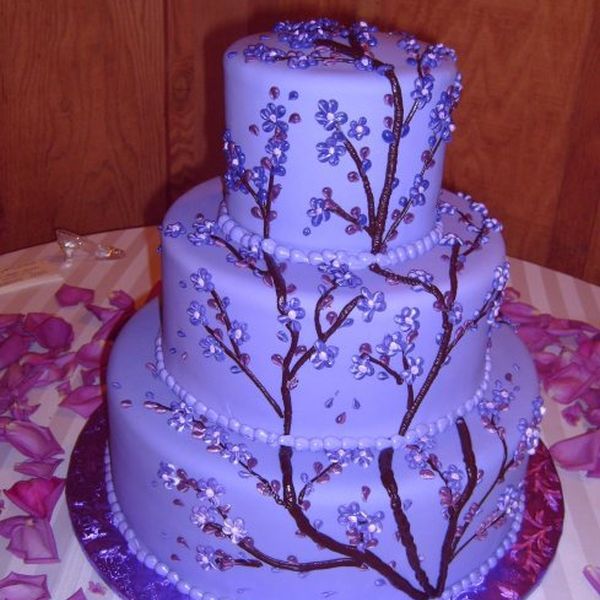 The three-tiered purple hued cake pictured above is sure to be liked by the guests attending the grand celebration. The round three-tier lavender and deep purple cherry blossom cake is decorated with chocolate brown branches and limbs of trees. The royal cake has been embellished with handmade fondant purple and lilac flower and buds. Although, a purple wedding cake looks better with shades of other colors, but this particular cake is all purple and what makes it so stunning is the beautiful tree branch pattern.