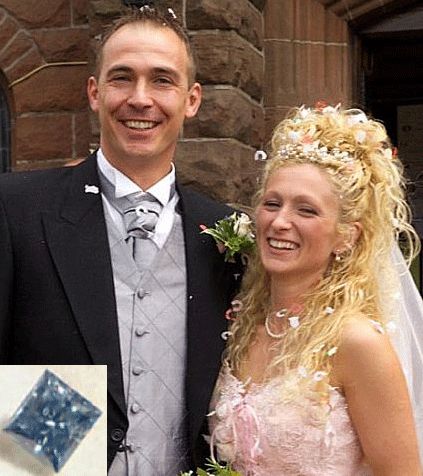 Few days back people were talking about making diamonds from the ashes of the dead. Celeste Egan got such diamond, made from her father's ashes, as a gift from her mother on her big day. Celeste had always dreamt of the day when her father would walk her down the aisle on her wedding day. Unfortunately, her father, Mick Egan, died eight months before her marriage due to a brain hemorrhage.
Celeste said, 'It seemed like the right thing to do for us as a family and for my dad. We think he'd have loved the idea."
What are you thinking; even you can order a diamond from your loved ones ashes to make them immortal. Mrs. Egan got this diamond made from LifeGem in Hove, East Sussex, who sent the ashes to US to convert into diamond. The process cost £3,550 for a blue 0.32 carat diamond (shown inside corner of the picture).