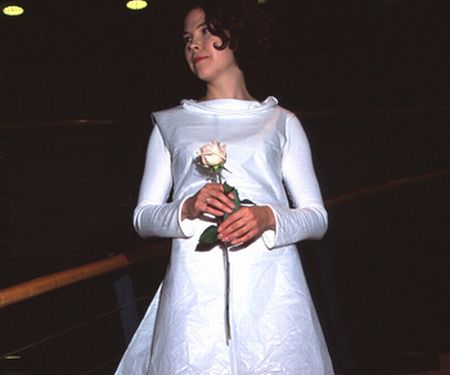 The exorbitant price that a would-be-bride pays of a wedding gown is disproportionate to the number of times it is actually worn. Most of the times, the gown is worn only on the wedding eve where after it lives the rest of its life dumped in a closet.
Tuija Jarvenpaa, a Finnish designer has devised a solution to the problem by designing a Disposable Wedding Gown. The designer is famous for creating disposable products.
The disposable wedding gown is crafted from shiny translucent white paper and can be embellished with various prints, ornamental cut-in patterns and folds. The gown is designed single-time use only, and is thus perfect for events like weddings. After being worn once, the gown van be recycled or thrown away.
The concept of disposable wedding gown was first introduced in 2005 in a group wedding in which all brides wore disposable gowns.