Bridal bouquet completes the look of a bride so a creative thought should be given while choosing or making a bridal bouquet. Silk bouquets are considered to be the best bouquets to showcase the beauty of a bride and best thing about these bridal bouquets is that you can easily make them at your home.
While making a silk bridal bouquet, don't hesitate to experiment and there isn't any fixed rule for making a bridal bouquet so you can mess the way you like. With a little bit of knowledge about the bouquets, you just need to follow a simple procedure and you will wonder how beautiful they look. Follow some simple rules and when you are satisfied with the outcome that's when you are finish with making process. We have been sharing some simple steps to make a beautiful silk bridal bouquet for a fraction of cost.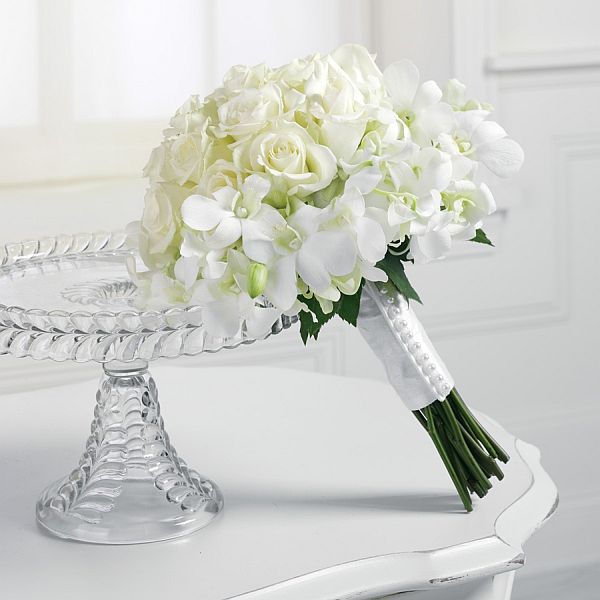 Things you need
1. Silk flowers
2. Filler flowers such as baby's breath
3. Illusion veil material or ribbon
Time required
1-2 hours
Procedure
1. The first thing is choose the silk flowers. Just go with the colors that are beautiful and matching with your wedding dress. If white is your favorite color then buy some leaves or pastel colored ribbon that matches with the theme of your wedding.
2. If you have chosen white silk flowers then add some stephanotis with beautiful pearls glued to the center of the bouquet. This will tend to glow your bridal look.
3. Add some glue where the stem meets the holder. There are two types of holders, you can use ; the first one are the holders that have Styrofoam for the sturdier stems of the silk flowers and the the second one is to use green florist foam.
4. Take a wire cutter and cut the stems of the silk flowers. Try to keep stems long as longer stems make beautiful bouquets.
5. Just place the silk flowers in the holder and use fillers to fill the gaps between the flowers. Use small bunches of baby's breath and you can also wrap a wire around the stem parts. Keep on adding fillers until you think, your bouquet is looking great and isn't having any gap in between the flowers. Keep in mind that main flowers in the bouquet are not overlapping each other as it create disorder and diminish the entire look of the bouquet.
6. Give a final touch to the bridal bouquet by adding lace pieces to cover the sides of the bouquet. And, that's your silk flower bridal bouquet.
Via: ehow