Wedding cake is the one of the most celebrated food in a wedding ceremony. There are numerous designs and varieties in wedding cakes, that you can choose according to your cultures and traditions. Almost every wedding has a cake cutting ceremony and therefore, it is very necessary that your cake is unique in appearance and ambrosial. This articles gives you two DIY's. The first is for the birch-style wedding cake and the second is on DIY flowers for wedding decorations.
DIY to make the birch-style wedding cake
Birch-style wedding cake are the best options for those who wants to add a personalized touch to the wedding receptions and it is quite easy to work with. A little bit of knowledge about the cake coloring, decoration and a creativity is all you need to make this beautiful wedding cake. Follow these easy steps and make your wedding moments memorable.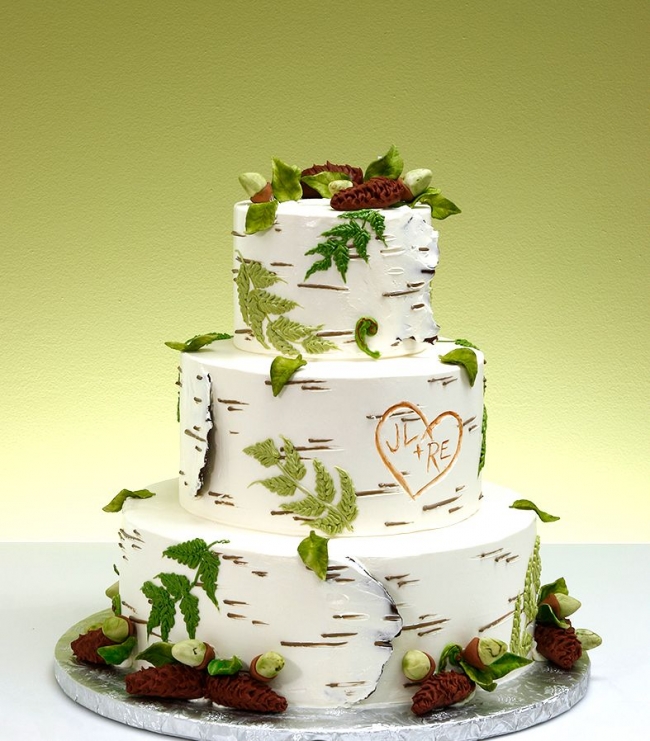 The thing you need for the birch-style wedding cake
1. Three cakes of different diameter
2. Cocoa, marzipan and marshmallow fondant
3. Food coloring (green, brown and black color)
4. Confectioner sugar
5. 1 egg white
6. You also need some tools like scissors, sharp knife, a rolling pin pizza wheel, drinking straws and piping bag with small round nozzle.
Procedure for birch-style wedding cake
The Marzipan
1. First of all, take some marzipan and coloring one-third of it brown. You can do it by rolling it in cocoa and green.
2. Then cut brown marzipan and small balls and cut them into half.Now shape green marzipan into a cone and give it acorn shape by joining cone and the brown part together.
3.Then take all leftover brown marzipan and shape them in cones size of 1, 5or 3 inch length and cut the cone with the help of scissors.
4. Put all green marzipan on a baking paper and take cling foil and roll it . After covering the leaf, cut it with the leaf plunger cutter.Pick them up with the knife and give them different shapes and let dry.
The Fondant
5. Take some fondant about the size of a lime and now it's time to cover the cakes in fondant. Scatter some confectioner sugar on cake. Take your fondant and knead it until it is not sticky anymore. Make it thin with the help of rolling pin and make it a round shape about double the size of your cake.
6. Now wrap it around the rolling pin and unwrap it over the cake. Trim it with the pizza wheel so as to make it look perfect. You can even add some fondant to make it smoother.
Cake tiers
7. Next its time to stack all the cake tiers together in decreasing order and take some egg white and mix it with confectioners sugar. Keep on adding confectioners sugar until incing-peaks don't collapse. Take small pieces of bark pieces and place them on cake.
8. Fill the icing green color in a piping bag and make some beautiful details on the cake. You can design flowers and leaves or anything related to the wedding.
9. You can even paint the birch bark with a fine paint brush after making a heart with tooth pick on the cake.
10. Add a cake topper that matches with the entire look of the cake and congratulations, your birch-style wedding cake is ready!!
 DIY : How to make your own wedding cake flowers
Wedding cake is a focal point of the wedding ceremony and spending a little more time in decorating it is certainly not a bad idea. Add more colors and elegance to the wedding by enhancing your wedding cake with beautiful edible flowers. We have an incredibly easy and stylish DIY of making your own cake flowers for the wedding cake. So, put your aprons on and roll your sleeves to make these irresistible cake flowers.
Things you need
Fruit leather (Either homemade or you can also buy it from the nearby store matching with the color of wedding cake)
Water snow bawl
Round cookie cutter
Water bawl
Floral wire
Piece of foam
Procedure
1. Take the fruit leather and cut small circles with the help of round cutter. Flower puff is equally proportional to the size of round cutter so, make sure you buy an appropriate size cutter.
2. Now take one of the fruit leather round and press it inwards with your fingers, giving it an 'x' shape. These open loops will give the puff a perfect shape. Now repeat the same thing for other rounded leather fruit circles. 6 circles are enough for making a beautiful flower puff, though you can increase the number according to the size of your wedding cake. Now press two of ruffle rounds together at their points.
3. You can also use water if leather round have started drying out. The number of ruffle also can be increased or decreased according to the size of puff. Fix the formed puff on Styrofoam and use tooth picks to make the puff in desired shape. Now, let the puff to dry for the whole night.
4. You can also beautify the cake by adding dots of fruit rounded leather leftover.