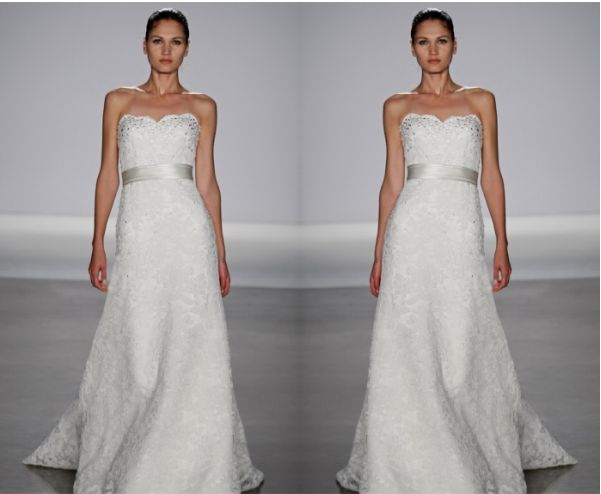 The search for the perfect wedding gown can take ages. Apart from the fit and the design, the other thing to consider is fabric. Of the many which are used, lace is one that has been consistently incorporated over the centuries. This delicate and feminine fabric has the potential to turn even an ordinary dress into a stunning number. There are also so many ways to work with lace that using it as part of a wedding dress gives you the freedom to experiment with almost any design. Take a look at some affordable lace wedding gowns that are truly elegant and promise to turn any bride into a stunning princess.
Strapless lace wedding gown with sash BC033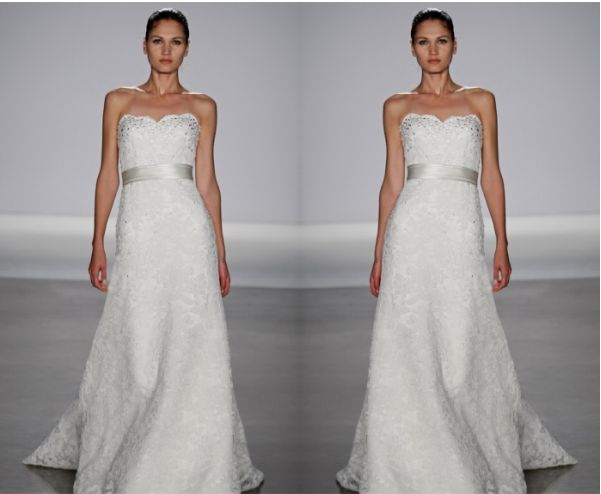 We've seen many strapless wedding gowns but this number is simply elegant. The subtle sweetheart neckline is what you will notice first as it's been sprinkled with crystals, pearls, beads and rhinestones in scallop shapes. The re-embroidered lace gown has a natural waist that's perfect for gently showing off your curves. A belt tied around the waist accentuates the flow of the dress. The gown is fully lined with a zip-up closure and tricking covered buttons.
Fab factor: We love the sprinkles of beads and crystals on the neckline and the simple elegance of the outfit makes it perfect to be worn at a beach wedding.
Price: $281.54
Buy here: Inweddingdress
Mermaid style lace wedding gown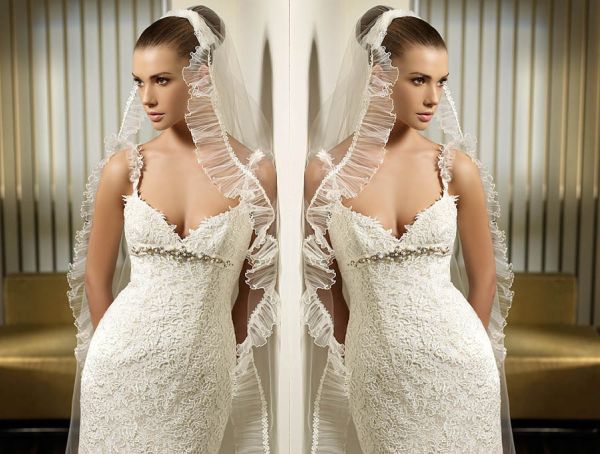 The mermaid style gown made a big fashion statement back in Hollywood's Golden Years with many celebrities wearing them. Now you can feel like a star too with this mermaid style lace wedding gown that fuses the fashion of decades past with a contemporary touch. It's been made from satin and lace organza and features a deep yet demure neckline. It comes with an embroidered lace jacket, a sheer long veil and gloves.
Fab factor: The mermaid style accentuates the curves of the body while the neckline and train at the back lend a regal touch.
Price: $317.21
Buy here: Ecrater.
Keyhole beaded lace satin wedding gown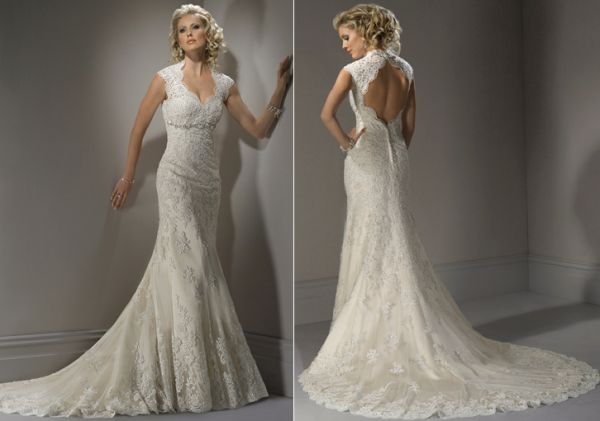 A gorgeous high mandarin keyhole at the back will ensure that guests are left staring in admiration at this elegant wedding dress. A chapel train with scalloped edging perfectly complements the slim line fitting. The dress features a light sprinkle of beads throughout and on the empire waist.
Fab factor: Elegant and simple are the hallmarks of this gown. The mandarin keyhole is an unexpected yet delightful surprise.
Price: $296.54
Buy here: Weddingdressesbrides
Luxury A-line V-neck chapel train beading satin lace wedding gown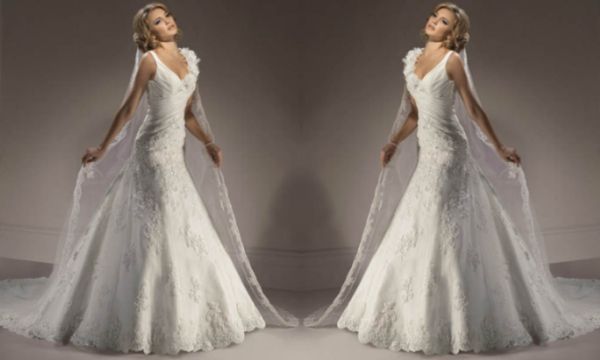 The luxury A-line wedding gown features a flowing skirt starting from the hips down. A deep v-neckline adds a hint of sexiness to the satin outfit, perfect for those who like to show a little skin. The empire waistline is a nice touch with delicately gathered material designed to add more shape to the bust line. Embellishments include beading, lace and handmade flowers. The chapel train goes nicely with the delicately embroidered gown.
Fab factor: We love the empire waistline and the flower embellishments running up along on the right neckline.
Price: $265.79
Buy here: Loveweddingdresses
Queen Anne neckline embroidered lace A-line/princess wedding gown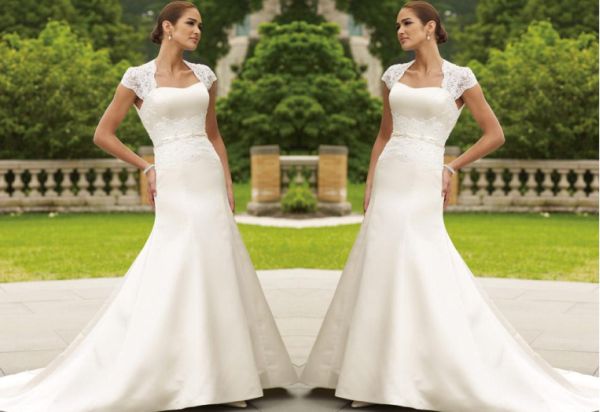 Fit for royalty, the Queen Anne neckline wedding gown is a sleeveless satin A-line number in ivory, that features an open back bodice, a re-embroidered midriff, covered buttons at the back and satin ribbon on a natural waistline. Jewel embellishments have been fitted to the waist to add a hint of sparkle to this simple and elegant outfit.
Fab factor: Being a Queen Anne neckline wedding gown, any bride-to-be will feel like royalty on her special day.
Price: $289.00
Buy here: 200shop.
High quality handmade designer lace strapless empire line wedding gown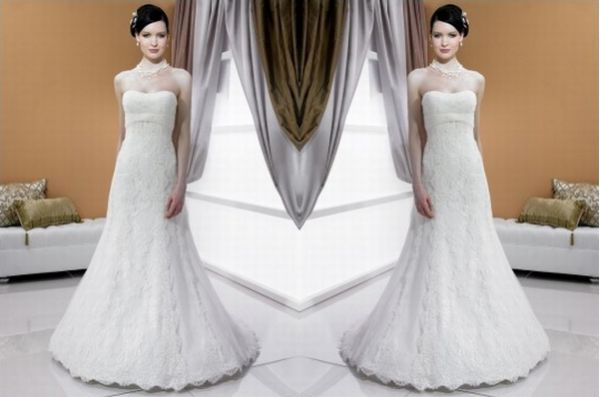 Feel like a million dollars in this high quality strapless empire line wedding dress made largely out of lace. The sleeveless gown has had beads and appliqués added to it to complement the rich lace fabric. A chapel length train finishes the look. It's available in champagne, white, pink, ivory, and custom colors.
Fab factor: The high use of lace grabs our attention, giving the outfit a classy and feminine appearance.
Price: $269
Buy here: Weddingdressesonlineshop.
Late 1930s early 1940s ivory lace vintage wedding gown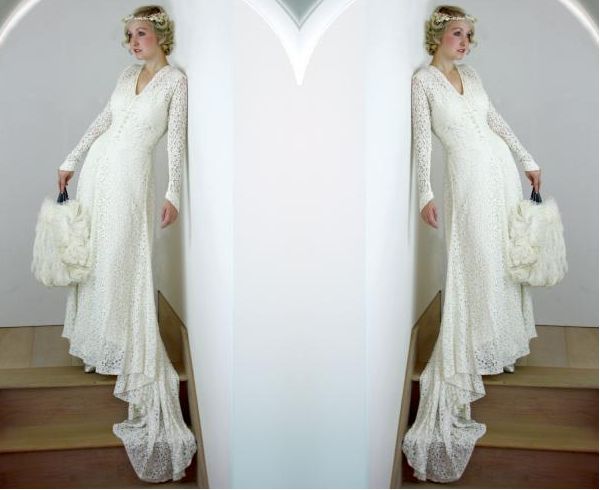 Travel back in time in this '30 to early '40s wedding dress that features a deep v-neckline, a fitted bodice and long sleeves that fall down to a v-shape. Small details like buttons on the cuffs and all the way down the back add a vintage touch to this gorgeous piece. A long flowing skirt from the waist with a train at the back adds a whimsical touch
Fab factor: Anything vintage is always beautiful. This number is a perfect testament to what women in the early years of the 20th century wore.
Price: $1,552.81
Buy here: Melamela
Cap sleeve satin tulle A-line lace wedding gown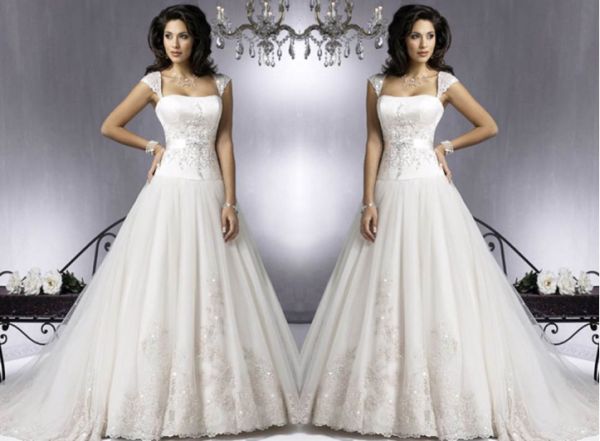 This elegant and pretty satin gown features a classic corset closure used in many wedding dresses. Embellished Chantilly lace motifs on the satin bodice accentuate the waistline. A full tulle skirt creates a dramatic effect, topped off by more Chantilly lace on the hemline. Lace cap sleeves add a delicate touch to the gown.
Fab factor: The dramatic skirt will ensure that brides make a sweeping entrance on their wedding day.
Price: $460.25
Buy here: Weddingdressesukshops
Pretty lace A-line cap sleeves wedding dress bridal gown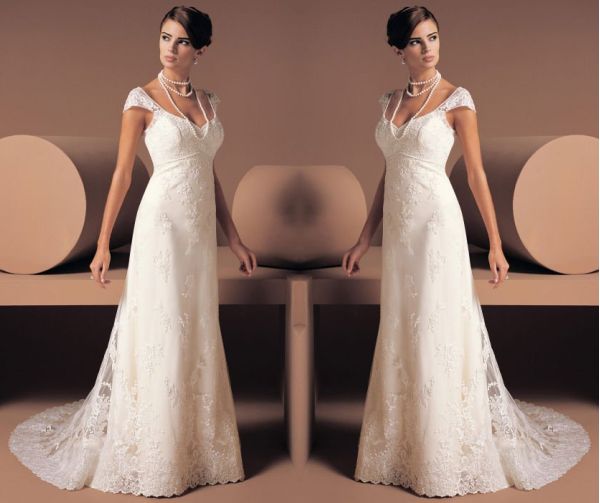 A sweetheart neckline and cap sleeves adorn this pretty satin bridal gown. Featuring a sheath silhouette and a floor-length skirt, the dress has a lace scalloped hemline. The gentle figure hugging contour shows off the curves while the cap sleeves add to the pretty effect.
Fab factor: A classic wedding gown style that never fails to go out of style.
Price: $248.99
Buy here: Goldwo
Mori Lee lace wedding gown 2192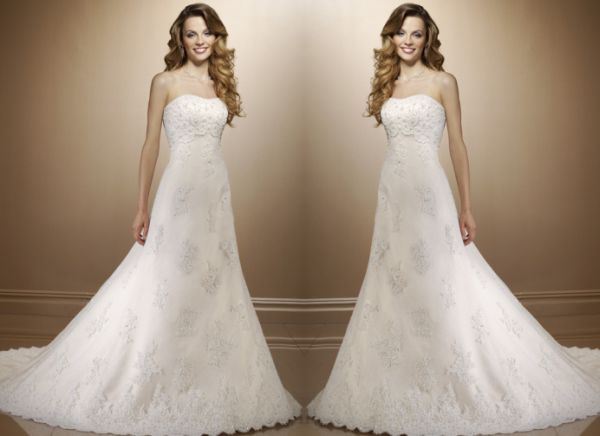 The last on the list of lace wedding gowns is a strapless Mori Lee lace number in an A-line silhouette. Beads and embroidery heavily adorn the bodice while the rest of the dress contains them in sprinkles. A scalloped hemline completes the look
Fab factor: Understated style speaks of elegance and femininity.
Price: $237
Buy here: Brandweddingdresses