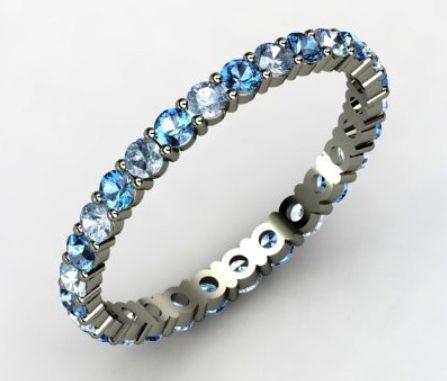 A wedding ring is a ring exchanged by the groom and bride during the vows of their wedding where it acts as a sign showing people that they are engaged. Most people like to spend a fortune on the wedding rings but choosing a simple one which is cost efficient yet eye catchy is a wise decision. Choosing a wedding ring which is cost efficient doesn't reduce the true love and companionship a couple shares.Here are few such cost efficient wedding rings which may attract you.
Diamonesk Bridal Rings With 5 Carats Of Stones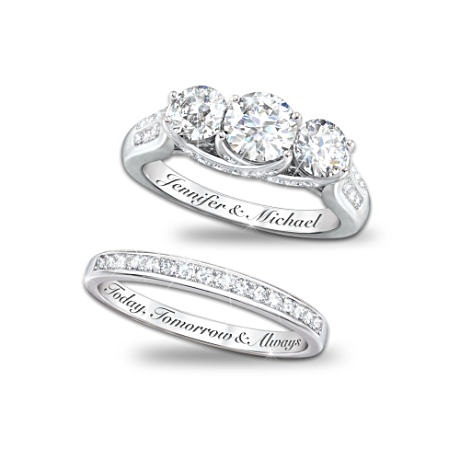 This stunning and ravishing Diamonesk bridal ring set is made of a hard sterling silver metal which is coated on with a soft gleam of Platinum metal stands as the major attraction to the piece. The ring is not only a mixture of diamonds and platinum but also emotions. The three diamonds of the ring represents love that stands for 'Today, Tomorrow and Always'. Not only these diamonds that are embedded into the ring but also few dazzling simulated diamonds enhance the curve setting of the ring. These shiny and lustrous diamonds together are more than 5 carats that embellish the ring which makes it perfect for the couple. This ring set is made available in all sizes from 5 – 12.
Price: $129.00
0.45 Ct G VS1 Princess Cut Diamond Engagement Ring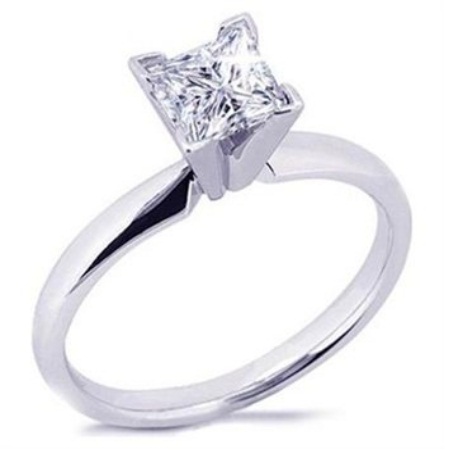 It is an excellent piece of ring that anyone would love to wear. It is the best choice for a couple getting married. Coming to the details of the ring, 0.45 Ct G VS1 Princess Cut Diamond is an Engagement Ring where 0.45 Ct represents the weight of the diamond that has been embedded into the ring, 'G' indicates the color of the ring that is Gold, VS1 is the measure of clarity of the diamond and Princess cut is the name given to the shape in which the diamond is cut.
This excellent and exquisite piece of ring is crafted out from a solid 14k gold which is embellished by an outstanding princess cut diamond polished at a level of extra-ordinary. The diamond is held in a four prong manner by the gold ring for the diamond to be provided by an utter safety. The princess cut diamond is completely natural and is not enhanced in anyway. This heart stopping and sophisticated solitaire design is titled as the 'everlasting design' by the Diamond beat's designers.
Price: $879.99
Eternity Double Band Personalized Diamond Ring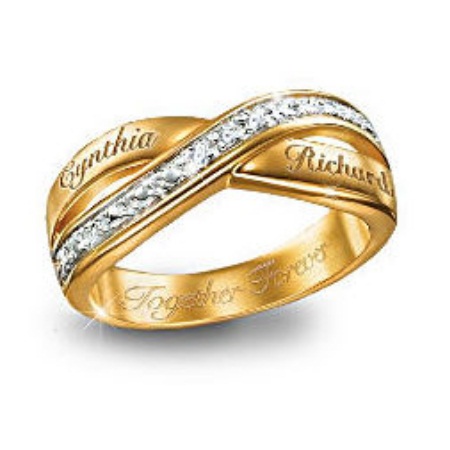 Eternity double band ring is the model that stands-out among any number of designs. It is a design that is carved from sterling silver which is coated on with 24k gold for regal finish and is exclusively available at the Bradford exchange. The word double band indicates the design of the ring which is the handcraft of two intertwined sterling silver made to perfection in design. The word 'personalized' in-terms of jewelry is making the ornament personal that is by engraving the name over it which is made available as an incentive for this model. The names are carved on one of the bands in the most attractive and adorable fashion whereas the other band is embedded with 3 beautiful and highly polished diamonds that makes the ring curve look alluring and dazzling. The inner side of the ring reads ' Together forever ' which puts the design to its best in presenting as a symbol of love. It arrives in custom-designed gift box with a certificate of Authenticity. It is available in all sizes from 5 to 12.
Price: $119.00
Lathe Wedding Band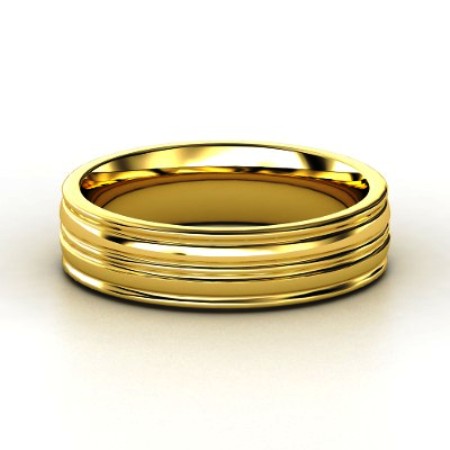 Gemvara is the brand tag which personalizes the ornaments. They go for the diamonds which are the entire natural and hand selected fine quality. They give us the opportunity to choose our own design and metal which they work on and craft out according to our wish and celebration as it is said "Jewelry speaks". We choose and they give it a meaning.
The Lathe wedding band is a simple and adorable design which is made out of 18k gold. It is a model that resembles the combination of rings which makes the wearer feel comfortable as it is rounded even on the inner side. This wedding ring is not only available in gold and platinum but also in many other metals like titanium, palladium, ceramic and cobalt chrome. We choose the metal to give our ring its own meaning.
Price: $1,419
ArtCarved Chivalry Wedding Band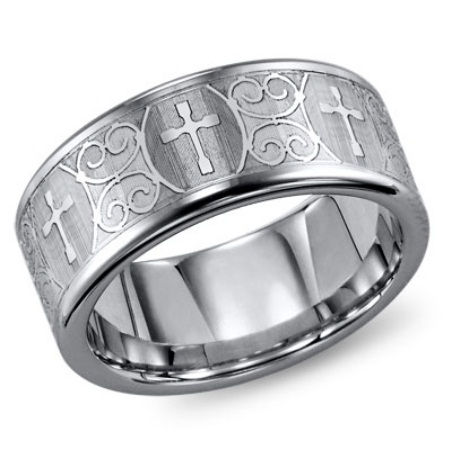 This is a model that comes under the brand name ArtCarved. It is the design that is much of a religion oriented that carries emotions along with love. ArtCarved Chivalry is a wedding ring that is designed and carved over Tungsten carbide metal which is a rarely obtained and lustrous metal. The ring is of a flat profile and of width 8mm which has well polished and finished edges. It is designed to make the wearer feel comfortable.
Price: $355
Rich & Thin Eternity Band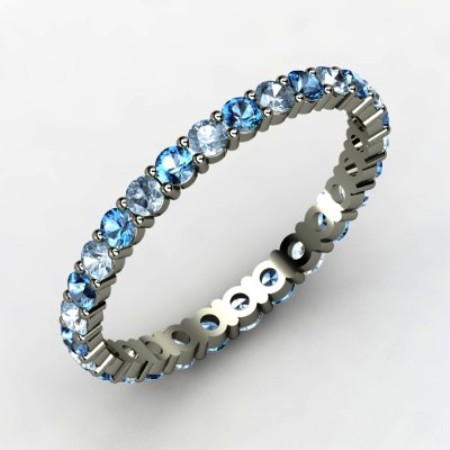 It is another wedding band that comes under the brand name Gemvara. It is a very simple model perfected for the wedding couple. This design can be personalized by the gems we want to be embedded into the ring. The model is designed over 14k white gold embellished with blue topaz and aquamarine. This looks much attractive when it is accompanied by another ring or an embedded gem.
Price: $796
Gold Brushed Tungsten Cross Wedding Ring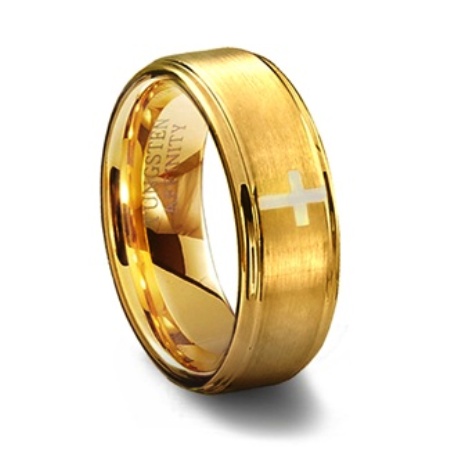 It is a simple and religion oriented model which is designed using a laser. This laser developed model is a very attractive 18k gold plated tungsten wedding ring that is brushed over the center band. A symbol of cross is embellished over the ring at four different points maintained at a particular distance. The inner side of the ring is of a step format which is highly polished making the wearer feel comfortable.
Price: $119.99
Matte Gold Wedding Band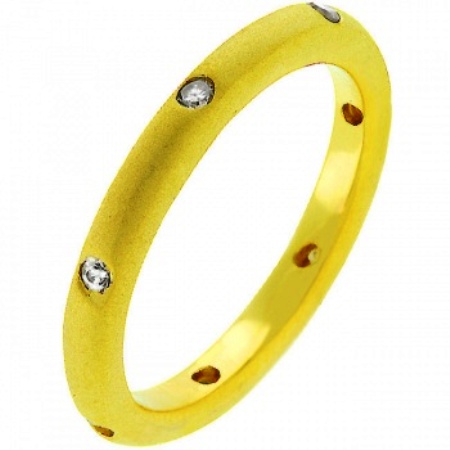 This wedding band is a feminine and subtle looking model that is carved using a lead free alloy metal which is coated on with 14k bonded gold. This heavy gold is obtained by a process of electroplating. The ring is embellished with clear/white stones which gives the ring its required attractive effect.
Price: $19.20
Triton 7mm Silver and Titanium Wedding Band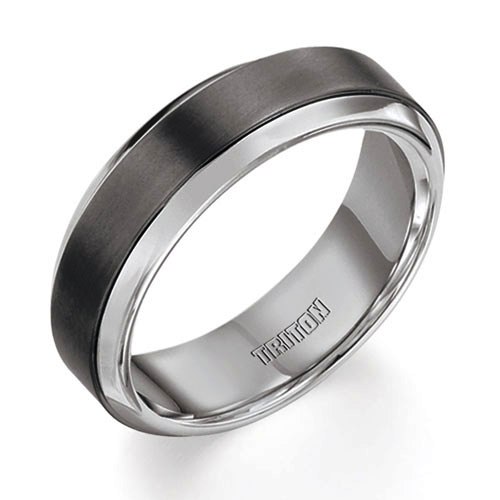 This model of the ring comes under the brand name Triton. It is designed over the base metal of silver sterling coated on with the most attractive and shiny metal that is Titanium. It is a model that is of a flat profile and 7mm in width. The edges of this ring are brushed and shined to perfection.
Price: $185