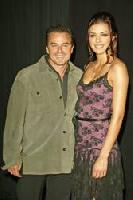 Some couple just knows how to keep shooing the eagle's eye of the media. Why not? Not always does anyone like their privacy to be invaded.
This scintillating episode was kept under cover as the VH1 reality show was nearing its final stage. But now that it is no longer a secret, we take the opportunity to spill the beans. The original Peter Brady, Christopher knight got engaged to the first winner of Tyra Bank's, Adrienne Curry. She is the winner of America's Next Top Model Series.
We are eagerly waiting to hear the wedding bells.