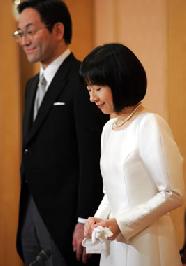 The 36 year old Princess Sayako takes her wedding vows on November 15 with her childhood friend Yoshiki Kuroda in a silent traditional Shinto wedding ceremony. The wedding took place at the five-star International hotel based in Tokyo.
Few days ahead of the marriage she had announced her Royal status in an ancient traditional ceremony. Her decision to marry a commoner was warmly welcomed by her Imperial family and there was absolutely no grudge against her. For a change this is one of those marriages to be cherished for a life-time. The event was a small one with not much of pompous speech but a simple press conference and a reception for a gathering of 150 guests.
Congratulations Princess Sayako.
More at: The Celebrity Weddings blog