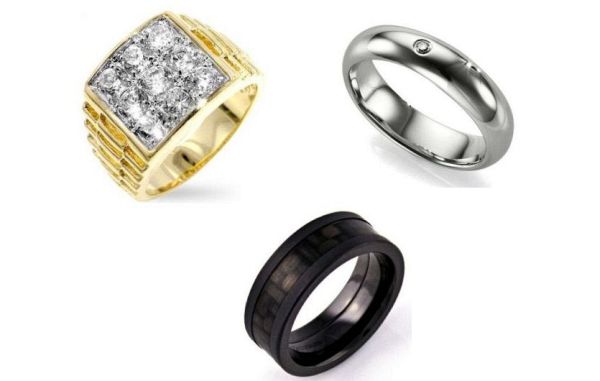 Looking for some real good options for the wedding rings for men? Getting durable and good quality wedding rings that are stylish too, is really some great job to achieve. Market is all filled with wedding rings of various materials, shapes and fashion styles. To give you some options we have assorted some of the best looking wedding rings for men, that the grooms will adore for sure. These vary a lot and give you good time to think upon what you will preferably choose at last. Make sure you got you man by your side when you finally get the wedding ring for him! Check out the rings that we have for him listed here.
Cobalt men's 8mm wedding fifth carat diamond wedding ring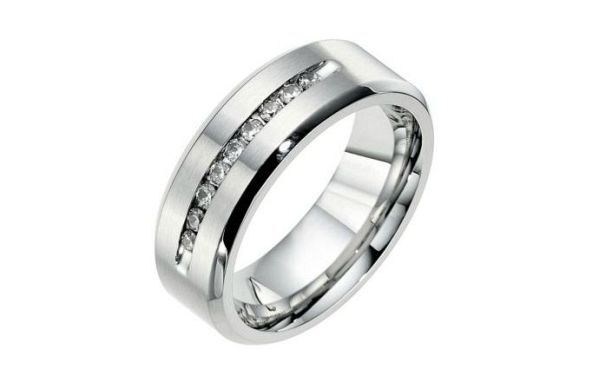 Available in sizes ranging from O to Z, this is the cobalt men's 8mm wedding fifth carat diamond wedding ring. As a metal, cobalt can suffer a lot of wear and tear without getting a hint of it on itself. Such is the character of the wedding ring that has been formed with this beautiful metal. Very modern in style, it is designed innovatively with the hypoallergenic metal. It has brilliantly round diamond multi stones engraved on its upper part. It provides a very well comfort fitting to the wedding finger.
Men's titanium diamond wedding ring

Having three beautiful diamonds of 0.06 carat set to itself, this is a 0.7cm wide titanium wedding ring which is sure to sparkle in groom's hand. With some sleek and sophisticated polished finish, it makes a great wedding ring for the lovers of modernity. With all that good features, this wedding ring starts as affordable as $200. The contemporary matt finish of the ring is lovely as a style statement to it.
9ct white gold men's diamond 6mm wedding ring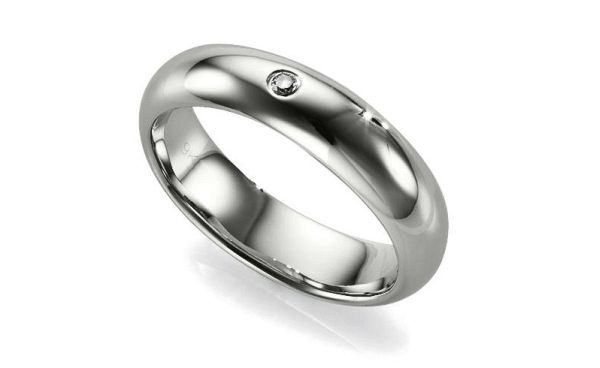 Simple yet classic in its design this is a white gold men's diamond wedding ring. It measures 6mm in its width with sizes ranging from P to T. A single diamond of 9 carat has been integrated elegantly to this ring. This is a great pick for those who like simplicity and sophistication at the same time and want to feel nostalgic about their wedding day, whenever they see this wedding ring close to them.
The Jacaranda Tree 18ct yellow gold sasa men's wedding ring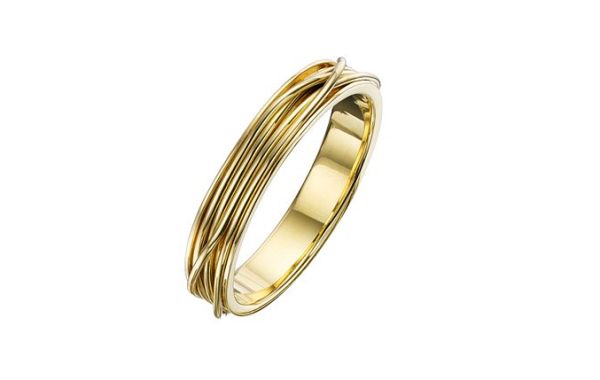 Right away from the brand named 'The Jacaranda Tree' this is a simple but truly elegant wedding ring having a height of 0.5 centimeters. It is made out of the solid 18 carat yellow gold that is twisted like a wire to form a single wedding band. The wedding ring has been made exclusively with professional hands only and it symbolizes the eternal and everlasting love with the durability and the luster that it has got.
Flat black zirconium men's ring with carbon fiber inlay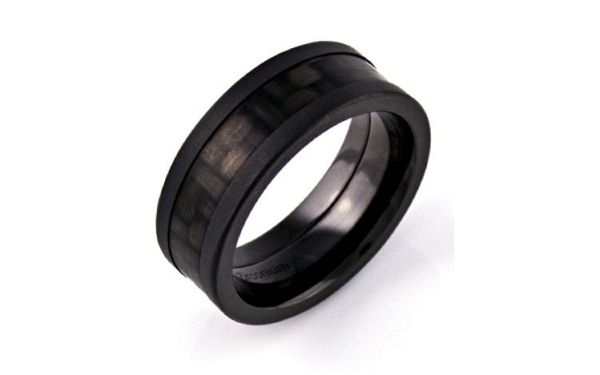 Unparalleled in design, this is a carbon fiber wedding ring that beats many of the rings in its class. It is flat styled black colored zirconium ring with the carbon fiber inlay. It is sleek in its make and gives a handsome appearance. The matte finish to the ring depicts its beauty beyond description. The carbon fiber inlay is of 4mm in width which runs all through the recessed center of the ring. Individuality and the experience to have such a ring will make you feel proud of it.
Cobalt men's 7mm groove wedding ring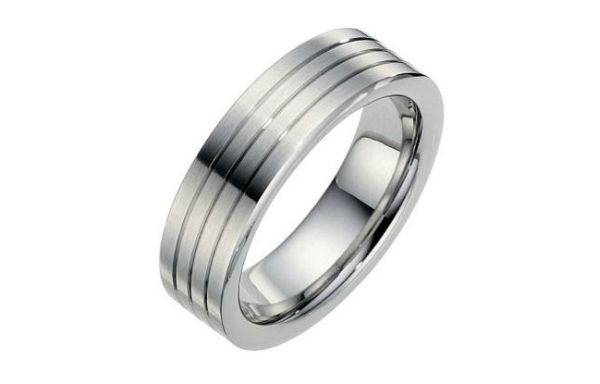 If as a groom you want to try something unique and elegant at the same time, then trying this cobalt groove wedding ring is a good thing to do. This is a wedding ring with a decent width of 7mm and it features a good groove detailing in its structure. Cobalt is a good modern choice for the wedding ring material. The wedding ring is durable and has a good comfort fit for the wearer.
925 Sterling silver men's carnelian Celtic Irish ring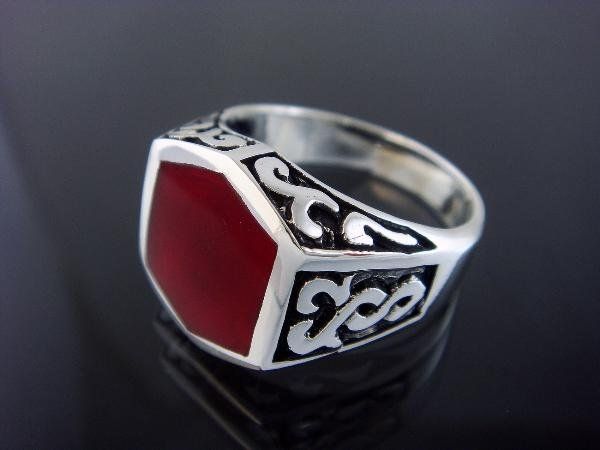 To be on the much traditional style and that too by choosing a wonderful looking Celtic wedding ring one has to see this. This ring has been formed from very high quality sterling silver, having a total weight of 12.6 grams. It has to its center top a hexagonal carnelian stone. The Celtic symbol of the Irish clan around the carnelian stone is engraved on oxidized sterling silver. It is too good a choice for a handsome man.
Tungsten carbide men's black diamond accent black wedding ring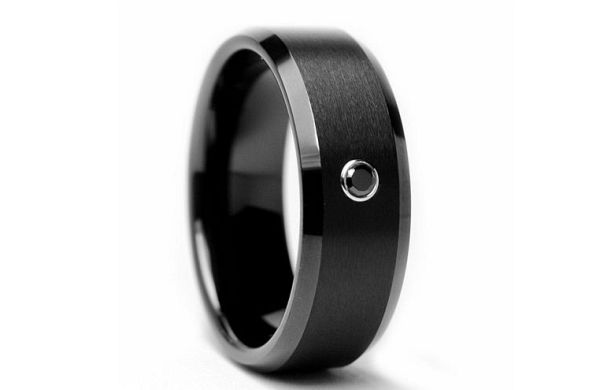 Dark colors are always men's favorite and when it comes to the black color they can't think it to get better than that. This is a charming masculine tungsten carbide men's black wedding ring with a black diamond all in its central upper surface. The finish of the ring is quite brushed. It weighs around 15. 2 grams. The diamond is of 0.07 carat and the setting is bezel. It is 8mm wide and 2.5 mm thick. Much nicer for a groom-to-be.
Men's bevel edge satin wedding ring 24gr platinum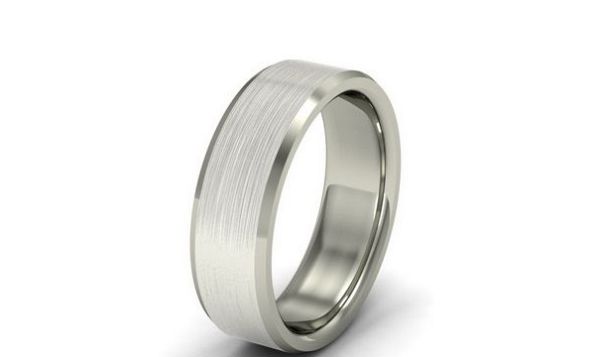 Rich in platinum this is a sheer beauty with a spice of modernity and innovation in design aspects. It is a specialized product of Rocks Round the World brand. You can also get this kind of a ring in yellow or white gold if you do not like the platinum ring that much. The look and appearance of the ring is stylish and it is an affordable ring to pursue the happiness for your love.
14K gold finished 9 round CZ wedding ring for men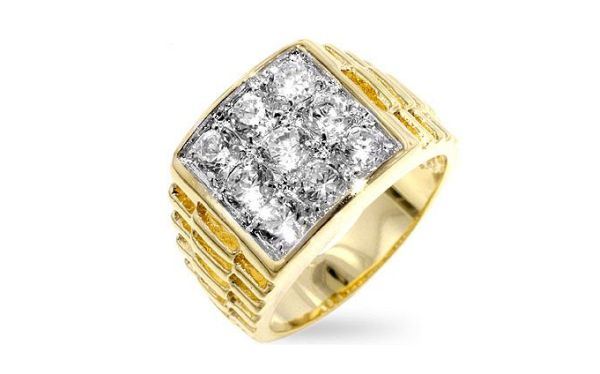 Keeping intact the traditional touch to the wedding ring that you are going to wear is not a bad idea at all. The core metal used in this ring is brass with the 14k electroplating done with the gold. The stone that you see in the image is the cubic zerconia. Altogether it weighs 12.7 grams. It is not to heavily priced so it provides you with the richness at some price that won't make your wedding budget unhappy after all!