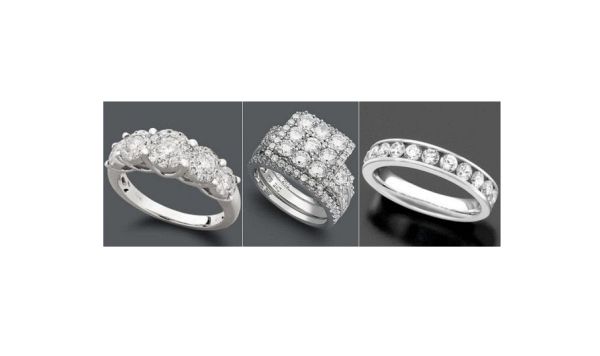 Engagement rings are one of those few elements which always make a person feel special. It keeps on reminding the couple the golden days of their love. But not only that, a wedding ring is also probably the only thing that the bride looks forward to, in her wedding day. The spark that reflects in the eyes of the bride after taking a look at her wedding ring is something which cannot be bargained with. So, if you want to make your bride feel special and out of this world, then here is a collection of some exquisite wedding bands and rings which will definitely bind your relationship forever.
Diamond band ring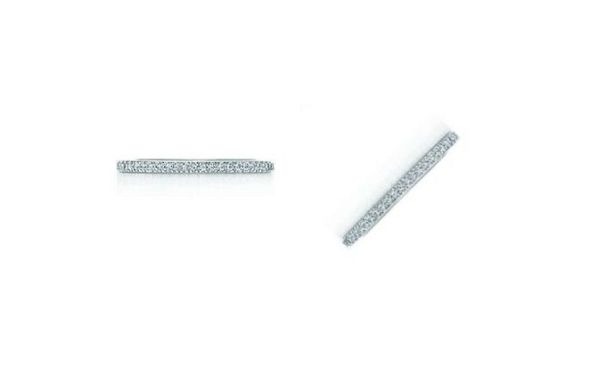 Are you looking for something gorgeous and sophisticated for your beloved? Then it has to be this amazing diamond band from Tiffany & Co. The sleek band is a simple ring, fitted with multiple mini diamonds all-over it. The ring is simply a work of art and is very unique. The brilliant 1.5 mm wide diamonds are carefully studded all over the platinum ring. The ring is so unique and alluring that your eyes will be glued to it. Easy to carry and elegant enough to showoff, this 0.9 carat diamond band can be paired with any types of engagement rings.
Diamond Ring, 14k White Gold Diamond Square Cluster Engagement Ring

Bold and beautiful is the mantra for this splendid 14K diamond studded white gold engagement ring. Feminine yet strong, this diamond studded white gold ring reflects the qualities of modern women. The engagement ring is actually a compilation of three rings, which are secured by a square roof of diamonds at the top. The square disc at the top is embellished with 4 large diamonds and is surrounded by smaller diamonds on the edges. Two other larger diamonds are fitted on both sides of the ring, immediately below the square disc. The rest of the ring is bejeweled with superior quality near colorless mini diamonds, secured in prongs.
1 Carat Diamond 14K Yellow Gold Solitaire Engagement Ring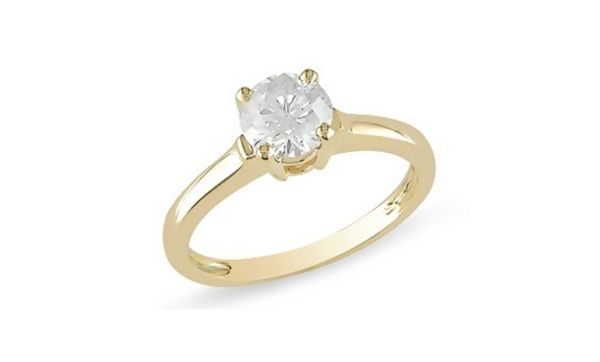 A simple and traditional single stone engagement ring is probably the only design which can never go wrong with a bride's fancy of a perfect engagement ring. This design never goes out of style and will leave your bride simply spell-bound. The charismatic and dazzling 1 carat round diamond at the top of the ring depicts its class and elegancy. Fitted in a smooth-finish 14K yellow gold band, the stunning huge rock is cautiously fitted and secured in 4 smooth prongs. Simple yet elegant, this auspicious single diamond ring can be the best gift on your beloved's special day.
Diamond Ring, 14k White Gold Diamond Five Stone Ring (1 ct. t.w.)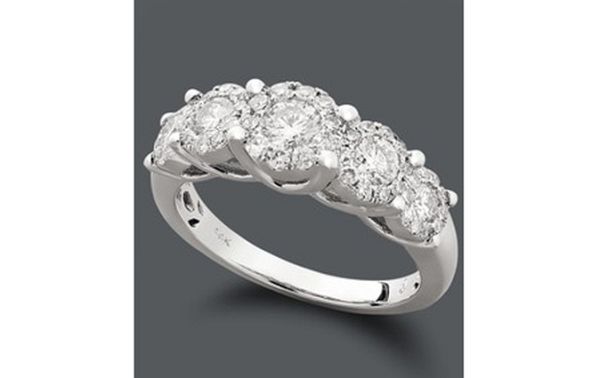 This exquisite five stone diamond ring is just the right thing to make your beloved go crazy after you. The dazzling huge rocks are sitting atop a Matt finished 14 K white gold ring. Adorned in an intertwined designed, the ring showcases 5 large rocks and other smaller diamonds at the top of it. The five larger diamonds are studded adjacent to each other and are secured in smooth prongs. Those are then surrounded by multiple smaller diamonds which are again secured in individual 4-sided prongs. The smaller diamonds are brilliantly complementing the larger ones and are definitely adding to the dazzling quotient of the ring. The clarity of diamonds are categorized under I1-I2 (inclusions visible to naked eyes) while their color is nearly colorless (I-J).
TACORI Platinum Diamond Semimount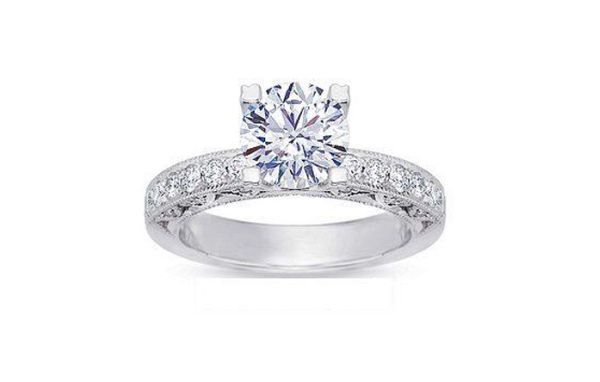 The splendid platinum engagement ring is bejeweled with a 1 carat cubic zirconia at the top. 24 smaller diamonds are studded on the band, which have sophistical placement in the cavities carved out in the band. The dazzling diamonds are claimed to be of premium quality (clarity: VS and color: G). The handmade California design platinum ring is finished with a polished finish, which makes it comfortable and elegant enough to be gifted to your beloved.
Diamond Ring, 14k White Gold Certified Diamond Band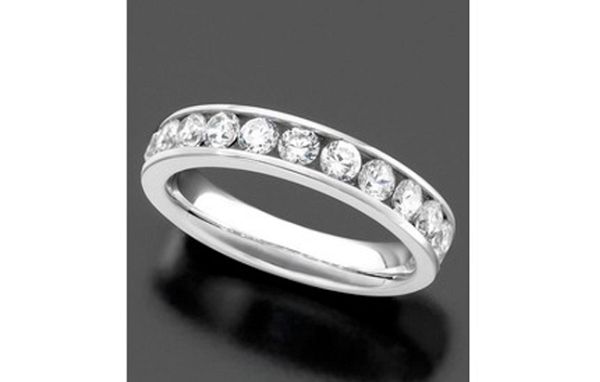 Add some more glamor and dazzle to your engagement ring with this channel set 14K white gold diamond ring. Wear it alone or in companionship of your engagement ring to add a dash of elegance to your style. Designed in a sleek and modern fashion, the ring is fitted all-over with round-cut diamonds (total weight 1 carat) which are secured in a channel-set. The ring is equally modern and elegant, which makes it a perfect fit for any occasion and with any kind of outfit.
10k White Gold 1-ct. T.W. Diamond Cluster Ring Set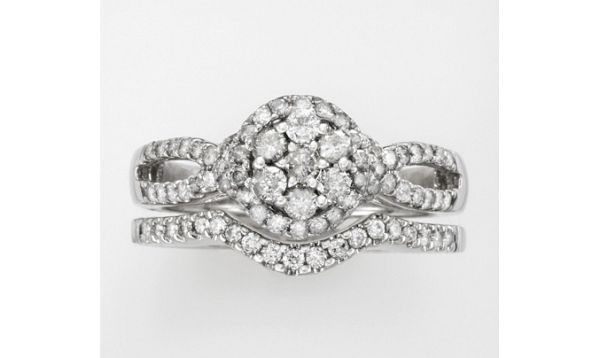 What can be better than a combo of two glistening engagement rings? While the bigger one can be perfect for your engagement, the smaller accompaniment can be the perfect addition to your wife's needs. Compiled in a touch of ethnicity and grace, this two piece engagement ring is just enough to win over your bride's heart and soul. The bigger ring is designed in a gorgeous cluster and ribbon pattern, while the smaller one is uniquely crafted in a curvy shape. The 10K white gold ring is adorned with 7 larger stones at the center, while they are surrounded by smaller dazzling diamonds at the perimeter. The band is split and designed in a half-ribbon pattern, which are again embellished with smaller diamonds. The other ring is a bit different than traditional wedding bands. The wavy pattern of the ring is characterized by three half-moon shaped waves, which are studded with near colorless gorgeous diamonds.
Blush by Design Diamond Ring, 14k White and Rose Gold Certified Diamond Ring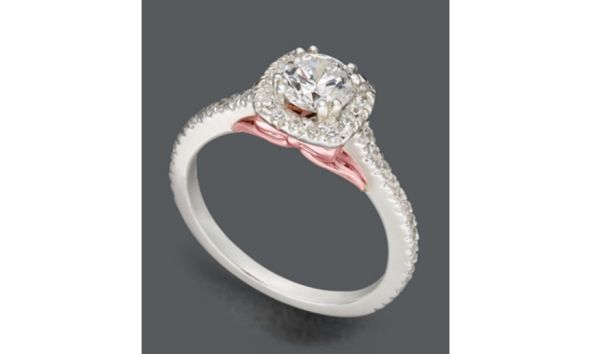 See your bride's eyes sparkle with joy on presenting this timeless and enigmatic white and rose gold diamond ring to her. A huge 1carat round-cut diamond is placed atop the ring which is surrounded by smaller diamonds on the border and which also runs halfway down the smooth polished band. Other than the dazzling diamonds, the sides of the ring are also decorated with two ribbon patterns made of rose gold. The precious stones are carefully secured in individual prong settings to make the ring a perfect for party wear.
Diamond Ring, 14k White Gold Certified Diamond Channel Engagement Ring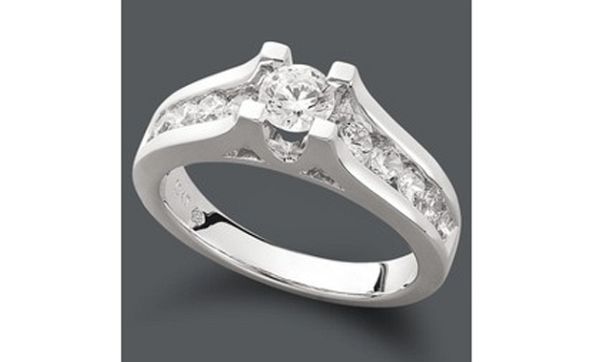 Crafted in a classic yet contemporary design, the 14 K white gold channeled diamond ring is truly the worth the love of your better half. The ring has a graceful design, which holds the diamonds in channel-set. Decked with a large diamond at the top and smaller diamonds on the band, the ring is absolutely a perfect example of superior craftsmanship.
1-Carat Diamond and 0.06-Carat Pink Sapphire in 14K White Gold Engagement Ring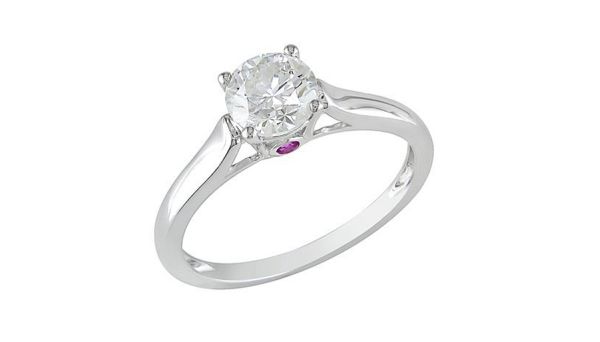 Decked on a sleek and polished 14K white gold band, the 1 carat diamond is the center of attraction in the diamond ring. But the real uniqueness of the engagement ring lies in a 0.06 carat pink sapphire that is embedded at the side of the ring. The color of the sapphire is so vibrant and blissful that it is completely complementing the huge diamond, and is adding to the ring's grace and beauty.