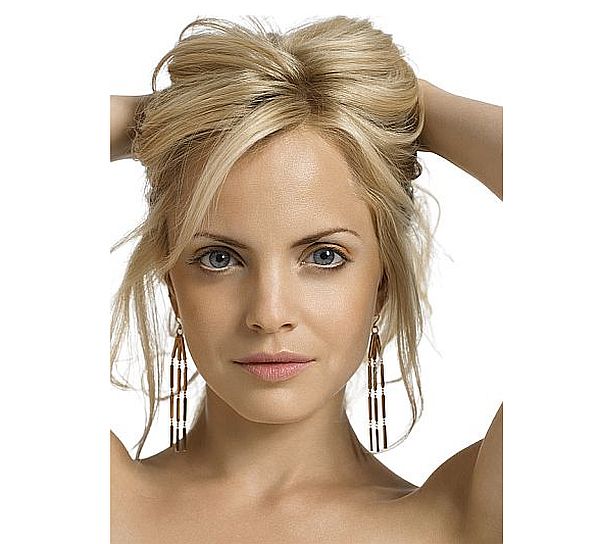 Wedding is the most special day in a girl's life and she wants everything perfect on her special day. From the dress to the hairstyle, everything should look as good as possible. A number of hairdos are available for those of you who have medium length hair. You may try these and go for the hairstyle that suits you best. The following is a complete description of ten best hairstyles which girls with medium length hair should try on their wedding day.
Beautiful Curls
For all those of you who have straight hair, why not curl them up for the most important day of your life. A curling iron and a hair gel is all you require to curl it up in style for your wedding. Firstly you need to wash your hair and use the gel on them while they are still wet. Next you need to blow dry your hair. Then you have to part your hair in three sections and use your curling iron to curl your hair. You should start with the portion which is underneath and then tackle the portions on top. This hairdo will certainly add up to you beauty and style.
The Ponytail
This is one very simple yet extremely elegant hairstyle. It does not require a lot of efforts and is easy to maintain. A ponytail will give you that stylish and casual look. Moreover, if you think a pony tail is way too simple to be a wedding hairdo, you may use accessories to make the style all the more stylish.
A Soft Romantic Look
Stylist Nathaniel Hawkins brings to you this very elegant hair style. Firstly, you need to wet your hair and use mousse on it. Then you have to use a blow dryer to dry your hair. After this make knots along section of about 1 inch. Then the hairs are tied into a pony tail which is then pinned after being wrapped about the base. This soft romantic look is very unique and very classy.
Low Chignon
For this hairstyle, you need to curl your hair (loose curls) in case you have straight hair and scrunch your hair if you have wavy/ curly hair. You need to clip the front portion of your hair away from the hair which you are not clipping. With the rest of the hair you need to make a low ponytail. Now, part the pony tail into five different sections and curl these sections into lose curls. Then you have to cover the hair band with which you have tied the pony tail with these sections using pins. Then, un-clip the section of hair which you have clipped earlier and bring hair strands from there towards the back, to the chignon and pin them up. When all your strands have been pulled back, your hairstyle is ready.
Curls and Knots
This is another elegant hairdo for your big day. Knots and curls consist of curls at the back with knots in front. To make this hairstyle, take a strand of your hair from the center of the back of your head and curl the strand up and then pin it up. Now pick a strand which is close to this curl and do the same thing. This way you will have to curl up and pin all the hair at the back of your head. Now you need to work on the front portion of your hair and take a strand, French braid that strand and then twist the strand to make it fall onto itself and form a knot.
The Classic French Twist Updo
This is another bridal hairstyle which will definitely add charm to your looks. You simply have to take you hair back and pin them after twisting them at the back. For more detailing you may use certain accessories like pins, flowers etc. This is a very simple yet amazingly beautiful hairstyle.
Elegant Side Updo with Flowers or Accessories
For this hairstyle you have to gather all your hair on one side and then tie them up in a bun or a roll. You may use hair pins to make sure the hairs don't come out. It will give you a stunning look.
1940s Slassic
If you like to keep it classy, 1940 hairdos is your thing. You can go for a pony tail at the back of your head and bangs in front. Also, you may use a bouffant at the back and pull your bangs to the side. The pony tail can be curled a bit. Also, you may roll up the sides of your hair and can use pin to hold them at the back of your head. With the right accessories, this hairstyle will look amazingly beautiful.