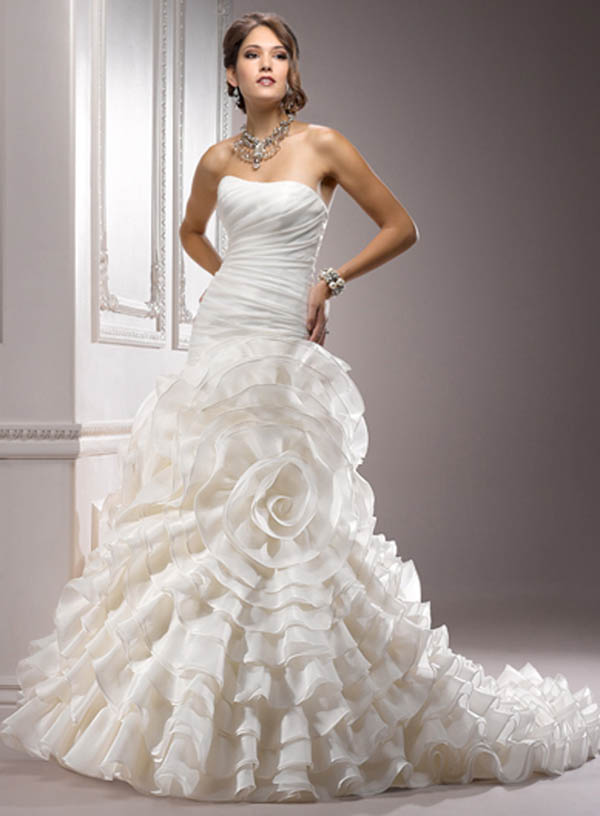 The extent of bridal wear is truly amazing. Designers try to edge the other out by creating fantastic dresses to make every bride feel like a million bucks. Looking elegant and glamorous is the order of the day and there are many dress choices to choose from. We've compiled a list of beautiful gowns and dresses designed by the renowned Maggie Sottero, guaranteed to make any bride look her best on her wedding day.
Maggie Sottero wedding gown – style Addison V7151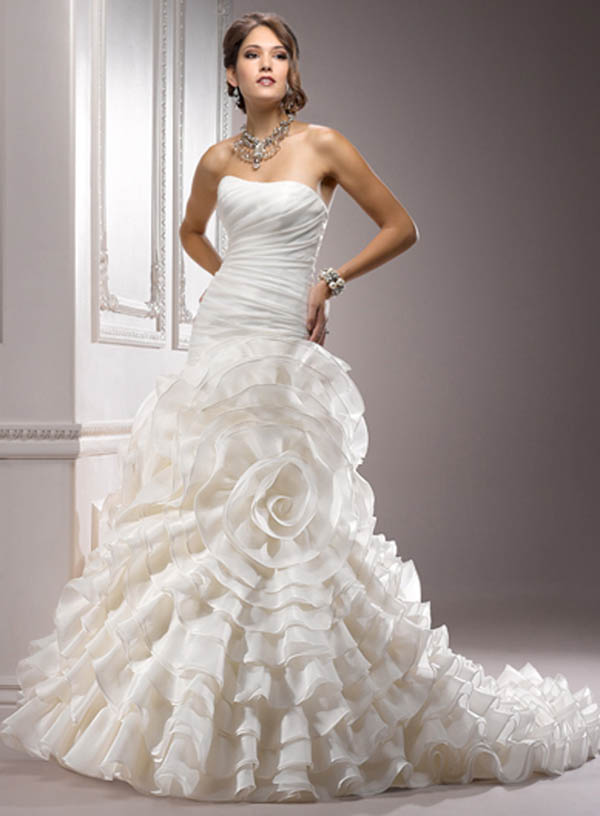 Part of Sottero's Spring 2012 collection is the Addision wedding gown, a beautiful strapless item available in white and ivory. It features a ruched bodice with a signature corset back closure. What really stands out, however, is the grand layered skirt which sports a rose and a train. It brings out the dress in a truly couture manner, making every wearer feel like a princess.
Price: $1,198.00
Buy here: Sottero's Addision style wedding gown is available at Bestbridalprices.
Maggie Sottero Style-10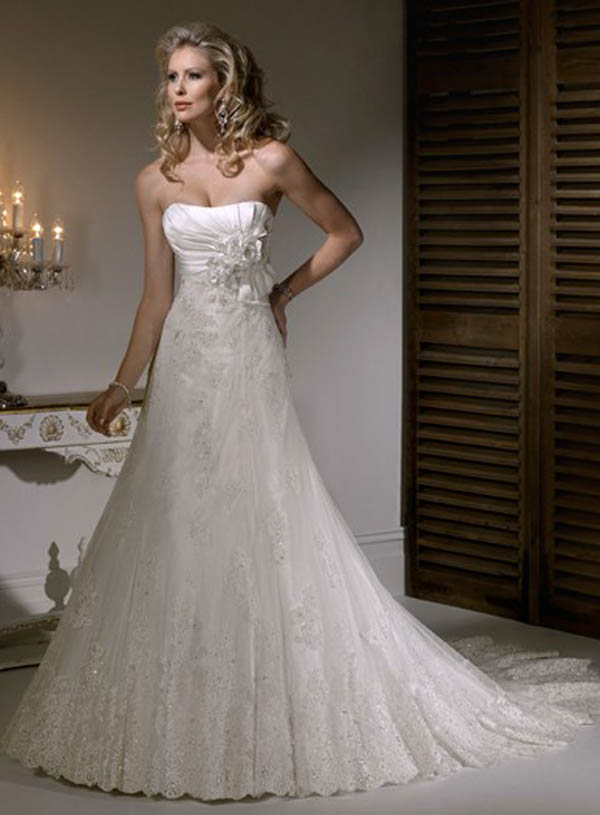 This next number is glamorous without being flashy. Using lace and embellishments, Sottero has created a dress that's perfect for a wedding with its strapless neckline and ruched bodice. There is a flower-like embellishment to the left of the bodice which makes the area look like it's been swept to one side. The A-line silhouette has beads and lace adorning the skirt while a majestic train ensures that the dress is left flowing effortlessly.
Price: $310.00
Buy here: The elegant wedding gown can be purchased for an affordable price at Goingwedding.
Diamond White Maggie Sottero wedding gown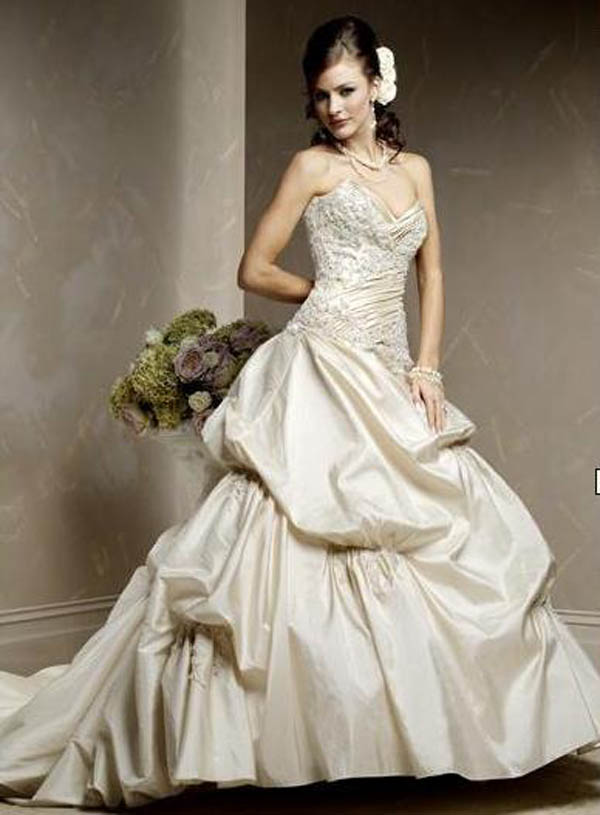 Another stunning wedding gown from Sottero features a corset beautifully embroidered in crystals and lace. The Diamond White number has a taffeta skirt that's gathered in two layers in a caught-up skirt and features a semi bubble hem. The dress is fitted from the body all the way down to the hips and flows out in a glamorous wave.
Price: $675
Buy here: You can get this masterpiece for just $675 at Marketplace. Though it's been worn once, it has been carefully dry-cleaned and retains its original color and finery.
Maggie Sottero wedding dresses – style Suzanne A3590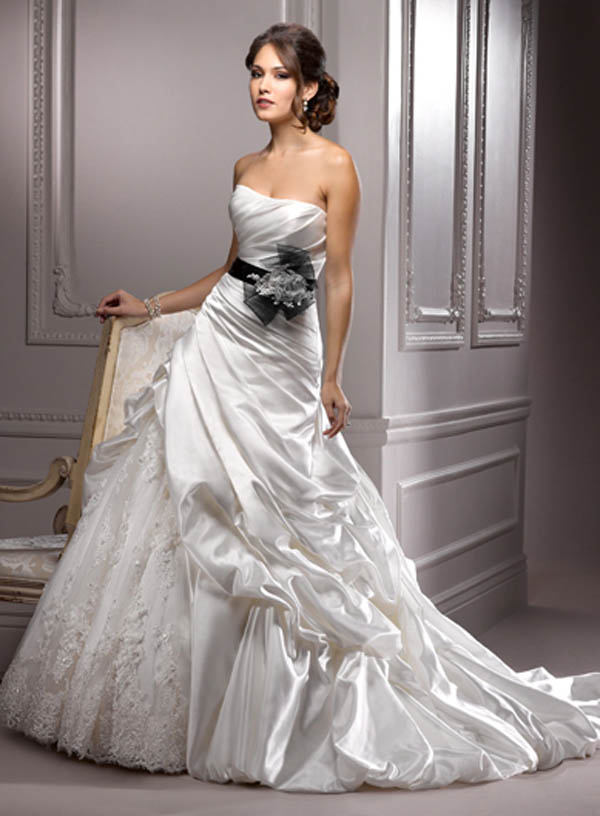 Suzanna by Sottero is available in white and magnolia. The classic style wedding dress is fashioned out of lace and soft shimmer satin. The strapless number has a pleated bodice that flows down into a caught-up skirt, unveiling a corded lace panel with Swarovski crystals. A corset back closure ensures that the rear isn't forgotten so guests will be left staring as you walk down the aisle. Brides can also opt to get a matching bolero, a black beaded belt or a black floral belt.
Price: $1169.00
Buy here: The Suzanna style wedding dress can be bought online at Onlineformals.
Maggie Sottero wedding dresses – style Dynasty V7150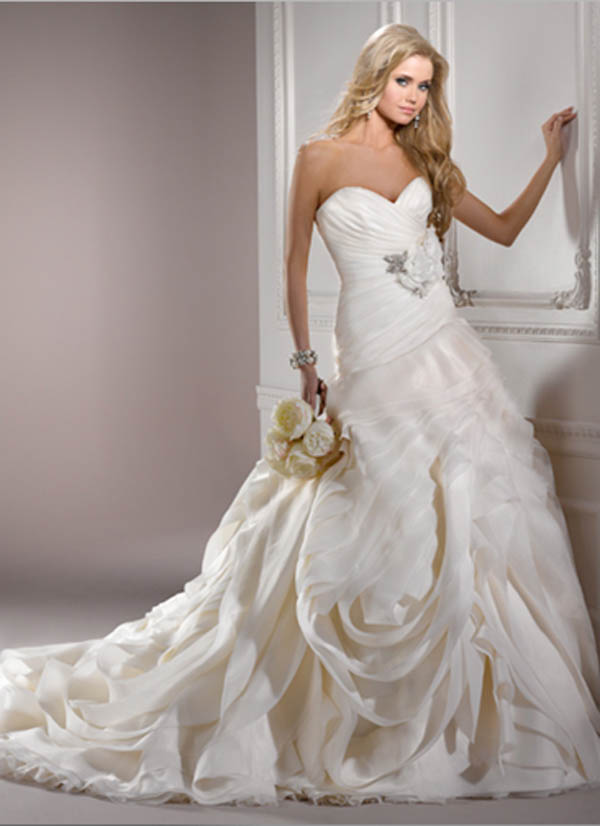 The Dynasty style wedding dress features a sweetheart neckline and a ruched bodice that's swept to the side. A floral arrangement to the left of the bodice adds a beautiful sparkle to the outfit. The asymmetrically dropped waist flows out into a beautifully layered skirt with a train at the back. The outfit speaks of glamour and style, allowing brides to make a sweeping entrance.
Price: $350.00
Buy here: This affordable outfit can be purchased at Mandybride.
Maggie Sottero wedding dresses – style Azriel Marie J1466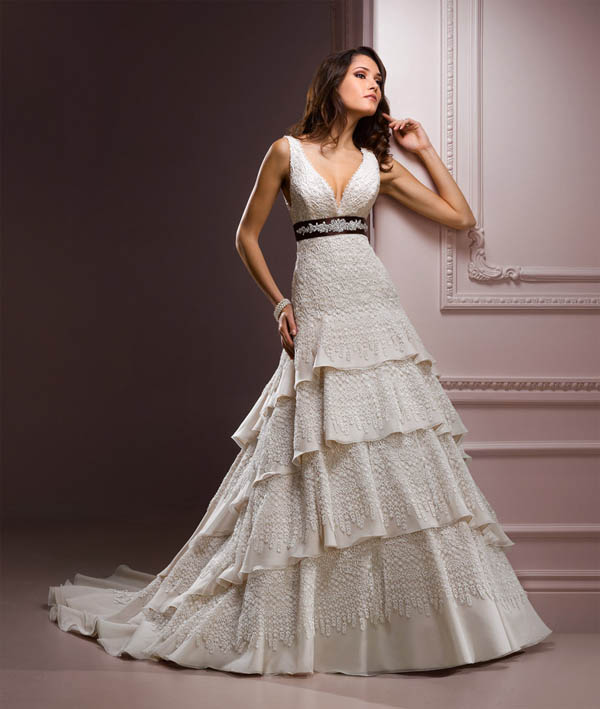 The Azriel Marie style wedding dress is perfect for a wedding and a ball. Classically beautiful and extremely flattering, it's part of Sottero's 2011 Fall collection. Made from organza and vintage lace, the strapless dress features a plunging neckline that meets a Swarovski crystal-adorned black satin belt below the bust. The A-line skirt is tiered, giving the outfit a classic look. Buyers can also opt to get it in a strapless scooped neckline.
Price: $1,849.00
Buy here: The Azriel Marie style dress is available at Bestbridalprices.
Maggie Sottero wedding dresses – style Ivanka J1470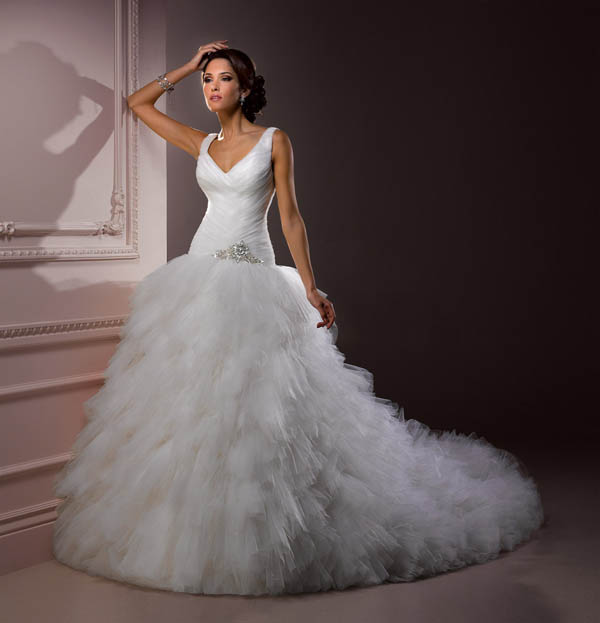 Old Hollywood glamour makes an appearance with Sottero's Ivanka style wedding dress. A tulle bodice hugs the curves nicely while a deep v-neckline adds a bit if sassiness to the outfit. The asymmetrically ruched bodice finishes in a corset style at the back in another deep v-shape. A motif made from Swarovski crystals adds a touch of shimmer to the princes-like dress which is complemented by layers of gathered tulle for the skirt.
Price: $1,329
Buy here: The beautiful Ivanka style gown can be bought at Weddingshoppeinc.
Maggie Sottero wedding dresses – style Lindly A3526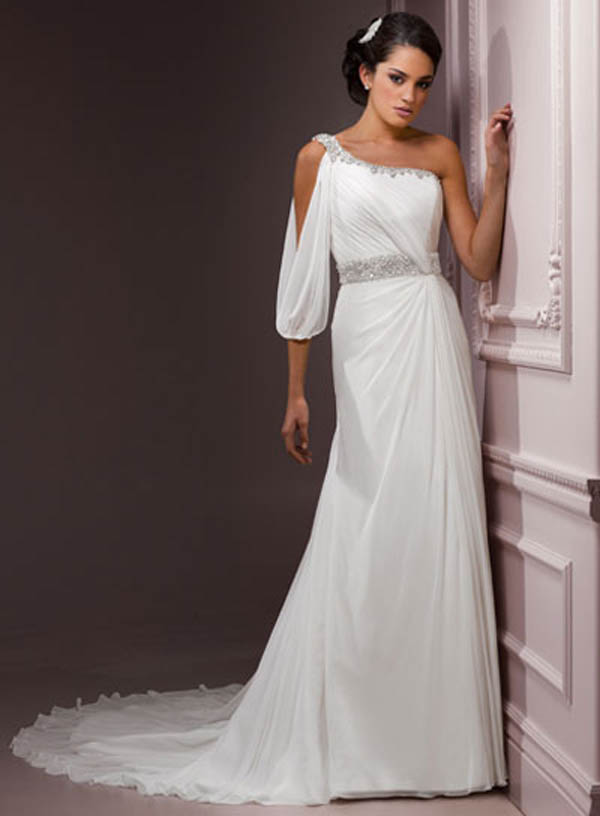 With the Lindly style, brides can expect to feel like they're walking down the red carpet of the Academy Awards. Gossamer chiffon is the material of choice for this breathtaking outfit that falls easily to the floor. A one shoulder neckline that's swept up in a strap adorned with Swarovski crystals will make any bride look like a Grecian queen. A three-quarter length open sleeve on the left and a jeweled belt also adorned by Swarovski crystals complete the look.
Price: $1,298
Buy here: Weddingshoppeinc is the place to go for the Lindly style wedding dress.
Maggie Sottero wedding dresses – style Presca J1451HC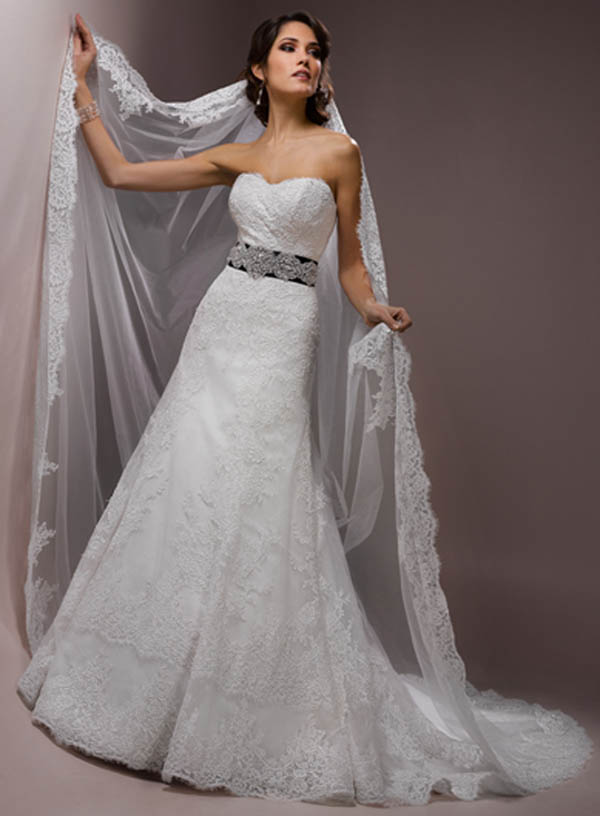 A-line dresses have always been very flattering by hiding problem areas and showing off the curves. Modern meets classic in this lace wedding dress that sports a double-tiered scalloped hemline. The strapless number has a black detachable satin ribbon belt that's adorned with Swarovski crystals. The back features a corset closure and a train. Pair it up with a sheer veil and you'll
Price: $1,549.00
Buy here: The Presca style dress can be purchased at Bestbridalprices.
Maggie Sottero bridal gowns – style Marion A3476

Finishing off the list of glamorous wedding dresses is Sottero's Marion, a sexy and elegant number. Featuring a slim line silhouette, it exudes glamour. It touts a sweetheart neckline with a corset closure that huge the body. Expect to find a ruched bodice that's adorned with jeweled embellishments. From there, the slim skirt flows down, parted by a sultry slit on the side.
Price: $361.00
Buy here: Marion is available for a cheap price at Sharonbridals.