Vintage wedding gowns are known for its elegance, rich embellishments and uniqueness.They are tailored to fit perfectly and has a royal charm and feel. Vintage wedding dresses are a major trend of the current bridal fashion and they are often made of soft materials such as lace and satin and come with variety of finish to make the bride feel special. Lace wedding gowns are highly popular due to its beautiful and elegant appeal that it exudes.
Satin and Lace Off-the-shoulder Neckline Short Sleeves Rouched Bodice Trumpet Style with Pick-up Skirt 2012 Wedding Dress WM-0509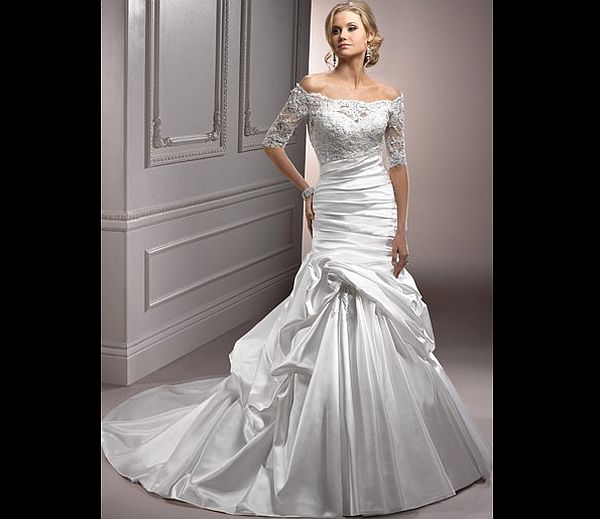 Feel beautiful and comfortable in this wedding dress made of satin material. It features short sleeves, a beautiful bodice made of lace and a pick-up skirt with chapel train. The rouched bodice is sure to make you look absolutely gorgeous. The flowing chapel train is bound to make anyone look elegant and graceful. The pick-up points of the dress give the gown a stylish look. You can either choose to have the gown without sleeves or with laced short sleeves. It is available in White, Champagne, Ivory and even custom colors that you can choose from. Pick your wedding dress in standard size or size to suit your needs and preference.
Lace Strapless Sweetheart Neckline Delicate Beading Bodice Mermaid Wedding Dress with Tiered Skirt WD-1752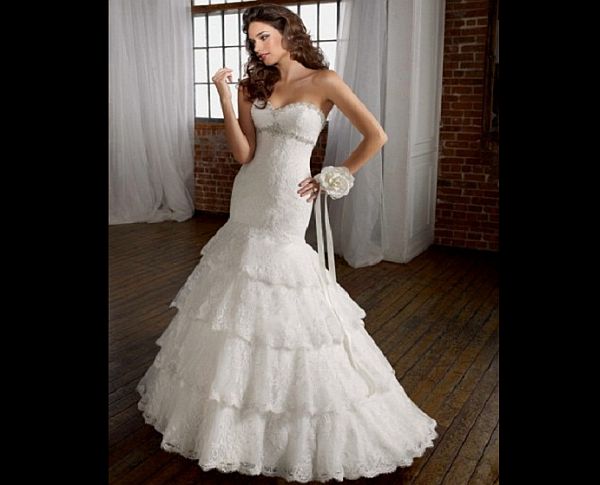 Look gorgeous with this new custom made wedding dress. It features a strapless sweet heart neckline and the bodice is embellished with delicate beading to give the gown an overall delicate look. This dress also features a corset back adorned with ornamentation giving a touch of elegance to the dress. It is beautifully shaped as a mermaid with a chapel train. The skirt unfurls into multiple tiers decorated with laced finish. This dress is available in White, Champagne and Ivory colors. You can also choose from a range of custom colors and custom size of your preference. This beautiful tiered skirt with corset back is sure to make you look classic and beautiful.
Lace Sweetheart Neckline Cap Sleeves Elegant Trumpet Gown 2012 New Arrival Wedding Dress WD-1690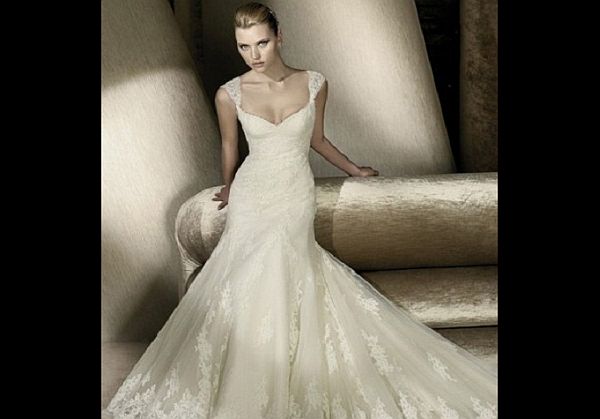 This newly designed wedding dress is perfect for any bride to look at her best and gorgeous on the special day! The fine features of the wedding dress bring out the feminine characteristics in a subtle yet incandescent manner. This wedding gown features a neckline that is shaped as a sweet heart and has an intricate finished lining in lace. The cap sleeves accentuate the looks of the bodice that has fine work of laced embroidery. Make a stunning appearance with a skirt that flows down with a chapel train that has exquisite white lace work.
Lace Straight Strapless Neckline Elegant Beaded Sash with Bow back Mermaid Gown with Tiered Skirt 2012 New Arrival Wedding Dress WD-1670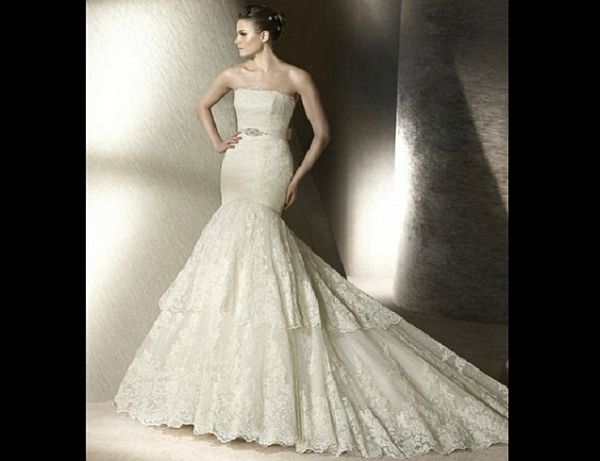 Beam as a flawless mermaid with this beautiful wedding gown. Be your gorgeous self with this pristine and elegantly made wedding gown that has attractive features. This wedding gown is endowed with a straight neckline that is strapless and the beaded sash waistband makes the gown look more interesting and elegant. The gown is further embellished with lace ornate all over the skirt. This is a mermaid gown that has tiered skirt decorated with lace all through the wedding train. The satin bow at the back completes the look of the wedding gown in all aspects.
Line Ball Gown Princess Scoop Strapless Square Dropped Asymmetrical Waist 3/4 Length Sleeve Non-Strapless Satin Wedding Dress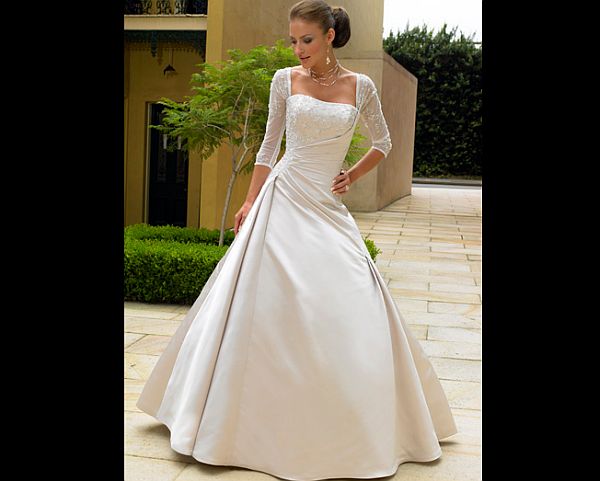 Look the perfect princess with this A-line ball gown. Made of Satin, this dress stands out with its fine embellishments. It is perfect for venues such as Church, Garden, Outdoor or hall. The fabric of this dress gives a style that is classic and timeless. The A-line silhouette of the dress brings out a charm that is dramatic, glamorous with a vintage touch. The scoop, square and strapless neckline has laced embellishment and converges into three-fourth sleeves. The dropped, asymmetrical waistline of the gown gives it a modern and stylish appeal. It further looks attractive with a laced up corset back and a court train that flows to the floor length.
Mermaid / Trumpet Ball Gown Strapless Cap Sleeve Non-Strapless Satin Taffeta Wedding Dress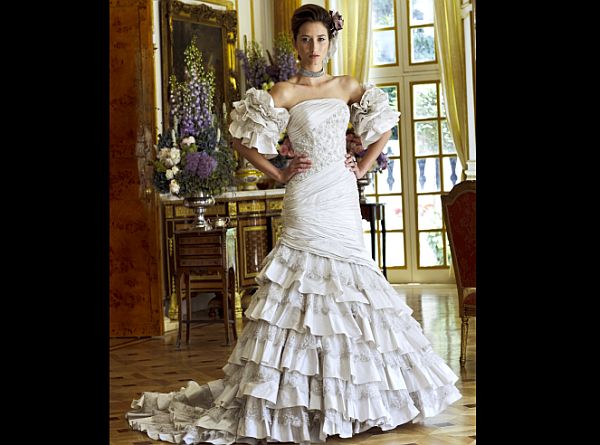 This wedding gown made of taffeta and satin is bound to make heads turn in admiration for its excellent silhouette and design. The model of this wedding dress will remind of a style that is superior and everlasting. The dress offers lace, beaded, tiered, crystals, pleated and sequined embellishments that enhance the looks of the dress in a grand manner. This glamorous wedding gown is non-strapless and has cap sleeves which further dramatize the looks of the dress. Enriched with beaded bodice, it has a natural waist that further flows down as a long gown with chapel train fully to the floor-length. It has a laced corset back and is ideal for all types of body shape.
A-Line Strapless Sweetheart Asymmetrical Waist Satin Tulle Wedding Dress Style # WD5810

Be a posh and grace personified bride with this wedding dress made of tulle and satin. The strapless, sweetheart shaped neckline has rich embellishments made of lace, beads and crystals. The wedding dress has large beautiful pleats shaped as flower curls on the flowing cathedral train gown further elevate the richness and the elegance of the dress. It has an asymmetrical waist with a lace-up corset back which is bound to make the wear look petite and stunning.
A-Line Princess Scoop Strapless Scalloped-Edge Satin Wedding Dress Style # WD2276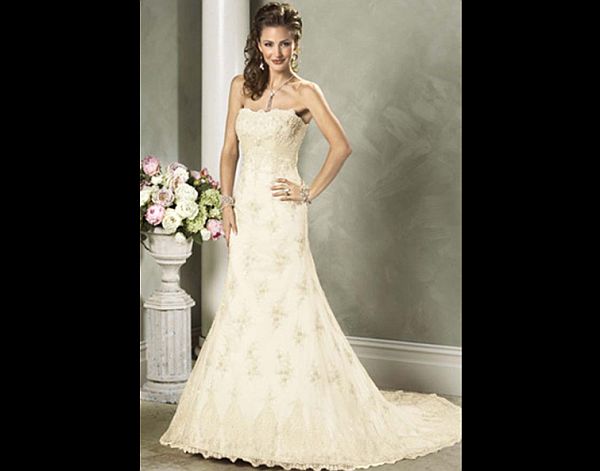 This A-line princess wedding gown is made of satin and offers rich embellishments. Lace, beads, crystals further provides an elegant and luxurious style to the gown. The wedding dress has a scoop, strapless and scalloped-edge neckline which flows down with a chapel train that is long and reaches the floor length. It comes with a natural waistline and a back corset that is suitable for any body shape.
One Shoulder Tulle Ball Gown with Lace Appliqués Style CKP421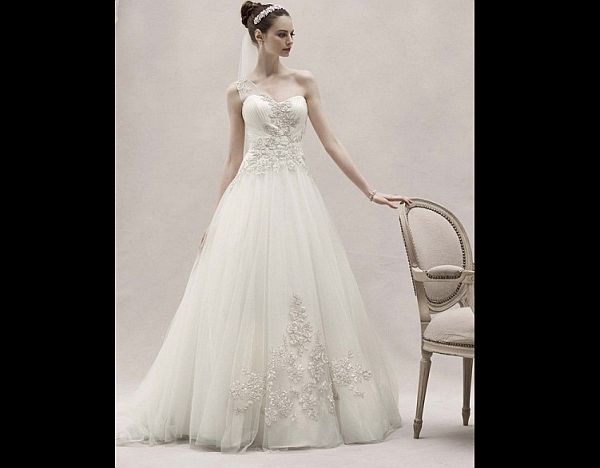 This one shoulder ball gown is embodied with grace, charm and elegance. It has a sweet heart neckline further accented with one shoulder detail. The bodice is rich with lace and beaded embellishments that are sure to win admiring looks. This ball gown skirt made of tulle gives volume and enhances the visual appeal of the gown.
Cap Sleeve Lace Over Satin Gown with Illusion Back Style T3299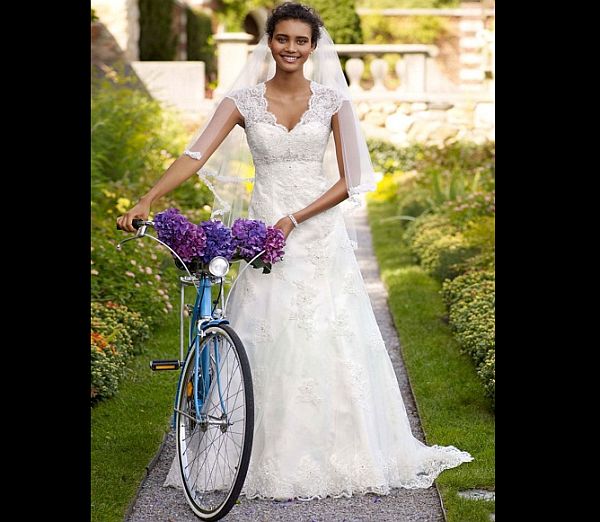 The A-line gown with cap sleeves adds romance and drama and gives a look of everlasting charm and elegance to the gown. The gown made of satin fabric gives shape to a beautiful silhouette making the wearer of the gown attractive and interesting. The empire waist has intricate beaded detail to further add charm to the wedding gown. This gown is sure to make you look classy, elegant and stunning on your special day.