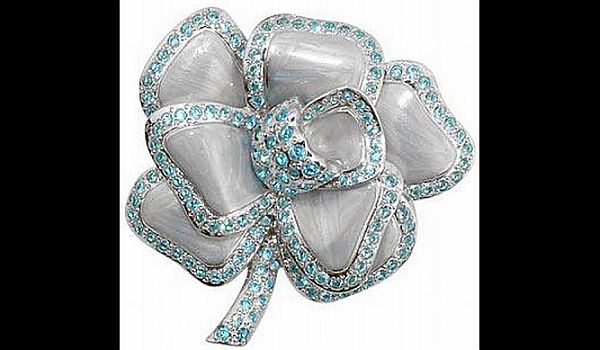 What makes a wedding perfect? Good food, great wedding dress and precious jewels! But, it is definitely incomplete without accessories that will make you walk arm in arm with your loved one with utmost panache. If you want to evoke the beauty of your wedding dress, then affix a brooch on it and see it ooze luxury. The crisp elegance of a brooch is perfect for a wedding where only finest of fashionable details do wonders. These are available in various sizes, shapes and materials, and further come embedded with precious stones and crystals. A finely crafted brooch will not only lend an added style to the bridal gown, but will prove to be a treasured keepsake for years to come. Attach the fine looking accessory at the waistline, near the neckline or other parts of your dress and look like a charming princess.
AZ Collection Flower Brooch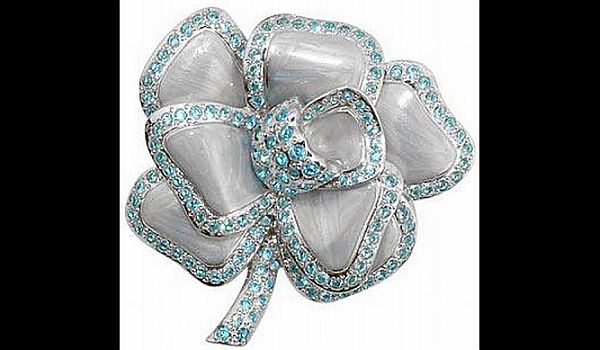 Add a little sparkle to your wedding dress with the AZ Collection Flower Brooch. The beautiful accessory looks like a delicate rose flower and has been crafted with utmost precision. The flower shaped pin has gorgeous Swarovski crystals that have been hand set to give it a striking form, which make it all the more special. It will prove to be a perfect accessory for your lovely dress and catch attention as you walk down the aisle.
Chanel vintage glass centre brooch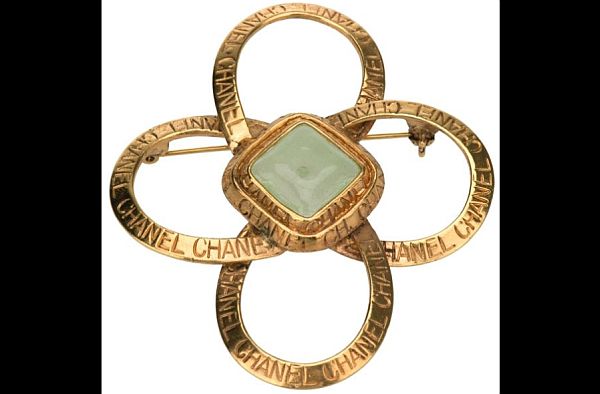 Add a tiny bit of vintage bling to your wedding dress with the deep yellow glass center brooch by Chanel. The vintage gold plated metal brooch is gorgeous and will rewind your love for bygone era. The crossed ovals come embedded with Chanel imprints, while giving it the additional richness is the glass center. Its beautiful vintage appearance will amass a lot of compliments and add an attention arresting appeal to your special dress.
Alcozer & J Open Heart Brooch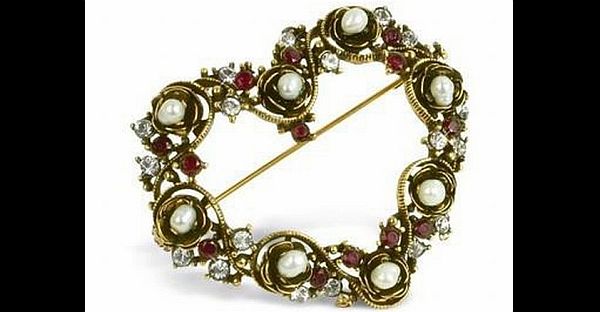 Alcozer & J Open Heart Brooch is bound to steal many hearts on your wedding day. The well crafted brooch will add a splash of color to the white wedding dress. The crystal embellishments will give a touch of glamour and unfurl a romantic look on your D day. The design has been heavily inspired from the Victorian era and adding to its exquisiteness is the presence of semi precious stones like strass and garnet. Set in brass, the presence of gemstones and glass pearls have been intricately woven for a charismatic appeal.
Amethyst Flower Brooch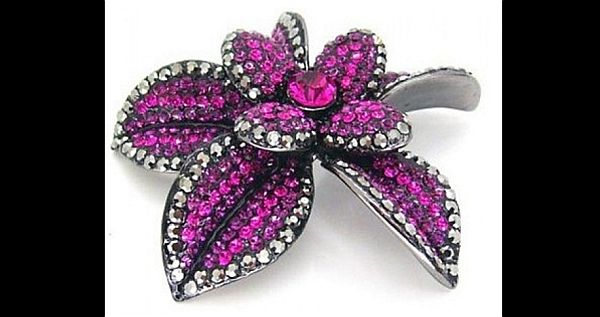 The elaborate pattern of Amethyst Flower Brooch will set onlookers wheezing. Each leaf has rhodium plating and glittering light Amethyst and Amethyst give it a magical glamour quotient. The brooch measures 1 ¾ inch and will prove to be an awesome choice for your summer or spring wedding. The delicate flower brooch will make eyes do a cartwheel in surprise and will make you dazzle like an angel.
Anton Heunis "Dior Pink" Vintage Inspired Floral Rose Crystal Brooch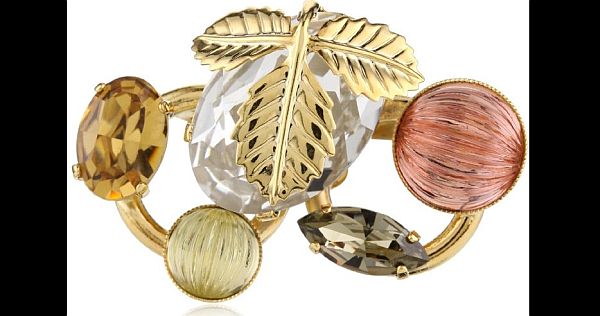 Add a touch of sumptuousness and flair to your wedding dress with this elegantly crafted brooch by Dior, which will leave onlookers awestruck. The 22K gold plated brooch has been set in brass and comes decorated with one of the best Swarovski crystals. It glittery piece doesn't contain even a trace of nickel and lending it the much needed vivaciousness are multicolored vintage crystals. The handmade brooch will lend a subtle charm to a bride's overall getup that will be apt for a wedding day.
Dior Knotted Bow Brooch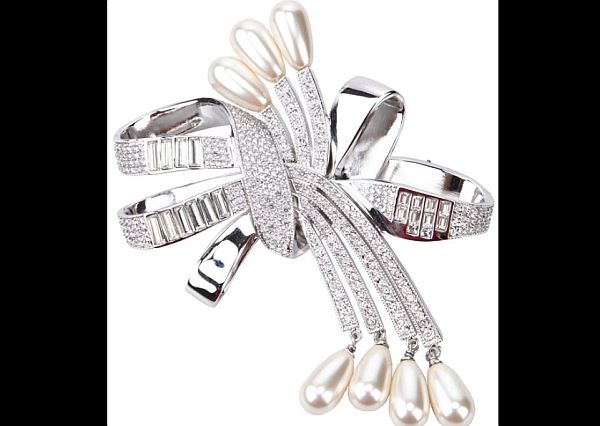 Pin the versatile Dior Knotted Bow Brooch on your dress and add some extra glamour. The silver colored creation features pearl droplets that will pump up the sophistication style of the bride. The knotted brooch will shine with all its grace and will have your interest rocket sky high as soon as you set your eyes on this delightful creation.
Majorica Pearl Cabochon And Lace Crystal Brooch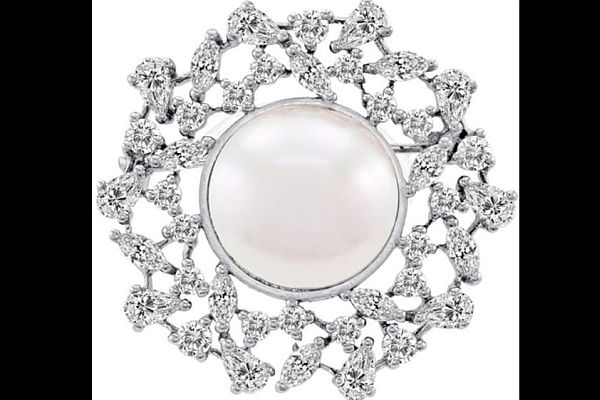 Artistic and enthralling, the Majorica Pearl Cabochon and Lace Crystal Brooch is perfect for those looking for an enthralling design to accentuate their wedding gown. The pearl center piece is surrounded by a crystal encrusted frame, lending it a delicate appeal. The dazzling crystals will shine like a star and make the bride look all the more attractive and simply gorgeous.
Ines De La Fressange Cut Glass Brooch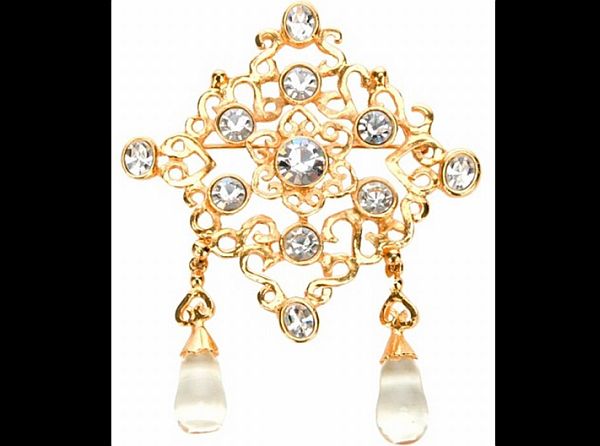 A perfect addition to your bridal gown, the brooch is very astounding and absolutely tasteful. Glam it up with some radiant sparkle, which will spread all around thanks to the gold tone design. Dangling glass tear drops will give it a dash of drama and make it a bold as well as eye catching brooch. The divine piece will add a timeless vintage glamour and will definitely be a perfect accessory for brides.
Rhinestone Petal Wedding Brooch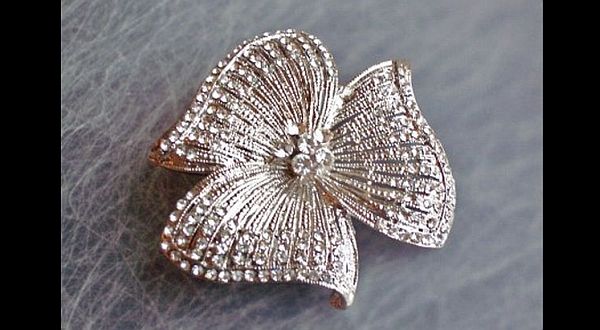 Impeccable craftsmanship combined with delicate detailing make the brooch nothing less than a piece of delicate art. An absolutely gorgeous accessory, the brooch will give your wedding dress an added feminine touch and will prove to be an excellent addition to your jewel collection. The fashion accessory has a lovely shape and its antique silver metal finish will give it the much needed glitz and glamour. The clear rhinestones make it truly remarkable, making the design all the more breathtaking.
Pink Roses Gold Plated Brooch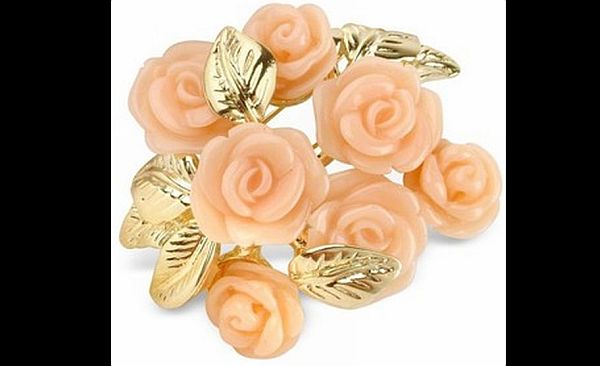 Pink Roses Gold Plated Brooch is wonderfully nostalgic and features romantic flower motifs. The meticulously crafted mat gold plated leaves around pink colored flowers in make it look like a beautiful bunch of handpicked flowers. It comes smothered with a lot of freshness, which makes it an ideal choice for outdoor weddings. The stunning brooch comes tagged with a lot of class and will unfurl oodles of brilliance leaving onlookers whiffing wows countless times throughout the ceremony.