Women, no matter playing a real life role of a bride or the lovely bridesmaids are always looking for some wedding dresses that will make them look so very different. Talking about the weddings that have a fairytale theme, Disney theme or the Cinderella theme; they all make it so difficult to choose a kind of dress that perfectly defines the whole theme. Just as a beautiful surprise, for all such girls out there Elie Saab which is expert in the wedding market have launched its Spring Summer 2012 collection.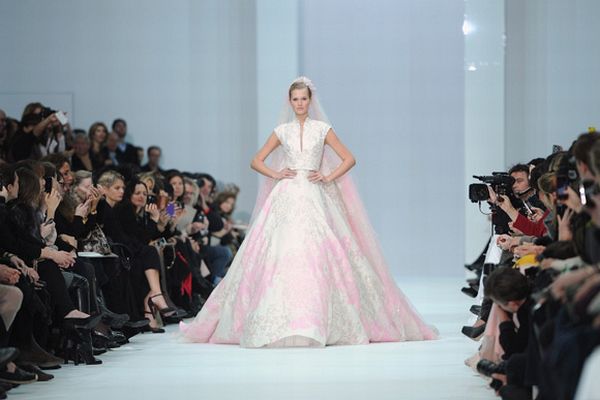 The designer who is of the Lebanese origin has always come up with the innovative and all creative ideas in designs of the wedding wear. And that is what has been achieved by the designer this season as well. In this fairytale collection the designer has came up with the different ideas when talking about the color of the wedding dresses, He has used the color tones like cream, rose, mint, sky blue and the lemon in his designs. Some of these dresses were presented to the fashion audience by the designer at the Paris Haute Couture catwalks. The wedding dresses with the pink tiny strokes were appreciated for their supremacy by all.
Not just meant for the bride's benefit but this fairytale collection by Elie Saab has taken care of the bridesmaids who wish to look exquisite. And thus, in a way it compliments the bride and her wedding in a more elegant manner. There are also colors like pale to choose in the collection. Quite intelligently, the designer has used the differentiating cuts and lengths to all the dresses with much fine details. So if you want your wedding to look great with you and all your bridesmaids looking gorgeous; just go for this collection pretty ladies!