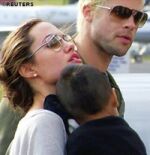 The frenzy paparazzi anytime want to get hold of Brad and Angelina wedding date. But it seems that they have run out of luck as the duo has hardly letting anything out of their tightly secured lips.
Hollywood heartthrob George Clooney said that he wanted to throw the fake news about Jolie's and Pitt's marriage in front of the media by renting some tables and few kids outside his Italian Villa.
Clooney has further said to Larry King when asked that the wedding was just a part of his fake joke but now he will give Pitt an offer to get married at his Villa if he wishes to.