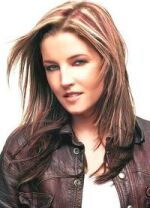 Lisa Marie Presley, the one and only child of late rock legend Elvis Presley got married for the fourth time now. She walked down the aisle with her guitarist Michael Lockwood.
Both Lisa and Michael had a traditional Japanese wedding ceremony where Lisa's daughter Riley was her bridesmaid and son, Benjamin the groomsman. The wedding ceremony was attended by Michael's parents.
Among her ex-husbands lists fall some of the powerful celebrity names like Michael Jackson and Nicolas cage.