Halloween is an important part of our culture. In earlier times, people used to do Halloweens as part of strong and fearsome religious duty. However, nowadays Halloween is all about having fun with scariest costume. Wedding in Halloween based theme is actually a nice way to give the classy wedding a funky touch. Halloween is not all about being scary but it is about being different. If you do not want to hang teeth to look like seductress vampire, you can always choose the beautiful enchanting witch wardrobe. There are several key factors necessary to consider during deciding the wedding dress. Therefore, if you are keen on having a Halloween wedding, read the following tips to make it all scary and fashionable.
Deciding the theme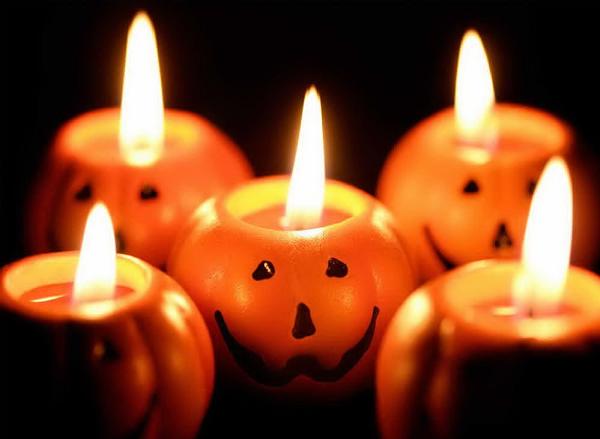 Before choosing the wedding dress, you need to decide on the wedding theme. Obviously, you will never want to be standing in a classy wedding hall alone in Halloween dress. It will surely turn to be a matter of foolishness. Therefore, before choosing the dress, you have to give a theme to your wedding. People have the notion that they have to decorate the place scarier with lots of carved pumpkin monsters. However, the situation is entirely different as Halloween is a way to highlight your funky side. There are many wedding themes that you can decide and decorate your venues. You can go for ultimate horror with lots of red stains replicating the blood or you can simply color it to match the fall theme with browns and reds. You can try for the royal masquerade wedding event with Renaissance outfit to give a classy, elegant yet a royal look. You can arrange a ball for the guests to dress in royal fashion with masks and beautiful romantic music. You can go for popular rock culture of 80s or you can simply choose to make it look like Vampire coven. If you want to look beautiful, then you can go for fairy tales like Cinderella or Snow White or you can go for magical enchantress look with lots of magical lighting. You can even choose to be all naughty with a seductive costume theme. If you want to go for classics, then you can opt for the drama themes like Marylyn Monroe, Romeo Juliet or the Addams Family.
Selecting the wedding dress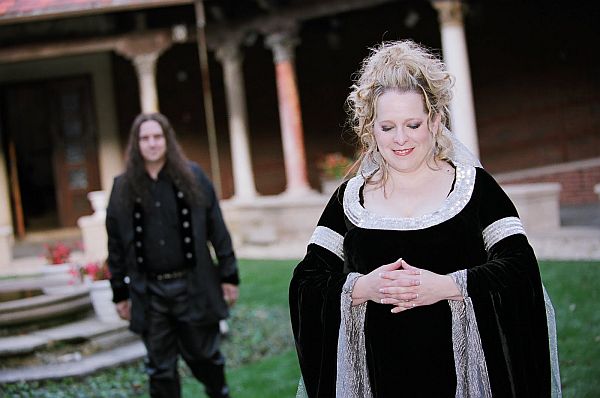 Now when you have decided with the theme, you can proceed with selection of wedding dress. The main criterion for selection is to be the centerpiece of attraction in the wedding. After all, it is your wedding so the dress should be as awesome as it can be. There are several factors that will help you zero in to the dress for your wedding.
Halloween wedding dresses are all about details and matching the theme. Unlike traditional gown, the dress is not about laces and beads; it should be as detailed as it can be to make you look special and different from the rest. If you are keen to have scary look, then you can opt for Spider web lace designs. The fall theme can be matched with dress with all orange, red, pink, blue crimson laces. If you have opted for the royal theme, you can make a beautiful gown to accentuate your look as the princess. The bell sleeves and flowing colors make a good Renaissance princess and prince charming look. If you have chosen the fairy tale theme then you can opt for the beautiful wings. You can opt for Victoria Secret Lingerie look to seductive as well as complete your look as the beautiful fairy. Seductive looks need no suggestion as you can experiment with lot of sultry dresses or even the naughtiest lingerie that you have. The options for dresses are endless, but you should make it brighter, so that you look the centerpiece of attraction. However, avoid going for cheap seductive look as you may not like it yourself when you will be browsing your wedding photographs.
Customized or costumes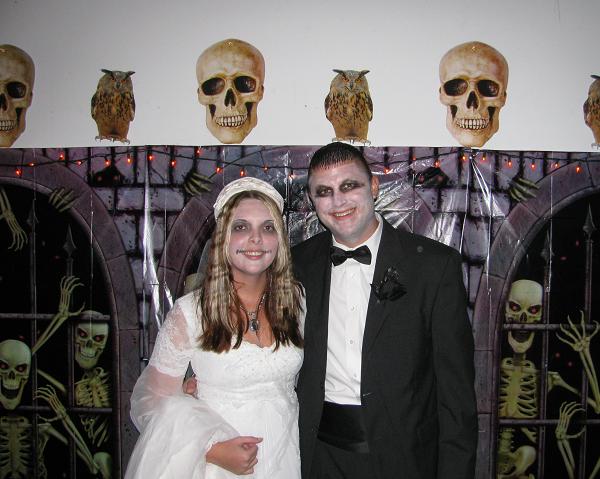 You can choose both the customized as well as the costume dresses. Both look wonderful as long as it matches with the theme. Customized dresses can be designed to suit your needs as well as being unique. You can go for extreme detailing to accentuate your look. The fashion designers can give you better options so that you do not end up becoming a fashion disaster in your own wedding. However, for such specific themes, finding a quality designer is difficult. The cost and time needed to create such a design becomes more than what it needs to design a traditional dress. Costumes can be a good alternative as you may find it in local renaissance store in comparatively cheaper price. However, the comfort of wearing, design of dress and uniqueness will be completely lacking in such costumes. The chances of becoming a fashion disaster increases a lot with costume. The best choice is to customize the design, as it will let you accessorize with lot of things that is not easy with costume. However, if you are going for customized dresses plan your wedding with lot of time in hand.
Accessorize your wedding gown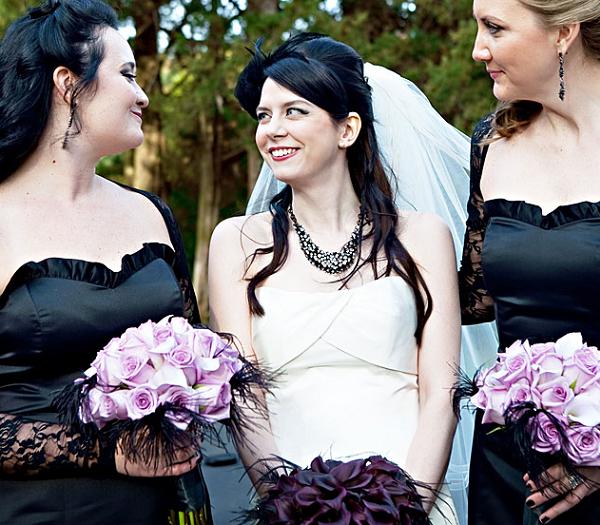 The complete Halloween looks cannot be achieved without the correct accessories. You can opt for shiny flashy earrings and jewelry to accentuate your look. A garter and a nice stocking can add more attractiveness to your complete look. The groom can have a stick or dangling shiny blade to get the complete looks of Halloween. A medieval pirate hat can be an eye catcher. Choosing the right shoes to match the theme is also a necessity. You can go for classic shoes to scary red renaissance shoes to complete your looks. The flower bouquet can be of black or bloody red roses. You can also choose shiny wings with your wedding dress to give it a cute fairy like look. You can use artificial fangs to complete your vampire look. Kissing with fangs on will surely make it a memorable wedding.