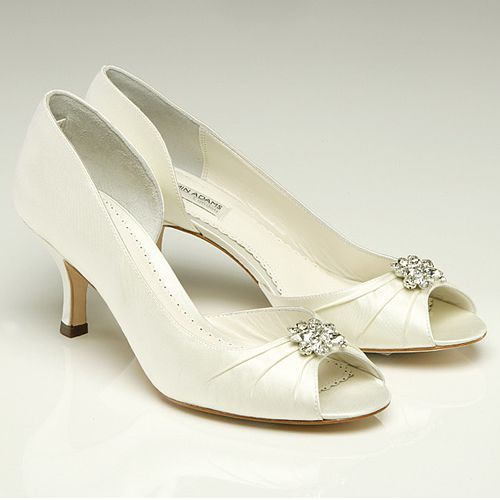 It is every girl's dream to look her best on her wedding day. From wedding trousseau to hair to shoes, everything has to be perfect. For those girls who do not feel comfortable walking in the high heel shoes can opt for low heel or kitten heel shoes. These will not only complement your dress but also enhance your height a little bit. We bring you some of the most stylish low-heeled wedding shoes that will surely complement your style. Read on to find out more.

1. Celine Low Heel Wedding Shoes
PRICE : USD 199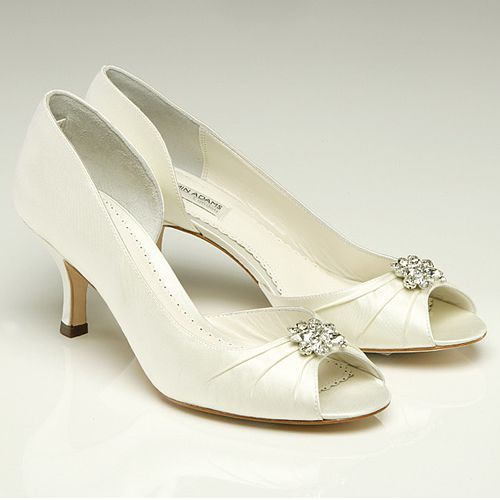 Walk the aisle in a comfortable and stylish manner with this beautiful Celine low heel wedding shoes. The heels measure 2 inches in height and the court shoe styling with the peep toe looks great in ivory white color. These shoes feature pleating details at the toe and it is enhanced with crystal ornament that is placed over it. These heels by Benjamin Adams are available in both white and ivory dye able silk satin.
USP
The pleated satin at the toe is bejeweled with the crystal ornamentation that makes this shoe a perfect one for wedding.
PROS
You can find these shoes in two different colors.
It is dye able and can be colored in any of your favorite hue.
2. Wedding Shoes Peacock Feather Painted Low Heel Peep Toes
PRICE : USD 165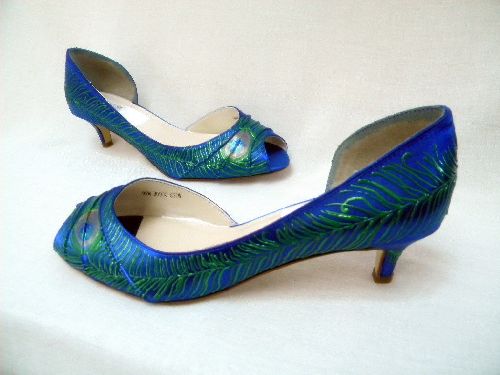 Let your feet look beautiful like a peacock feather with these beautiful peep toe shoes that feature peacock hue paint all over it. Sexy and sophisticated deep blue shiny satin shoes feature a sparkling green hue painted in feather form, jazzes up the entire look of these shoes. The pleated toe in golden, sparkling green and deep blue colors enhances its charm. The heel measures 1 ¾ inches that will keep you comfortable throughout the wedding.
USP
These gorgeous blue peep toe shoes feature a beautiful design and feminine colors that looks sexy and sophisticated.
PROS
These shoes can be worn for a themed wedding.
It is available in sizes varying from 5 to 11.
3. Ivory Satin Upper Low Heel Closed- toes Ruched Wedding Bridal Shoes by Aonel.com
PRICE : USD 64.99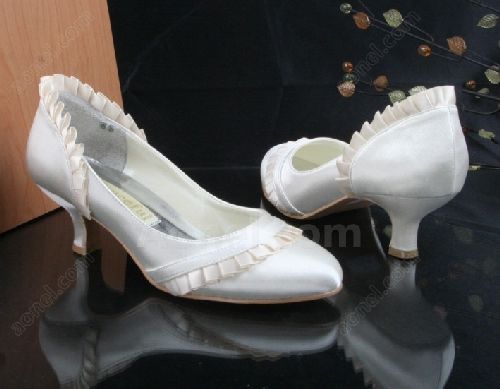 Look your feminine best on your wedding day with these low heel shoes. These shoes promise to keep you comfortable without compromising on style. These closed toe shoes feature satin lining all over and gives a uber class look. It is embellished with ruched detailing in ivory white color to complement the look and add feminine style to the shoes. Available in various sizes, these shoes feature spool heel height of 2 inches.
USP
The ruched detailing on the top and the back of these shoes makes them look beautiful and sophisticated.
PROS
These shoes are ideal for all seasons.
These are available in various sizes ranging from 34 to 42.
4. Beautiful Red 2 2/5 inches Low Heel Satin Wedding Shoes
PRICE : USD 126.38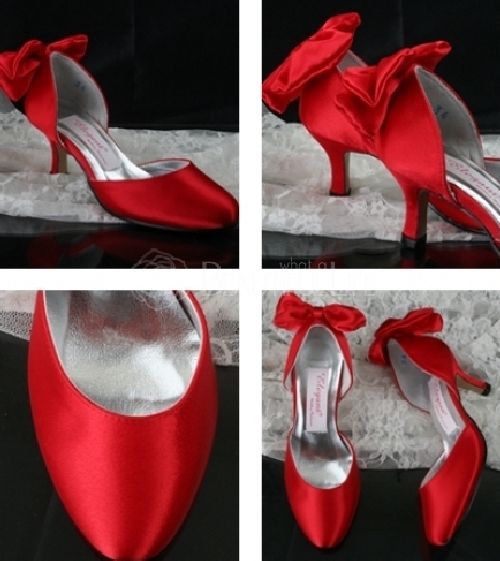 These gorgeous heels will definitely complement your bridal trousseau and will make you looks sexy. The low kitten heels will keep your walk stylishly comfortable. The bow at the back of the heels is a pop element, which enhances its beauty. Pointed close toe gives a sexy look to your feet. Available in various sizes, these shoes can dazzle any wedding outfit.
USP
The bow at the back of the heel gives a feminine touch to these shoes and it is very eye catchy.
PROS
It features silk and satin as upper material.
The shape of these heels is stiletto style.
5. Green 2 inches Low Heel Open Toe Satin Bridal Wedding Shoes
PRICE : USD 126.38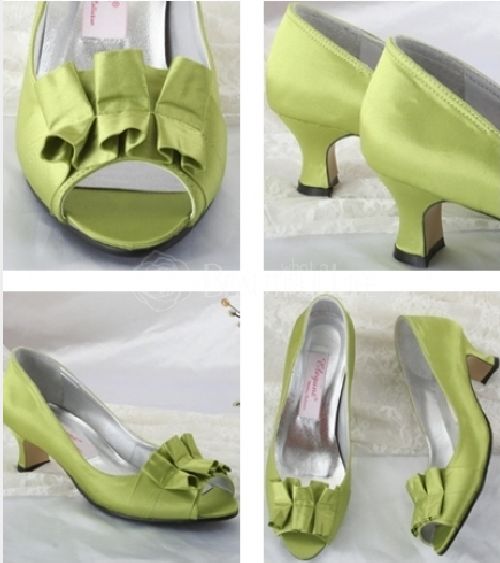 Dazzle your feet in a beautiful green hue with these open toe low heel bridal wedding shoes. These simple and elegant peep toe shoes look feminine and stylish. The wide chunky kitten heels keep you comfortable throughout the wedding and the peep toe allows you to flaunt your manicured feet. It features cotton lining that will provide extra comfort and the silk and satin that is used as the upper material will make your feet look sexy. Three pleats that feature on the toe of the shoes look great. This pair of shoe is available in various sizes.
USP
The three-pleat embellishment on the toe of the shoe looks classy and enhances its sophistication.
PROS
You can also opt to wear these shoes for other occasions.
6. Frenchie by Touch Ups Low Heel Dye able Bridal Shoes
PRICE : USD 52.95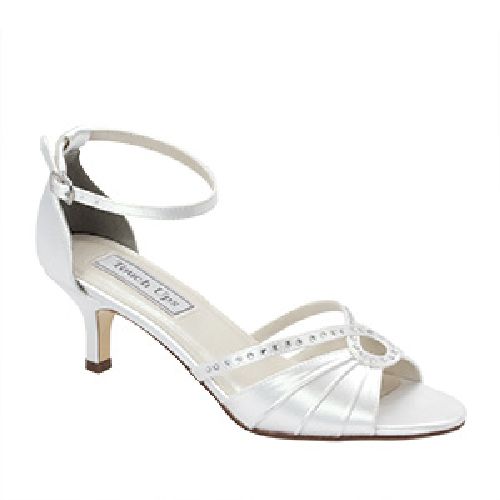 Let your feet sparkle in these beautiful low heel shoes by Touch Ups. These low heel shoes are dye able and have a beautiful design. It features open toe and closed back that enhances the style. The front is decorated with pleating and rhinestone ornaments. These shoes are available in various sizes and in white satin color. The upper material used for making this beautiful pair is satin. These heels measure 2 inches in height. If you require a custom dye you can call up the customer service center and they will arrange it for you.
USP
The exquisite design on the toe is bejeweled with satin pleats and rhinestone. It looks classy and adds sophistication to your attire.
PROS
The shoes are dye able.
The heels measure 2 inches which makes it very comfortable.
7. Custom Bridal Shoes Swarovski Crystal Embellished Low heel Shoes
PRICE : USD 200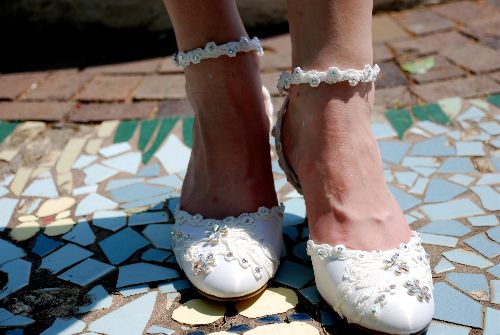 Dress up your toe in these stunning bridal shoes by The Wendy. These shoes are for any grown up girl who still believes in fairytales. With 2.25 inches heels, these sassy sandals look amazing. The little ankle straps, elegant lace and Swarovski crystal embellishment adorns these low heel sandals. The Wendy shoes come with complete comfort fit insoles and can be purchased in white or bridal ivory colors. These shoes can also be customized to your heart's desire.
USP
The lacy strap that criss-crosses each other on the back of the heel is stunning and makes your feet look sexier.
PROS
This can also be worn for various other functions.
You can get it customized as per your wish.