Hungary's Prime Minister Viktor Orban, who faces elections next year, married off his eldest daughter Rachel this weekend in a lavish ceremony that drew criticism from fellow politicians and was lampooned as a "Royal Wedding" by local media.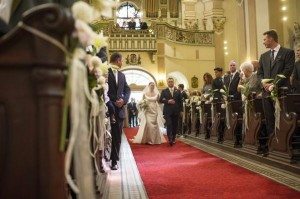 Some 300 guests gathered for the party at a 30-hectare equestrian estate once owned by a count. They were offered traditional wedding fare of hen soup, poultry pieces fried in breadcrumbs, oven-fried duck, suckling pig, followed by Dobosh cake for dessert and stuffed cabbage served at midnight, according to Hungarian tabloid Blikk.
There was no official state broadcast of the wedding, although various Hungarian media broadcast as much as they could live on websites or by Twitter. State news agency MTI published official photographs of the church wedding.  Mr. Orban, who announced the upcoming event in Hungary's most read tabloid a few weeks ago, posted several pictures of it on his Facebook page Monday. Local media had a field-day digging up information on the finances of the groom and his wealthy family.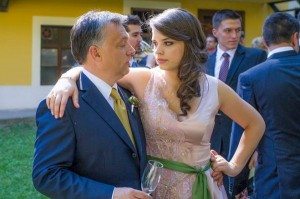 Mr. Orban's daughter was visibly happy on the big day and apparently unperturbed by all the media attention. She wore a stunning off-white, sleeveless wedding gown with a French lace back and a long, classical tulle veil designed by a Hungarian designer Nora Sarman. The pure silk dress had a detachable organza train to ease movement after the church ceremony.  The bride had pearl earrings and wore her long dark brown hair in a plain but classy bun. Her stilettos were designed by Hungarian shoe designer Reka Vago.
She wanted something simple, a clean-style dress that suits her, easy to wear and doesn't impose upon her personality. Mr. Orban donned a golden-colored tie with a dark suit, a tie he only wears to events with special importance, said daily tabloid, Bors.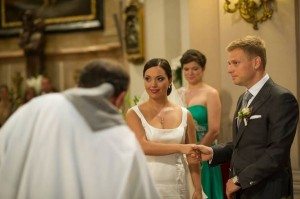 No estimates were published about the possible cost of the wedding. According to Hungarian websites, an average wedding with some 80 guests would cost up to about 2 million forints ($8,800). It was also claimed that public cash was used to paint over graffiti on church walls ahead of the private event.
Bertalan Havasi, a deputy state secretary at the prime minister's office, denied press reports last week claiming that public funds had been used to repair country roads leading to the wedding party. His office sent photographs to news outlets of still potholed roads as proof.