The couple, who has been dating since 2007, got engaged in December 2011 when the 34-year-old crooner got down on one knee and proposed while the two were vacationing in the Maldives. the singer and his model girlfriend walked down the aisle on Saturday in Lake Como. Their vows appeared to have taken place on a balcony surrounded by a stone railing. Teigen she had one thing in mind while planning her nuptials which was to keep the ceremony will be short.
John Legend has married Chrissy Teigen in Italy. The 34-year-old singer and the 27-year-old model tied the knot in an intimate ceremony at a lavish estate in Lake Como on Saturday. Chrissy wore a strapless Vera Wang gown with an open back, full skirt and embroidery.
There was no shortage of special moments or wardrobe changes at John Legend and Chrissy Teigen's romantic Italian wedding. The couple who wrote their own vows tied the knot in Lake Como on Saturday in front of 125 guests, including close family and friends like Kanye West, Quincy Jones, Stevie Wonder and Brooklyn Decker, a source tells PEOPLE.
Teigen, 27, who wore a strapless ivory Vera Wang gown for the wedding ceremony, changed into a second gown created by the designer for the reception, which featured delicious Italian cheese, prosciutto and cured meat appetizers, as well as truffle risotto, pasta and a beef dish for dinner.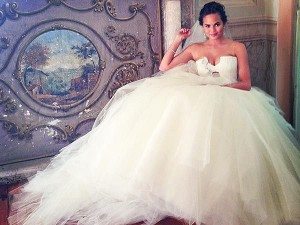 Following dinner, Legend took to the piano for an emotional rendition of "All of Me." "Everyone was in tears. It was so beautiful," the source says. He writes a lot of love songs, but this one is specifically about me, so it makes it more special," she admitted.
And that wasn't the only emotional song of the night. "I know I love Beyonce but I didn't realize how much I loved Beyonce until the DJ played 'love on top' and I cry danced," the model Tweeted on Sunday post-nuptials Of Knowles's Grammy Winning hit. The source says another highlight of the night came when West walked Wonder to the piano, and the singer performed "Ribbon in the Sky".
After the reception, Teigen slipped into her third Wang gown of the night, this time a crimson strapless mermaid gown with embroidered crystal detailing for the after party. It was a sweet, wonderfully beautiful wedding, the source tells PEOPLE. They are so in love, and the whole wedding was so gorgeous.