Everyone wants to look their best on their wedding and Indian women are no exception. Indian weddings are all about getting decked up with nicely crafted jewelry and clothes with heavy embroidery work. From clothes to jewelry and make up to hairstyle, everything carries a lot of importance and relevance. Mostly, Indian weddings are a daylong event and a bride wears her hair in different styles to suit various events. A lot of Indian women wear their hair long and choose a braided plait or a bun, which is further decorated with flowers and jewelry. But, the all new wedding hairstyle is all about freshness rather than being too gaudy. Take a look at the Indian Wedding Hairstyle looks below to ensure that perfect bridal look.
1. Traditional South Indian Braid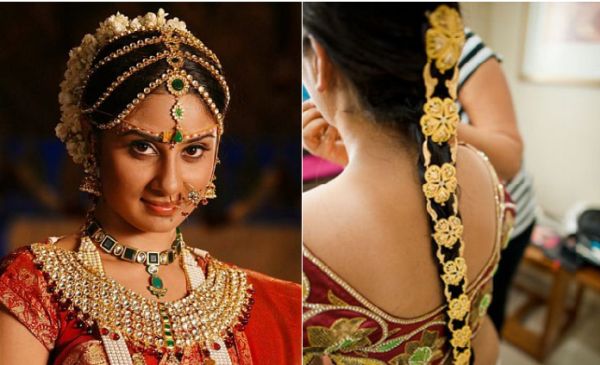 Things required
Comb
Fresh flowers
Clasp
Jewelry
How to style
South Indian Brides traditionally wear their hair in a simple long braid, which is further decorated with fresh flowers and jewelry. Brides usually have waist long hair, which are glossy, black and very thick. There are many who get hair extensions to make sure the braid is long enough and thick. Simply, part your hair in the middle and create an impressive braid by weaving your hair from the back of your head. The braid is kept in place by using a fancy clasp at the base. But, the most important thing is embellishing the braid with sumptuous jewelry and flowers to create an ornate style. Jasmine and rose flowers are commonly entwined down the entire length of the braid. Artificial jewelry is commonly placed on the top of the head, which is simply gorgeous.
2. The bun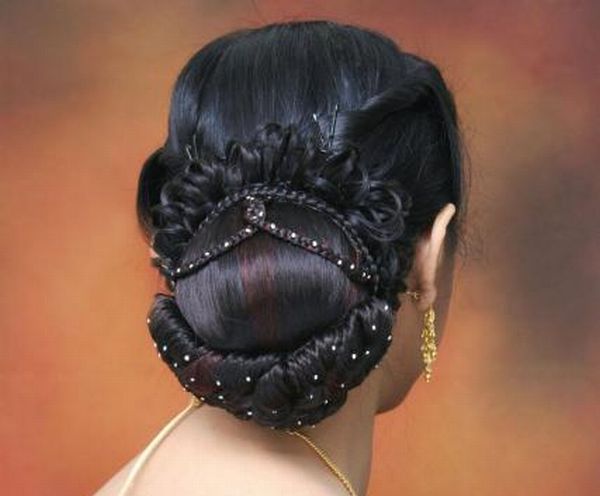 Things required
Comb
Fresh flowers
bobby pins
Ponytail holder
Hair stick
Embellishments
How to style
Since many rituals require covering the head with a veil, a bun is just perfect to keep it in place. When placed at the crown, a bun will also help a bride match up with the height of the groom in case he is tall. Remove all the tangles with a brush and put hair in a ponytail at the height one wants the bun to be. Then take the end of your hair and start twisting until hair forms a stiff rope and ripples. Now, wrap the twisted part all around the base of the ponytail and continue till the time one reaches the end of their hair, finally putting the end of their hair between the head and the bun. Secure this position with either a bobby pin, hair stick or a ponytail holder. Make sure you place enough pins around the bun to keep it in place. Avoid loose ends coming out by using a hair spray, which will give the bun a smooth look. Lastly, adorn it with flowers or other embellishments with the help of bobby pins to complete the look.
3. Twisted Updo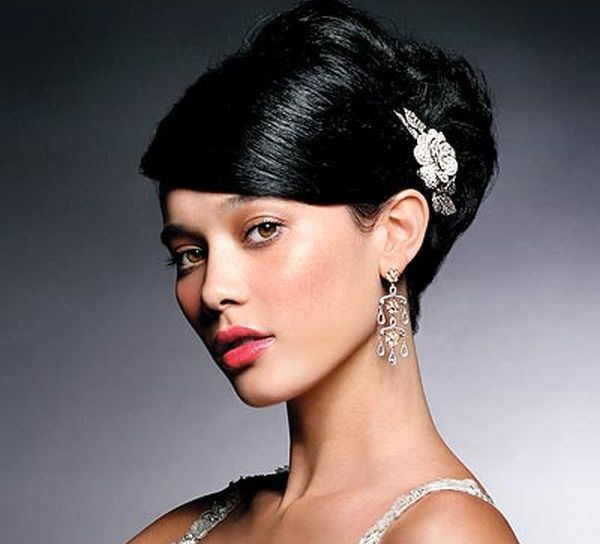 Things required
Comb
Leave-in conditioner
Hairspray
Gel
Mousse
Bobby pins
Other hair accessories
How to style
If you want to look stylish and very sophisticated on your wedding day, then the Twisted Updo is just the right thing for you. From funky to messy, choose a twisted updo that complements your dress and most importantly that oozes confidence. Clip up the front and top of your hair and create a messy bun at the nape of your neck. Now, take individual pieces from the top and front sections and twist them loosely. Pin these pieces into the bun. Add some subtle volume by back combing their on the crown area, then twist and pin that section into the bun. Soften the entire look by gently loosening a few pieces around the face. The look is very chic and vivacious.
4. The Flowered Plait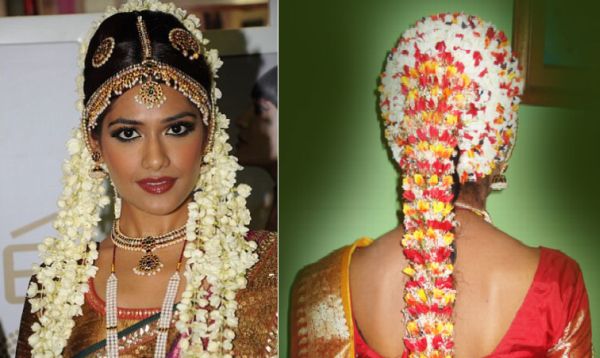 Things required
Clear hair band
Hair pins
Hair spray
Flowers
Scissors
Bobby pins
How to style

Typically, South Indian brides wear their hair in a long, thick braid, which blends perfectly with the overall getup. The best part being, a bride from South India is not expected to wear a veil over her head, which unfurls multiple options when it comes to decorating the hairstyle. So, the whole braid can be caked with fresh flowers, without leaving any space. One should carefully select group of flowers that they wish to intertwine their hair with. Brush your hair carefully to remove all tangles before weaving your hair in a braid. Flowers are added to a completed braid by cutting the stem to a minimum of one inch before the stem is placed in the braid. Decide the placement of flowers carefully before securing them with bobby pins.
5. The Jeweled Hairstyle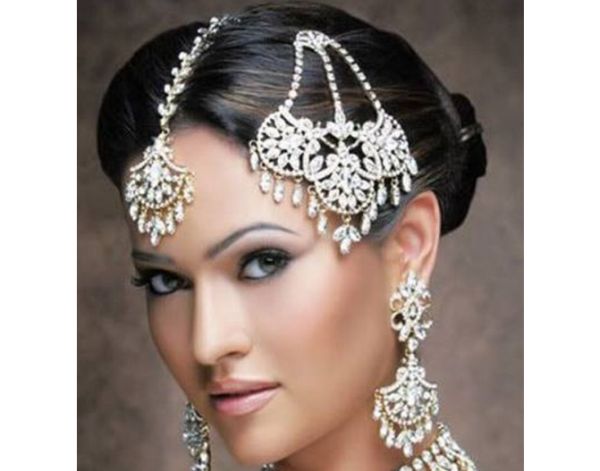 Things required
Comb
Bobby pins
Hair jewelry
How to style

Indian hairstyles for a wedding day are incomplete without bridal hair jewelries. Brides tie their hair in various styles, since it is not allowed to leave hair open while getting married as per Indian traditions. These are an indispensable part of bridal jewelry and further helps enhance the beauty of the wearer. Bridal hair jewelry comprises of hair pins, beads, strand of pearls, jewel comb and the most essential maang tikka, which rests in the center part of the hair. So, decorate your hair with jewelry and make heads turn with all the glitter.
6. Pinned Up Ringlets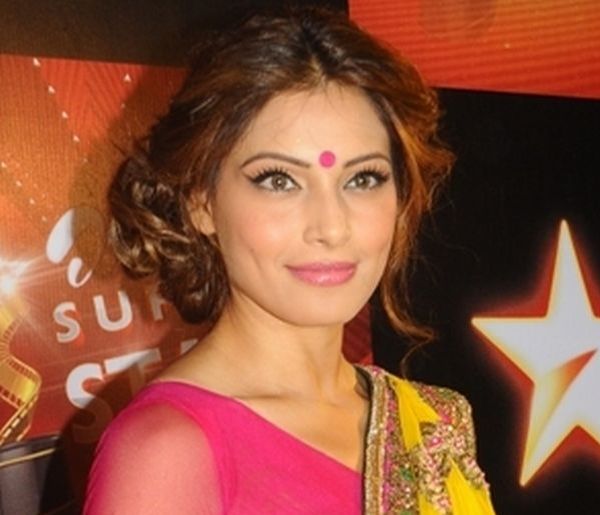 Things required
How to style

Pinned Up Ringlets work perfectly when creating a flattering look. It creates a dramatic look and lends softness to the overall style. There are various ways to get the look, which can range from messy to a loose bun. The ringlet infused updo hairstyle works best naturally curly and wavy hair. Pin up smooth curls to the back of your head with the help of hairgrips. If you are not very sure where to stick the pins, then a very simple trick is to follow your fingers. The grip goes exactly where you are pushing your hair to your head when the curls are held in the right place.
7. Partial Updo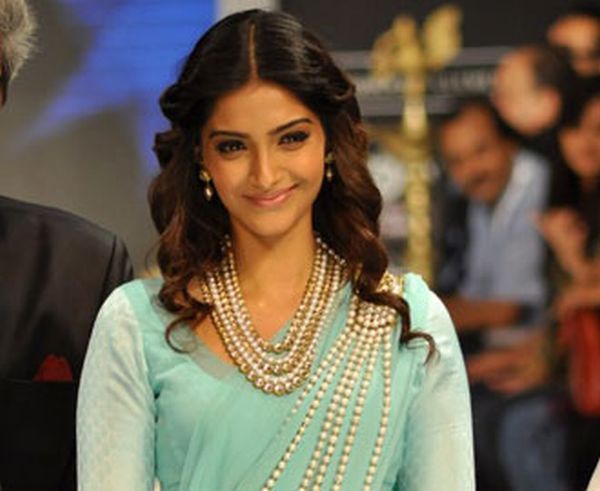 Things required
Comb
Bobby pins
Hairspray
Curling rod
Heat protection mist
How to style
Want to keep your hair away from the face and still keep them loose on your wedding day, then narrow down on a Partial Updo that is easy to achieve and looks very beautiful. All you have to do is wear a few strands of hair around your neck and ears, which will shower the much needed elegance. If you have long hair then half curled style will mesmerize everyone around. From each side take at least two inches of hair and pull it around the back of your head. Pin this position using bobby pins and then spray the section with a heat protection mist. Now, curl the ends for a soft look and finish it with a hairspray.