A wedding would just not be the same without flowers. Every bride wants her wedding to be memorable and her choice of flowers or arrangements should reflect her specific taste and personality. Her flowers should create a theme to make her wedding day special and provide the finishing touch to this very special day. Choosing wedding flowers that fit your style and petals that match your color palette isn't always easy especially if you don't know a dahlia from a daisy.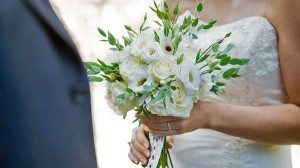 When it comes to fresh, beautiful flowers for your autumn wedding, you've got the upper hand. Even though many wedding favorites are no longer in season, there are plenty of fall beauties to fill out your wedding bouquet. Dahlias and succulents, both in season, bring warmth to your bouquet, especially when carried in rich, rustic earth tones. When paired with texture pieces like berries and crespedia, and year-round flowers like roses, you can expect lots of personality.
Rich reds, deep oranges and buttery yellows define rich fall bridal flowers. Capture the warmth and beauty of the season with these fabulous fall hues
Fall Wedding Flowers                                               
Fall bridal bouquets and centerpieces are often adorned with autumnal foliage and decorations such as branches, oak leaves, acorns and crab apples. It is often the colors, as much as the actual flowers that are important. Rich reds, fiery oranges and beautiful yellows mixed with brown, gold, green, amber and russet colors.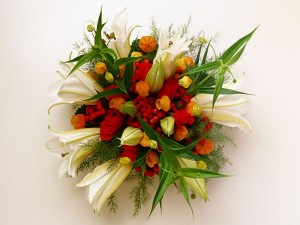 September, October and November brides may celebrate the natural landscape of the season by holding the wedding ceremony under an oak tree, use crisp fallen leaves to line the aisle. Or, how about holding the wedding around 6:00pm with a gorgeous orange autumn sunset as the backdrop? Many wineries, barns and antique inns represent the perfect setting for a fall wedding. A popular trend is to hold a rustic wedding outdoors – the guests sit on hay bales and the bride's carriage is a horse drawn hay-wagon. Follow it with a reception in a beautiful barn.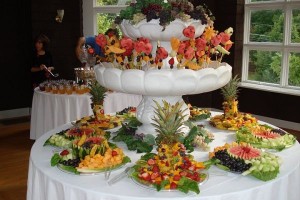 In autumn, some interesting fruits become available that can be used in wedding arrangements. Crab apples last from now through to the winter and can look very attractive. Fall boutonnieres can incorporate oak leaves and acorns. Also decorate with dried greenery, heirloom pumpkin, figs and ornamental cabbage. Some of fall wedding flowers in season are Asiatic Lily, Asters, Calla Lilies, Chrysanthemums, Dahlias, Gerbera daisies, Gladioli, Marigolds, Roses, Sunflowers, Zinnias.