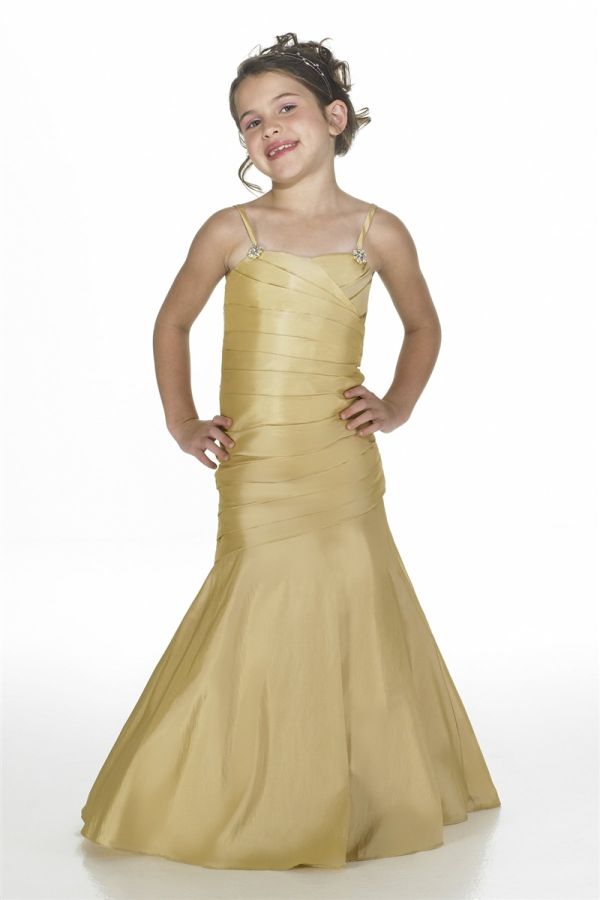 Like any other young bridesmaid, the juniors too have an imperative role in a wedding ceremony. They look adorable and lovely walking down the aisle with the bride on their big day. They do all the big stuff just like any other bridesmaid would do; just to ensure that they are there for the bride every time. They pamper her, dance with her and celebrate each moment of happiness along with her and other guests. With this much importance given to them; they ought to look perfect as well as endearing, on the wedding ceremony like every young bridesmaid.
Simplified is a list of some charming and gorgeous bridesmaid dresses for the junior damsels:
Alfred Angelo Junior Bridesmaid Dress 7135JB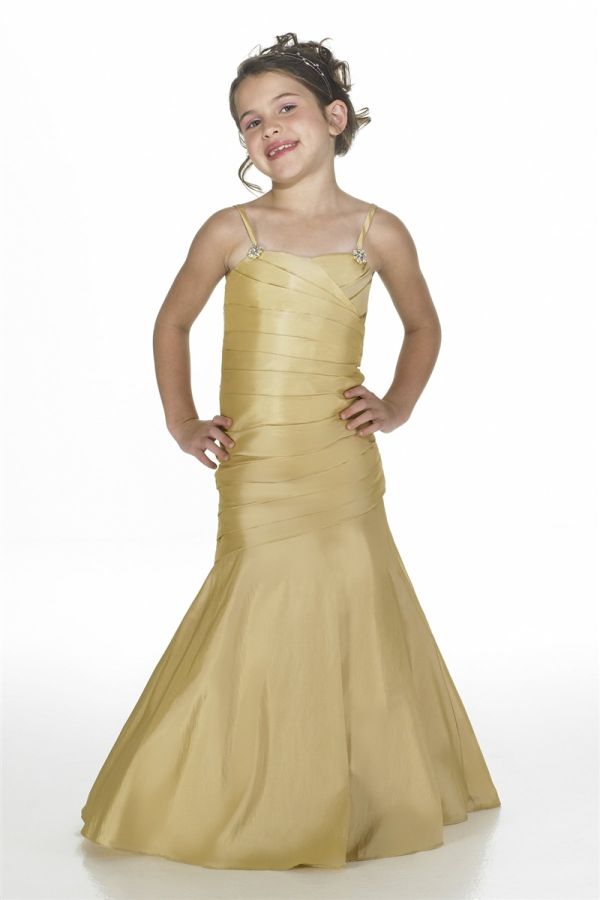 The taffeta based dress looks lovely and adorable. It has got a slim fit and is floor length long. It comes with small straps for the support. The halter straps are accented with rhinestone broaches at the bust line to give the dress a neat beautiful look. The dress is available in various shades and hues.
Wow factor:
One of the most striking factors about this dress is the asymmetrical pleating along the bodice. The dress has got a perfect fit that will definitely make her look no less than a fairy in the ceremony.
Price: $162.00
Buy it here: Bridesmaid dresses
Junior Bridesmaid Long Satin Gown with Chiffon V-Neck (JB2649)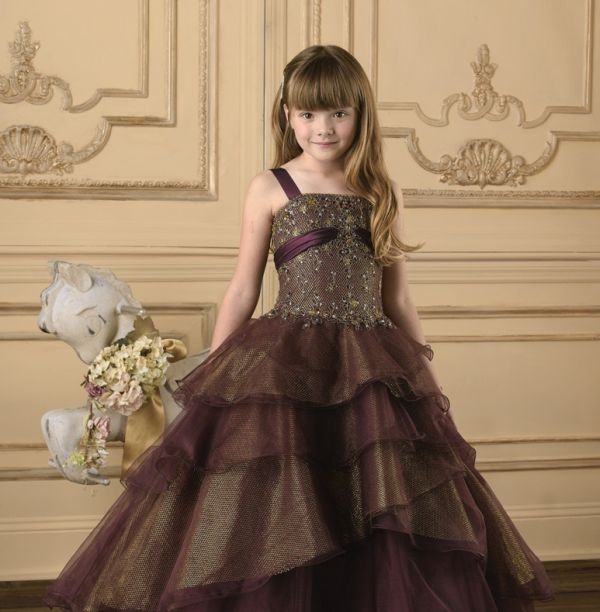 The taffeta gown looks elegant as well as stylish. The dress exhibits true colors of perfect bridesmaid attire. It is designed to floor length and features a A-line strapped silhouette along with floor length height. It is embodied with embellishments on the upper bodice and is available in different color hues. It's advised to be dry cleaned only.
Wow factor:
The upper half of the dress has got an empire waist line which illuminates the whole outlook exuberating panache and soothe. The best feature of the gown is its layered bodice which looks complimenting on a junior bridesmaid and will make her look extremely cute and stunning.
Price: $79.00
Buy it here: tailoredweddinggowns
Princess Spaghetti Straps floor-length Sleeveless Chiffon Ruffles Junior Bridesmaid Dress (44218)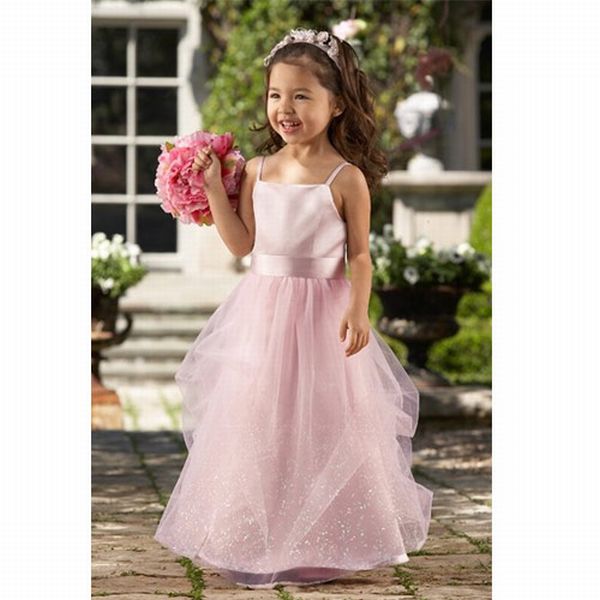 The princess cut gown will look mesmerizing on the junior bridesmaid and is sure to dazzle the ceremony. The chiffon knit dress looks extremely stunning on a little angel. It has spaghetti straps with floor length height. It is available in pink, green and different bright colored hues.
Wow factor:
The striking thing about this gown is that it instantly gets your attention with its flared skirt and princess like looks. The ruffle design looks complete astonishing and is perfect for a bridesmaid dress.
Price: $90.00
Buy it here: ideas light
A-line Halter Floor-length Beading Satin Junior Bridesmaid Dresses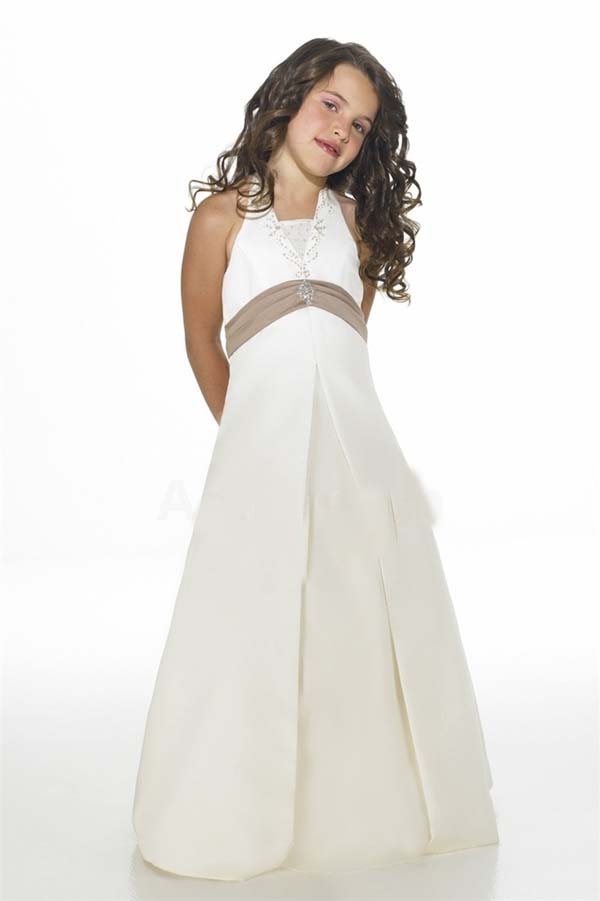 The A-line halter floor length dress from Aonel is an elegant design having extreme panache and flamboyance. The dress looks completely soothing and subtle; and suits the junior damsel well. The beading work on the neckline looks ecstatic and intriguing. The dress comes with an inbuilt zipper which assures proper comfort.
Wow factor:
The elegant bodice along with the graceful neckline makes it an awesome pick. It completely complements the soft and silky personality of the little bridesmaid. The skin color waist band looks equally beautiful enhancing its beauty and luster.
Price: $79.99
Buy it here: Aonel
Ball Gown Spaghetti Straps With Belt Taffeta Junior Bridesmaid Dress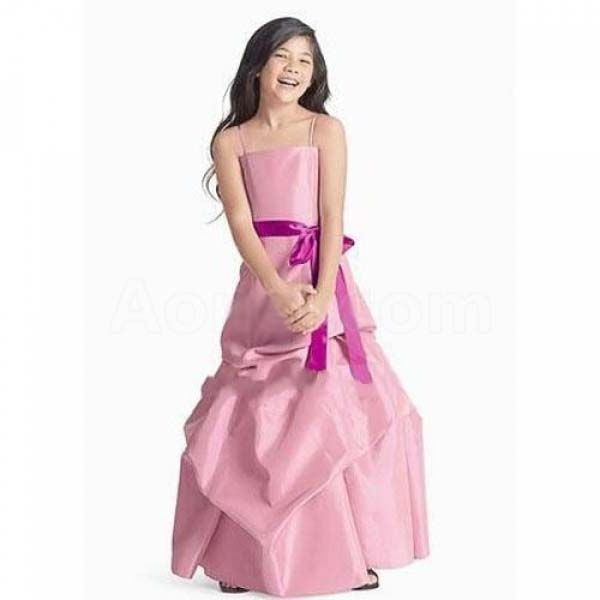 ­The beautiful ball gown junior bridesmaid dress looks more of fairytale attire. It is floor length long and has spaghetti straps to give a proper comfort and support. It is made of satin material and looks real decent. The whole outlook looks very enchanting and appealing. It is available in a variety of colors with matching sash.
Wow factor:
One of the best parts of this gown is its ball gown skirt and the matching sash attached to it. It adds to its splendor and magnificence. The sash is draped beautifully and is skillfully designed to match the gown well.
Price: $79.99
Buy it here: Aonel
Bari Jay Jr. Bridesmaid Dress 20800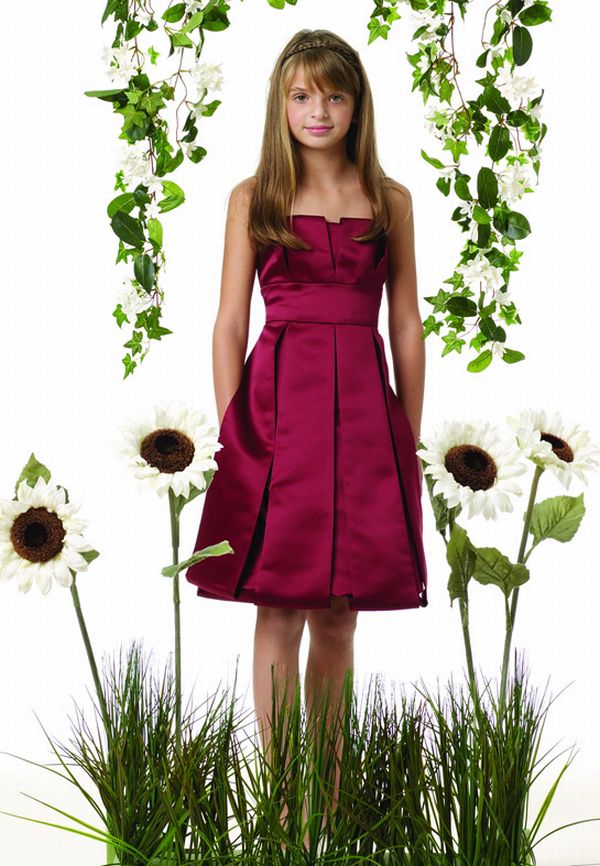 Designed delicately in Vienna satin; the dress looks pretty adorable and perfect for a junior bridesmaid. The dress is designed tea length long and is strapless. The color perfectly complements the occasion.
Wow factor:
The tea length dress is beautifully designed with a paneled bubble skirt which accentuates its appearance and result in a prettier outlook. It is available in different hues and shades. The dress looks elegant and elite; and exhibits sophistication and complexity.
Price: $111.99
Buy it here: French novelty
Dessy Junior Bridesmaid Dresses (JR502)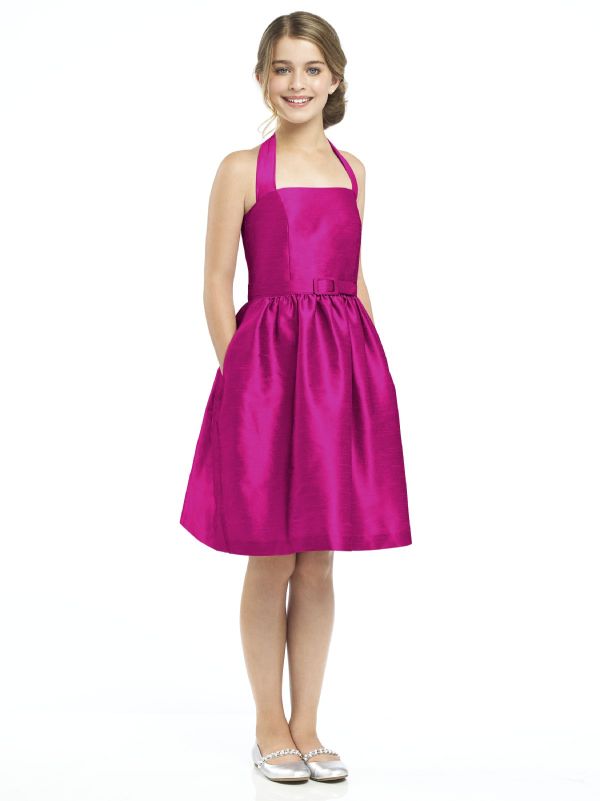 The exquisite design of the dress appeals at the very first sight. It is from the Dessy junior bridesmaid spring collection 2011. It is designed in halter neck pattern and is suitable for a day to night occasion. The girl is sure to look like a million dollar adorning this beautiful attire. The dress is available in plenty of beautiful pleasant colors.
Wow factor:
The exquisite styling and design makes it look wonderful and worth applause. The color, pattern and designing of the dress attract a lot of eyes instantly. It comes with matching pockets and a belt at the waist line, which make it even more special and endearing.
Price: $158.00
Buy it here: best bridal prices
A-line Spaghetti Straps Junior Bridesmaid Dress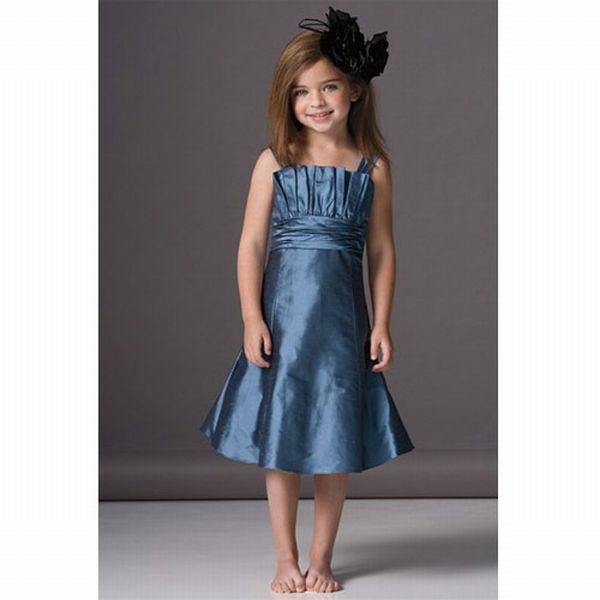 The A-line dress looks completely mesmerizing and astounding. It has all the pros to make one pretty young damsel look breathtaking and adorable. It is made in chiffon fabric with spaghetti straps. The dress is knee length high and has a nice sleek bodice.
Wow factor:
The ruched and pleated upper front neckline of the dress makes it even more enthralling and alluring. It beautifies the elegance of the dress making it look more lovely and lustrous.
Price: $75.00
Buy it here: ideas light
A-Line Strap Floor-Length Junior Bridesmaid Dress (JSAS7933)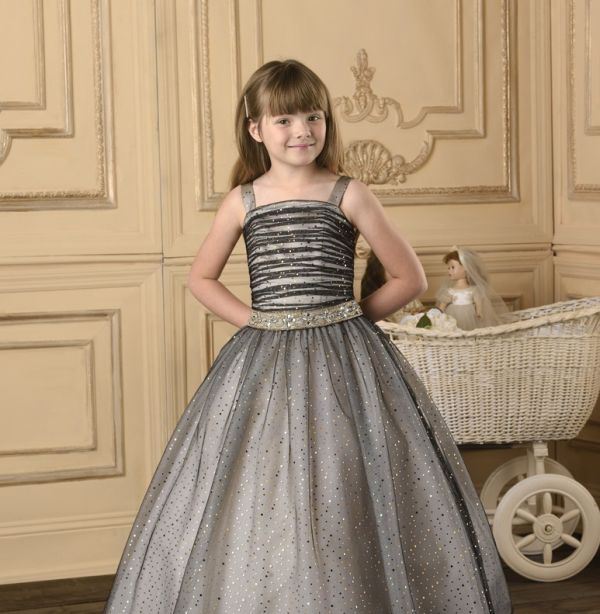 The adorable taffeta silver junior bridesmaid dress from tailored wedding gowns looks amazing. The dress has got a huge rounded skirt which differentiates it from the rest. It's a A-line strapped attire which looks completely compelling and gripping. It is floor length long and is available in a variety of colors.
Wow factor:
The main attraction of this dress is its embellishment beading throughout whole attire. The small beads make it look like a zillion star studded sky. The dress will look extremely cute on a junior damsel with cute ballerinas on.
Price: $79.99
Buy it here: Tailored wedding gowns
Alexia Designs Junior Dress # 4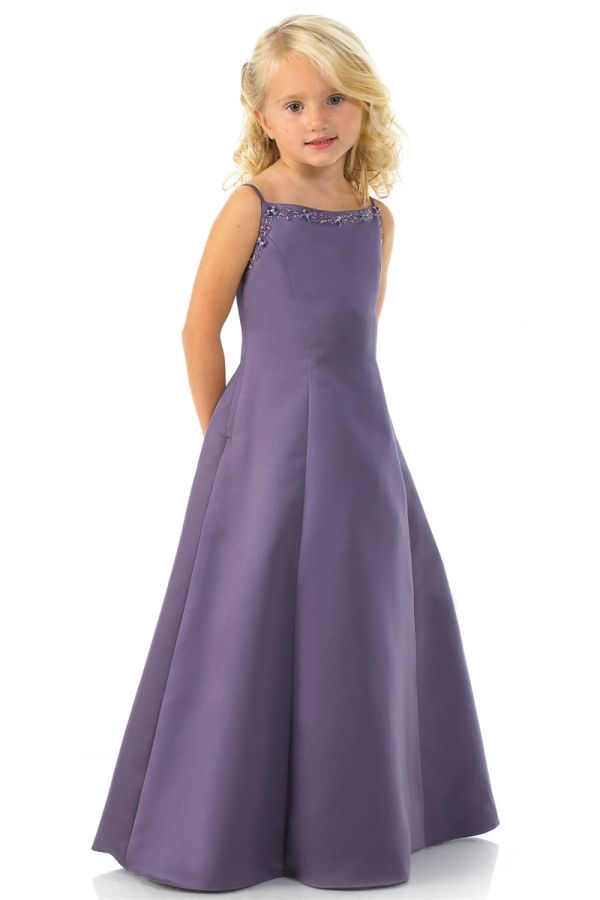 Adorable, astonishing and charming are the terms generally associated with this beautiful dress. The dress exhibits complete sophistication along with up class elegance. It is made of satin based material. The attire is available in a variety of shades pertaining to different skin colors and choices.
Wow factor:
The A-line structured dress looks completely stunning and startling because of its subtle and delicate appearance. The straight line structure gives it a neat sleek look and offers a complete satisfaction and contentment.
Price: $174.00
Buy it here: bridesmaid-dresses