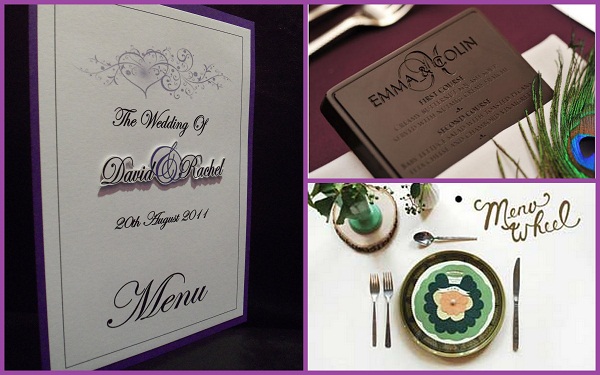 Accept it or not, the dinner is one of the most awaited ceremonies of any wedding reception. While your friends and family would be there to be a part of special day, there wold be many who would just wish you a happy married life and move quickly to the dining area. When this part of the function is so much awaited, why not go different and present wedding menus in a unique fashion. They can not only give away your creative side but also give a whole new perspective to the wedding ensemble. Here are some unique and amazing wedding menus.
Circular plate menus
This purple and red wedding menu card may though look like a mailer at a first glance, it is very interesting to observe how these two very vibrant colors have been fused together to create something so pretty. This menu created by Tribe Member Channamasala is made from cardstock, Chinese stickers and uses Nepalese papers. Each menu looks different as it combines different colored and patterned papers to create a whole range of fancy menus.
If you have assigned a theme colour to your wedding, you can ensure that your menus match with the colour of your invitations. These extremely simple and cute circular menus were a part of the reception of Ty and Sandee. They were made exactly in shape to fit into the dinner plates. These cards also matched their invites and were made for GE designs by Etsy
Lantern menus
Who said menu cards should only be placed at the dinner table? These lantern menu cards are created by tribe member 2dBride, learning from an online tutorial. These beautiful menu cards just don't give out the menu but also act as a piece of your wedding decor. Moreover, your guests will keep wondering whether they have to check out these amazing lanterns or read the menu. This technique can also be used for bar and dessert menu.
Menu on a chalkboard
Though this may sound like a menu card for a highway restaurant or a roadside hotel, none would have imagined this as your wedding menu card. This is one of the most give-away ways about the dinner menu. This just shows your wacky side and is also very simple for the guests to understand. This chalkboard was used by Gretchen and Buffy to display their wedding dinner menu.
Being Eco-friendly
Another very important thing to be kept in mind during a wedding dinner is to number the tables. This is not just done to count the number of guests but also for the waiters to serve everyone properly. So why not go the eco-friendly way and save paper. You can do this by combining your table numbers with the dinner menu. Also as it is still done on paper, you can use recycled or reused handmade paper just like Kristen did it for her wedding as shown above
Going 3-D
These 3-D menus are something truly in the next dimension. Commissioned by Tribe member Amrotte from Etsy seller Jessica's Jacket, these menus give that popping out effect when you look at them. They can be placed on everyone's table with a pair of 3-D glasses purely for your guest's amusement.
Chocolate Menus
So these will generally not be friendly for your pocket, but it is your wedding, so a little splurging won't do any harm, will it? These delicious menu cards are made out of chocolate and can be safely eaten by the guests. Moreover your guests will remember you forever for the sinful delight you offered them right from looking at the food stages!