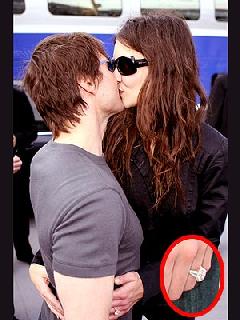 Guys, don't you think wherever Tom lands up there is some or the other mishap happening. Now the problem seems to right there at Katie's home Tom surely got to do something about it. His meetings with Katie's parent's dinna turn out to be a good one. Katie was reportedly spotted with tears in her eyes when they left her home.
Poor couple there was so much of hullabaloo's regarding there romance, but the trip that they recently made ended in a rather ugly note. They cut the trip short and returned three days earlier then actually planned.
Katie's parent doesn't seem to be impressed with their daughter's choice. The marriage is called off for the moment. Cruise's spokesperson has been denying the story altogether, but it is unlikely that you will have the smoke when there ain't any fire.