Hollywood stars are known for sporting outrageous jewelry that screams expensive. And, why not? They have the means and they're fashion icons. But it comes as a breath of fresh air to see some of them wearing jewelry that's eco friendly and comes from sources that don't involve conflict. Yes, we're talking about Natalie Portman and her fiancé Benjamin Millepied who wowed audiences with their matching wedding rings at the 84th Academy Awards held recently.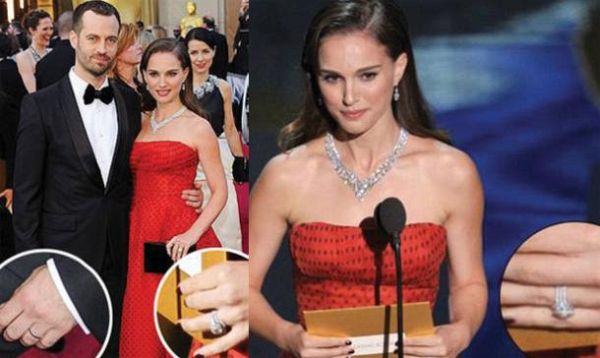 What made them stand out was their decision to wear rings crafted out of recycled platinum and large conflict-free diamonds. The eco friendly rings cost an estimated $35,000 each and were created by jeweler Jamie Wolf, a ballet dancer-turned jeweler designer with designing inputs by Millepied.
But the decision to wear such 'pure' rings shouldn't come as a surprise as Portman has for long been a vegan and has campaigned for various causes. In keeping with her values, Millepied and Wolf wanted to design something that was close to her heart.
The $35,000 rings fuse antique design with modern style. The center stone is vintage and is surrounded by modern pave stones to give it an overall unique look. While the bling factor remains, it isn't over the top like those sported by other celebs. Instead of a massive rock that's so commonly worn by the elite, Portman and Millepied's rings speak of old-world fashion coupled with modernity that's perfect given their young ages.
Such a conscious decision to sport conflict-free diamonds is refreshing as most of us don't give much thought to where they come from. We especially like the use of recycled platinum which isn't something that many bother about.
The world's dying to find out if the two lovebirds have finally gotten hitched but they seem to be keeping mum on the subject. All we know is that they make a perfect couple and proponents of conservation and conflict-free diamonds are showering their blessings on the cute duo.
Via: Ecouterre