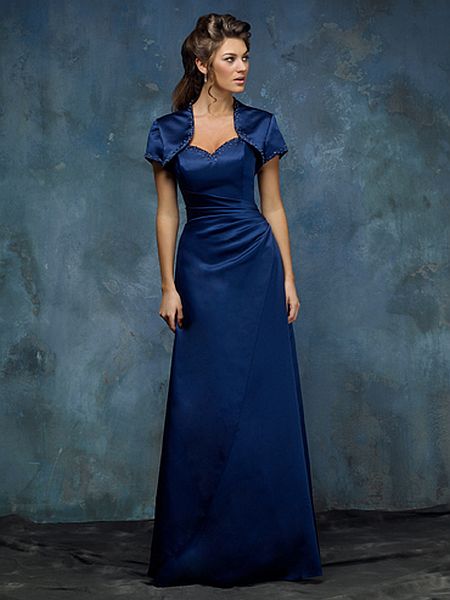 Being a bridesmaid is a special feeling, a memorable gesture granted to a very intimate friendship. It's a dream day for the bride to be decked in white while for the bridesmaid it's a day to become an indelible part of her close friend's special day, forever. Cold feet, jitters, butterflies, last moment make up, quick errands, solicitations, gossip about the groom and so much more, a bridesmaid is one who carries and saves the day for her darling bride. She's the one behind the scenes preparing the bride for a grand show on the aisle. Ensuring perfection of the wedding gown, a bridesmaid is also entitled to a luxurious and flattering dress. Below are a few ideas for a bridesmaid dress. See if you can find one that compliments your choice and maid of honour.

1. Mia Solano Bridesmaid Dresses (Style MB9726)
BRAND : Mia Solano
PRICE : USD 206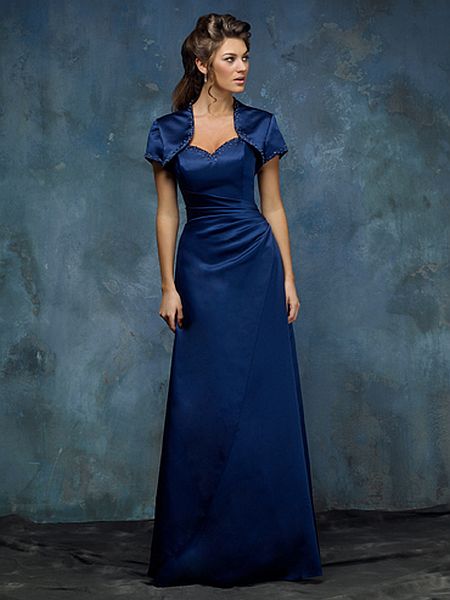 This beautiful bridesmaid dress in navy blue has been crafted in satin. It has been taken from the 2011 Mia Solano Bridesmaid collection. It's a strapless gown that features "A" line fitting. It has asymmetrical pleated bodice that looks attractive and eye catch. It has been adorned using beaded decoration at the bust. The detailing of the decoration is worth noticing. It is accompanied by a satin jacket that adds grace and elegance to this stylish outfit. It is a mermaid taffeta gown with pronounced ruched bodice.
USP
This dress has a sweetheart neckline that highlights the whole satin gown beautifully.
PROS
It is supported by a lace up back for proper tightening and proper fit.
It also features detachable cap sleeves.
The embroidered beaded detailing at the bodice makes it very attractive and stylish.
2. Adrianna Papell Tiered Chiffon Dress
BRAND : Adrianna Papell
PRICE : USD 138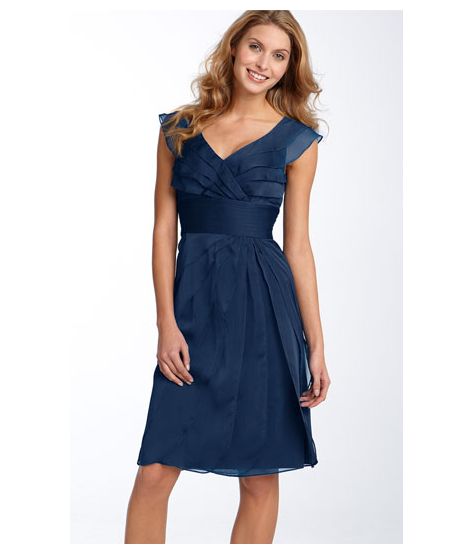 It is a semi lined chiffon dress with pleated bodice and skirt. It has been crafted in a beautiful navy blue. It features a beautiful faux-surplice neckline. It also features cute cap sleeves. Pleated empire waistline with a broad border in same color distinguishes bodice from waist. It has a nice "V" neckline at front as well as at the back. The skirt is not lined whereas bodice is completely lined. It measures approximately 39 inches from shoulder to hem which makes it reach up till knees.
USP
Asymmetrical tiers of chiffon over the entire outfit looks superb.
PROS
There is a back zip for bodily fit and easy taking off.
It has been crafted in fine quality polyester and it makes a perfect dress for parties and other special occasions as well.
3. Betsy & Adam Embellished Stretch Satin Dress (Style 363406)
BRAND : Betsy & Adam
PRICE : USD 188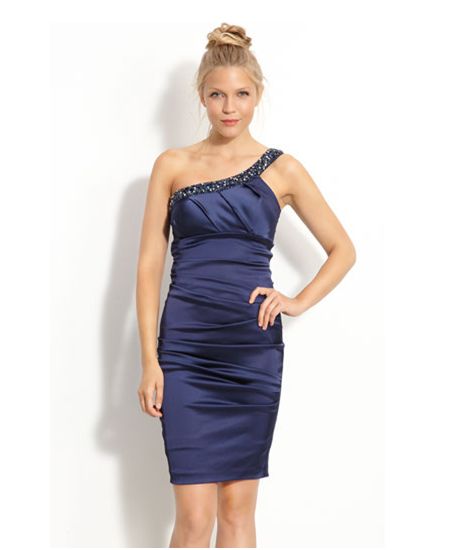 Diagonally pleated bodice adorned with bead work is the most remarkable part of this dress. It has been crafted in flawless satin with a single strap on the left shoulder. The entire outfit has been designed using ruched stretch-satin that gives a tight bodily fit adding sensuality and style to this trendy dress. Gleaming bead work on strap as well as neckline of the dress looks amazing. The bead work features design in blue and silver crystals complementing the entire outfit. The length of the dress measures around 37 inches from shoulder to hem.
USP
Single strap beautified using faux crystals embellishment adds brilliance to this astounding outfit.
PROS
It is fully lined and features padded cups and boning in bodice to provide a nice feminine fit.
There is a side zip with hook and eye closure for tight fit.
It has been made up of imported fabrics in the USA.
4. ML Monique Lhuillier Bridesmaids Bow Shoulder Taffeta Sheath Dress
BRAND : ML Monique Lhuillier
PRICE : USD 178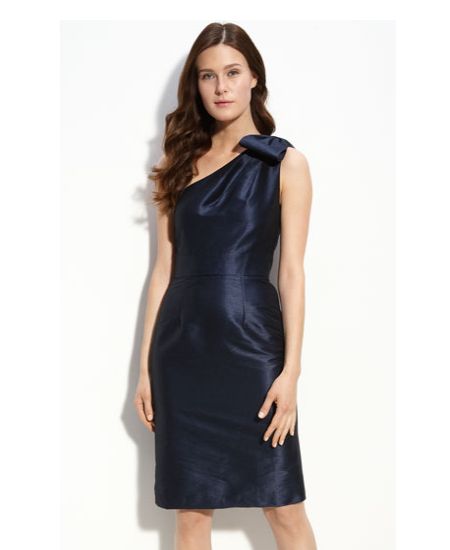 Pleated bow at the top of the single shoulder adorns this beautiful navy blue dress. It a shiny dress designed for special occasions. It features empire waistline that gives it a feminine look. Pleats flowing from below the bow on front and back of the dress look amazing. It has been crafted in polyester and the approximate length of the dress measure 39 inches from shoulder to edges. It is a nice outfit that would definitely make you fetch compliments.
USP
Lustrous taffeta dress with bow on the shoulder won't let you go unnoticed whenever you wear it.
PROS
It features back slit to makes walking and sitting easier while wearing this dress.
This dress is fully lined and also features side zip with hook and eye closure.
5. Strapless Layered Bridesmaid dress (Style 267999)
BRAND : Ann Taylor
PRICE : USD 295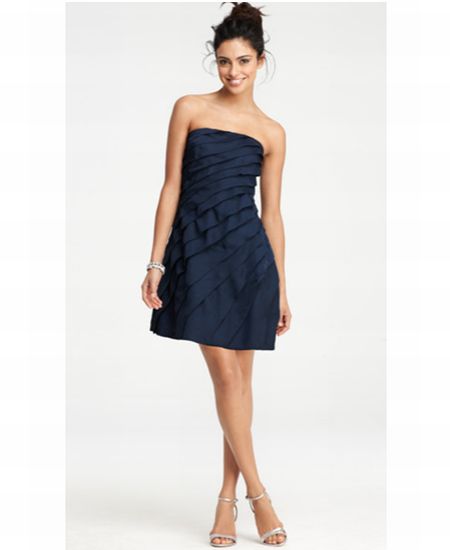 It is a beautiful strapless dress crafted in navy blue. It features pleats placed diagonally on the entire design. This asymmetrical design makes it look splendid. It's a short dress with around nineteen inches of length from natural waist. It has been made up of imported material. This dress features an utterly flattering silhouette. High heels with silver chandelier earrings enhance its appeal and help you creating your own style statement.
USP
Diagonally pleated tires add style to this trendy dress.
PROS
It features hidden zip at the side of the dress for easy wearing and taking off and it also helps in providing a tight bodily fit.
Hidden hook and eye closure has also been provided to keep the side zip intact.
6. Bari Jay Navy Blue Bridesmaid Dress
BRAND : Bari Jay
PRICE : USD 148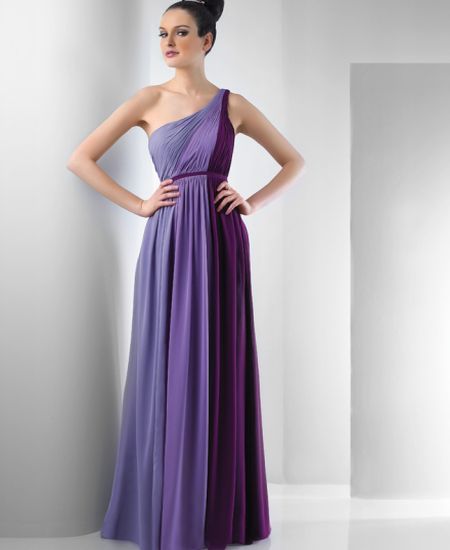 This dress represents an amazing blend of style and elegance. It's a one shoulder dress crafted in chiffon. It's a gathered gown with empire waist featuring A-line silhouette. A belt matching the outer color of the strap has been provided to distinguish bust from waist. Its bodice has been created beautifully using ruched style which makes pleats flow like a smooth waterfall over the bust. Its back is quite revealing with same ruched design as highlighted in the front.
USP
Unique in its own style by combining three different shades of blue in a single piece is surely going to cast a mesmerizing spell on the people.
PROS
The gown has been crafted in fine quality chiffon.
It's a dress to make you look most fashionable and trendiest wherever and whenever you wear it.
It's a floor length gown suitable for every party occasion.
7. Lela Rose Navy Blue Bridesmaid Dress (Style LX116)
BRAND : Lela Rose
PRICE : USD 249.95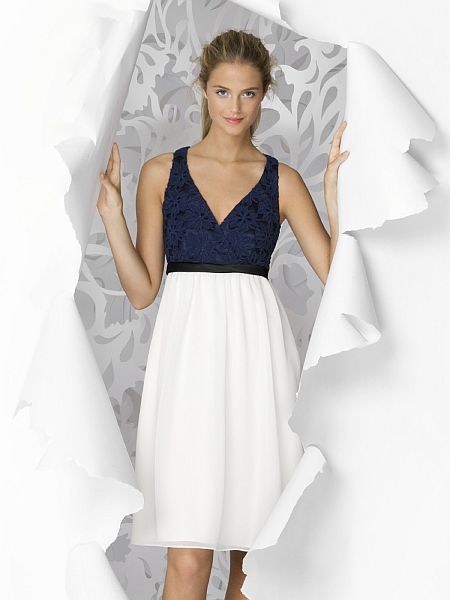 This beautiful dress was revealed in spring 2009 collection by Lela Rose. It highlights a striking blend of navy blue and ivory. It's a full length dress with elegant "v" shaped neckline. It has a black colored sash that adds to its beauty and style. This dress is extremely elegant beautified with contrasting colors. It is sleeveless and has nice straps over shoulders. It features empire bodice separating skirt from bodice. Back is equally impressive with navy blue laced design all over it.
USP
This bridesmaid dress is of a laced bodice with chiffon skirt that makes a perfect combination of style and elegance.
PROS
It features a long skirt with flair that makes walking and dancing quite easy and convenient.
It's a simple and elegant highlighting two contrastingly prominent colors that makes it look very impressive.
8. Jim Hjelm Bridesmaid Dress (Jim Hjelm 5803)
BRAND : Jim Hjelm
PRICE : USD 108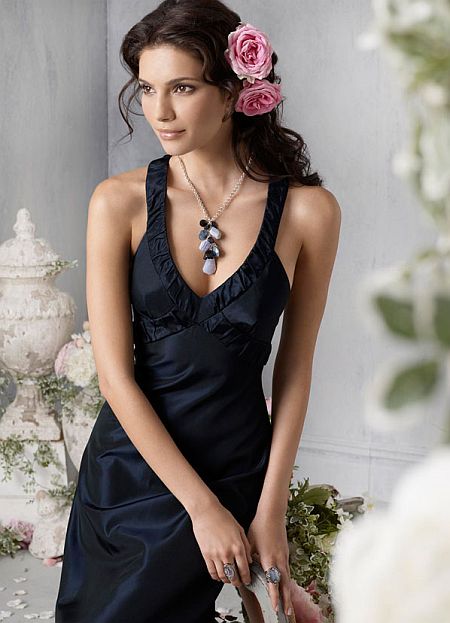 It's a gorgeous dress crafted in navy blue taffeta. It features a sensuous neckline with halter style at the back. It reaches up to keens and looks amazing with high heels. The back of the dress features a sexy cut to reveal your nicely shaped back. It is sleeveless with nice straps over shoulders to support the dress. Pleated band at the neckline with detailed design looks really notable. Its deep "v" neckline adds femininity and sensuality to this amazing piece of dress. It's an "A" line dress in taffeta with impressive silhouette.
USP
An empire bodice with racer back that makes this dress look unique and astounding.
PROS
It could be worn on any special occasion with matching heels and accessories.
A matching jacket would also make a nice combination.
9. Mori Lee Bridesmaid Dress (Style 241)
BRAND : Mori Lee
PRICE : USD 152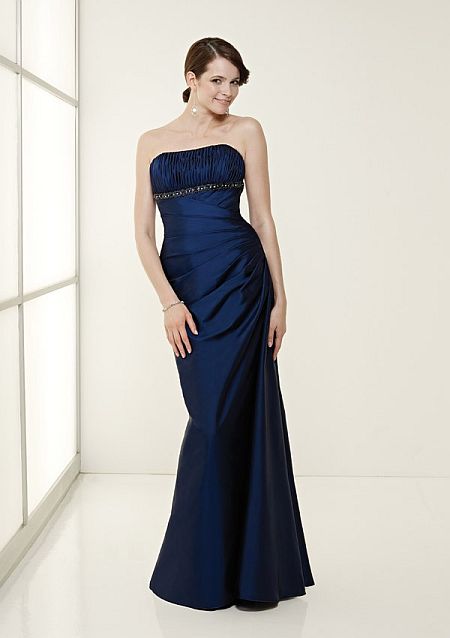 It's a nice attractive gown by Mori Lee. It is strapless and features ruched bodice with vertical pleats one over other that looks fabulous. It has been crafted entirely in taffeta. It has got a square neckline with trumpet silhouette. It's a soft body length gown in navy blue that would make your fair skin glow with radiance and spark.The bodice has been distinguished from waist by using a beautiful silver beading. Its helps in highlighting bust adding femininity to this dress. The skirt of this dress is equally impressive. It is simple yet attractive.
USP
The most astonishing part of this dress is its ornate band on bodice that adds grace and sophistication to this beautiful dress.
PROS
It features asymmetrical pleating at the side which falls beautifully while walking.
This floor length gown with beading fabric is well suited for evening parties and other party occasions as well.
10. Dessy Bridesmaid Dress 2843
BRAND : Dessy
PRICE : USD 193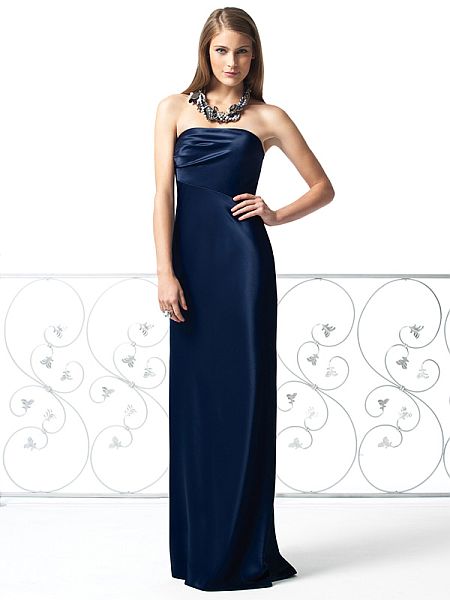 It is one of the nicest dresses of Fall 2011 Collection by Dessy. It is a strapless full length gown crafted in soft satin. It has a very flattering silhouette. It features an asymmetrical empire waist along with flat bow details with streamers at the back. Its sleeveless and strapless design helps revealing nicely kept back with streamers that add spark to this elegant dress.
USP
It has been crafted in beautifully in Renaissance Satin.
PROS
It is a nice part wearing dress full of elegance and style.
This long outfit makes you look thin and tall.