Upper class British weddings have ensuredly certain elements that do make them quite stereotypical, if one could say so. However, in each and every event, in recent times, there is a certain element that does them make them quite one apart from the other. This singular element is the presence of the sister of the Princess of England, Kate Middleton, Pippa Middleton. Pippa has quite been in the limelight for her omnipresence at almost each and every wedding of the upper class society. Of course, this is quite the strain for her, seeing that she has to be single at each and every event, and that too, with a different dress every time, since it is imperative that the paparazzi will be firing away at their shutters as soon as she enters the premises.
This is particularly grievous for the bride to be, since at the end of the line, it is supposed to be her day, while someone else just comes and encroaches in on her space. After all, princess or not, for one day, she does get to be the princess.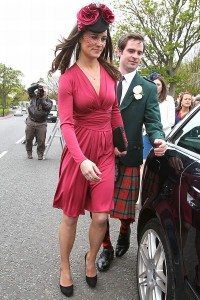 A celebrity is of course, somehow or the other disconcerting for people who like to have the limelight all to themselves. After all, it is inevitable that a celebrity will catch the attention of all. And even if Pippa is not a celebrity by choice, she is no doubt one. Ever since her sister's wedding to the prince, she has been invited to virtually all the weddings that have taken place. She has admittedly gone to 15 weddings ever since her sister's marriage. However, her tragedy lies in having to get out of the car without holding someone's hand. Dabbled in all the cosmetics, with that extra charm that she brings on, add to that a new dress, which speaks out chic and luxe, she searches the crowd first of all for a familiar face, and then gins into the face of the camera.
Pippa is not a guest that everyone might like, since to cite an example, the discussion after a certain wedding, as narrated by a friend of her's, was all about what she wore and what she had to eat, and nothing else.
Pippa of course, is not out of the world dresses, whatever she does have class about it. At the end of the day, it is always good to have her at your wedding, at least even if not anything else, you will have the paparazzi, guaranteed.