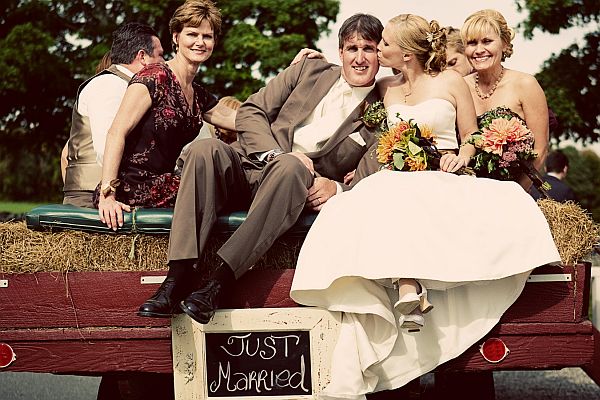 Country wedding celebrations are laid-back and happy go lucky. Unlike official and stiff ceremonies, you can hang loose in their down home ambiance. These weddings can be planned in outdoor locations like barns, parks and farms or at indoor sites like mansions, cottages, farmhouses and country churches. There are many elements that go into arranging a perfect country wedding. You have to bedeck the venue with the right décor, dish out delectable fare, play country tunes and stick to a relaxed pastoral dress code. Vintage pieces, rustic curios, natural items, local handiwork and farm produce are used to create a country-like set up at such a ceremony. Here are a few pointers that can help you plan out a country style wedding.

1. Wedding invitations

The invite should reflect the theme chosen for the wedding. So, it can be elegant, traditional or fun. Rustic cards, either handmade or imprinted with country designs, should be preferred. Adorn cards with old age patterns or images of barns, farms, horses, boots, cattle, hay, flowers or vegetables. Symbols like raffia, stars, flowers and love knots are commonly used. To dramatize further, make the card out of parchment paper, scent it with country fragrances and seal it with a wax stamp.

2. Wedding attire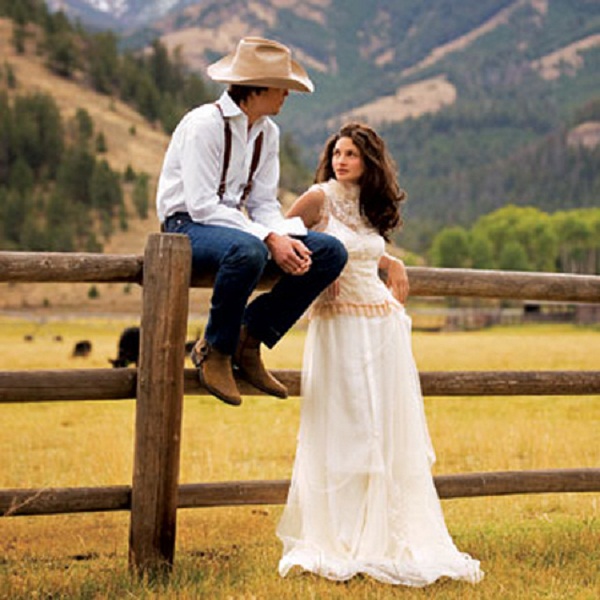 The dress code is relaxed at a country do. Brides can go for gowns made of silk, organza, lace or chiffon. Grooms can don casual trousers or jeans with a shirt. Guests can loosen up and wear casual attire. Men can opt for pants, jeans and khakis with or without jackets and ties. Women can throw on jeans, sundresses or flimsy skirts. Dresses stitched from denim or leather and bedecked with sequins, crystals, beads and studs will suit the theme.

3. Wedding accessories and shoes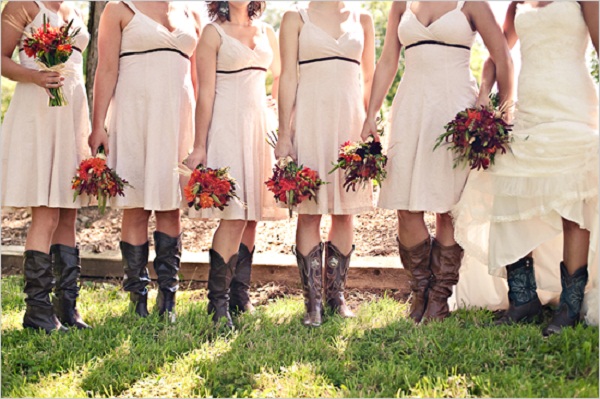 The look of country weddings will be incomplete without boots and hats. Guys should go for black or brown hats while girls should prefer white or beige ones. Even the bride should accessorize her gown with boots and a hat. Boots are available in a variety of styles, patterns and colors to go with a number of outfits worn by men as well as women. Leather belts are an excellent add-on. You can also don ballet flats or stringy sandals.
4. Wedding décor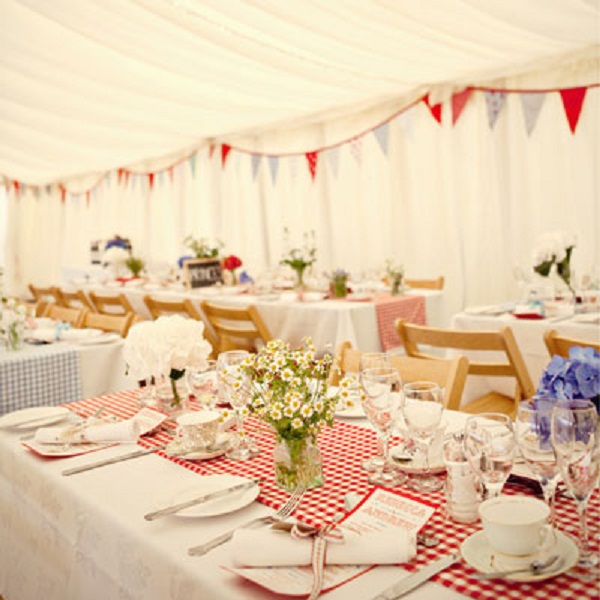 Create a homely ambiance that will make guests feel at ease or use traditional décor that weaves a pretty picture all around the place. Choose cotton and linen for a simple look, while velvet and silk for a luxurious one. The tablecloths should bear patterns like checks, gingham, stripes or florals. Make centerpieces using flowers, fruits, vegetables, dry flowers, herb twigs, seed packets, pine cones or forked branches. Candles and lanterns add a soft glow, especially in the evening. Colorful pears and apples or cut-outs of vegetables like gourds and pumpkins give the venue a pastoral touch. Blooms like daisies, dahlias, roses or sunflowers can be dunked in glass jars and set on the table. Aggrandize the country vibe with bales of hay, flags, coiled ropes, stacks of dried straw and an ornamented trellis.
5. Wedding food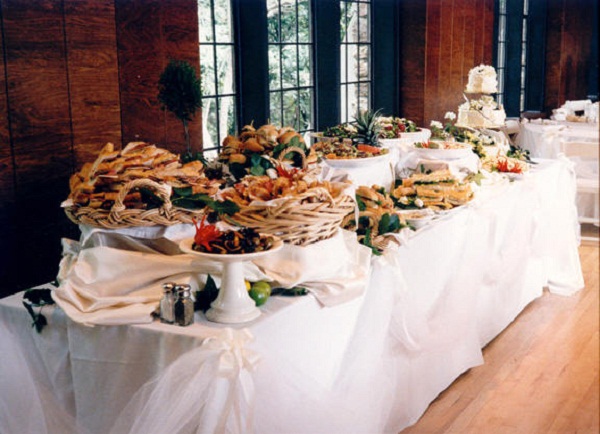 Lay out the table with a hearty country repast of simple conventional dishes made from fresh and local produce. Veggies that you cannot leave out are baked beans, corn on the cob and green beans. Dole out a spread of tossed munchy salads prepared from potatoes, eggs and pasta. Scrumptious meaty fare like pork chops, grilled chicken, pot roast, batter fried fish, scorched red meat and fried oysters is a must. Add a line-up of sizzling barbecues and smoked meats sauced in brown gravies. Other staples at country weddings are mashed potatoes, coleslaw, macaroni and cheese, etc. Hand out refreshments like root beer, iced tea, lemonade, apple cider and liquor piled in coolers or tubs full of ice. The cake at country wedding should have rustic flavors like carrot, pumpkin or ginger. Whip up vanilla or chocolate icing on the top and garnish it with edible flowers or decorations shaped like cowboy hats, boots, stars, saddles, horses, etc.

6. Wedding music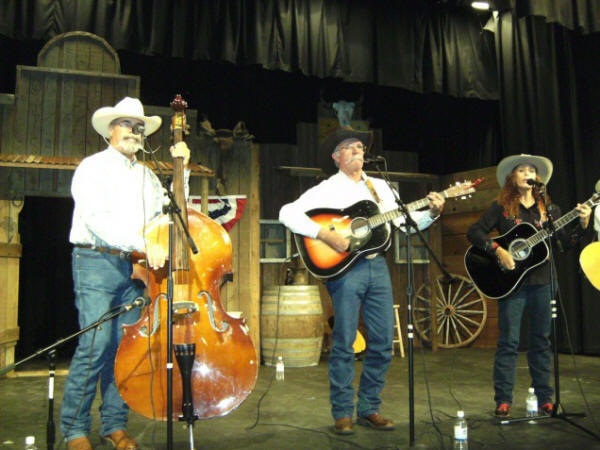 You cannot do without singing and dancing at country weddings. Revel in folksy music and country numbers playing in background along with the strums of banjo, fiddle, guitar and harmonica. A live country band will be great but you can also go for a DJ. Liven up the merrymaking with line dancing, foot stomping and square dance. Some country hits you can play at the bash are Could I Have This Dance by Anne Murray, I Love the Way You Love Me sung by John Michael Montgomery or I Cross My Heart by George Strait.