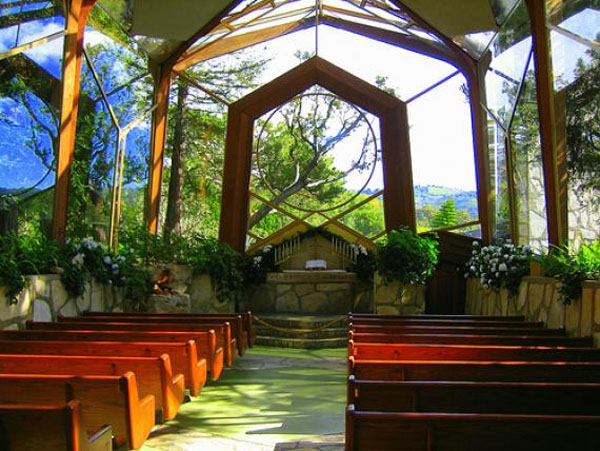 Weddings celebrate the bond of love between two people.Usually, romantic venues are chosen, gowns and suits are picked and invitations are sent out to near and dear ones. But there are a few quirky souls who long for something different. A chance to celebrate their love in an unusual manner and set it apart from the rest of the staid choices. Want to know how? Check out some most unusual chapels where people said "I do".
Wayfarers Chapel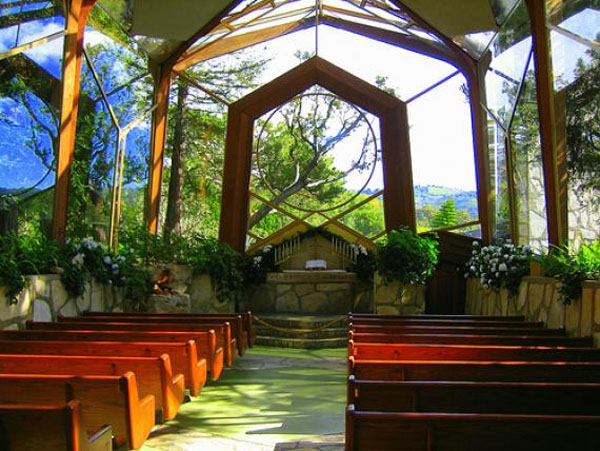 The Wayfarers Chapel is a glass church designed by Lloyd Wright. Located atop a cliff that overlooks the Pacific Ocean, the chapel is designed in Wright's signature style which incorporates geometric designs and natural landscape. With a view of the ocean, the Wayfarers Chapel is popular among the to-be-married couples. It is reported that an estimated 800 couples use it as a venue. Also known as The Glass Church, it was built between 1949-51 and is used as a memorial for the 18th century Swedish philosopher and scientist, Emanuel Swedenborg. The chapel was not intended to be a chapel during the time of its construction – it was meant to be used as a place where weary travelers could rest. So, marrying here would be a great experience. What's you take on that.
What's bizarre?
The Wayfarers chapel is made of clear glass and stone, is surrounded by a cluster of Redwood trees, and sits on a massive landslide area. The interior boasts of a natural stone waterfall that is used as an altar. Perfect for those looking to integrate love with the beauty of nature.
The Saint Michel D'Aiguilhe Chapel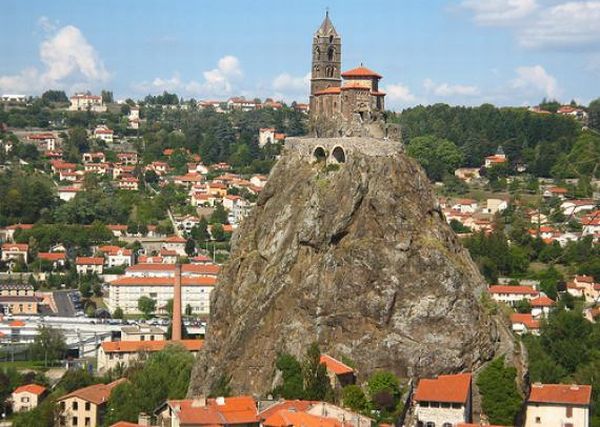 If you are an adrenaline junkie, then the Chapel of Saint Michel D'Aiguilhe is the place for you. Perched right at the top of a volcanic formation, the chapel can only be reached by a set of 268 steps that have been carved into the rock. Isn't the idea of saying 'I do' inside a chapel that sits atop an an ancient volcano mind-blowing? Constructed to celebrate the return of people from the pilgrimage of St James, the site is also believed to have witnessed the visit of Joan of Arc's mother, Isabelle Romee. The site is considered sacred by many. The remains of three large stones which have been incorporated into the chapel are believed to date back to the prehistoric times.
What's bizarre?
This treacherous looking chapel sits on top of an active volcano. The peak measures only 34 meters by 13 meters. Winding stairs numbering 268 steps are the only means of reaching the site. While it may seem precariously perched, it is perfectly safe.
Kaplica Czaszek: The Chapel of Skulls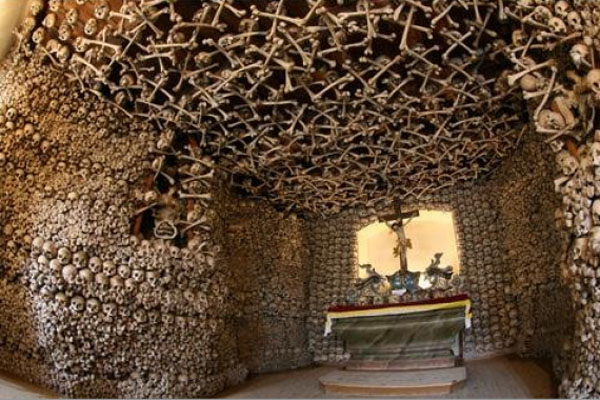 This one would probably send shivers down your spine while you are tie your nuptial knot, but there is no denying that it is a hauntingly beautiful chapel. A tribute to the departed souls, the Chapel of Skulls is decorated with the skulls and bones of over 3,000 people. Situated inside St. Batholomew's Church in Czermna, the chapel was decorated by a priest named Vaclav Tomasek and a grave digger named J. Langer. They collected over 24,000 remains from The Seven Years War, The Thirty Years War and cholera epidemics, cleaning each piece meticulously and arranging them in various patterns. It took the priest and the grave digger around 18 years to complete the task! The ultimate goal was to establish a 'sanctuary of silence'.
What's bizarre?
If you thought that 3,000 bones decorating the chapel is strange, be sure to pay a visit to the crypt which has a stack of 21,000 skeletons. Ironically, Tomasek and Langer are also buried at the site.
Vermont's Dog Chapel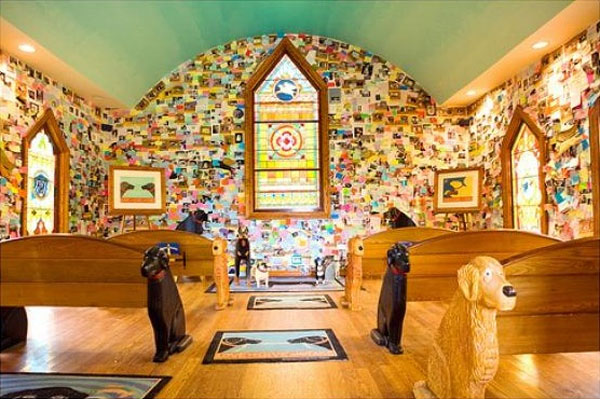 Dog lovers cannot give Vermont's Dog Chapel a miss. A tribute to the most loving and loyal beings on earth- dogs, the chapel was built by artist Stephen Huneck who died in 2010. Decorated in a beautiful manner, the interiors include stained glass windows, statues of dogs and a Remembrance Wall.People who have loved and lost their four-legged furry friends can post messages and pictures on this Remembrance Wall. Huneck decided to build the chapel after a near-death experience that taught him to appreciate life. This chapel could be just perfect for wedding of dog lovers.
What's bizarre?
The fact that the entire chapel is a tribute to dogs and their owners' love for them is really strange. Built on 400 acres of beautiful land, Huneck's Dog Chapel should be included in every travel guide.
Le Chêne Chapelle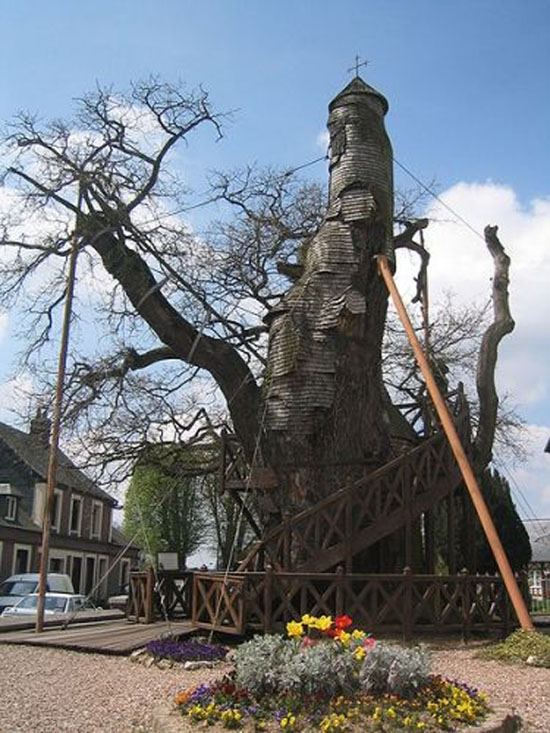 For those of you desperate to have a fairytale wedding, the Le Chêne Chapelle is your answer. Built inside an ancient oak tree that was hollowed out after lighting struck, Le Chêne Chapelle is straight out of a fantasy novel. Located in the village of Allouville-Bellefosse in France, the estimated 800-year-old tree is believed to be the oldest in the country. The chapel can be accessed via a spiral stairway.
What's bizarre?
In the 1600s, a fire is said to have hollowed out the tree. Strangely, it survived and even sprouted leaves. The residents believed it to be a miracle and a chapel and stairway were constructed inside the hollow. A second chapel was added later.